Blogging Alert! 10 Usual But Avoidable Mistakes Made When Making Money Online
|
Making money online is not a rocket science. If you do it right, you will make money even if you are not an online entrepreneur without having much online reach.
All you have to do is to learn HOW TO SELL. Most beginners think that selling is a science. But if you observe most successful bloggers who make a living from online, you will notice one thing that they all work hard to make others live better. They never focus solely on making money or getting rich quick online. That is the only reason why they are so successful in building profitable online businesses through their websites.
If you are a beginner to online world and want to make money without spending a dime, blogging is the right option for you. Then why most people online are not making any money even after putting their efforts?
The reason is they don't know how to make create their sales funnels and how to make money from their audiences. If you know who you are writing to and if you know how to grab their attention by solving their problems, you will reap the best rewards in the long run. Always remember that making money online (especially from blogging) takes time. If you are thinking different ways to make quick money online, you will fail miserably.
As I have come to understand, making money online has to do with patience, humility and trust. These three (3) things are very vital and it is very shocking to know that many people don't have the ability to grab these things and use them well. People are in a haste to make money because everyone is doing it and it is not done that way. Without these, "failure" will become the person's name and frustration will also become his best friend.
So, what are the reasons why you can't make money online? There are numerous reasons and I will do my very best to give 10 of the worst mistakes made.
They are listed thus;
1.     Buying unnecessary eBooks that talk about money making;
2.     Not being strategic;
3.     Being a chatterbox without giving a listening ear;
4.     Having "barn" thoughts;
5.     Not analyzing the web;
6.     Failure to gain more knowledge;
7.     Having little or no connection at all;
8.     Having no knowledge of the audience's needs;
9.     Being lazy;
10.   Not obeying before complaining.
They have being listed to give you little ideas on what is about to be written, which goes thus;
Avoidable blogging mistakes when making money online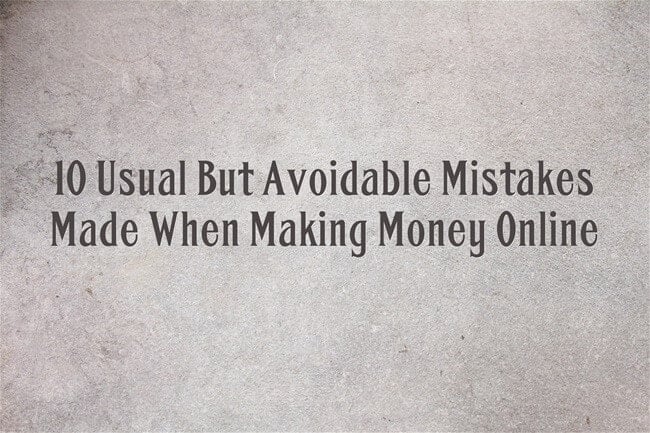 1.     Buying unnecessary eBooks that talk about money making: Let me tell you one thing. If you want to learn how to succeed in your business, there's only one fastest way to do it and that is to learn from books. But most beginner's easily fell in trap when they see false eBooks or online courses. There's so much of B.S in those courses and at the end of the day you will learn nothing but you will lose your hard earned money by spending buying their eBooks or online courses.
People make money via diverse means and they can do anything, and sell anything just to get doe. This number one mistake is mostly made by upcoming marketers and they end up not making a dime. The truth about this is that most eBooks, as attractive as they are, can be very confusing and this will make you make nothing.
2.     Not being strategic: of all the tools to success, being strategic is one of them and it is a shame to know that most marketers just jump into the business without planning. Planning is one straight road to being successful, word for the wise. For internet marketing, there are many free or cheap tools.
Remember, being a successful internet marketer is a gradual process but most people decide to use them all, which is not so right. Being strategic will make you set achievable goals and target the required amount of audience and other elements. As I always say, "being tactic without any form a strategy is like making a lot of noise before defeat". A word is enough for the wise.
3.     Being a chatterbox without having a listening ear: Have you ever heard that "listeners are successful people". One of the most great traits of any successful person is to have a listening ear, to have a faith listening to others carefully.
You have to listen, read and analyze others carefully if you want to make money online, then and only then you will be able to understand what it takes to make money online through your websites or affiliate programs.
Everything about internet marketing is paying attention to the audience, knowing their heart desires and trying your possible best to satisfy them. This form of marketing has aided in the reduction of the cost of publishing your thoughts and because of this, people decide to open a blog or begin a business online and posting whatever thing that crosses their minds.
First things first, the things you are posting, are they going to benefit the audience? Are those things really important? What will you gain if no one views them at all? All these are very simple to answer. So, before thinking of trying to make money online, listen to the people. You can use search engines to verify their thoughts before going into action.
4.     Having "barn" thoughts: What do I mean by "barn thoughts"? These are thoughts which are not related to the thoughts of the audience, or are not in line with the audiences' thoughts. There are search engines, and the social media which comes with their own plans, forms and strategies.
Their efforts are similar and both of them cannot be measured without the web analytics which has being talked about at the top. For those who are new in this business, you have seen this as a system with many disciplines and learning skill sets, working to the achieving of a greater result. So, understand all the basis of these marketing channels and don't put aside anyone, even if it is not needed at the particular time.
5.     Not analyzing the web: There are hundreds of successful bloggers out there who spend quality time in writing their blog posts. An average, Pat Flynn (the most successful affiliate marketer) takes 7 to 9 hours in writing his blog posts. Have you ever thought why he is spending so much of time in writing blog posts? That's how they are grabbing their customers attention with quality content which you can't find anywhere else. You have to be the same if you want to make a living from online.
This internet marketing of a thing has brought about diverse levels of marketing effort measurements. An example of analytic web tool is Google Analytics. This one tells us the number of people who came to your site, what they were looking for and what they did later on. So, it is advisable that you don't ignore them because if you do, you will end up in deep shit.
6.     Failure to gain more knowledge: "I have not failed. I've just found 10000 ways that won't work." – Thomas A. Edison.
The more you fail, the more you will learn how to succeed. If you give up after a failure, there's no way you will succeed, just because you gave up your chance in the first attempt itself.
Always remember that, failing online is a part of making money online. No one succeeded to make money online in their first attempt itself, they have all made their fair share of mistakes, learned from them and then succeeded in making money from their blogs.
Knowledge, as we all know, is power. The little you know will not help you achieve 100% good result. Internet marketing is one form of business that is not constant. It changes daily and you just have to go with the change. Different help resources are brought out and along with them, more knowledge is passed. The more you get to understand, the better your chances of becoming successful and making more money online.
7.     Having little or no social connection at all: Social media is the ONLY way to boost your online visibility in this Google Panda animal update world. If you want to become a social media rock star, you should know how to connect well with others. You don't always have to pinch hard to get benefits from them, you just have to make sure to follow win/win approach.
Without helping others online (especially on social media), seeking help from them is the worst way to build your social media influence. First find out the ways to connect with them and help them to get more rewards FOR them, not YOU. This is the only success mantra to succeed in connecting with others in social media networks.
It is true that the mass media helps in connecting people, but at times, they fail to connect you to the right and "relevant" people. So, for you to get such connection, you must first of all know what humility is, know how to gain people's trust, and in turn, they will feed you with new leads at affordable prices and also help you when you're facing challenges.
8.     Having no knowledge of the audience: If you don't know to whom you are blogging for, that will be the biggest mistake you are making online.
Without knowing your "targeted audience" there's no way you can understand their problems, sell products for them and make money from them. So first focus on knowing your audience, analyze in which products they might be interested in, and sell those products by giving honest opinion.
Doing business online is not only about making money for yourself but it is about knowing what the audience wants and giving it to them. This is one "rookie" mistake made by so many marketers and it is not cool at all. There are basic tools given to you to help you know what they want. Example of such tool is Google Adwords Keyword Planner and also Microsoft Ad center Lab. They develop the understanding of the wants of your customers in the demographic and psychographic way.
9.     Being lazy: There is this saying, 'an idle man is the devil's workshop" and another which says, "no food for a lazy man". Being lazy entirely means, you are not liable of being a business person and you are just wasting time and resources. So, if you feel it is not your calling, QUIT!!
Analyze any successful blogger who is making passive income from online, you will understand one thing, they all are hard workers. They spend lot of time on working on their goals and they even sacrifice their wishes if they want to get things done to make money online.
If you want to be like them and make money from your blogging efforts, you have to work hard, work really hard to make money online. Remember that, you can't get quick rich online, it's a trap if anyone is telling you can do that. Focus on your efforts, build your network from scratch and you will reap the rewards.
10.    Not obeying before complaining: All these tips that have being given are very important. It is true that people make mistakes but repeating the mistakes yearly is not cool. So, for you to start making money online the right way, know these things: be patient, be motivated, put extra effort in what you are doing, get mentors who are trustworthy, and lastly, do what you do best.
In a nutshell: Making mistakes is common when you are thinking to make money online. Learning from your own mistakes is the only way to succeed. All the above mentioned things are avoidable, so don't make them if you want to be in the track of "successful blogging". Always be persistent, analyze your competition, find out your audience, don't spend money on wrong things and most of all BE CREATIVE.