Want to learn how to make money with ClickBank? You're in the right place.
ClickBank is one of the biggest affiliate marketplaces in the world which was founded in 1998. It is also an eCommerce platform where thousands of product vendors sell their products.
If you're an affiliate marketer or looking for the BEST marketplaces to find high-paying affiliate products, you should definitely check out ClickBank.
If you're new to ClickBank and looking to make money with ClickBank, this post is just for you.
In this post, you'll learn;
What is ClickBank and how does it work?
How to choose the RIGHT ClickBank products to promote?
Proven ways to promote ClickBank products
So are you ready? Let's jump into the details.
How to Make Money With ClickBank As A Beginner?
What is ClickBank?
ClickBank is a popular eCommerce platform and affiliate marketplace where you can find a ton of digital products including ebooks, plugins, videos, software, and more.
ClickBank in numbers:
300,000 + daily purchases
Used by people across 200 countries
Access to over 4,000 products
$5 billion paid in commissions since 1999
---
How Does ClickBank Work?
ClickBank can be considered as a middleman between product vendors and affiliates.
If you're a product vendor, you can create and sell your products on ClickBank by paying a nominal processing fee (usually 7.5%) for every product sold.
Here's how the ClickBank works for sellers;
As you can see above, as a product vendor, you need to launch an affiliate program, create an offer, list the product on ClickBank, use their order form and ClickBank handles all the incoming funds from each sale (including paying your affiliates, taxes, and getting you paid).
As an affiliate, you can promote millions of products ranging from eBooks to tools to plugins and earn a commission on every successful sale.
Here's how the ClickBank works for affiliates;
As you can see above, you need to drive traffic, pick a product to promote, create a tracking link, promote it, and get paid when someone makes a purchase.
---
Benefits of Using ClickBank as An Affiliate
So why should you pick ClickBank to promote their products as an affiliate? Here are some of the benefits of ClickBank affiliates.
Reliable and timely payouts (ClickBank paid over 5 billion dollars since 1999)
ClickBank is the #1 marketplace for affiliates
It offers some of the highest commissions in the industry
You'll find thousands of useful products to promote
Accurate sale tracking so you get paid for every single sale
Access to dedicate affiliate support
Access to free online marketing training to boost your affiliate sales
So what are you waiting for?
Become an Affiliate With ClickBank
---
How to Choose the Best ClickBank Products to Promote?
When it comes to choosing the products from ClickBank, there are THREE things to live by.
So if you're looking to make more money with ClickBank as an affiliate, try the following 3 things.
1. Pick products with a high Avg $/conversion number
Here's a quick tip: promote high commission products on ClickBank.
You're NOT going to generate thousands of dollars with ClickBank if you promote products that offer $2 commissions.
You need to find and promote high-value and useful products to be able to generate more income. Find products that offer at least $20 in commission for each sale.
One more good idea is to find products that offer a high average of dollars per sale.
Finding such high-value products is easy on ClickBank.
You can simply use the "Avg $/conversion" number to find products that offer the highest conversions.
Here's what it looks like;
See that? The above product gives you $132 on average per conversion which is incredible.
By promoting high avg $/conversion products on ClickBbankk, you'll be able to generate HUGE commissions even if you're selling a few products.
Make sure the products you pick are useful and have better feedback from the customers who're already using those products.
---
2. Scan through the all-time best-sellers
If you're finding it hard to find products to promote, scan through a list of best-selling products.
Picking the all-time best-selling products on ClickBank is one of the best ways to generate more sales. Usually, there's a huge demand for best-sellers in ANY niche.
You can discover all the best-selling products on Clickbank. This list is updated yearly so you'll only find regularly updated and high-demand products.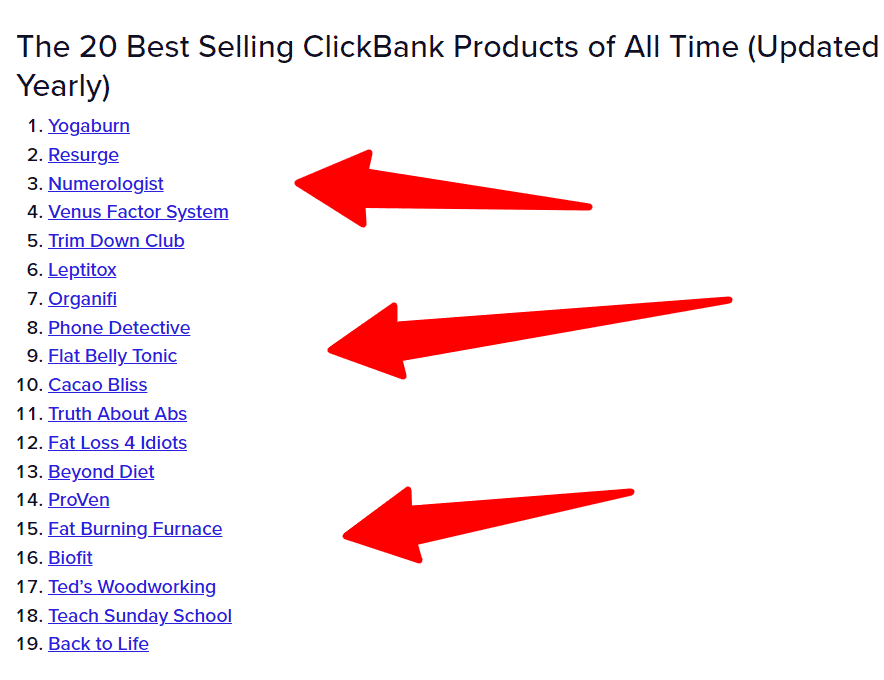 ClickBank uses a metric called a "Gravity Score" to show you how well a product sells, based on how many sales have been made.
If you find products with high Gravity Score (i.e. 100+), it simply means that there's a HUGE competition to sell those products.
The best part about ClickBank is that it often shows you a list of monthly top products. That way, you can easily discover the top-selling products every single month.
It's a good idea to write detailed reviews or make video reviews about the top-selling products to educate your audience about them. It will NOT only help them find the right products but it can also help you with sales and conversions.
---
3. Choose products that offer recurring commissions
Most successful affiliate marketers follow one tactic: they promote recurring affiliate programs.
There are several products on ClickBank that offer recurring commissions.
Recurring affiliate products help you generate commission for every purchase one of your referrals makes, not just on their first purchase.
That means you'll generate a commission as long as your referrals remain paying customers.
The best way to find recurring affiliate products on ClickBank is to use the Advanced search filters. Here's what it looks like;
ClickBank also shows a "Recurring $/Rebill" parameter for recurring products. This number tells you the average commission you can earn for each rebill payment of the seller's products.
You can choose a minimum and maximum recurring commission range to find suitable products that you can promote through ClickBank.
In case you're curious to find the best programs with recurring commissions outside of ClickBank, here are the 50 best recurring affiliate programs for you.
---
3 Proven Ways to Promote ClickBank Affiliate Products
Here are THREE amazing ways to promote ClickBank affiliate products to earn HUGE commissions in 2023.
1. Start a blog
One of the best ways to promote ClickBank's affiliate products is to have a blog or website.
If you don't have a blog yet, start a blog today around the topics you are most interested in and are most knowledgeable about.
It doesn't cost much to create a professional blog.
In fact, if you go with Bluehost (#1 WordPress recommended web host), it will only cost $35 for one year and you'll also get a FREE domain name.
Once you have a blog running in active mode, go to their marketplace and choose some products matching your blog content.
Let's say you have a marketing blog, you can look for products related to SEO, blogging, email marketing, WordPress, etc.
So always choose products from their marketplace that match your blog niche.
Apart from product relevance matching, there are some key factors you should take into consideration while choosing a product to promote on your website and blog.
Most of the ClickBank products include several parameters which are listed below.
Initial $/conversion: This is the average commission an affiliate will earn on the initial purchase of a seller's offer.
Avg $/conversion: This is the average commission that an affiliate earns for each conversion to the seller's offer.
Recurring $/rebill: This is the average commission an affiliate earns for each rebills payment of the seller's product.
Gravity score: Gravity indicates numbers related to product popularity in its marketplace. Products with high gravity are those that are most promoted and where affiliates are making lots of income. But higher gravity means lots of competition for that keyword.
So we would suggest you choose those products that are:
Related to your website/blog niche
Generate $20 at least per sale
Have a gravity score in the range of 50 to 120
Go for products that offer at least 50% commission. There are some products available in the Clickbank marketplace that help you with 75% commissions and more.
Don't worry as you'll find a ton of products that match the above criteria on the ClickBank platform.
---
2. Write Honest Product Reviews
If starting a blog is the first step to affiliate marketing success, writing honest reviews about the products you promote is the next most important step.
Make sure to promote the products that are really helpful and have better ratings and reviews from the users.
Make sure to check out the ClickBank's product offers, testimonials, reviews, or money-back guarantee and mention that in your website product reviews.
Make sure to publish at least 5 to 10 articles and product reviews at least for each product you're planning to promote.
Here are some of the best ways to write genuine product reviews;
Write in-depth reviews to talk about every feature of the product
List all the pros and cons
Show the pricing options
Show the ratings, customer reviews, etc
Include an FAQ section for each product review to target long-tail keywords
If possible, include some alternatives to the products you recommend so your audience can choose the product according to their needs
Once you've written great product reviews, you can use the following methods to optimize them for Google.
Always perform keyword research. Use tools like Semrush to find low-competitive keywords around the products you want to promote.
Make sure to optimize every product review post you publish. You can use plugins like Rank Math to easily optimize your content for focus keywords.
Build backlinks. Use guest blogging, write on Quora, and reach out to other bloggers to build links to your product review posts.
---
3. Try these 3 Traffic Methods
If you're new to affiliate marketing or struggling to increase traffic to your site, you can try the following three methods to generate traffic.
Paid Advertising
If you have the budget, you can try Google Ads to drive traffic to your affiliate websites. But the negative side to this promotion method is that you may end up losing some money if you are unable to get enough sales from the products you are selling through your website.
So we recommend trying paid advertising methods when you have some decent affiliate sales. Also, calculate the ROI. For instance, if you're spending $100 on ads and generating sales worth $500 and more, you can definitely keep using paid ads.
Social Media
There are a ton of social media networks you can use to promote your affiliate website which includes;
Facebook groups
Pinterest
Instagram
YouTube and more
You can also join our Facebook group to connect and engage with bloggers around the world. You can use FB groups to learn affiliate marketing and SEO in general which can help you with better sales and traffic in the long run.
Guest Blogging
Guest posting is the best way to generate relevant traffic and build backlinks to your site.
Write some interesting guest posts around the products or topics related to your niche and publish them on guest posting sites matching your product's niche.
Here's a huge list of free guest blogging sites you can use to write guest posts.
---
FAQs
Here are a few FAQs related to the ClickBank affiliate program.
How much does it cost to join ClickBank?
It's totally free to join their platform as an affiliate as ClickBank does not charge a monthly fee to its affiliates and customers. However, for product vendors, there's a one-time activation fee of $49.95 that must be paid when your first product gets approved on their platform.
Is ClickBank legit?
Yes, ClickBank is totally safe and it is one of the leading online marketplaces that sell both physical and digital products.  
What is the minimum payout for ClickBank?
The minimum payout limit on ClickBank is $100.
How to make money with ClickBank without having a website?
You don't necessarily need a website to start earning money with ClickBank as you can use the following methods.
– Find an offer to promote
– Drive traffic to your products (through social media, email list, YouTube, etc)
– Educate your audience about the products
– Generate sales
How to make more sales with ClickBank?
Here are a few quick tips to make more money with ClickBank.
– Choose a profitable niche (evergreen niches like weight loss niche, fashion, lifestyle, etc always work like a charm)
– Find great keywords (choose your keywords carefully by analyzing your competition and use tools like Semrush)
– Long-form of content is the key (creating 2000+ words of in-depth articles instead of average 500-word posts works well in Google) 
What are the best high-paying alternatives to ClickBank?
Here's a list of a few of the best ClickBank alternatives.
– Commission Junction
– Amazon
– eBay
– ShareASale
– JVZoo
Here's a list of some of the best affiliate programs you can promote to earn more money in 2023 and beyond.
More Affiliate Marketing related resources:
---
Final Thoughts
Undoubtedly ClickBank is one of the best platforms for affiliates to find and promote great products.
No matter what niche you're in, you'll find a ton of incredible products to promote as an affiliate to make money with ClickBank.
Have you tried ClickBank as an affiliate? What is your experience with Clickbank and what killer techniques you are using to get sales for your products? Have any questions? Let us know in the comments.