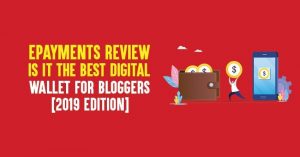 Summary
ePayments is an eWallet that helps bloggers and marketers to easily manage their online funds. ePayments is the safest, easiest and most convenient digital wallet for those who make money online.
Do you want to make online payments quickly and safely with a minimal fee?
Then, give a try to ePayments.
It's the game changing digital payment platform that allows you to make online payments effortlessly.
It doesn't matter whether you're a blogger or an eCommerce site owner, ePayments helps you quickly manage your online funds with a minimal transaction fees.
If you are wondering what it is all about and how can you make use of this digital wallet to your advantage, let's get into the details without much ado. Let's start with the basic question.
What is ePayments?
ePayments.com is an online payment platform (aka digital wallet, eWallet) which is created for fast, cost-effective and secure payments.
It's especially useful for
Bloggers
Freelancers
SEOs
Digital marketers
Small businesses
eCommerce etc
Their digital wallet allows you to transfer and receive funds online from anywhere in the world. They are easier to operate and secured to managed to your online funds seamlessly.
ePayments and their background
ePayments is an eWallet payment platform which is headquartered in London and established in 2011 to facilitate payments for affiliate marketing industry. That means, their primary purpose behind starting it is to help bloggers, SEOs, marketers to manage their online payments easily.
Now, they've fully grown into a major eWallet online platform which is operating its services in over 100 countries and expanded their services to other industries as well (including freelance marketplaces, social networks etc).
Let's now talk about the detailed ePayments review where you will find all the benefits of using it along with some other useful information. Are you ready? Let's get started.
ePayments review 2022: The fastest and safest eWallet
ePayments is highly secured
One of the most important things to consider while choosing an eWallet platform is security. After all, you're managing most of your online funds to transfer and receive from your clients.
ePayment is a safe and private electronic payment system where you can transfer and receive your online funds from all over the world.
Additionally, you will also get access to their mobile app (android, iOS) to easily manage your funds at your fingertips.
ePayments platform makes your online transactions extremely simple and you are in safe hands as all of their transactions use data encryption using SSL encryption which establishes an encrypted link between the web servers and a browser to safeguard your data.
You are also protected from online fraud as it has uber-cool fraud monitoring system to safeguard your digital wallet. It also uses a 2-factor authentication system to prevent all the unsanctioned access attempts to your account.
Not only that, your digital wallet is completely protected as they are licensed by the Financial Conduct Authority (FCA) of the United Kingdom under the Electronic Money Regulations) for the issuing of electronic money.
Access to ePayments wallet, Mastercard and merchant service
ePayments platform gives you access to three of their unique and highly useful products:
ePayments wallet
ePayments prepaid mastercard
ePayments merchant service
If you are wondering about the above mentioned products, don't worry, I'll explain about them now so you can understand about their products much better.
ePayments wallet: After registering an account with ePayments online platform (which is free), you can create your own ePayments e-Wallet to receive and transfer cross-border payments absolutely at free of cost.
You can easily save more money by making instant payouts and you can access your funds anywhere in the world.
ePayments prepaid mastercard: Having an access to a prepaid mastercard from ePayments platform helps you to access your funds anywhere in the world.
You can also withdraw your money at ATMs and make purchases across the globe which is a convenient feature that most online payment platforms don't offer.
ePayments merchant service: By getting access to their merchant services (Business account), you can easily accept payments across the globe. You can also easily manage your funds to pay your suppliers, employees and partners worldwide.
Their easy to use API will make integration with ePayments easy and really secure so you don't have to worry much about using it for online payments.
Types of ePayments accounts
Currently ePayments platform is offering two types of accounts.
Personal
Business
Let's now quickly talk about them so you can easily understand which one is the right fit for your online payment needs.
1. Personal account: If you are a blogger, marketer or an individual who wants to make online payments quickly and easily, this plan is for you. It's FREE (to register). ePayments personal account allows you transfer, receive or withdraw funds from anywhere in the world. Currently they are operating in over 100 countries with a huge user base.
With this plan, you can do the following things:
You can collect money from others
You can make online transfers
No fees on free internal payments
You can send money to the recipient's phone number or email address
You'll also get access to their mobile app
Quick note: All that your recipient has to do is create ePayments e-wallet to manage the funds and everything else works seamlessly
You will also get access to their prepaid mastercard and here are few details you need to know.
$2.60 per transaction
Free delivery of the card across the world
$3000 withdraw limit (daily)
2. Business account: If you're a business owner or running an eCommerce business and looking to run your business effortlessly by managing your online funds safely, this account is for you.
Here are few benefits of this account.
Free mass payments
Instant account setup
You can easily accept payments through your websites (best suited for eCommerce sites)
You can make payments using phone number or email address
With this account, you will also get access to the following things:
You can pay money to your clients across the globe
You can use alternate payment systems to transfer money
You will also get exclusive support through API
How to get started with ePayments?
Are you interested in using ePayments for your online transactions?
Are you thinking about how to register an account (it's free) with ePayments platform? Here's a simple step by step tutorial that shows you how to do it.
Step 1: Go to their registration page and pick an account type (Personal or Business).
Step 2: Enter either your email or phone number to register your account (registration is free).
Step 3: Once you are done with the registration process, you will be able to accept and transfer funds as well as to order an ePayments branded prepaid Mastercard card. But you also must "verify your registration" to get access to all of their features and services.
Here's the verification process where you'll find all the necessary information to verify your account. It usually takes no more than 7 days to verify your account and once your account is verified, you will get complete access to their platform by availing their exclusive benefits.
What about the ePayments fees?
There's NO (free) fees for opening and closing of an account in ePayments.
However, here are the transaction fees for online payments (most of their are free and the remaining are of minimal charge when compared to PayPal or others).
Internal payment – free
Mass payment – free
Bank wire transfer – 0.8% (min $85, max $135)
Load funds to ePayments Mastercard – free
Withdraw funds to credit/debit card (VISA/ Mastercard/ Maestro) – 2.9% (min $3.5)
Withdraw funds from ePayments to WebMoney – 2%
Mass payment to WebMoney – 2%
Withdraw funds from ePayments to cryptocurrency (bitcoin, litecoin) – free
Here's the fees for depositing funds through ePayments:
Internal payment – free
Bank wire transfer – free
Processing of bank wire transfers with incorrect bank details or without ePayments ID as payment reference – $30
Deposit funds from WebMoney to ePayments Prepaid Mastercard card – 1% (min $5)
Unload funds from ePayments Mastercard – free
Upload funds with credit/debit card (VISA/ Mastercard/Maestro) – 2.6%
Upload funds with cryptocurrency (bitcoin, litecoin) – free
Click here to register for ePayments.com now!
If you carefully analyze their fees which is mentioned above, you will understand that their transaction fees are very nominal when compared with the rest of their competitors. Not only that, they are also serving worldwide and offering their services to a lot of professionals and businesses.
Why should you go for an eWallet service like ePayments over PayPal?
That's a great question to begin with. PayPal is playing a monopoly game in the online world and they set the rules. That's why people are paying hefty charges to PayPal (you'll have to pay around $5 to them for every $100 you receive and that's a huge amount).
If you're looking for a better, easier and cheaper way to manage your online payments, eWallet services like ePayments will come in handy (where you can save up to 2 to 3% when compared to PayPal handling charges).
How can you load funds to your eWallet?
Are you wondering how you can load funds to your eWallet from ePayments online platform? Don't worry, there are several ways which are mentioned below.
From the VISA/Mastercard card which is linked to your ePayments account
Via bank transfer; Via WebMoney
Via internal transfer (from other ePayments users)
Cryptocurrency (Bitcoin, Litecoin)
As you can see from above, there are a variety of options you can use to manage your online funds.
How quickly the payments are made?
One of the important questions most bloggers may have in mind is this: how fast the payments are made to others? It depends on the transfer method. Here are some of them to give you an idea.
A bank transfer: from 1 to 5 working days
A transfer to WebMoney: up to 15 minutes
An internal transfer: instantly
A transfer to a third-party VISA/Mastercard card: from several minutes up to 3 days (it depends on a card issuer)
A transfer to an ePayments prepaid Mastercard card: instantly
So there you go! They are really quicker in transferring your money when compared to their competition.
FAQs About ePayments
Here are few FAQs that you might want to know about ePayments platform before giving it a try. Also if you've any questions about it, do ask them in the comment section below the post.
What is ePayments and how can it help you?
ePayments is an international payment provider which was launched back in 2011 that provides payment services for over half a million freelance clients and 1,000 companies all around the globe.
ePayments platform helps you easily send and receive money across the world so you can worry less about managing your online payments and focus more on increasing your business.
What is the fees for the ePayments account?
For outgoing money transfers:
→ Free for ePayment users
→ To bank accounts: $3
→ To bank card: 2.9% min $3.5
→ To WebMoney: 2%
For receiving payments:
→ Free for ePayment users
→ To bank accounts: Free
→ To bank card: 2.6%
→ To WebMoney: 1%
Can I send money to those who don't have an ePayments account?
No, you can't. Fortunately, you can send money to people who don't have an ePayments account as ePayment only needs their mobile number or email address. 
How to open an ePayments account today?
Are there any alternatives to ePayments?
Yes, there are so many including Tez, PayGo wallet, True Money, Air Pay and so on but ePayments is one of the leading and most reliable online payment platform for sending and receiving payments online.
How to contact ePayments support team?
You can contact them by email: [email protected] or you can also use their tickets system after setting up your account.
Final thoughts about ePayments ultimate review
ePayments is the safest, easiest and most convenient digital wallet for those who make money online. If you are a blogger, consultant, freelancer or anyone who wants to manage online funds effortlessly, ePayments is just for you.
They offer you to perform digital transactions at much cheaper rate when compared to most of its competitors without sacrificing security, effectiveness and convenience.
So what are you waiting for? If you are looking for an easy and comfortable way to manage your online funds, give a try to ePayments platform and do let me know if you've any questions about it. Also share your thoughts about ePayments review in the comments below.