[The Massive Guide] 28 Really Powerful Ways to Get 5x More Traffic To Your Website
|
50% of all blogs fail within the first 3 months. Did you know why?
They all struggle to get more traffic and fail. If you want to find yourself in the other half of blogs that succeeds, you need more traffic to your websites.
I've been experimenting different kinds of traffic sources from last 6 years and I know increasing traffic to ANY website or blog is not that hard! If you are wondering how to get more traffic to your sites, I've a HUGE list for you where I've compiled few powerful ways to get 5x more traffic to your websites.
This massive guide (with over 4500 words) is probably going to change your website's fate forever if you can implement at least few of the strategies mentioned below. So take time to read and implement them for better results.
Are you curious to discover them all? Let's jump into the details.
28 Incredibly Powerful Ways to Get 5x More Traffic to Your Websites
1. Use Your Email Signature Smartly
We process email A LOT of times every single day, right? In fact, we check our email inbox multiple times a day just to make sure we are not missing any important stuff.
We usually get a bunch of emails from others and we also send a handful of replies to most of them. Here's where the email signature can work like a charm.
One of the most simplest ways to get more visibility to your sites is to use email signature. Simply go to Gmail settings and put a link back to your sites in the email signature section.
It doesn't matter whether you have a new blog or an already established blog, by using a link to your website from your email signature can get you more visitors.
How to put it into action?
Make sure to use compelling, short and sweet email signature. If you want to drive more traffic to your homepage, use words like "Founder at [your blog's name]" or if you want to get more people to read your new post, use words like "Have you read my recent blog post [with link]".
The same way, you can also create email signatures to increase your specific product sales or email subscribers. So what are you waiting for? Go and put it into action to quickly get more traffic to your websites.
Recommended: WiseStamp Review: Is it the best email signature creator for your business?
2. Use Quora to Boost Your Online Exposure
If you haven't started using Quora yet, you should probably do it as soon as possible. Quora is a question and answers based platform where you can get best answers for almost any topic.
The best part about Quora is it's HUGE community. There are millions of people ranging from marketers to engineers to millionaires sharing and connecting with others worldwide. Just pick the relevant topics related to your industry and start answering the questions you know.
For any topic, you will find thousands of answers and lots views because of Quora's massive user community.
Soon, you will start getting notice from other people. You can also link back to your sites to get more traffic and followers. Did you know that the top answers also get republished at the biggest sites like Forbes, Huffington post etc?
Yes, that's the beauty of using Quora. You will get more traffic to your sites along with the reputation as you keep on adding better answers.
Action tip: Join the Quora community now (if you don't have a profile yet). Start following the topics and influencers in your industry. Upvote and leave comments on the answers that you find interesting. Start answering the questions to get more traction to your sites.
3. Conduct Interviews with Other Bloggers
This is probably the best promotion strategy for any blog. Make a list of 50 to 100 bloggers in your industry. Start connecting with them on social media and through their blogs. Leave frequent comments and engage with them through email regularly.
This all adds up and helps you build a strong relationship with other bloggers and influencers in your field. Once you feel you have built the connection with them, ask them whether they are interested in doing an interview with you.
You can usually use the following methods to conduct interviews with others.
Podcasts
Textual format interviews (which can be published as blog posts)
Infographics
Video interviews (perform really well)
Find out which way of interviewing works well both for your audience and others so you can prepare questions for them.
Action tip: If you are just starting out, do textual format interviews with other bloggers. Send 10 to 15 really interesting questions to them and ask them to reply to your questions within a week or two so you can make your interviews go live as soon as possible. Once the interview gets published, email them to promote it and most of them will share them with their followers. That's how you get more visibility to your blog posts.
4. Blog commenting still works if you do it smartly
When I first started blogging, commenting on other relevant blogs was the #1 strategy for me to boost my blog's traffic. I used to find a lot of relevant blogs in my industry, read their blog posts thoroughly and left comments that add to their conversation.
I used to be the top commentor on most of the blogs (also the first commentor) so others used to click on my blog's link to visit my site. That's what exactly you need to do if you want blog commenting to work for you in getting more traffic to your website.
The two reasons most people don't get traffic from blog commenting:
They don't add any value to their comments. They just say "nice article and blah blah" instead or starting a discussion in the comments.
They usually be the last one to leave blog comments on a post. If a post on a top blog is getting 50 comments and you are 51st one to post a new comment, it won't get any attention. So try to be in one of the first few commenters by adding value. Subscribe to your favorite blogs so you will get updates whenever they post something new.
Action tip: Make a list of 50 A-list and top blogs in your industry. Use Google search terms like "top blogs + marketing" (replace your blog's topic field) to find great blogs in your space. Subscribe to their blog updates and start leaving insightful comments.
5. Using SEMrush to grow your search traffic
I love SEMrush for A LOT of reasons. I can use it for finding great keywords, backlink analysis, site audit, content ideas and a lot more.
It's the #1 tool that has helped me get 5000 extra visitors to my site just within 30 days. So if you are looking for an incredible tool to grow your search traffic, give a try to SEMrush once.
Action tip: Go to this link and you will get SEMrush free for 14 days. Add your website, find your competitor's, know their best performing keywords and use some of them. Within a month, you will start noticing the results in your search traffic.
6. Start using long tail keywords
Long tail keywords are longer, more specific and quickly send you more search engine traffic to your websites. They usually contain 4 or more keyword phrases in them (ex: best marketing tips for consultants which contains 5 keywords in it).
But the problem with keyword research is either you will find high volume keywords or you don't find profitable long tail keywords. Here's where a great keyword research tool like Long Tail Pro comes into play. The below image will tell you the importance of using long tail keywords within your content.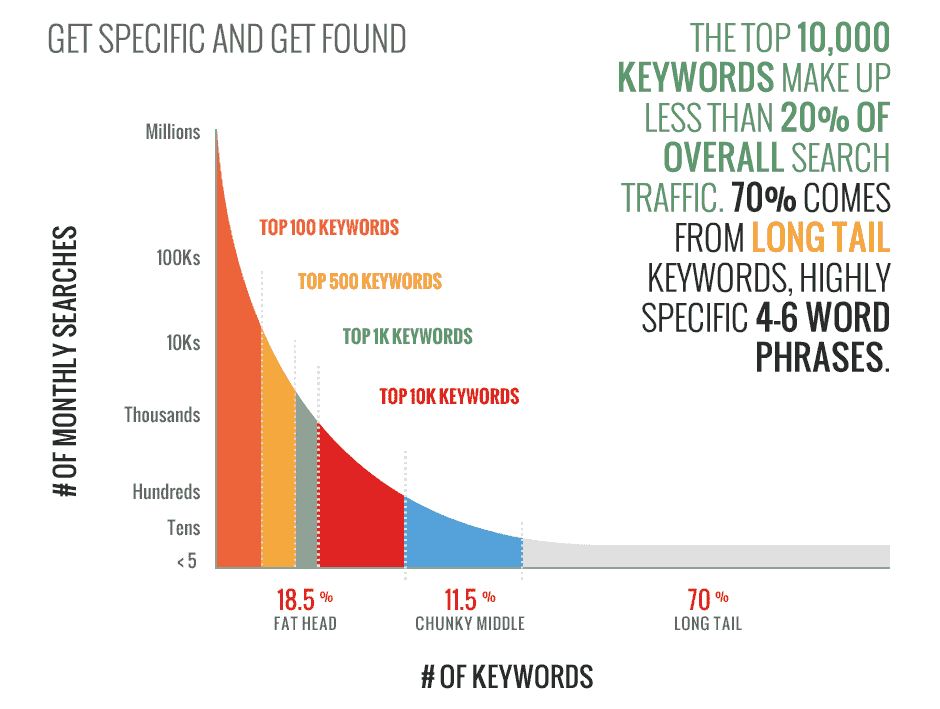 This incredible tool makes it easy for you to come up with hundreds of potential long tail keywords in any industry so you can use them within your content to increase your search traffic and sales.
Action tip: Before writing your next post, build a list of lots of keywords that you can use in your blog posts to generate more search traffic. Use tools like Keyword planner, Long Tail Pro etc to easily find great long tail keywords. As a rule of thumb pick only those keywords with the monthly search volume between 500 to 1500 so you can easily tap in more traffic from search engines to your websites.
7. On page SEO plays a huge role
All the things that you do on your web pages and blog posts is called on page SEO. If you are not optimizing your blog posts for specific keywords, they won't rank well in Google.
If you are a beginner, you must remember to optimize your posts for search engines. In order to do that, first you need to come up with few long tail keyword ideas for your posts so you can optimize them for your content to rank well in search engines.
Your page titles, links, URL, image alt tags, meta description, keywords in your body text all such factors play a huge role in on page optimization.
Action tip: Simply install WordPress SEO by Yoast plugin (it's free). Pick a primary keyword while creating blog posts and the plugin tells you where to put that to get better rankings for that keyword. Avoid keyword stuffing at all costs as it can penalize your site from getting better results in search engines.
8. Run giveaways
Who doesn't like free stuff? Everyone craves for free goodies, right?
Most people still don't understand the value of running giveaways. They always work like a charm. With a minimal effort, time and money, you can reap the best rewards from giveaways.
In fact, Noah Kagan has built 2 million dollar online businesses like AppSumo and SumoMe mostly by running frequent giveaways. That's the greatness of them so make sure to give a try to them if you want to quickly get 5x more traffic to your website.
Instead of spending money on running fancy giveaways, only promote those products that are relevant to your blog's topics. That way you will be only attracting targeted audience instead of random people.
Action tip: Look for sites that are already running giveaways in your industry. Find out how they are promoting their giveaways and which products they are giving away to their audience to grow their sites. Contact the product owners and tell them that you are interested in running giveaways (you'll either get free products or a discount) and do them frequently to grow your blog's audience.
9. Create award winning headlines
8 out 10 people read your headlines first. Then, they decide whether or not to click on your blog posts. Your headlines show up everywhere – on your blog posts, twitter, Facebook and everywhere else they get shared.
That's the reason why you need to spend more time on crafting click worthy headlines. If they are not compelling, you won't get any clicks even if your content is top notch.
As a rule of thumb, create at least 5 to 10 headline ideas for every blog post you write. Pick the best 3 among them and use them in your headline, tweets and sub headings. That way your blog posts can quickly go viral due to magnetic headlines.
Action tip: Use headline generators like Portent (free tool) to come up with unlimited number of headline variations for your blog posts. Just enter a keyword and it will give you huge list of headline ideas that you can use to get more attention from your audience.
10. Facebook can be your ultimate weapon
Facebook is better than any other social media network. It has over a billion users and you can get massive attention either by using influencer marketing or by using Facebook ads.
So ignoring to market your site using Facebook can be a big mistake. Make sure to create page for your own blog or website on Facebook, start sharing valuable content and engage with your audience.
When you are just starting out, get as many likes as possible by running ads to increase your Facebook fans and engagement. Once you have at least 1000 likes for your Facebook page, you can then use ads or boost your post visibility to get more likes, traffic and sales to your sites.
Make sure to add links and a great bio about your site on your Facebook pages. Ask your friends and family to follow and like your stuff on your pages so you can easily get the initial traction on Facebook to reach more audience.
Action tip: Use tools like Buffer to schedule your posts on Facebook well in advance so can create a consistent posting schedule your social media promotion strategy. Also connect with the influencers on Facebook and start sharing their stuff to build relationships.
11. Twitter is golden
If you are struggling to get more visitors to your website or blog, you should give a try to twitter. It's the simplest way to get more traffic to your sites in less time.
Use an appealing image of yourself or your brand (with the header image), add links to your site from your twitter bio and start tweeting the best stuff using the hashtags related to your industry to get more out of twitter.
Also connect with the influencers in your industry on twitter, see what they are tweeting and find out how they are promoting their products and content. Use those tactics to increase your own engagement on twitter and traffic to your sites.
Here are few twitter stats that persuade you to start focusing on it to get more traffic to your sites.
Twitter has over 300 million active users
88% of Twitter users are on mobile
Over 500 million tweets per day
92% of all interaction with tweets are done via link clicks
That says it all about the importance of using twitter to grow your business, sales and traffic.
Whenever you get a chance, link to your twitter profile, be it from your own blog posts, Facebook page, guest posts, interviews or videos. That way you are giving more visibility to your twitter accounts to get more followers.
Action tip: Follow twitter influencers like Jeff Bullas. They know how to use twitter to generate thousands of visitors to their sites. Find out how many times they are tweeting in a day and adjust your tweeting schedule according to that to see better results. Follow me on twitter to get best content around blogging.
12. Instagram is the new king
Instagram quickly became popular. It has millions of active followers and you can instantly get more attention to your blogs or content by posting compelling quotes (with images).
By posting at least twice a day, you can get a lot of likes and new followers on Instagram. Make sure to put your image as your profile picture, write a simple bio along with the link to your sites to get more clicks from Instagram.
Another thing to remember while posting on Instagram is to use hashtags. As a rule of thumb, use at 10 to 15 hashtags related to your industry for every post to get more likes, comments and followers for your account.
Action tip: Use shareable visuals while tweeting. Tweets with images always perform well. And make sure to add 2 to 3 tags for every tweet you post to get more retweets, comments and engagement.
13. Driving Pinterest traffic
Pinterest is another great traffic source for bloggers. It's the platform where you can create and promote images. Use links to your posts within the images to get people to visit your sites.
Use Pinterest buttons within your blog posts and include lots of great images to let your audience share your stuff on Pinterest.
Action tip: Create a free account on Pinterest right now and post images relevant to your industry by using tools like Canva or Buffer.
14. YouTube can be your #1 traffic source
YouTube is the second largest search engine in the world after Google. Still majority of the bloggers are only focusing on Google not YouTube.
If you are also doing the same mistake, you should start creating videos on YouTube as soon as possible. It's a great way to find new audience, build backlinks and get more traffic to your sites or product landing pages.
Action tip: Create a YouTube channel, name it according to your blog's topic and create an intro video to let your audience know what your channel is all about and what they can expect in the future. Also ask them to subscribe to your channel. Promote your channel using your Facebook, twitter and blogs to quickly get more attention.
I love Buffer for one major reason: it has most elegant and simple interface that lets you schedule, publish and analyze your social media posts within minutes.
Buffer also has a free version which is enough for anyone to connect with multiple social media profiles like Facebook, Instagram, twitter etc. You can schedule your posts in advance, you can also know how many people are actually clicking your links so you can adjust your posting frequency for better results.
Action tip: If not using yet, start using Buffer from now. Connect all your social media accounts and schedule your blog posts links in advance so they can be sent automatically at the right times throughout the day to get more online visibility.
16. Blogger outreach
Sending personalized emails to other bloggers is helpful for two reasons. One is you can get to know other bloggers in your field and you can drive some nice traffic from their sites.
But before asking others for any favour, help them first. Find out how you can add value to other bloggers either by linking to their stuff or sharing their posts with your network and most bloggers will reciprocate.
Action tip: Go through this detailed guide on how to do blogger outreach the right way to get more attention, traffic and shares to your sites.
17. Guest posting is evergreen
Matt Cutts said, guest posting is dead but it's really not. Still people are using guest blogging to build links, get more traffic and sales to their sites.
Build a list of 20 to 30 blogs in your industry, come up with guest posting ideas and reach out to them. If your topics are great, most of them will gladly publish them by linking to your sites.
While writing guest posts, make sure to focus on their guidelines and spend quality time in creating a unique angle with your guest posts to grab more people attention.
Action tip: Define goals for your guest posts. Do you want more traffic? Sales? Or subscribers? By knowing your goals, you can get better results with guest blogging. Also make sure to build long lasting relationships with the bloggers which can be helpful for you in building a profitable blog in the long run.
Repurposing your popular content is the quickest and surest way to get more traffic.
Instead of writing new posts to increase your website traffic, find out what content is performing well in your blog and turn them into slideshare presentations.
Action tip: Find out the top 10 posts in your blog (use Google Analytics to find them out) and start creating slideshares for all of them and upload them on SlideShare. Use better headlines and ask your existing blogging network to promote your slideshare presentation to get more views.
19. Create Infographics
Most people are now preferring Infographics to consume content online. They are fast and visually compelling communication channels to easily digest any information.
You can use tools like Canva to create great infographics for free. Or you can also hire someone or pick a Fiverr gig to design your infographics. Make sure to add links your blog posts or website and give options for others to embed your infographics on any site. That's how you usually get backlinks to your sites.
So they are great for two reasons: you are getting more traffic and backlinks. Here's what makes a great infographics.
Action tip: When you are starting out, use free tools like Canva to design infographics by yourself. There are so many tutorials out there to help you how to design infographics within a few minutes. Create infographics around your most popular posts on your blog to get more shares and backlinks.
20. Become an active member of forums
Forums like Blog Engage, Blokube, Indiblogger etc are great platforms (and they are free as well to join) to connect with other bloggers in the community.
You can use the forums to promote your content, comment on others posts and really encourage others to visit your sites. Whenever you publish a new post, make sure to add links to it on all the forums relevant to your industry for more exposure and traffic.
Action tip: Find and join the forums relevant to your field. Make sure to spend some time everyday to see what's happening around your blogging community.
21. Build your email list before you're even ready
People like Pat Flynn, Ramit, Derek Halpern are making 80% of their income from email lists. They know how essential an email list is to bring more traffic and sales to their sites.
So make sure you are building a list even before you are ready. Use services like GetResponse to build and grow your email list by giving away incentives like free eBooks. Also use optin forms everywhere on your blog to convert more visitors into subscribers.
Action tip: Go and sign up for GetResponse now (you'll get a 30 day free trial). Give something for free and use as many optin forms as you can on your site to quickly grow your email list.
22. Conduct webinars (start with YouTube hangouts)
Webinars are going viral these days. Almost every top blogger is using webinars to build their audience, email list and grow their income. Most of them are using webinars (web based seminars) to educate their audience about their products or particular topics.
They are also connecting with other bloggers and mutually sharing their email list with each other to get mutual benefits. So if you are looking for a perfect way to boost your website traffic along with the sales, you need to try webinars.
Action tip: Read this guide to start your first webinar. You will know everything you need to host your webinars.
23. Host a seminar
Bloggers like Harsh Agrawal, Kulwant Nagi are recently conducting live seminars all over India. They know that hosting seminars is the surefire way to build their reputation, reach more people and increase their overall sales.
If you can find sponsors, you can also be making money by running seminars. Simply collect money from each participant and use your email lists or Facebook group to notify people about your seminars well in advance so they can book tickets.
Action tip: Connect with people who are already doing live seminars within your city. Attend their seminars and try to become friends with them. Start doing seminars for free in the beginning. Once you start getting more exposure, think about different ways to monetize your seminars.
24. Be interviewed by others
I frequently get emails from other bloggers to know whether I'm interested in doing an interview for their blog audience. Almost every single time, I accept their requests.
The reason is simple. I get backlinks to my sites and I'm also sharing my blogging knowledge with new audience (so I get more traffic along with the links from other sites). So it's a great way of increasing traffic, links and exposure: be interviewed by other bloggers.
Action tip: Use your Contact Us page smartly. Make sure to include words like "If you want to interview me, use this email id to contact" etc. So people who might be going through your contact page show interest in doing an interview with you.
25. Use HARO
HARO (Help A Reporter) is widely used by top marketers and blogging experts to get more exposure and links from authority sites like The Huffington Post, Forbes etc.
To put it simply HARO is an online service set up for journalists to quickly gather feedback from the public (especially bloggers and marketers use this strategy to tell their stories to journalists so they might get picked up by Huffington post, CNN etc).
Action tip: Make sure to use this guide by Neil Patel if you want to bring more exposure and links from authority sites in your industry. It's actually a detailed video that explains what you need to do to get massive exposure from top sites using HARO method.
26. Add a forum to your site
Are you looking for a fun way to add a community to your site? You should give a try to forums then. Add a forum to your blog or website and you can spend time in answering your audience questions and to increase your engagement with them.
You can use tools like bbPress, BuddyPress etc to easily add forums along with the user permissions, social media integration, comment section etc. You can also create private messaging, groups, activity streams to make your blogging forum interesting.
Recently Neil has added a forum to his blog QuickSprout and Harsh Agrawal also did the same thing by adding a forum to his blog to encourage his readers to participate in the community.
Action tip: If you want to create more engagement within your blog, adding a forum is the best choice. You can use free tools like bbPress to easily add a forum to your site. Decide which topics you want to cover and add some basic questions. Promote it and encourage your audience to start participating in it.
Whenever I publish a new blog post here at BloggersPassion, I make sure to submit it on all the social bookmarking sites like StumbleUpon, Folkd, Delicious, Digg etc. I know submitting links across these sites can give me more visibility, traffic and links to my sites.
Action tip: Go to all the social bookmarking sites and create an account for yourself. Make sure to add links to your own blog and whenever you publish a new post, submit it to get more traffic and links.
28. Find the sites that do weekly post roundups and pitch them
There are a lot of sites in almost every industry that do weekly post roundups. These roundups usually compile a list of posts from other blogs and they do it often (weekly or monthly).
All you need to do is to look out for those sites and make sure to pitch them with your best posts. But before pitching them, connect with those bloggers, tweet their stuff, leave comments on their weekly roundups to build some engagement with them so it becomes easier for you to pitch your own blog posts for their weekly post roundups.
Action tip: Do a quick search on Google for the weekly round ups in your industry. Connect with those bloggers and follow them on social media. If you have a great piece of content that suits their audience, email them about it. Most people would gladly link to your stuff.
Final thoughts on getting 5x more traffic to your websites
Not so long ago when you could get more traffic to your website just by posting more content. It won't work now as Google is giving first page results to only those pages that are detailed and really helpful.
So depending on just Google alone to increase your site's traffic is not a smart strategy. You should also find other ways to bring more traffic to your sites. That's why I've put so much time into creating a massive guide with 28 really powerful traffic generation ways.
Use them to your own advantage as few of the tips mentioned in this page are worth implementing immediately and bring you results really quickly.
What are your thoughts about this massive post? Do you have any more tips to get more traffic to a website or blog? Share your thoughts in the comments below.