GetResponse Vs MailChimp: Which Is Best to Grow Your Email List in 2018
|
Are you confused between GetResponse vs MailChimp? You're in the right place where all your doubts get clarified by the end of the post.
Have you ever wondered why every top marketer is giving their #1 priority to collecting more emails?
Why 90% of the professionals say, "money is in the list"?
The reason is simple: email marketing has the highest ROI when compared to any other platform. At an average, every email subscriber is worth of $40 on every $1 you spend! That's huge returns, right?
Email marketing beats every other strategy including social media, SEO, banner ads etc.
If you are thinking to start an online business that makes you passive income in the long run, you shouldn't IGNORE. The best advice is: start growing your email list today. But here's the one thing that always bugs most beginners – "which is the best software to build my email list?". That's a fair question.
AWeber?
MailChimp?
InfusionSoft? Or something else?
So which is the best email marketing software
In this GetResponse Vs MailChimp comparison post, we'll talk about the two incredible email marketing autoresponders that are used by millions of people worldwide.
GetResponse vs MailChimp: Which is better in 2018?
Before diving into the details of GetResponse Vs MailChimp review, let's quickly talk about both of them.
GetResponse is used mostly by "serious people" (aka people who are serious about making money online).
People who are really serious about using their email lists to make money prefer using GetResponse. Big marketing guys like Neil Patel, Peep Laza etc are using it to grow their email list and make sales from it.
GetResponse is offering 30 day free trial. You don't even have to enter your credit card information. It's free for 30 days, if you like it, you need to pay them $15 per month afterwards.
Click here to start using GetResponse (free for first 30 days)
MailChimp is widely used by "beginners"
Beginners to email marketing mostly use MailChimp. The reason being, it allows you to build a list of your first 2000 subscribers for FREE. You don't have to enter your credit card information or pay them a penny to use their service to build your email lists.
Did you know that over 9 million people are currently using MailChimp and they send over 600 million emails every single day. This stat alone can give you a better idea on how popular MailChimp is among email marketing users.
Click here to start building your email list on MailChimp (free for first 2000 subscribers)
From the above comparison, you might find MailChimp is better than GetResponse.
But in reality, it's not! Here's why.
You can't send email autoresponders to your subscribers. This is a serious issue if you want to build engagement with your email list. I mean, how on earth can you possibly build trust with your subscribers without sending a set of autoresponder email series?
Okay, even if you are fine with this, there's another catch with MailChimp.
You can't send affiliate links using their email newsletters. This is really sad!
Especially for the bloggers who are growing their email list to make sales by promoting their affiliate products. MailChimp deactivates your free account without your permission if you do so.
Here's what MailChimp says about this. (source)
—————————
Prohibited Content

Please don't use MailChimp to send anything offensive, to promote anything illegal, or to harass anyone. You may not send:

Pornography or other sexually explicit Emails
Emails offering to sell illegal goods or services
Emails that violate CAN-SPAM Laws
Marketing or commercial email without permission

Some industries have higher-than-normal abuse complaints, which can in turn jeopardize the deliverability of our entire system. Nothing personal, but in order to maintain the highest delivery rates possible for all our customers, we can't allow businesses that offer these types of services, products, or content:

Escort and dating services
Pharmaceutical products
Work from home, make money online and lead generation opportunities
Online trading, day trading tips, or stock market-related content
Gambling services or products
Multi-level marketing
Affiliate marketing
Credit repair and get out of debt opportunities
Mortgages and loans
Nutritional, herbal, and vitamin supplements
Adult novelty items or references
List brokers or list rental services

If you send this sort of content, most email services providers won't be able to help you. You might want to look into setting up your own mail server.
—————————
See the bold letters above, you simply can't send anything related to affiliate marketing or making money online by using MailChimp's free plan. This is the reason you either need to get their PRO account or consider using even better choice – GetResponse.
Again, your thinking changed from using MailChimp to GetResponse, right?
Is MailChimp really that bad? Not so!
MailChimp is really good for the beginners who want to start building their email list from day 1. The reason is it's easier to create newsletters, their design is intuitive and more importantly they don't charge you anything until you get your first 2000 subscribers.
So if you consider that, MailChimp beats GetResponse way ahead.
Let's now look at the features of MailChimp.
Subscriber profiles (you can view who clicked and opened your emails by this feature)
Automation and personalization (send the email to the different time zone people at the right time. Personalize your emails however you want. Want to include their names? No problem!)
Best time feature (MailChimp provides you the best time to send your newsletters so you can get more open rates and clicks)
Advanced analytics (to help you monitor sales, analytics and what not?)
Provides you A/B testing
Mobile optimized newsletters
Allows you to share your newsletters on social media to get more exposure
And above all, they have lots of gorgeous looking newsletter templates (you can use anyone of them without any coding)
Click here to sign up for MailChimp
Now, let's talk about the other email marketing software GetResponse.
Note: I've been personally using GetResponse for more than a year now and I never got disappointed with their service or features.
The #1 use of GetResponse over MailChimp's free service is the access to the email autoresponder. If you don't know what it is, let me explain. With an email autoresponder, you can set up your email newsletter sequences in advance and they will be delivered to your email subscribers (new or existing) automatically at predetermined times.
See, how good is that? You don't have to send newsletters every time someone subscribes to your email list. Your autoresponder takes care of it. You just have to create an autoresponder by going to your GetResponse dashboard. You can select the predetermined days to send to your email subscribers.
With an autoresponder, you can pretty much do the following.
Set up a welcome sequence for new email subscribers
Create email course and spread the content out over several weeks
Send a weekly newsletter
Sell affiliate products
and many more
Here's how it basically looks like:
This is the missing (email autoresponder) thing between MailChimp and GetResponse. You can't send automated newsletters to your subscribers by using MailChimp's free account (but yea, you can do that by their PRO account).
Let's now talk about the GetResponse features.
mobile responsive emails
stunning mobile apps
better analytics
great autoresponder
comprehensive segmentation options
social sharing tools
split testing
RSS / blog to-email functionality
lots of templates to choose
time machine feature
If you want to read an unbiased GetResponse review, please click this link.
When using an email marketing software, here are the 3 major things you should look for.
#1. Deliverability: You can't make even a penny if your emails don't get delivered to your subscribers.
GetResponse offers 99% email deliverability that's industry highest rate! So you can trust their service and from my personal experience I sent all my newsletters using GetResponse successfully.
MailChimp offers 98% deliverability which is also good.
#2. List segmentation: Your email marketing software should allow you to send tailor made emails to various subscribers to your email list. This is really important when you are selling stuff. You can't sell affiliate products in your first mail (welcome mail), but by segmenting and creating awareness, you can do that.
Both of these GetResponse Vs MailChimp offers list segmentation.
#3. Pricing: We all know the importance of this. Make sure you are not spending too much.
MailChimp – free (for 2000 subscribers) they also have a pro account
GetResponse – free (for 30 days) $15 per month after that
Here's the most common question few people ask – what if I start building my email list with MailChimp and pay them once I reach 2000 email subscribers?
Honestly speaking, it sounds like a good idea. But in general, it's not. The reason?
Once you decided to start paying for MailChimp (once crossing 2000 subscribers), it costs you more than GetResponse!
Overall, GetResponse costs you less that what MailChimp costs you in the long run. So if you are aiming to increase sales in the long run, I highly recommend you using GetResponse over MailChimp.
For instance, let's consider that you have a list of 2500 email subscribers. To maintain that list, you will have to pay $30 every month to MailChimp whereas GetResponse offers the same for $25/month.
And if you have a list of 10,000 subscribers, you just need to pay $65 per month to GetResponse, and you will be paying $75/mo ($10 more than GetResponse) to MailChimp.
So decide yourself which autoresponder to go for when you face GetResponse Vs MailChimp.
Here's the pricing list of the both email marketing softwares in case if you want to a clear idea.
GetResponse pricing:
Click here for a free 30 day trial of GetResponse
MailChimp pricing: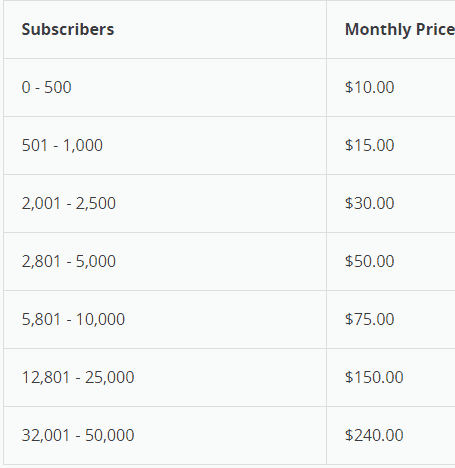 Click here to sign up for free MailChimp account
I think, by now you got a clear idea about the pricing of both GetResponse vs MailChimp. If you are smart enough, you will easily understand that, GetResponse is cheaper than MailChimp (as you go) in the long run.
4 Amazing GetResponse features
GetResponse amazing features helps a lot in maximizing ROI, increases sales. It's features are super easy to set the things up. GetResponse features helps in driving great results and also boosts your marketing campaign. Here's a quick look at their predefined templates.
This GetResponse vs MailChimp review will be incomplete without talking about each of its features, so let's quickly cover them.
Generate more leads. Without subscribers, there is no business. GetResponse helps in generating more leads.You can create attractive web forms in minutes. GetResponse list building program enhances your list by up to 10,000 subscribers that too with in 90 days. With just one click, you can add all your contacts to your marketing list using automated single opt in import feature.
Create professional email campaigns. If you want to increase sales then subscriber engagement is more important than anything else during email campaign. You can send beautifully designed responsive mails through comprehensive email campaign. GetResponse offers a suite of tools to that are tailored to your subscribers
You can create converting landing pages. When it comes to marketing, in addition to satisfying the present customer needs, you always need to attract new customers also. GetResponse offers responsive landing pages and web forms for this purpose.There are more than 150 ready-to-go templates to create fantastic web pages for webinars, sales, opt-ins etc without learning a single line of code.
Do campaign with real-time analytics. It is highly important to know which email converts the best if you want to maximize ROI like how many people actually clicked the link inside your mail? What devices your subscribers mostly use to see you email? What is the open rate of your autoresponder? So, with the advanced features provided by GetResponse, you can get answers for all these questions and you can give your best shot for your campaign.
4 Rocking MailChimp features
MailChimp is also a great tool for email marketing. You can build amazing email marketing campaigns with these 3 MailChimp features.
Create automation funnels. Based on the behaviour and preferences of the customers, its robust marketing automation makes sure that your emails goes to the right people and at right time. With a single API request, you can trigger serie sof emails to your audience. You can get report insights to check every automated series.
Create campaign that match your style.  You can easily create a campaign using drag and drop designer It has many collaboration options like comments inside the editor, multi user accounts etc to speed up the design process.
Analytics features to enhance business. Wherever you are, you can monitor sales, website activity with revenue reports, inform your advertising content with purchase data and much more with MailChimp's advanced reporting features. You can optimize ad and email campaigns in one place.
Create A/B testing. Well, you have sent an email to your contacts. Some messages have higher open rate than other and it will be very hard make sense of the stats. That's where A/B testing features comes in handy. Because of this feature, you can test three different variables namely subject line, From names, delivery dates and times. Under A/B split test, you can pick any of these variables and compare to know which performs the best. The test is so easy to carry out and takes a few steps to set up.
GetResponse Pros and Cons
Let's talk about the pros and cons of each one of these email marketing software in thisGetResponse Vs MailChimp comparison post.
Pros:
It offers fantastic customer support. Most of the users rated 5/5 for this.
It analyzes subscriber actions and gives a comprehensive report.
You can directly import contacts from outlook.
It allows integration with Google Analytics.
It asks unsubscribers to fill the feedback form.
Offers incredibly flexible templates, email editor.
You can create A/B test campaign
It suggests the best time to deliver mails to your subscribers based on your niche.
GetResponse pricing is contact based. If you want to send to 1000 contacts, you need to pay $15. However, if you want to send more than one email to the same list of contacts in a month, the contract based pricing is very useful as it allows to send an unlimited number of emails to all the email addresses in your contact list..
Cons:
It's interface takes some time for beginners to get used to.
There are no free plans (unlike MailChimp).
MailChimp pros and cons
MailChimp succeeded in building huge base of customers ranging from small startups to enterprise brands. Whatever the contacts list number, it's an affordable choice.
Pros:
You can schedule emails to deliver at a particular time zone.
You can import your own email templates or customize existing templates.
Its free up to 2000 contacts. However, they place their logo under your campaign.
It offers wide variety of multiple integration options.
You can track how your email campaigns are performing. You can also see the metrics how other MailChimp users are performing to know whether you are getting the most out of your efforts.
Its template editor is very easy to use.
For every campaign, you can integrate Google Analytics.
Cons:
It doesn't offer any professional templates unlike GetResponse.
Your account will be suspended if you get lot of unsubscriptions or spam complaints.
Not so reliable with WordPress integration and Paypal. So, having a membership based site is difficult.
Autoresponders will be sent to those who subscribed through web form.
The templates they offer are very basic that you have to create your own template.
It takes much time to design and organize the campaign as its interface is not user-friendly.
However, its absolutely good for beginner bloggers and small business owners who just starts email marketing campaign as it offers free service. So that's all from the GetResponse Vs MailChimp review, I hope it helped you to decide the right one for your site needs.
More Posts Worth Reading:
Final thoughts on GetResponse Vs MailChimp: which one should you go for in 2018?
The best time to start your email list is NOW. So act now, choose either GetResponse or MailChimp to get started. They both are free (GetResponse is free for 30 days), so you won't lose anything.
All in all, if I had to pick one among GetResponse Vs MailChimp, I'd go with GetResponse without thinking twice (because of the pricing, features and deliverability rate).
Let me know if you have any questions related to choosing GetResponse Vs MailChimp, I'd be glad to respond.