Hands down, Google traffic is the #1 traffic source for any website. Why? You get A TON of traffic by following the RIGHT SEO strategies that too mostly for free.
But increasing your search engine traffic is A LOT hard. There's a quick way though! Getting Google Sitelinks search box.
Are you looking for best practices of quickly getting site links for your sites? If yes, this detailed tutorial is exclusively for you.
Google used to show this type of search results only for most popular websites like YouTube etc but now a lot more other sites are also getting this feature.
Basically the use of search in site links is that your visitors don't need to enter your website to perform various actions but they can directly perform the search process from the Google search box itself. Thus it removes a step of search process and it provides better user experience.
You may ask, what are Google sitelinks and how do I get benefited from them.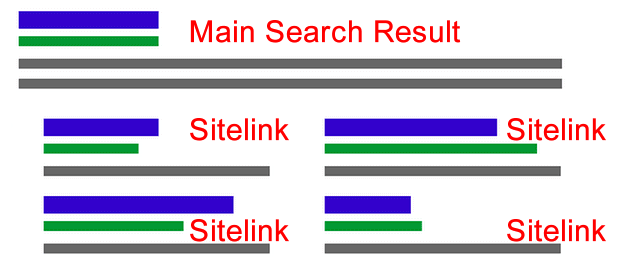 Now you got an idea? These links are simply Google sub headings of any website that are shown in Google search results. Let's now jump into the details on how you can get them for your website.
Google Sitelinks: How To Get Them Really Fast?
What are Google Sitelinks?
These links are the listing format or search box that appears below the website main page in the SERPs pages. They are indented, organized into two columns below the main page you searched.
These links are often the most popular sub pages related to the query you searched and leads to the internal pages of the website.
Though we don't have control over what links appears in the search site links, we can assume that these are the pages which align to the search intent of the user.
Recommended Reading:
To support my idea, let me show you two different queries I posted and the site links they fetched.
Since these links are well fetched for sites with large number of branded searches, I searched for QuickSprout blog for the first test. See the screenshot below for the results.
And for the second test, I did a search for only QuickSprout. See screenshot below.
Explanation: The idea behind the difference in site links displayed for the same website's search results is that, these links are search intent conscious. Google has designed it that way to show this search box and links that not only show relevant pages, it shows pages that the searcher might be interested in.
In the first case, these results for QuickSprout Blog had links to internal landing pages that were content-based because the user is sure to be interested in reading/viewing the blog section.
Similarly, when someone searches only for the branded term QuickSprout, he either is not acquainted with the blog and wants to know more about what QuickSprout is.
That is why, the site links this time come up with QuickSprout's pages that describe what it is and what the searcher might be interested to know. Like the product page (university), the blog page and a sitelink search box, to directly search for additional content on QuickSprout without even leaving the search page.
In simple terms, the links shown below some of Google search results are known as sitelinks. Here is an interesting video from Matt Cutts where he is talking about them and how they are actually created.
SiteLinks For Bloggers Passion
For BloggersPassion, I'm currently seeing 10 links below the main page and this combined with the "see more results from BloggersPassion" pretty much covers the whole estate of the first page. Click here to see the aura of Bloggers Passsion links in the search results.
Here is the list of 10 pages from my blog which are included;
How to Start a Blog in 2022 | Semrush 30 days Free Trial
About BloggersPassion & Anil | List of Free Blogging Sites
30 Best Indian Blogs to Read | Bloggers Income Report
250 Free Guest Posting Sites | Affiliate Marketing for Beginners
How to Make Money Blogging | Contact Me
Benefits (Advantages) Of Getting SiteLinks Search Box For Your Site
Here are some of the benefits of getting site links search box.
1. Richer visitor experience:
Since, site links provide better options for searchers they are bound to increase visitor experience. Anyone wanting to know about the "university" of QuickSprout and not remembering what to search for it might get lost in the search results. However, they are having the option for visitors to directly click on "university" link and also to see other potential links they might be interested in will get more clicks for QuickSprout.
2. More Click through rates = More Traffic
Now since the visitor has more options to choose from regarding the search query (brand name) he is bound to click on them and this results in more CTR and hence more traffic.
3. More Authority (they have positive effect on authority)
They are often awarded to sites that have quality content, good number of branded searches, their site hierarchy is well-structured. This proves that anyone having a large number of these links is bound to have a good website in the eyes of Google and this displays the authority you have in the niche.
4. It moves down negative SEO results from search pages:
When you have something like 2-3 of such links for your query, the bottom results get pushed further below that means you can get rid of negative PR with this trick.
Do People Actually Click On Search Sitelinks Search Box?
If you are wondering about people clicking on site links or not this case study by PPCHero claims that people actually do click on them and they actually increase the click through rates for a website and that too by a whooping 64%.
They found out that the CTR increased from 1.16% to 1.9% which is clearly a 64% in rise.
Read: Google Search Operators List for Beginners
Sitelinks Best Practices: How to Get Those Links For Your Blog?
Now that you know the importance of getting those links for bloggers, you may ask, how do I get those links for my websites?
Disclaimer: Before proceeding let me tell you that these links are completely an automated process and Google literally allows little or no control as to what goes into forming the site links. They also do not change if you use blogger or WordPress or any other free blogging site for your blog. They're the same irrespective of your blogging platform.
However, here are certain tips that actually help in sitelink formation and are a based on advice of professional SEO experts like Neil Patel and my own experience and knowledge.
So let's start with some working tips to get them for your blog:
1. Choose a brand name for your blog:
They are always easy to get for those having branded search. If you have a generic exact match domain name for your blog, you won't get a sitelink unless you are the highest authority in the niche.
If you already have a branded domain name and still not getting sitelink, I guess you have to make Google feel and realize that you are a brand. The best practice to build your brand is to create a presence online, start by creating social media profiles with all the branded usernames matching with your blog name.
2. Write more and quality content:
Writing quality content is the key to get more shares, more traffic and more authority. When you have authority in your niche, people search more and more for your website and blog and this triggers the Google automated process to get them.
3. Create info-pages:
By info-pages, I mean you have to create well-structured basic pages that tells Google more about you. Pages like contact, about us and advertise here signifies Google that you want to be known by these things or you want your visitors to see these things, that's what you are here for.
This triggers Google in showing the same pages like about page etc to your visitors because it thinks that's what they might be looking for too.
Eventually it will also show your popular landing pages (in the sense, pages getting more clicks) to the site link structure.
4. A well structured site is the secret:
No matter you use WordPress or any other blogging platform, as far as you maintain a site hierarchy you can reap the benefits of seeing search links.
Site hierarchy is about showing a flow to the visitors about the important pages/posts on your site. This can be achieved by having a clear and simple navigational menu that locates the important pages, categories of articles in your blog section etc.
5. Internal links for getting in-depth site links:
These links are often the most linked pages of your site. This is because Google thinks that more internal links means more importance of pages (considering that you mention them more).
This is evident from Google's own best practices: (check image below)
This means, using more of text version of your important pages as links with their alt texts clearly defined gives you an edge in the sitelink game.
6. Sitemaps also contribute
First of all make sure to sign up for a Webmaster Tools account. Also I strongly recommend you to setting up a Google Analytics and Google Adwords account as well to increase your chances of getting them for your websites (the latter two aren't a must, though).
You must need a sitemap for your websites. If you already have one, you can find it by entering your website name/sitemap.xml (ex: www.blogname.com/sitemap.xml)
If you don't have a sitemap for your websites yet, here's how to do it, go to http://www.xml-sitemaps.com/ and create one. If you are a WordPress user, you are in luck. Here's the great plugin to automatically do this all for you.
Note that, after following all the above things, your site takes some time to get them. You won't get instant results and you won't see immediate links after implementing the above things.
Please make a note that, according to Google "Site links are automatically generated links that may appear under your site's search results". So you don't have much control over the these links and you can't decide which links to appear on Google search results.
How to get the latest Google Sitelink search box changes for your sites?
If you want to implement this step and want to show Google's latest sitelinks search box for your site in Google results, then you must have a working search engine function. Then you can use Schema.org markup on your website's home page to implement this.
Here are few easy steps to how to get this done for your sites.
Put the markup on your website's home page
Set up a canonical URL for your site home page using rel="canonical" link
You must prevent crawling your site's search result pages with robots.txt
Browse more SEO Tutorials:
FAQs
What are Google Sitelinks?
Google Sitelinks are simply the links to your site pages below the main heading of your site shown in Google search results.
What are the benefits of Google Sitelinks?
Sitelinks will help you with richer visitor experience, better CTR, and more authority.
How do I get Google Sitelinks?
Choosing a brand name for your blog, writing more and quality content, info-pages, well-structured site, Internal linking, sitemaps, etc. can help get Google Sitelinks for your site.
How long until my website shows up on Google?
It may vary from a few days to a few months even as there are lots of factors that determine how quickly it will be indexed by Google.
How to get Google to instantly index your new website?
By installing and setting up Google Analytics & Search Console, publishing quality content, internal linking, social sharing, sitemap, etc. can help you index your new site instantly.
Final Thoughts About Getting Google Sitelinks Quickly
Although there are so many ways to boost your search traffic, getting Google Site links to your sites is the quickest way to get more clicks on your inner pages as well.
They increase your overall brand awareness and trust. Unfortunately, there's no guide given by Google on how to get those links for your sites, so you need to make sure to create a sitemap.xml for your sites.
Do you have any tip that can help us get these hard to get special links for our website from Google quickly, please share in the comments section below.