Guest Posting Services
Note: I'm no more offering guest posting services due to time constraints.
Guest blogging gives us the freedom to write content for other bloggers in the form of guest posts. All blog owners who are running a successful blog or are in the process of building a great blog, need fresh and targeted content at regular interval to keep their blog readers engage and for driving additional traffic to their blogs from search engines and Social Media networks. By writing quality content in the form of guest posts, we are solving their problems and it the same time, are able to achieve lots of benefits for our own website. So guest blogging is equally beneficial for blog owners and guest bloggers.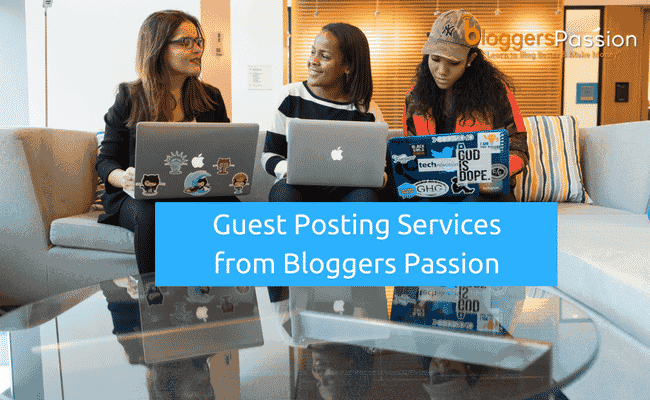 Browse more Blogging Resources:
Guest Blogging Benefits
Since we are intended to sell guest posting services through this page, so it's important to highlight some of prominent and hidden benefits of guest blogging.
You will get targeted traffic to your blog which will convert into your blog subscribers and customers if you are selling some short of service on your blog.
If you are frequently doing guest blogging on popular blogs in your niche, that will help you build your online reputation and trust from prospective blog reads and customers.
The most obvious reason why lots of guest blogging do guest posting is for doing link building for their website targeted pages. When you doing guest blogging on top authority and trusted domains of your niche, will help you earn high search engines for targeted terms and improved page rank due to creation of targeted backlinks from your guest posts.
Through guest blogging, you will be able to build a healthy relationship with top leaders in your industry. If they are happy with your guest blogging skills, they will more than happy to promote your website.
Our Guest Posting Services
We are the expert in guest blogging and have a team of creative writers who can write high quality guest posts for your website. Under our guest blogging service, we will be doing:
We will find targeted blogs for guest blogging as per your website niche.
We will be creating guest posts which will be engaging and will get approval from blog owners.
We will do all the communication with the blog owners and will share the published guest post URL's with you.
You can expect 1-3 targeted backlink from a single guest post.
Guest Blogging Package
We charge $100 per published guest post. But these charges are not for single guest post. We offer guest blogging services in 5 guest posts and 10 guest posts packages. If you ask us to do single guest post, that will not make business sense for us. Currently we are accepting payments by Paypal only.
Our Guest Blogging Portfolio
We can do guest posts around wide range of categories. You can check our content quality by visiting Bloggers Passion blog. Here is the list of some of our recently published guest posts on top blogs in blogging niche:
ShoutMeLoud.com
10 Onpage Optimization Factors for SEO Copywriting
ProBlogger.net
A 3-Step Blueprint for Smart Affiliate Marketing
3 Growth Hacking Strategies for Bloggers to Quadruple Their Blog Traffic without SEO
DailyBlogTips.com
Tips to Get 10 Plus Comments on Each of Your Blog Post
ZacJohnson.com
SEO Is Dead: Long Live User Experience Optimization (UEO)
SuccessfulBlogging.com
4 Incredible Tips to Build a Profitable Blog that Makes Money
BasicBlogTips.com
Why You Should NEVER Focus on Blog Post Frequency and What to Do Instead
5 Effective SEO Tips to Drive Tons of Traffic to Your Websites
BloggingTips.com
6 Blogging Mistakes that Are Costing You Website Traffic And Sales
Why Web Hosting Is Important? How It Affects Your SEO?
iBlogZone.com
Top 5 Benefits of Writing Guest Posts
QuickOnlineTips.com
3 Best Link Building Tools For Smarter SEO
HellBoundBloggers.com
Reasons which Force me to Say No to Your Guest Posts
Try our Guest Blogging Services
You can give a try to our guest posting services by contacting us at anil@bloggerspassion.com. Generally turn over time for 5 guest post used to be 3-4 weeks. You also welcome for contacting us in case you need any kind of help or assistance about guest blogging.