Hostgator Review Best Web Hosting with 60% Discount Coupon Code
|
If you are aiming at building any kind of business from your website, the first thing that you will need is choose a best hosting company that satisfies all your need and charge as per your budget. There is one web hosting company named as Hostgator that will offer you world-class web hosting services at affordable prices. Hostgator is the ultimate choice for most Internet marketers and bloggers, as they know the importance of choosing a good host. Today Hostgator Review will also include 60% discount coupon that you can use on all hosting plans from Hostgator.
As far as I'm concerned, some of my websites are hosted on Hostgator. Initially all of my websites including Bloggers Passion were hosted on some other web host. First I started using Hostgator web hosting services on one of my website. I become so happy with their services, customer support, features and pricing plans with huge discount coupons that I moved all of my websites now on to Hostgator.
Some Facts About Hostgator
Hostgator is a privately owned web hosting company that was started in 2002 and is based in Houston, Texas. They are claiming to be currently hosting more than 5 million websites and are currently having its clientage in more than 200 countries. Hostgator was awarded as one of fastest growing private company based in America in 2008 by Inc. Magazine. Hostgator has hosting pans available for all kind of hosting requirements in the form of Shared hosting, Reseller web hosting, Virtual Private Servers (VPS) and dedicated web hosting (Dedicated Servers). All of Hostgator web hosting plans are available with 45 days money back guarantee. So you are going to enjoy the risk free and best web hosting solutions from Hostgator.
Hostgator has web hosting solutions available at affordable pricing for all kind of website owners (Small and Big Websites) and bloggers. If you are new to Blogging and want to start your first blog on your own hosting, your can go for Hostgator basic plan that will not cost you much and you will enjoy the most powerful web hosting services from Hostgator. Hostgator has a basic plan with the name Hatchling Plan that will cost you $100.04 for three years hosting. Click This Link to get 60% OFF on Hostgator hosting. Here is a small screenshot showing comparison of Hosting Plans from Hostgator: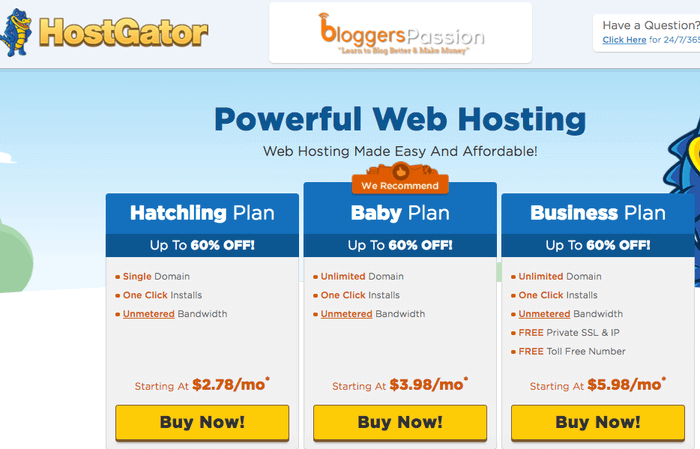 Hostgator Web Hosting Features
Pricing for all web-hosting plans from Hostgator is very cheap; you should not think that you would be getting average services only at these prices. But the fact is that you are going to enjoy best performance and features as per the web hosting industry standards. Here is the list of some of features you will be getting while using Hostgator web hosting:
Unlimited Bandwidth and Disk Space
Best thing about Hostgator is that you will enjoy unlimited bandwidth and disk space in all hosting plans even if you are going for their basic plan i.e. Hatchling Plan. So you don't need to worry about bandwidth and disk space in any of web hosting plans from Hostgator. Your website will remain up even if you notice a big jump in your website traffic instantly.
One Click Installation
Hostgator has 50 plus free to install scripts that are just a click away from installation. So you will be able to get the software you want to install on your website within few minutes time only. Suppose you want to install WordPress on your website or blog, its just a one click process from your Hostgator C-panel. So you will not do lots of stuff manually that can be done with a click when you are using web-hosting services from Hostgator.
Easy To Use Interface
Another good thing about hosting with Hostgator is that you will be able to understand and operate your control panel even if you are new to web hosting world and using web hosting panel for the first time.
Hostgator Control Panel (C-Panel) Review
Hostgator has a very strong control panel that we use to run our websites and blogs smoothly. We can do lots of regular processes related to Emails, Files, Tools, Logs, Security checks, Domains, Databases and Software's & Services quite easily with the available C-panel. You can use Fantastico De Luxe option under Software/Services to install lots of scripts automatically including blogs (WordPress, b2evolution, Nucleus), classifieds, popular content management systems, Customer Relationship desks, discussion boards, image gallery etc.
Hostgator Customer Support Review
We need a fast problem solving customer support in case of web hosting. Our website can get down or we are facing some technical challenges related to web hosting on our website. So if we have a web host with fast customer support, our problem will be rectified and fixed very quickly. You will get the same kind of support from experts sitting in customer care department of Hostgator. Hostgator is offering 24×7 customer care support though email, Chat and phone. I had contacted Hostgator customer support on 3-4 occasions due to certain problems arising on my websites and every time they were spot on and helped to fix the problems I was facing on my website.
Domains Allowed
We can host unlimited number of domains with all hosting plans from Hostgator except the Hatchling plan where we are allowed to host one domain only.
Money Back Guarantee
Hostgator is one of very few web-hosting companies that are offering money back guarantee because they have the confidence in what they are claiming. They have 5 million plus websites hosted and I think it's a quite big number. In case you still have doubts about Hostgator web hosting, why not sign up for any of their hosting plan and start using their hosting on your websites. If you think you made a mistake by hosting your website with Hostgator, there is money back guarantee available within 45 days of your sign up.
Other Features
You will be getting site builder, 24×7 support, instant backups facility, 99.9% uptime guarantee and 45 days money back guarantee as explained above in all hosting plans from Hostgator. You can create unlimited number of FTP accounts and sub-domains in all hosting plans. Hostgator supports are web-hosting features like WordPress hosting, MYSQL Databases, CGI scripting, Perl, Front Page, Audio Video Streaming etc in all hosting plans.
Hostgator Discount Coupon Codes
So you have decided to go for Host Gator web hosting and now looking for discount coupons to make your spending on a hosting plan of your choice cheaper.
As I said above, Use This Link to get upto 60% OFF on all hosting plans from Hostgator on its first billing cycle.
Hostgator Review from Real Users
There are hundreds and even thousands Hostgator review available on discussion forums, social media websites like Twitter, Facebook, Blogs etc. Here are some recent Hostgator Review I collected from Twitter only.
taragentile
argh! technical problems are the last thing I want to have happen during a trip. thankfully my fave ppl at @hostgator are on the case!
28th July 2011
cyandle
@Alysson @hostgator is my host of choice.. 🙂
28th July 2011
LIVINGns
Need to host your website somewhere? Try Hostgator. Best customer service I've ever received at an amazing price. @hostgator #hosting #web
28th July 2011
Nunes
@GFQNetwork I have been using @HostGator for the past 4 years. Excellent Support, Unlimited Storage, etc. All our sites use them!
27th July 2011
xyrotr1
@HostGator Hey, just signed up for your service! You came highly recommended, and I'm happy to say that everything's going smoothly so far!
26th July 2011
Crysislevel
@hostgator u r the best! 🙂
26th July 2011
allison_boyer
If you need a hosting company, @hostgator is by far the best I've ever been with. They'd so helpful!
26th July 2011
egecakar
I love you @hostgator for providing me with the greatest (and hassle free) service for many years.
26th July 2011
kurteng
@onwithsean @HostGator They have been great to work with and really helpful!
24th July 2011
Kurisu_Yamato
@hostgator I wanted to thank you guys for being a wonderful hosting company: In 4 years I have not had a bad experience! Keep it up!
21st July 2011
saqibimran
@hostgator excellent technical support. Problem solved in less than 3 min 😉
20th July 2011
Have you ever used any of Hostgator web hosting plans and if yes how was your experience with them? Please share your real Hostgator review below in the comments section.