How To Build Quality Backlinks – Penguin Friendly
in SEO Tips
|
Last Updated : December 4, 2015
|
Backlinks, one more factor that closely related to SEO, with the aim of getting more targeted site visitors from the search engine. It was too broad to discuss about SEO, but that's not what I will share with you guys.
Backlink building, not just about the quantity or even PageRank. If you want backlinks that's actually valuable for your site, then it will be broader than just the quantity or PageRank. There's more important points and factors than such listed above. Let's talk to the main things!
Below are the most important factors when you're in building backlinks for your site.
Keep Your Link Natural Looking
Google takes more attention to the webspam that spamming the net by doing blackhat backlinks to cheating big 'G' in order to get higher ranking. Google's algorithm is so sophisticated (though not perfect) to eliminate the sites those applying a blackhat or spam link campaign with the goal of getting more visitors through search engine (for instance, spam backlinks). So, strive to make your campaign as natural as possible would be beneficial to avoid Google penalty. Even in some cases, at certain sites was hit by Penguin got total de-indexed from Google search engine by the reason of thousand suspicious backlinks pointed to that site. No wonder caused by worse backlinks made in the past. There is also the fact that some 'loser' webmaster deliberately sending thousands of link spam to the competitor's site.
Keep your backlinks relevant
Build backlinks from the relevant source. The next important point to consider to build the quality, usable, and valuable backlinks. Make sure to include relevant backlinks in your list when it comes to the link building campaign. I believe (and I am sure many of other webmasters as well), that Google gift more value to the relevant backlinks – means link back to your site that coming from sources that are relevant to your site. For instance, if your blog or site is about "Internet Marketing or SEO" related, then it's better to get backlinks from other sites with similar topic or niche.
In essence, always try to build backlinks from the relevant source.
The diversity of anchor text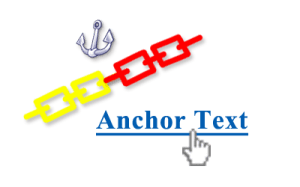 The other important factor is about anchor text diversity. Avoid excessive use of keywords in your anchor text. It's also about the spam and unnatural signs. That in some cases, too many uses keywords as the anchor text can be considered as a spam or unnatural links. To avoid the mistakes you have to pay more attention in a more varied anchor text to use to build backlink to your site.
A concrete step in this case to diversity your anchor text link is by reduce the use of your keywords in a links. You can try other anchor like "click here", "your real name", or naked URL to link to your own site.
It would be more natural looking eventually.
If you have a choice then make sure that you build backlinks from sites with a higher authority. One backlink from a page with high authority will be more valuable than a hundred backlinks from 0 authority pages. For instance, if your site got 1 natural backlink from a quality post on Problogger will more valuable that hundred links from irrelevant forum profile with 0 authorities. There is still a debate about authority sites (share your thought in the comment section about that). I personally do believe that, and one of the tools that I use often is a domain authority and page authority checker by opensiteexplorer and the same checker found on moonsy.com.
Another point is about the outbound link of the page where you will or already planted a backlink. In some cases, this is very important. If you come on a blog post with hundreds or thousands of spam comments (with links), then it would be better if you stay away and look for other sources to plant a backlink. Too many outbound links to the various sites without any moderation would greatly affect to reduce the authority of that blog post.
Then, make sure you look around before leaving any footprint.
Another consideration that you should pay more attention is the PageRank of a web page.
High PR backlinks means higher value (especially when it comes from relevant source). Many of ways to check the PR of a webpage. By manually check it through the PR checker site like Prchecker.info or install the SEOquake plugin on your browser to automatically check the PageRank of a certain page.
The point we're going to the popularity of a web page. Popularity has its own significance. For example, a backlink from a page with high popularity (high-traffic page) would be far more useful than having one backlink on a page with low-traffic. There's a higher chance for you have some of them visitors visits your site too.
In the term of SEO, these types of backlinks are far more valuable to help your website rank higher in the search engine rather than the other backlink from low-popularity page.
The points listed above are the most important consideration to build quality backlinks that actually usable and valuable for your website. There's another point also important like dofollow flag, domain age, inbound links, etc. If you have other let me and other readers know by leaving your thought in the comment section below.