Want to find out what your blog readers think about your website or content?
Want to get a better feedback from your readers and audience?
Want to improve the reader engagement on your websites?
Install Feedweb plugin then. It's the most effective plugin used by thousands of bloggers to get real feedback from their readers and visitors. If you are thinking to improve your blog and searching for different ways to expose it to the new audience, Feedweb plugin is for you.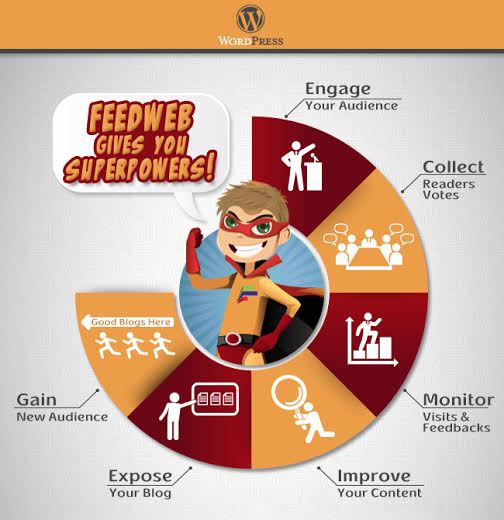 Here is the detailed Feedweb plugin review if you are thinking to use it. Let's jump into the details.
Feedweb WordPress Plugin: Best voting WordPress plugin EVER
In simple terms, Feedweb plugin is a voting plugin that allows you to create voting widgets to get feedback from your website readers.
Let me tell you one thing that, getting direct feedback from your readers on your websites is the key to make it a profitable online business and increase sales. If you are not focusing on reader engagement, you are killing your sales and traffic.
So the best way to get feedback from your websites is to ask better questions to your readers. If they are really connected with what you have to say, they won't hesitate to give an honest feedback to you.
How to get real feedback from your readers then?
It is really hard to engage your readers especially if you are not a tech savvy like me. This is where Feedweb WordPress plugin comes in. This plugin helps you create feedback of your readers by offering them a voting widget so that they can vote to give you feedback.
What can you create using Feedweb WP plugin?
Using this plugin you can easily:
Create customizable rating widgets
Ask survey questions
Monitor feedback
So getting feedback from your visitors won't be a hassle for you even if you are not a tech savvy. It's just like adding a widget and using the short code whenever you want it to display on your site.
I'm still not convinced.. why should I use Feedweb plugin on my blogs?
Simplest way to ask questions and get answers from readers
Engage your website audience: Want to engage your website readers without annoying them? Feedweb plugin allows you to create multiple polls where you can ask specific questions related to your surveys to get the feedback from your "targeted audience". This way you will be able to better understand what do they really want from your websites.
Expose your blog to the new community and readers: This plugin is going viral and has been used by many bloggers. As of now, more than 276,000 votes collected by 17,000 blog post rating widgets published in 2,500 websites. That's how fast the Feedweb community is growing and you will also be able to get that kind of exposure to new audience.
Improve your website content: By knowing what your readers want to read on your sites, you can better create the blog content that you publish on your sites. There's no reason for anyone to create day in and day out posts without knowing what their audience are craving for. So this plugin would be a huge plus if you are thinking to know your audience wishes and interests. Simple create a poll or survey and know their feedback.
Effectively monitor your visits and feedback: If you are running a multiple author website or blog and want to track your visits and feedback from different users, this plugin dashboard gives you flexibility to all of it. So that you don't want to be blindly depend on the results, instead you can focus on getting real value from this plugin. You can also go back and analyze how your readers responded to different polls and surveys that you have created.
Collect reader votes: Using this plugin you can easily insert customized rating widgets into your selected blog posts from WordPress dashboard. And then you can choose various questions that you want to ask your readers and get precise and honest feedback about your blog and content.
Browse more WordPress Plugins:
How to use this plugin on your WordPress sites?
Here's the simple step by step guide to install and use the Feedweb WP plugin on your websites.
Step 1: Install the Feedweb plugin from here and activate the plugin.
Step 2: Go to the plugin settings page and set the following options:
Widget interface language
Widget size
Widget appearance settings
Step 3: Go to your blog posts table, choose a specific post and click on the PLUS icon as shown below.
Step 4: Set the new widget's parameters and publish it.
Step 5: Boom! Now.. you can browse to your blog post and see the widget at the bottom.
Feedweb WordPress plugin comes with 3 offers
This plugin comes up with 3 offers.
Free
Plus
Pro
Test Feedweb widgets with their interactive landing page. You can also see a tutorial on how to install and use the plugin. Want a premium version? Save 25% with this coupon code: BLGPSN-14-03-WP. The offer is valid until March 31, 2014.
(The coupon code is enabled in the plugins license page in the WordPress dashboard after installing).
Conclusion: Using Feedweb plugin on your WordPress websites, you are more likely to get upwards 5 times more feedback from your readers and visitors. That's a whooping increase if your blog tends to get less comments and user engagement. If you are thinking to get more user engagement on your WordPress sites, this plugin is for you. It will not only improve your blog, it will also give you more options to expose your content to a wide range of audience. Last but not least, this is by far the best voting plugin for WordPress sites to get real feedback from readers.
What are you thoughts on Feedweb WordPress plugin? Are you going to use it?