Traffic is the lifeblood for any blog.
If you don't get enough traffic, it eventually die and all your efforts that have put into blogging will go in vain. Most bloggers think that by creating more blog posts they can get more traffic to their blogs. It was true 10 years back when there was no competition.
Once our website gets live, we implement Google Analytics or any other traffic tracking software on our website with the intention that we will start seeing 100's of visitors to our website from day one. But that does not happen except you are starting a website around big brand or advertising a lot about your new website.
So we need to work really hard to increase our website daily traffic from zero to 100 and then from 100 to 1000.
In this detailed article, I'm going to share few incredible tips that will help website owners and bloggers increase traffic to their websites and blogs for free.
How to increase your website traffic for free: 35 amazing ways
1. Write High Quality Contents, But do Keyword Research First
Quality content is the king, there's no doubt in that, but have you ever asked yourself a question. Even after creating great content why you are not getting any traffic from Google?
The reason is most people don't do keyword research at all which is the most important thing in getting traffic from the search engines.
As you know more content means more traffic for your website. So you should look at ways to publish more content on your website on regular intervals. It would be great if you could add 2-3 new articles on your website around your website niche.
And before writing article around a topic, you should do some keyword research around the keyword you want to target through that article.
Always research your primary keywords using Google keyword planner (free), or any other keyword research tool.
The idea here is to brainstorm the best keywords that have low competition and high volume keywords. That way you will be able to pull more traffic from the search engines for your desired keywords.
Here are few tips on how to do keyword research right:
Use Google auto suggestion tool to your benefit (that means type the keyword that you want to rank for). It gives plenty of keywords if it has high volume. Choose the best one among them.
Focus on your competitors Alexa toolbar. Check out if you could use any of their top ranking keywords and try to write detailed articles or pages using those keywords and I bet you will see the best results.
Use long tail keywords over short tail keywords. (Ex: Try to use "increase website traffic" over "website traffic"). You tend to get more traffic from long tail keywords.
If you are feeling that your website content are good enough to shared on social networks, start sharing them on social bookmarking websites. If your website contents are good, other peoples on social bookmarking websites would like to read, share, vote and comment on them.
When we submit our website articles on these websites, that will help us drive some instant traffic to our website, help towards faster indexing of website contents, brand building and high quality backlinks for better search engine rankings.
So I would suggest you start sharing some of interesting articles from your website on top social bookmarking networks including Digg, Delicious, Reddit, Google plus, Humsurfer etc.
If any of your article gets viral on these networks, you can get even 10000 hits from these social bookmarking websites in a single day on your website.
3. Update your old blog posts (hint: use Semrush)
Do you want more traffic to your website without creating more content?
One of the best ways to increase your website traffic for free is to update your old blog posts. Most people don't understand the importance of updating their existing content. But if done right, your old content can bring you massive traffic from search engines.
Quick tip: If you want to increase your website traffic by updating your old blog posts, make sure to know one important thing: know when to update. You can use Google analytics to find all the underperforming posts.
If a post is not bringing any traffic from Google from 1 year, you can start working on it by either removing it or updating it with fresh information.
That being said, here are few tips to update your old blog posts to increase traffic to your website.
The simple way to get more traffic to your old content is to get access to Semrush. It is the best SEO tool that you can use to find more profitable keywords and backlinks to attract more traffic.
Always find your top 10 traffic generating blog posts and start working on them regularly (for every 3 months) with new keywords and fresh content.Use images, link to relevant sources and make sure to build links consistently to your top 10 blog posts (you can use Google analytics to find your top 10 posts) to increase traffic to your website.
Check for broken links. The dead links on your old blog posts can kill your site's SEO and might even lead to penalize. So make sure to find broken links and replace them with working links while updating posts.
Delete, update or merge. Use this formula while updating your old blog posts. If an old post is completely outdated either delete it, update or merge with a similar topic (by redirecting your URL).
4. Start writing on Quora
Quora is world's no.1 Q & A platform where you get best answers to any question.
If you're not using Quora yet, you're missing a HUGE opportunity to increase traffic to your website.
That being said, you can also use Quora to start writing answers related to your blog topics and get more exposure if you're getting more upvotes (just as Facebook likes).
Also make sure to follow me on Quora if you're looking to generate more search traffic from search engines as I mostly write on Quora related to SEO topics so they can be useful.
Quora is an excellent place for coming up with new post ideas and to do competitor analysis. Here are few quick tips to get more traffic to your sites from Quora.
Pick broad topics to start answering (when you're just starting out). They tend to get more views hence you get more upvotes. This gives you enough confidence to start spending more time on Quora. Then, you can start answering questions related to your own blog topics.
Make sure to follow bloggers who are already killing it on Quora. That way you will be easily able to find topics that are on high demand. You can also start networking with other bloggers to build strong relationships with others to increase traffic to your website.
Start writing at least 3 to 5 really good answers on Quora every single day. That way you can be consistent and start getting more upvotes, views and even brand recognition.
Always give links to your published blog posts while answering on Quora. You don't have to copy past all the content from your content, but make sure to use relevant information and add a link (to your existing post) at the end of your Quora answer. That way you can attract more people to visit your site from Quora.
Stop spamming. Start adding value. That's how you get most out of Quora platform.
5. Start getting traffic from world's 2nd biggest search engine
YouTube is the 2nd largest search engine on the planet right now. Here are some quick facts that make you say wow about YouTube.
YouTube processes more than 3 billion searches a month. Thousands hours of video are uploaded every minute. It's bigger than Bing, Yahoo!, Ask and AOL combined. Undoubtedly, YouTube is one of the biggest search engines that you can't ignore.
Did you know that videos under 2 minutes usually get more views on YouTube? Check out the screenshot below for YouTube stats that mesmerize you.
So how to bring visitors from YouTube to your website to boost your traffic. Here are few tips from pros to help you get started.
Start a YouTube channel with your name (or blog's name). Make sure to use keywords while uploading videos (with title, meta description and tags). That way when someone enters a relevant keyword, your videos get found easily.
Experiment a lot. While doing video marketing on YouTube, you need experiment with posting frequency, video length etc so you can understand what works best to increase your site traffic.
Always make sure to add links to your sites by using annotations on YouTube or meta description data. Otherwise, you're wasting your traffic from YouTube. Also ask people to visit your sites while they are watching your videos.
Your video titles play a huge role. So try to spend as much time as possible to come up with rocking tiles for your videos. You can use free tools like Portent to come up with a ton of rocking headlines for your YouTube videos to generate more traffic to your sites.
6. Write Guest Posts
Next thing I would recommend doing is writing guest posts on top blogs in your niche. You should create a list of most popular blogs in your website niche and contact them with the intension to contribute guest posts on their blogs.
Most of bloggers will reply positively as blogs need lots of new content on the targeted topics. Once a blogger shows interest in accepting your guest post, you should write a high quality guest post matching that blog niche and follow the guideless given by that blog owners, you should follow during guest blogging on that blog.
Once your guest post gets publish, you should share it on social networks where you are active and reply to incoming comments on your guest post.
You will get lots of additional benefits apart from instant traffic from guest blogging efforts. You can expect receiving few clicks to 1000 plus visits to your website from a single guest post depending upon your writing style and the popularity of blog where your guest post is actually published.
Did you know that Danny Iny from Fire Pole Marketing has built a seven figure online business just with ONE promotion strategy – "guest posting"?
Guest blogging is still the most powerful promotion strategy that helps you grow your blog traffic.
7. Work As An Expert in Discussion Forums
Blogging forums are a lot of fun if you know what are you are talking about. There are lots of new bloggers who will be posting questions and searching for quality answers.
Whenever you get some time, try to respond to them and share your knowledge. This will not only help them, but it will also help you get more traffic. When someone finds your answers interesting, they will find a way to get in touch with you.
There are thousands of active discussion forums available such as Blokube, Biz sugar, Indiblogger etc. so you will end up getting few discussion forums that are active in your website niche. You should start replying to open threads for which you have a solution. With most of discussion forum, you can add few links to your website in Signature sections.
So if people find your solution really helpful, they may go to your website to know more about you and your website services. You should not think of spamming these forums with unrelated self-promotional links. If you do so, your account will be banned from that discussion forum.
You can expect some SEO traffic and backlinks for your website from discussion forums matching your website niche.
8. Blog Commenting Still Works If You Do It Smartly
When I first started blogging, commenting on other relevant blogs was the #1 strategy for me to boost my blog's traffic. I used to find a lot of relevant blogs in my industry, read their blog posts thoroughly and left comments that add to their conversation.
I used to be the top commentor on most of the blogs (also the first commentor) so others used to click on my blog's link to visit my site. That's what exactly you need to do if you want blog commenting to work for you in getting more traffic to your website.
The two reasons most people don't get traffic from blog commenting:
They don't add any value to their comments. They just say "nice article and blah blah" instead or starting a discussion in the comments.
They usually be the last one to leave blog comments on a post. If a post on a top blog is getting 50 comments and you are 51st one to post a new comment, it won't get any attention. So try to be in one of the first few commenters by adding value. Subscribe to your favorite blogs so you will get updates whenever they post something new.
Action tip: Make a list of 50 A-list and top blogs in your industry. Use Google search terms like "top blogs + marketing" (replace your blog's topic field) to find great blogs in your space. Subscribe to their blog updates and start leaving insightful comments.
9. Do blogger outreach smartly
Blogger outreach simply means reaching out to other bloggers via email, social media or personally to help them. But most people get it wrong: they think blogger outreach is all about getting something from others but it's not.
It's all about offering help upfront. Blogger outreach is the most effective way to increase traffic to your sites because it helps you;
Get more backlinks
Get more social shares
Get more website traffic and so much more
So there you go! Blogger outreach is all about helping others first and getting help later. It's all about win/win approach where you both win.
But how can you reach out to other bloggers effectively without sounding like a fool to increase traffic to your website? Here are some blogger outreach tips to help you out.
Get access to the right tools like Ninja Outreach so it becomes easier for you to reach out and track your campaigns. You need to track your email opens and find ways to follow them up regularly to stay in touch.
Build relationships before seeking any help. Follow them on twitter, Facebook, Instagram. Make sure to leave comments on their posts. Buy their books and products (if they have any) and give honest feedback. That's how you build strong rapport with influencers which come in handy in the long run.
Write effective emails. Show genuine interest. Add as much value as you can with your emails while connecting with other bloggers. Write compelling subject lines instead of begging for help. That's how you get successful with blogger outreach strategy.
Last but not least: be gentle. Don't rush. Things take time so don't bombard with your emails to waste their time. Once the connection is lost, it's really hard to build momentum again with the same blogger or influencer.
10. Start building an email list
Pat Flynn, you know his name, right?
He's the guy who makes over 100,000 dollars every single month from his email list (mainly from affiliate marketing). Not only that, he uses his email list to get more traffic, build more loyal audience and generate more sales.
An email list can be an ATM if done right. So don't ignore building an email list if you're looking for ways to build a profitable blog. Here are few things that you need to start building an email list to grow your website traffic and sales.
Pick the right tool: You need a proper email autoresponder to start building your email list. If you're just starting out, a free service like MailChimp would be suffice (you can build up to 2000 email subscribers for free).
But if you're looking for ways to automate your email list for email sequences, sending broadcasts, use newsletters etc I highly recommend Drip (it's the same service I'm using right now).
Learn how to convert: If you're building an email list, you need to learn how to convert your visitors into email subscribers.
To do that, the easiest way is to use content upgrades or provide some free stuff such as videos, eBooks, tools and plugins etc. You can also run giveaways to quickly turn your random website visitors to join your email list.
Use email list to increase your website traffic: Whenever you publish a new blog post, you can simply send an email to your entire list with a link.
Use a catchy subject line to get more email open rates. Bloggers do this all the time. Just make sure NOT to bombard their email inboxes by spending them too frequently.
11. Repurpose your blog's content
I've a pro tip for you if you want to reach out to wider audience with your content.
Repurpose your blog's content. What exactly is that? It simply is the process of turning your existing content into several mediums.
For example, you can turn your blog posts into video or infographics or PDF's (and distribute across those channels) to reach out to new audience across various platforms. That's knows as repurposing your content.
Here are some of the strategies I personally use to repurpose my blog's content to increase traffic to my site as well as more exposure.
Turn into PDF's: You can use your blog posts or videos content to make them into PDF's. There are a ton of free PDF directories where you can upload them to grab others emails to get your PDF files.You can also use internal links within your PDFs to get more visitors to your sites.
Turn into infographics: Infographics are link magnets. They attract a ton of backlinks if the infographics are compelling and valuable. You can turn your most popular posts into infographics.You can use free tools like Canva to create stellar infographics within minutes (you don't even need a designer). You can learn how to do it by watching tutorials online.Here's what makes a great infographics.
Turn into podcasts: Podcasts are becoming more and more popular. I see bloggers like Pat Flynn, Derek Halpern etc are doing more podcasts than textual format of content.So use your content to turn them into podcasts and you can upload them on YouTube, iTunes etc to reach a whole new set of audience.
Turn into videos: If you've an article around "belly fat reduction tips" on your site, you can simply make a video around that topic by sharing tips on your own. You can link back to your sites from the video description to pull more visitors from YouTube to your sites.
12. Facebook Fan Page
Start a Fan Page around your brand and start promoting it. Look for ways to increase your Facebook Fan Base. We don't need to discuss the popularity and the kind of user base Facebook has. Lots of businesses are able to survive using Facebook marketing only.
Having a fan page with thousands of fans will not only help you get lots of direct traffic to your website from your fan page but also helps you improve your website search engine ranking and brand awareness. I have created a Fan Page for Bloggers Passion here, in case you want to check and like my Fan Page.
13. Twitter Profile
Create a strong presence on Twitter and start sharing interesting articles from your website on Twitter. You should write engaging and knowledgeable tweets on Twitter. If people find your tweets interesting, they will click on your website links.
You should include some related tags towards the end of your tweet using hash tag. When you use hash tag with your tweets, people may find your tweets while searching for topics of their interest using Twitter search functionality. You can follow Bloggers Passion on Twitter here.
14. Webinars are great for positioning yourself as an expert (and get more traffic)
A webinar is normally considered as a live meeting that takes place over the web. You can use your own site or other platforms to host your webinars where people need to opt in using their emails to join your webinars.
They are great for list building as well as increasing traffic to your sites. The webinar meeting can be a presentation, discussion, demonstration or instructional sessions that teach your audience about your blog topics (marketing, SEO, fitness etc).
So how do you create highly converting webinars that not only increase your email subscribers but also website traffic and sales. Here are few ways.
Come up with a blueprint: If you want to make your webinars successful, you need to build a solid blueprint especially when you are starting out.
Instead of doing solo webinars, try to connect with influencers and do webinars with them. That way you can attract a ton of people to join your webinars giving you more subscribers and traffic.
See how others are doing: Almost every influencer is doing webinars these days. Find out how they are marketing their webinars. Find out how they are using their webinars to generate leads, traffic and sales. You will get a ton of information that way.
So what are you waiting for? If you want to increase traffic to your websites, start analysing your competitors from now on.
Start small: You can use YouTube live option to start interacting with your audience. When starting out, you don't have to spend hundreds of dollars for webinar presentation (there are so many webinar tools out there that host and manage your webinars easily but they cost you money).
So when you're starting out, go small. Use YouTube to gain some traction and once you start getting some traffic and confidence, you can then start investing on webinar tools to host and manage your webinars effortlessly.
15. Conduct informative interviews with influencers
Let me tell you a secret. Interviewing top people or even reputed bloggers in your niche can bring massive traffic to your sites almost instantly.
And if you properly optimize those interviews with experts with the right set of keywords (by including their name or brand), you can attract traffic from search engines constantly because people always look for interviews.
Just have a look at the following screenshot.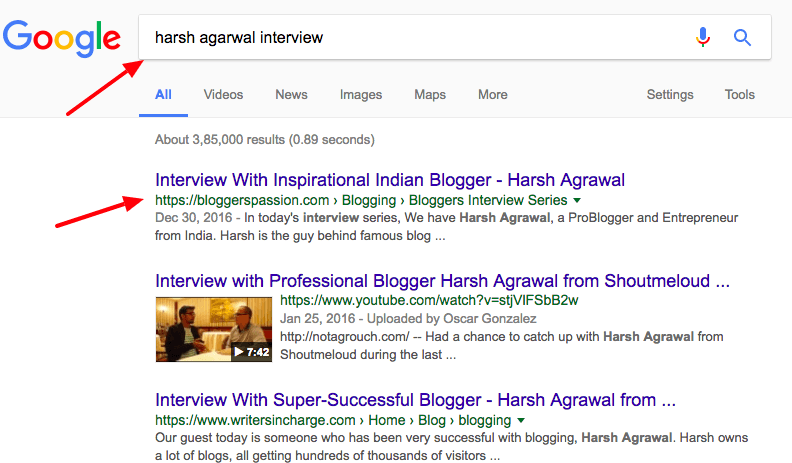 You can see above that our blog Bloggers Passion is ranking #1 for the keyword "harsh agarwal interview". You can also notice that so many people are actually looking to read his interview. It also sends us some nice traffic regularly for that keyword.
So you can use interviews to definitely get more search engine traffic to your sites. That being said, here are few tips to conduct awesome interviews with experts that go viral online and help you increase traffic to your websites instantly.
Build rapport first: Before even asking someone to do an interview with you, it's essential to build strong rapport with them. Start emailing them, leave comments, retweet their stuff and do everything that makes them happy.
Decide your medium: Interviews can be done in any number of types. You can use podcasts, you can do one on one, you can do video interviews, you can also do textual format of interviews (which we normally do at Bloggers Passion).
Ask smart questions, not silly ones: One of the biggest mistakes most bloggers make while doing interviews with others is they ask silly and random questions. Do a thorough research about the blogger you want to interview and read some of their previous interviews to NOT ask the same questions again (otherwise they get boring).
Ask them to promote: This is a must. Ask the bloggers to tweet or share your interviews once they go live. They usually have big audiences that can help you get more visitors to your sites almost instantly.
And make sure to thank them either via email or personally for doing interview with you. Most people don't do that, so it makes you unique.
16. Use Facebook ads
Here are few quick tips to get started with Facebook ads and use as website traffic tips to drive more qualified visitors to your site in 2019.
Choose an audience: This is the first step as soon as you want to get started with Facebook ads. You should know who your primary target audience are and where they live (along with country, demographics, their age and so on) so you can reach out to very specific people who are interested in your website products, content or any offer you promote.For example, if you're promoting real estate affiliate products, there's no point in promoting to an elderly 60 aged retired people.
Choose a goal: Once you chose your audience, it's time for you to create a goal for yourself so you can easily estimate your ROI from Facebook ads. As a rule of thumb, you should make at least 1 to 2 times on your investment.For instance, if you're spending $1000 on Facebook ads, your goal should be making at least $2000 to $3000. Then, you can scale up from there!
Choose a budget: Finally, you need to consider a budget before you think about running Facebook ads. You can either set a daily or weekly monthly Facebook ad budget but we recommend you to go small.You can give a try with $50 and choose your audience so you will know how many people are engaging with it and how many clicks are you get with that amount. Then, you can scale up your budget depending on the metrics.
17. Start optimizing your blog posts for SEO
On page SEO is one of the most important SEO factors that you shouldn't miss if you want to increase your website traffic for free.
Make sure to start optimizing your blog posts for SEO to get more search traffic. So what can you do if you don't have a clue about on page SEO.
On page SEO simply means optimizing your pages (blog posts, pages, product reviews etc) with RELEVANT keywords (preferably long tail keywords). In order to get more out of on page SEO, you need to first do keyword research.
Keyword research is the process of finding profitable and traffic generating keywords to bring more traffic from search engines to your sites. Here's a detailed guide on how to do keyword research if you're just starting out.
That being said, once you're doing with keyword research, you need to use on page SEO to start ranking for those keywords.
For this, you need an easy to use tool like WordPress SEO by Yoast. It's a free plugin (also has a premium version which I use here at Bloggers Passion) to do on page optimization really quickly.
If you are still wondering about on page SEO, here are few quick tips to help you get started easily.
Use your primary keyword within your title. As title tag plays a vital role so does your headline. So come up with magnetic headlines that attract more clicks from your audience.
If you're using images (you must use at least one image per post), use alt texts and mention your keywords within your alt tags.
Always use your primary keywords in h2 and h3 tags within your content as they can get you faster rankings for your desired keywords.
Instead of keyword stuffing (using the same keyword again and again), use relevant keywords. You can use tools like Semrush to come up with relevant keyword phrases for your primary keywords.
18. Use Your Email Signature Smartly
We process email A LOT of times every single day, right? In fact, we check our email inbox multiple times a day just to make sure we are not missing any important stuff.
We usually get a bunch of emails from others and we also send a handful of replies to most of them. Here's where the email signature can work like a charm.
One of the most simplest ways to get more visibility to your sites is to use email signature. Simply go to Gmail settings and put a link back to your sites in the email signature section.
It doesn't matter whether you have a new blog or an already established blog, by using a link to your website from your email signature can get you more visitors.
How to put it into action?
Make sure to use compelling, short and sweet email signature. If you want to drive more traffic to your homepage, use words like "Founder at [your blog's name]" or if you want to get more people to read your new post, use words like "Have you read my recent blog post [with link]".
The same way, you can also create email signatures to increase your specific product sales or email subscribers. So what are you waiting for? Go and put it into action to quickly get more traffic to your websites.
Recommended: WiseStamp Review: Is it the best email signature creator for your business?
19. Focus on on-site optimization
If you're blogging for awhile, you know how important it is to get more traffic from search engines like Google. Here's where on-site optimization comes into play where you can easily rank for keywords by placing them within your pages at the right places.
Pro tip: Make sure to create an AMP version of website to load fast on mobile devices as searches through mobiles are increasing drastically worldwide. If you're using WordPress, you can install this plugin to make your site AMP ready.
Here are few places where you must include your primary keyword in order to rank well in search engines.
Title tag
Headers (H1, H2, H3)
Meta description
Creating SEO friendly URL
Image optimization (by using your primary keywords in the ALT tags)
Last but not the least: make sure to use internal links with every blog post you publish as placing links to your other website internal pages is a great way of improving your site user and search experience.
Not only internal linking makes it easy for your visitors to navigate around your site and find all of your content, but it also ensures that your site gets properly crawled allowing the search engines like Google to find all of your inner pages.
Internal links also helps you create relevancy of a page to relevant keywords you're targeting.
20. Update your old blog posts
Did you know one of the proven website traffic tips is to update your old blog posts.
Specifically find out your top 10 or 20 high traffic generating blog posts and update all of them with latest information and new keywords.
Do some keyword research and find LSI keywords along with highly relevant long tail keywords so you can insert them within your old blog posts to drive even more visitors from search engines like Google.
While updating your old blog posts, it's always better to use a primary keyword and optimize each of your blog posts using any optimization plugin like WordPress SEO by Yoast.
21. Speed up your website
Did you know that Amazon did tests that showed they would lose $1.6 BILLION every year if they slowed down by just one second?
Here are few more shocking stats about website speed and loading times.
Akamai's 2015 Performance Matters report found that 49% of consumers expect a page to load in two seconds or less.
Currently, only 51% of consumers "wait patiently" for a website to load, compared to 63% five years ago.
If a site averages $100,000 a day in revenue, a one-second delay costs $2.5 million in sales every year.
It's clear that, website speed is one of the most crucial factor that can make or break your website's success.
If you still don't know how your website is performing or what amount of time your site is taking to load, here are few tools you can use (which are free to use).
So what's the best way to speed up your website in 2019?
The first and foremost thing to improve your website speed is to move to a faster hosting service. We previously hosted our site Bloggers Passion on HostGator and often faced downtime and slow loading issues.
But once we moved our site from HostGator to WPX hosting, the site speed skyrocketed. The site Bloggers Passion is now loading under half a second (around 500 milliseconds). Yes you heard it right.
So move to a better web hosting choice (we highly recommend you to give a try to WPX hosting) as it recently introduced WPX cloud which makes your site even faster as WPX Cloud environment as WPX Hosting internal tests show improvements from 50% to 320%, depending on the website configuration and resources.
22. Create freebies
Online people love freebies. The word "FREE" is a powerful marketing term used by almost all the tech giants like Facebook (you use Facebook for free), Google (free search engine), Twitter and so on.
When used right, freebies can take your blog traffic to the next level. Just make sure to create highly relevant freebies that match with your target audience.
That being said, here are few quick freebies you can offer to your website audience to increase your overall website traffic and sales.
eBooks
Checklists
Tools (plugins, themes, software and so on)
Videos
Podcasts
Physical products (make it limited, be it books, audio files, pendrives and the list goes on)
23. Use the "Poster Boy" Formula to Explode Your Blog Traffic
Any successful marketer or product creator wants one thing to boost sales: successful customers.
Most of the product creators need stories about the people who have successfully used their strategies that turned average guy into a rich guy! In a sentence, they need poster boys.
I've personally used the same strategy to get multiple mentions from Semrush team. I know I'm using a good product and I also know that Semrush is giving me good results, so I emailed them about it.
And what they did? They included my blog post's URL from their site and tweeted a couple of times. This is all good, not only helps you boost your traffic and social proof, it also helps you increase sales for that particular product.
So next time, when you are using any product or service, if you see good results from it, make sure to tell your stories to the product creators. They will gladly mention you in their email newsletters, blog posts, social media platforms. This will increase your social proof, traffic, links and sales!
Bryan Harris from VideoFruit explains this strategy in detailed here.
24. Write Blog Posts That are Backed by Data
Without content, you can't increase your blog traffic. And not just any content, you need to create content that your audience wants to read, share and promote.
If you write another 500 mediocre article, no one reads it except you! Gone are the days, where you can write 500 words short articles every single day to grow your blog traffic. You won't get a single visit from Google if you are still doing that.
The competition is really high and there are over a million of blog posts getting shared everyday. So the only way you can bring more visitors to your blogs is to create "research based" content.
If you are wondering how you can create blog content that is backed by data, here are few simple tips for you.
Include links: One of the biggest mistakes most bloggers make while creating content is they link only to their own blog posts. If you are one among them, stop doing it from now. The simplest way to build links is to link out to other bloggers too often. And make sure you are linking to relevant sources.
Quote other bloggers if you want and include their names while mentioning their blog posts. That way you will grab others attention, also build a relationship with them sooner or later just by adding links to others sites. This approach is also known as Skyscraper technique.
Use screenshots: When you are using relevant screenshots throughout your blog posts, you are indirectly giving your readers a visual treat. Images not only help your readers easy to digest your contents, but they provide massive value without cranking out more words.
If you want to convey something strong from your blog posts, make sure to take out some time to add some appealing images or screenshots. It works like a charm, always.
Extremely detailed blog posts: Write 2,000 words on the low end to 5,000 words on the high end.
Long form of content always ranks well in search engines. Have a look at the following screenshot and you will understand its importance to grow your blog traffic by writing long form content.
Writing detailed content always helps you in the following 3 things.
Your blog audience consider you as an authority. Long content always creates that impression over short articles (500 words).

Google rewards long content.

You can include a lot of keywords without looking like a spammer.
25. Reach Out to Other Bloggers Strategically
You can't build a massive traffic blog without the help of other bloggers. Networking is the key to any successful website that receives huge traffic.
Unfortunately most bloggers spend a lot of time in creating content but a pitiful of time when it comes to networking with others. Don't do that mistake again.
Email outreach is a powerful weapon that helps you build strong relationships with other bloggers. Always follow win/win approach when you are reaching out to others.
Find out how you can help others before seeking help from them. Even a small incentive like tweeting their stuff or linking to their posts can add huge value when it comes to building connections with anyone.
Neil Patel from QuickSprout does this very well. When he started to do blogger outreach for few of his marketing guides, he received an extra 100,000 plus visitors. That's insane, right?
Suggested Reading: Blogger Outreach Strategy: Secret to Get Links from Top Bloggers
26. Run giveaways
Who doesn't like free stuff? Everyone craves for free goodies, right?
Most people still don't understand the value of running giveaways. They always work like a charm. With a minimal effort, time and money, you can reap the best rewards from giveaways.
In fact, Noah Kagan has built 2 million dollar online businesses like AppSumo and SumoMe mostly by running frequent giveaways. That's the greatness of them so make sure to give a try to them if you want to quickly get 5x more traffic to your website.
Instead of spending money on running fancy giveaways, only promote those products that are relevant to your blog's topics. That way you will be only attracting targeted audience instead of random people.
Action tip: Look for sites that are already running giveaways in your industry. Find out how they are promoting their giveaways and which products they are giving away to their audience to grow their sites. Contact the product owners and tell them that you are interested in running giveaways (you'll either get free products or a discount) and do them frequently to grow your blog's audience.
27. Instagram is the new king
Instagram quickly became popular. It has millions of active followers and you can instantly get more attention to your blogs or content by posting compelling quotes (with images).
By posting at least twice a day, you can get a lot of likes and new followers on Instagram. Make sure to put your image as your profile picture, write a simple bio along with the link to your sites to get more clicks from Instagram.
Another thing to remember while posting on Instagram is to use hashtags. As a rule of thumb, use at 10 to 15 hashtags related to your industry for every post to get more likes, comments and followers for your account.
Action tip: Use shareable visuals while tweeting. Tweets with images always perform well. And make sure to add 2 to 3 tags for every tweet you post to get more retweets, comments and engagement.
28. Driving Pinterest traffic
Pinterest is another great traffic source for bloggers. It's the platform where you can create and promote images. Use links to your posts within the images to get people to visit your sites.
Use Pinterest buttons within your blog posts and include lots of great images to let your audience share your stuff on Pinterest.
Action tip: Create a free account on Pinterest right now and post images relevant to your industry by using tools like Canva or Buffer.
I love Buffer for one major reason: it has most elegant and simple interface that lets you schedule, publish and analyze your social media posts within minutes.
Buffer also has a free version which is enough for anyone to connect with multiple social media profiles like Facebook, Instagram, twitter etc. You can schedule your posts in advance, you can also know how many people are actually clicking your links so you can adjust your posting frequency for better results.
Action tip: If not using yet, start using Buffer from now. Connect all your social media accounts and schedule your blog posts links in advance so they can be sent automatically at the right times throughout the day to get more online visibility.
Repurposing your popular content is the quickest and surest way to get more traffic.
Instead of writing new posts to increase your website traffic, find out what content is performing well in your blog and turn them into slideshare presentations.
Action tip: Find out the top 10 posts in your blog (use Google Analytics to find them out) and start creating slideshares for all of them and upload them on SlideShare. Use better headlines and ask your existing blogging network to promote your slideshare presentation to get more views.
31. Host Seminars
Bloggers like Harsh Agrawal, Deepak Kanakaraju are recently conducting live seminars all over India. They know that hosting seminars is the surefire way to build their reputation, reach more people and increase their overall sales.
If you can find sponsors, you can also be making money by running seminars. Simply collect money from each participant and use your email lists or Facebook group to notify people about your seminars well in advance so they can book tickets.
Action tip: Connect with people who are already doing live seminars within your city. Attend their seminars and try to become friends with them. Start doing seminars for free in the beginning. Once you start getting more exposure, think about different ways to monetize your seminars.
32. Be interviewed by others
I frequently get emails from other bloggers to know whether I'm interested in doing an interview for their blog audience. Almost every single time, I accept their requests.
The reason is simple. I get backlinks to my sites and I'm also sharing my blogging knowledge with new audience (so I get more traffic along with the links from other sites). So it's a great way of increasing traffic, links and exposure: be interviewed by other bloggers.
Action tip: Use your Contact Us page smartly. Make sure to include words like "If you want to interview me, use this email id to contact" etc. So people who might be going through your contact page show interest in doing an interview with you.
33. Use HARO
HARO (Help A Reporter) is widely used by top marketers and blogging experts to get more exposure and links from authority sites like The Huffington Post, Forbes etc.
To put it simply HARO is an online service set up for journalists to quickly gather feedback from the public (especially bloggers and marketers use this strategy to tell their stories to journalists so they might get picked up by Huffington post, CNN etc).
Action tip: Make sure to use this guide if you want to bring more exposure and links from authority sites in your industry. It's actually a detailed video that explains what you need to do to get massive exposure from top sites using HARO method.
34. Add a forum to your site
Are you looking for a fun way to add a community to your site? You should give a try to forums then. Add a forum to your blog or website and you can spend time in answering your audience questions and to increase your engagement with them.
You can use tools like bbPress, BuddyPress etc to easily add forums along with the user permissions, social media integration, comment section etc. You can also create private messaging, groups, activity streams to make your blogging forum interesting.
Recently Neil has added a forum to his blog QuickSprout and Harsh Agrawal also did the same thing by adding a forum to his blog to encourage his readers to participate in the community.
Action tip: If you want to create more engagement within your blog, adding a forum is the best choice. You can use free tools like bbPress to easily add a forum to your site. Decide which topics you want to cover and add some basic questions. Promote it and encourage your audience to start participating in it.
35. Find the sites that do weekly post roundups and pitch them
There are a lot of sites in almost every industry that do weekly post roundups. These roundups usually compile a list of posts from other blogs and they do it often (weekly or monthly).
All you need to do is to look out for those sites and make sure to pitch them with your best posts. But before pitching them, connect with those bloggers, tweet their stuff, leave comments on their weekly roundups to build some engagement with them so it becomes easier for you to pitch your own blog posts for their weekly post roundups.
Action tip: Do a quick search on Google for the weekly round ups in your industry. Connect with those bloggers and follow them on social media. If you have a great piece of content that suits their audience, email them about it. Most people would gladly link to your stuff.
My results so far:
I have been following most of these strategies, and yet to try few other promotion strategies to grow my blog traffic. As of now, all the current promotion strategies I'm using are bringing me good results in terms of traffic.
Recently, I was able to grow my blog traffic by nearly 15% in just 30 days time. So it boils down to one thing – you should implement what you learn. Otherwise, no matter how great content you read, it won't affect to much. So implement what you learn!
The 7-Point Checklist to Increase Your Overall Website Traffic
1. Optimize your blog for SEO
If you are blogging for a while, you already know the fact that SEO is an ocean.
No matter how many strategies you use, there are still many more things you can do to boost your search traffic and rankings.
But the basic optimization starts with your blog.
If your blog or website is not properly optimized or well coded for search engines, it will be difficult for you to improve your search rankings. If you want to get rewarding results from Google, optimize your blog for SEO. It's as simple as that.
Here are few effective SEO strategies to properly optimize your site for better search rankings.
Always optimize your images. Make sure your image alt tags are filled with your primary keywords and don't use messy titles as they also add weight to Google image search results.
Is your site mobile responsive? If not, do it right away. Otherwise, you will hate yourself later. Also make sure your site is search friendly. I highly recommend you to give a try to Elegant themes or GeneratePress as they are both mobile and search engine friendly.
Speed matters. No one likes slow loading sites. Here's a detailed guide to speed up your sites.
2. Conduct a deep site audit
Lot of bloggers who are struggling to get more search engine traffic suffer because of one reason: their website issues. Majority of the bloggers don't even know that their sites have huge site related or crawling issues and because of them they are not able to increase their website traffic. So my suggestion for you is to perform an in-depth site audit of your sites to find and fix your issues.
How can you conduct a detailed site audit?
The answer is Semrush.
It is one of the widely used SEO tools and recommended by SEO experts. Not only this tool helps you do site audit but it also helps you boost your search traffic by finding highly profitable keywords.
If you are wondering how to do site audit with Semrush, here's the simple step by step tutorial that will help you.
Quick Note: If you are not already using it, here's a special link for you that gives you Semrush trial free for 30 days. You can continue using it if you are really satisfied with the results that you get with the tool. So why not give it a try?
Let's now talk about using Semrush to perform site audit to find and fix your site issues for better search rankings.
Step 1: Click on the "Projects" tab on the left side once you are on the Semrush dashboard. Here's where you need to enter your domain URL and it will start showing up your website details.
Step 2: Now, just click on the "Site Audit" function and it will show you all the errors and problems that your website have. Have a look at the screenshot below for more information.
Step 3: Just fix all the issues that the tool shows you and you are good to go! You will soon start noticing better results in terms of search rankings and traffic.
3. Want incoming links? Then, start linking out
Every website that gets massive traffic from search engines succeeds because of one reason: they get a lot of backlinks from other sources such as blogs, authority sites, forums, magazines etc.
Google gives top priority to those web pages with highest and high quality backlinks.
So obviously the top blogs with more high quality links rank higher (most often in the first page results) for any keyword, even if it is highly competitive in search results.
That's the reason why you and me have to work really hard to get first page results even for low competitive keywords. So what's the secret here?
It's all in the backlinks. Try to acquire more links from quality sources and you will be getting rewarding results in terms of search engine traffic from Google to your blogs or websites.
And if you are wondering how to get more incoming links to your sites without putting much efforts, I've a secret strategy for you.
Start linking out to other bloggers frequently from your posts.
Let them know by email or social media sites whenever you link from your posts. That way you will sooner or later start getting links from them.
I know linking out to top blogs is easy but getting incoming links from them is really hard. If you are just starting out, I'd highly recommend you to link out to the blogs that are better than you (not top blogs).
The blogs that are slightly better than you always appreciate getting links from other blogs and if you ask them for a link back whenever you post something relevant and useful, they will link you back. That's called "link reciprocity". It always works like a charm.
Give it a try. Next time, you update a new blog post, make sure to link out to the other blog and let them know.
Not only it helps you in getting more incoming links to your blogs but it also helps you build strong relationships with other bloggers in your niche. After all, who doesn't like getting backlinks?
4. Never write a post without keyword research
Did you know the secret to big sites that get massive search engine traffic?
Keywords.
Yes, it's the keyword research that helps most blogs to get HUGE traffic from Google. And if you are struggling to boost your website traffic from search engines, it might be mainly because you are not doing any keyword research before writing posts.
And not just any keywords, it has to be long tail keywords.
Long tail keywords are easy to rank for and they can quickly increase your website traffic. Here are few tips for finding great long tail keywords.
Always find the "Google related searches" when you are targeting the new keywords. They give you a lot of information about the search terms which are already ranking on Google.
You can also start using free tools like Keywordspy, Keyword Eye, Keyword Planner etc to find profitable long tail keywords and always examine your search queries when finding long tail keywords.
When doing keyword research, think like your target audience. Find out what they might be typing on Google to find you. This gives you better keyword ideas along with the blog post ideas.
As a rule of thumb, always aim for long tail keywords with 4 or more keyword phrases. For instance, you can rank better for the keyword "how to get rid of belly fat" instead of targeting "how to lose fat".
For more detailed information about finding long tail keywords, I highly recommend you to check out this guide on using Long Tail Pro.
5. Webinars are powerful
Have you seen a lot of bloggers offering webinars these days?
Webinars are widely used to build email subscribers really quickly. They convert like crazy and they always give you the highest conversion rates.
Did you know that you can also drive HUGE traffic to your sites by hosting webinars?
Yes, that's true. Online people love webinars. They are easy to consume and when you host webinars along with an expert in your field, they always love to learn and give their email address to you happily.
So you not only get traffic but also qualified subscribers who are interested in your stuff.
By promoting well on social media sites, you can give a wider exposure to your webinars which in turn help you bring more blog visitors.
Make sure to send out an email one week ahead of your webinars and follow up through emails until the webinar goes live. That's how you can use both platforms (social media and email list) to increase your overall website traffic.
6. Start writing In-depth articles
I've been posting articles on this blog for past 6 years now and I've seen so many ups and downs on my website traffic.
I've also been penalized by Google updates a lot of times, still I'm here successfully running a blog that is making money from last five years now.
Did you know what I learned about content strategy that kept me survive in this Post-Penguin world?
It's the detailed form of content.
From last 2 years, I've been posting really detailed articles with over 2,000 words (including the one you are currently reading now). And guess what? I've been rewarded by Google in terms of massive traffic.
Not only my search engine traffic went up but also my sales and revenue skyrocketed. It's all because of the content I frequently produced here.
So if you are looking for proven ways to increase your overall website traffic, I highly recommend you to start writing in-depth articles with over 2,000 words.
And just don't fill words just to write detailed contents. Make sure you have important information that is worth writing and then you will start noticing better results from Google.
7. What you do after publishing a post is crucial
It doesn't matter how great your content is, if you don't promote your content, it won't reach to wider audience.
If you build it, they won't come. You have to go out there and build exposure to your content. That's how any successful blog is built. Here's what I do after publishing my posts at BloggersPassion.
Social media: Facebook, Twitter, Google+ are great places to start sharing your contents. If possible, tag your friends or influencers while sharing your stuff on these sites to get more exposure. Also ask people to reshare and leave comments on them to increase its reach.
Social bookmarking sites: Digg, Stumble Upon are also great places where most people who actively search for topics related to everything. It doesn't matter what your niche is, you can get some good links and exposure while sharing across these sites.
Blogging forums: Blokube, Just Retweet, Blog Engage, Indiblogger all are great platforms where you will find thousands of bloggers actively participating in blogging discussions. You can join these sites for free and you can easily share your contents across these forums.
FAQs
Here are few important questions around increasing website traffic tips for 2022.
How do I increase organic traffic to my website?
We highly recommend you to check out this SEO tutorial for beginners if you want to quickly increase organic traffic to your site in 2022 and beyond
How can I use social media to increase my website traffic?
There are a ton of ways to use social media to increase your website traffic but the most effective way is to focus on ONE platform at a time. If you want to target young millennials, start spending more time on Instagram.
If you want to target bloggers, you should probably spend time on Facebook groups and if you want to reach out to moms and women marketers, Pinterest can be a great place. LinkedIn can be great if you're collecting leads from professionals and small businesses.
What are the best paid traffic sources in 2022?
Here are 3 of the best paid traffic sources in 2022.
→ Facebook ads
→ Quora ads
→ Instagram ads
Is guest blogging still good for SEO and link building?
Yes, guest posting is not dead and it still works like a charm if you're focusing on building a network with your guest posts. Try to get into top blogs in your niche so you can quickly generate more traffic, leads and sales to your site.
How much time does it take to get website traffic from search?
Search engine traffic takes some time especially if you've a new website without much backlinks from trusted sources. That being said, you can bring instant traffic using Google ads but you need to wait at least for an year to see some noticeable traffic from search engines like Google.
Browse more Blogging Resources:
Final Thoughts
When I asked few bloggers about their biggest trouble in blogging, most of them said they lack of website traffic. I know increasing website traffic can be hard at times but it's possible if you follow Google guidelines properly. Give your readers top priority and always post contents that are worth sharing.
Never forget to reach out to other bloggers in your niche as relationship building not only helps you in building backlinks and boosting your website traffic but it also helps you create a better blog.
If you properly implement the traffic generation tips and strategies mentioned in this detailed guide, I'll definitely say you'll increase your website traffic in no time. Just be patient if you are finding ways to increase your website organic traffic as it takes time.
What are your thoughts about traffic generation tips discussed in this article? If find them useful please share it with others. You can also ask questions about website traffic in the comment section below.