How To Instantly Cut Down Your High Bounce Rate With Interactive Contents
|
One of the many things that often frustrate bloggers is having a high bounce rate.
You know your site looks stunning pretty, you've taken time to publish many blog posts, compared to some other blogs in your niche; yours seems to stand out in design and appealing. But there's a big problem.
Each time you log into your analytics account and takes a look at your bounce rate, your mind jumps, what you see often scares the hell out of you.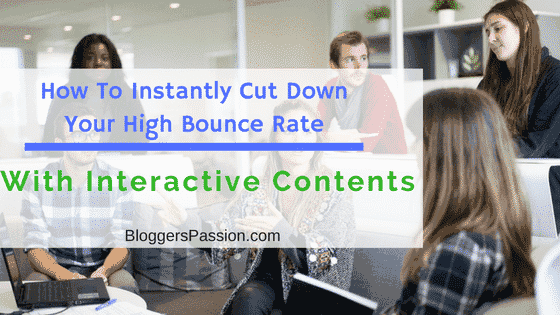 Next thing, you keep wondering what the matter is. You keep running around on the internet looking for answers on how to cut down your high bounce rate.
Now, if all this sounds familiar then come close let me tell you……..
…………..You're not alone.
You don't need to fidget, just hold on and keep reading because I've got the solution to your high bounce rate problem. All I need right now is your undivided attention; let's remedy this together once and for all.
But before then, I want you to understand something very important:
There are two major ways through which you can grow your blog. It's either you grow your traffic the more or, you try and get more with the traffic you already have.
The problem is that most people are of the habit of chasing only the formal but if you ask me, you should be doing both.
According to Neil Patel, one of the best ways to see how you're using your existing traffic is to look at your bounce rate. Another research found out that, the average bounce rate across all industries is 45% however; blogs often have a higher bounce rate.
If you look around the internet today, you will find out that there are websites whose bounce rate is as high as 80% and even more, whereas there are still some that have a lower bounce rate of 20%.
The logic is that the lower your bounce rate is, the more successful your website will be, and the more Google will trust what you're doing.
It will be alarming if 4 out of 5 people that visit your site leave immediately upon arrival, this only shows you're not doing something well, if not multiple things.
There are so many ways through you can knock down your high bounce rate, but in this post, I will be sharing with you a way that is less talked about. Like I said above, you need to bring your chair closer right now so you will be hearing me.
With all these out of the way, let's get started.
How To Instantly Cut Down Your High Bounce Rate With Interactive Contents
For you to reduce your bounce rate, you need your visitors to be taken action when they come to your site and if this is not happening then, your site lacks engagement.
But, is that the only case? NO
You see, people are mischievously passive on the internet today and according to the rule number one, only 1% of forum users will post on a forum, while the others will passively hang around.
The screenshot below speaks volume:
This same attitude is also similar to blogs where only 1 visitor out of 100 will usually comment on a particular post. Marketers have been striving to stop this attitude for a long time now and obviously, it happens is lack of engaging contents.
If your contents are well engaging and interesting enough then, there's no way people will not be sticking around to read it while taking your desired action.
A recent survey discovered that 58% of B2B marketers finds it hard to produce engaging contents while 31% struggles to find well trained content marketing professionals. No wonder we often see half backed contents all over the internet.
Take a look at the screenshot below.
As you can see, creating contents is not always the problem in fact, it's just one side of the coin however, where the main job lies is in making sure the contents is well served, is compelling, engaging and interactive enough to trigger conversation, boost conversion and reduce bounce rate.
According to Navneet Kaushal, once you start noticing an alarming increase in your bounce rate, it shows your content marketing requires a serious rework.
If your content is not always good enough to make people to stay longer and read it then, you're always going to be having your bounce rate off to the roof. Doing this might sound like an unachievable task but just give me some time, I'm here to show you how you can massively cut down your bounce rate with interactive content.
The Science Behind Interactive Contents
Interactive content and engaging contents goes together and for you to fully understand what interactive content is, you will first know what interactive education is. This is the type of education that has been existing in our homes and schools even before the emergence of the internet.
It's the type of content that requires the student's full participation. That is also what interactive content is all about. It's content where your student's participation is required.
Making your contents engaging and interactive will not only reduce your bounce rate but, it will also make you and your contents memorable and also, your readers will be able to remember what they learned from you and can also make use of it easily without getting confused.
One good example of interactive content in action is w3schools where every lesson involves you taken a certain action before proceeding with your learning.
Similarly, creating interactive contents will also benefit you in so many ways. For one, it will always help you to know how your serious and loyal readers are.
Take for example when you embedded a "click to tweet" button on your post, it's only your serious readers that will find the time to click it right?
Also, a situation where you ask a certain interesting question on your post that requires your readers to answer it via the comment section of the post; it's still your most dedicated readers that will respond to the question. This will further help you to learn something about your readers.
The following is the various ways you can reduce your high bounce rate with the help of interactive contents. Apply them today and then, come back tell me about your experience.
1. Make Sure Your Contents is Readable
I used this as the first one because this is where most people often fumble. If your content is boring to read then, it can never be interactive.
One of the major things that will drive your target customers away from your site is when you have contents that's difficult to read, especially contents big chunks of texts like what you'll see below:
As you can see, this content is just out of it. If this is how you write then, it will definitely be scaring your readers away so, you have to avoid it except you're only writing for the search engines and not human.
You need to always properly format your contents to make it easy for your readers to read it.
2. Ensure Your Content is Properly Formatted
As I earlier mentioned, a well-formatted content is always appealing and inviting. While writing, you need to give more attention to your formatting. If you care less about it, it will certainly affect your bounce rate.
One of the things that make up a good formatting is to always bold your headings so it stands out. It's also advised to make use of subheadings and bullet points whenever necessary while writing.
I always ensure I take care of these things when I'm writing as you can see on the screenshot below:
Other things you'll need to do to properly format your contents include:
Make use of sub-headings to shade more light on your points.
Ask questions in your blog posts to give readers the ability to read and interact with you.
Bold, underline or italic your keywords a few times.
Use lots of images, chats, screenshot, and quotes from experts to always drive your points home.
Use bullet points whenever necessary.
3. Make Sharing Easy For Readers
One of the best ways to increase the engagement rate of your contents is by making it easy for your readers to share your contents with their friends.
Let me tell you, it has been discovered that people enjoy sharing contents on the internet provided it does not take much time and efforts.
Take twitter for example, more than 500 million tweets are created daily, and that is because they have a maximum of 140 characters and is totally effortless.
Today, there are lots of plugins and share widgets that will make it much easier for you to have share buttons anywhere on your blog posts, such that will always be visible for your readers to make use of.
However, the problem with share widget such as the one I have on the screenshot above is that it is still a bit far from the content and also requires your readers to make a choice of the social media they want to share your content on and also write a befitting description before sharing.
The good thing is that there's a way to take care of this, and that is by using embedded tweet in your contents.
The screenshot above shows what an embedded tweet looks like.
It is very easy to embed this on your contents, you can simply visit a site called "click to tweet" and set it up or just install their plugin on your site and you're good to go.
The beauty of embedding tweets on your content is that it makes it easy for your readers to easily and effortlessly tweet the pre-filled content with one-click because while setting up the click to tweet feature, you will also decide on what message should go with the tweet.
Apart from that, it equally improves the entire look of the content.
4. Add Polls to Your Contents
Poll is a very brilliant means of getting your readers inputs and suggestions on a particular thing.
Having a poll in your content will ultimately boost interaction and make the content fun and lively to read. It will also make your audience to not only read your article and go away but to fully participate in the subject matter.
This is one of the best ways to kill your high bounce rate and increase your conversion rate.
It works by you asking a question with some definite answers after which result will be tallied based on your readers inputs.
It is usually amazing when you want to discover what your audience thinks about a certain topic. One of the best tools for conducting a poll is ContentTool Poll, this is a paid tool actually but it will give you everything you want in a poll however, they also have a free trial version for those who cannot afford the premium version.
Alternatively, there are other tools online that will equally make it easy for you to use polls in your contents such as PollDaddy, and wedgies.
They all work the same, just enter your question and multi-choice answers and copy the HTML code into your content.
However, don't just add polls in your content only to boost engagement, create them to learn more about your audience. This will enable you to know better to serve them.
For instance, you can create a poll asking them what type of contents you should be writing for them or, what topics you should be covering the more.
Their answers will not only help you to better serve them but, you will also know what they want in case you choose to create a product for them later.
5. Beautify Your Contents With Graphics
I don't need to tell you the importance of using graphics in your contents again, the statement that "an image speaks a thousand words" is now a cliché on the internet.
Check any blog post that has no single image on it, you will see how boring and empty it is, there will not be anything there to entice people to read further hence, the massive rise of bounce rate.
Have you heard of infographic before? I bet you have.
Infographics have proven to boost content engagements beyond human imagination. No wonder 80% of marketers on the internet often use and shares it.
I got the infographic above from Pik to chat, you can check it out for more interactive infographics.
You mustn't be a designer before you can create interactive infographics, you can always hire someone via Upwork or Dribble to create one for you however, if you know how to design then, a software like Adobe Edge Animate can always do the job for you.
Other ways you can Cut Down Your High Bounce Rate with Interactive Contents
Include quizzes in your contents
Add interactive videos in your contents
Write longer informative articles
Always ask your readers a lot of questions and let them answer in the comment area of the article.
Conclusion about Cutting Down High Bounce Rate With Interactive Contents for a website
There you have it all. There's nothing as painful as having a high bounce rate and one of the best ways to curtail it is to always write interactive contents.
I understand that not all type of interactive contents is easy to create, which is why you should just pick one and start working with it. Make it as fun as possible and when you've mastered it, you can always try another type.
As always, I will love to know what you think about this, let's take the discussion further via the comment box.