If your blog visitors come and leave immediately without clicking any other link on your site, it's called bounce rate. High bounce rates lead to your blog's failure. When no one clicks on your other links, you are miserably going to fail. You have to make your visitors stick to your websites to make more sales.
It's difficult to attract lots of targeted traffic for most website owners and bloggers on earth. But retaining those readers on your blog and website for some time is even more difficult. There will be lots of blog readers who will reach to your blog home or internal page from different sources and will immediately leave from the same page without navigating to other pages on your blog.
If most of people on your blog are moving away without navigating other pages on your blog, it will result in higher bounce rate and lesser number of page views per visit. If you are seeing the similar kind of numbers in your Google Analytics account, it's time to take action to fix these problem areas on your blog.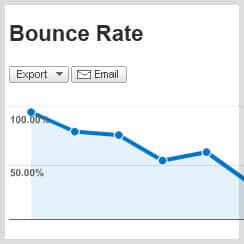 In today's post I will be sharing some tips which will you reduce bounce rate and improve overall page view per visit, numbers for your WordPress blog. Before discussing about these things in hand, let's talk a bit about bounce rate and how it is actually calculated?
What is Bounce Rate?
Bounce rate represent the percentage of people who bounce from the same page without navigating other pages on your website. So people on your blog that are just viewing one page on your blog will be contributing negatively towards its bounce rate.
Bounce Rate Formula
Bounce rate is calculated as:
Bounce Rate = (Single Page Visit/ Total Number of Visits) * 100
Suppose your blog get 100 visits in a day and 70 of them were single page visits, in this case bounce rate for your blog will be .70 i.e. 70%.
Ideal Bounce Rate
Bounce rate range varies from 0 to 100. 100 being the worst bounce rate and zero being nearly unachievable bounce rate for a website or blog in the long run. If your blog get a bounce rate of less than 20-30 %, that's perfect. If your blog bounce rate is around 50 that will be considered as average bounce rate. If your blog bounce rate goes beyond 60%, you should be concerned about it and if your blog bounce rate moves in the 80's, there is a major problem with your website, which you need to fix.
Ways to Reduce Bounce Rate & Increase Page Views
Now let's move on the topic for the day. Let's discuss some tips and techniques that should reduce bounce rate and improve page views numbers for your WordPress based blog:
Interlink Your Blog Contents
There's no other better way to make your visitors click on other links on you pages (most specifically on your posts and articles) other link interlinking. Interlinking means adding links to your old blog posts or web pages (within your website or blog). Interlinking is not only helpful to decrease bounce rates but it also help crawlers to crawl your site frequently.
You should interlink your blog posts and pages to reduce bounce rate and increasing page views for your blog. By interlinking your blog contents in an intelligent way, you are actually inviting your blog readers to browse more targeted contents from your blog readers. This way you will be able to send some targeted traffic and backlinks to your old blog posts as well.
So interlinking your blog contents will not only improve your blog bounce rate but will also have SEO benefits of its own. If you have a fresh new website, you may find it hard to interlink your blog contents as you have very few blog posts live by that time. But as the size of your blog increase, you will have lots of opportunities to interlink your contents. I use Google powered custom search to find targeted blog posts and pages for interlinking on my blogs.
Apart from manual interlinking, you can use SEO Smart Links plugin to auto interlinks your blog contents in an SEO Optimised way.
Never publish a blog post without interlinking to another one. As a rule of thumb you can interlink to other posts for every 200 to 300 words you write. This way you will get a clear idea on how to interlink your blog posts the smart way. Remember that interlinking also boost your SEO rankings.
Show Related Posts
Next thing you could do for reducing bounce rate for your blog is adding related posts towards the end of a blog post. One of the easiest ways to decrease your bounce rate and increase page views for WordPress websites is to show related content at the end of every single post. The chances are high to increase your page views if you show highly relevant content at the end of each post.
If a visitor lands on your blog for the first time and started reading something, if he founds your article really interesting or informative, he will definitely click on your relevant posts (if you show them). So, you will be reducing bounce rate, also increasing your page views at the same time.
This way, you are introducing more targeted and relevant content your blog readers may be interested in reading. If you are aiming at increasing page views for your blog, you should add a related post or similar post kind of widget on your blog at single blog post level. So far I have tested some great plugins to help me with showing related posts on my blog. For a long time, I was using Yet Another Related Post Plugin (YARPP) on Bloggers Passion.
But recently I found a better alternate to it in the form of Nrelate plugin which allows me show related post section in a more appealing way. If your blog don't have many images, you can stick with YARPP, but if you happen to use some or lots of images in your blog posts, Nrelate plugin should be a better alternate for you.
When using Nrelate plugin, you should use its No java Script version as that version is SEO friendly and thus will help linked pages (From Related Post Section) towards better search engine rankings and page rank.
Make sure you are not using any lazy loading plugins to show related content at the end of your posts as most of these plugins load really slowly and makes your website loading time slower. I also recommend you to use Link Within plugin as it loads very fast and displays right contents at the end of your posts.
Produce High Quality and Targeted Content
It doesn't matter how many tactics you use to reduce bounce rate on your WordPress sites, if you are not creating engaging content, your visitors jump off from your sites immediately. You need to make sure to write only those posts which are highly informative and packed with full meat.
It's your blog content which will ultimately matter. If people are not finding your blog contents interesting and useful, nothing could help towards improving your engagement metrics. In that case you need to improve your writing skills and need to improve as a blogger. If you are just starting out, you should do lots of research on internet about a topic before writing a blog post on that topic.
Once you have clear cut idea about the topic and points you will be discussing, you are good to start writing on that. If you want to be successful with your blog, you should spend lots of time in gaining deep knowledge about your niche and associated topics. You could think of subscribing to some blogs in your niche that produce killer content.
You should publish content on your blog only after you are 100% sure about its quality. You should proof read your blog posts 2-3 times before publishing it on your blog. If your blog is about blogging niche, most of time, you should deliver contents around this niche only. If you start going off track with your contents, you are taking risk of losing lots of targeted subscribers to your blog as they are interested in reading content around blogging niche only.
So your aim should be producing high quality and relevant contents in the form of blog posts on your blog if are aiming at becoming a trusted entity in your niche. If you are blogging about off topics, most of your blog readers will not be interested in them and thus will immediately bounce away from your blog. It will have negative impact on your blog bounce rate, page views per visit and time spend on site.
Make sure to understand your audience, get to know what they really want from you and analyze your competition to create great content for your readers that solve your audiences problems. So the key to improve bounce rate and page views will be delivering relevant contents only.
Improve Speed of Your Blog
One of the key factors that determine your bounce rate is the loading time of your websites. If they really load slow, your visitors immediately leave your site and go somewhere else where websites load faster.
If you have been keeping track of recent algorithmic changes from Google Search team, you would have clear cut idea about the importance of your website speed in its overall search engine rankings. Some time back, Google included page speed as one of rankings factors in its search engine algorithms. Having fast website will not only help you towards better search engine rankings but will also help you towards better bounce rate and improved page views per visit.
No one loves to visit a slow loading website or blog. If your blog is takings more than 5-6 seconds in loading, a big percentage of your blog readers will immediately bounce away from your blog. This will result in higher bounce rate and lower page views per visit. So the ideal situation for you will be look at ways to improve speed of your WordPress blog and bring your blog speed to less than 5 seconds.
Cache plugins like W3 Total Cache and WP Super Cache can help you in this direction. I have written a comprehensive guide which will help you improve speed of your WordPress blog here. You should follow this guide to improve speed of your WordPress blog to great extent.
Improve Comments Ratio on Your Blog
Blog comments are not only helpful for making your readers stick to your websites, but also help you crawl your sites deeper by search engine crawlers.
Are you replying to every comment on your blog? If no, make it a habit to reply to every commenters comment on your blog. Frankly speaking, I'm a bit lazy and also did not find much time in replying to every comment on my blog. But it's also true I'm changing my habit and started replying to few comments at least where my blog readers are asking certain type of questions or seeking some help from me.
If we are replying every comment on our blog, it will motivate your blog readers to write more comments on your blog. And this should help improve all engagement metrics on your blog including reduction in bounce rate and increase in page views per visit. There are some plugins like subscribe to comments; commentLuv plugin and top commentators plugin should help you attract more comments on your blog. If you want to attract lots of comment on your blog, you should check this post.
Avoid spam comments at all costs as Google might penalize your sites for allowing spam links on your website pages. Use plugins like GASP, Akismet, ComLuv etc. to fight against spam comments. Check your comment section from WP dashboard to find if there any spam comments.
Use Posts Excerpts at Home/Category/Archive Level
Showing post excerpts at home page, category level and archive level will help you get more page views and lower bounce rate for your blog. Using Posts Excerpts will also help towards improved blog speed. I'm following this practice on all of my blog including Bloggers Passion.
If you are just starting using WordPress, there will be definitely some plugins which will help you show post excerpts at different level on your blog. Or if you are using search engine friendly themes like Genesis, Thesis etc. you can easily have the option to show excerpts on your home pages without using any additional plugins.
One of the best plugins to show excerpts of your blog posts on your home page is Advanced Excerpt plugin. This plugin keeps HTML markup in the excerpt and trims the excerpt to a given length using either character count or word count. It doesn't cut the excerpts wierd way as it completes the last word or sentence in any excerpt. It also adds a read more link to let your visitors easily know that it is an excerpt.
Make Your Blog Sidebar Interactive
You can use your blog sidebar section to get more interaction from readers on your blog. You can show subscription buttons for your RSS, Email Feed and can invite your blog readers to follow you on different social media networks. Apart from this, you could share more content in your blog sidebar in the form of Recent Posts, Popular Posts, Monthly Archives, and Categories etc.
You will have plenty of options in the form of top commenters widget, recent comments widget, popular tags etc. that you can try in your blog's sidebar section. Clear your sidebar clutter and provide more white space to give your readers a better experience to navigate your sites. And avoid popup's at all costs as most of them are annoying, if you have to use them, then set for a period of 3o days so that it shows your popups to a visitor after every 30 days.
Open External Links in New Tab
I'm noticing lots of small size and even popular blogs in all niche's used to open links to external websites in the same window. I would recommend opening all external links in the new tab or new window. You can do so by adding a target="_blank" attribute with your link. Here is a sample link helping you open an external link in new tab:
<a href="Website URL" target=""_blank">Anchor Text Value</a>
Lesser Number of Ads on Your Blog
I have noticed people find it hard to read content on blogs that are packed with too many ads. It could be one of the reasons why Google is giving lower weight to those websites and blogs that are showing too many ads above the fold. You can read more about Google Page Layout Algorithm here.
You should stay away from adding unnecessary popup and in text ads on your blog. Blogs with fewer ads seems to be doing great on Google these days and the same thing goes with bounce rate and page views metrics.
By using less number of ads on your websites, you are not only making your website loading time faster but you are also increasing the chances of users clicking on your ads more. Remember the fact that, less is always more in online. If you give too many options to your visitors, they won't choose anything. So use less ads that are highly effective, get rid of all the ads that don't add any value to your visitors or readers.
Browse more Blogging Resources:
In a nutshell about reducing the bounce rate & improving page views for WordPress blogs
To reduce bounce rate and increase page views of your WordPress blogs, there's only one thing you need to consider, give your readers a better user experience. Don't make your design clutter, don't use too many ads, make your website loading time faster, show excerpts and display related posts under each post to make their reading experience better. If you make it easy to navigate your website, both your readers and search engine crawlers love to visit your site again and again and you will get the best rewards.
I hope above tips will help you improve page views, bounce rate and other engagement metrics on your WordPress blog. What is your blog bounce rate and how you going about improving it? Please leave your suggestions and questions about bounce rate and page views, in the comments section.