Summary
JustHost is an award winning and 4th largest web hosting company in UK. You will get Free Domain Name and a TON of incredible features like free backup, unlimited bandwidth etc.
Are you looking for an honest JustHost review for 2022? Are you thinking about using JustHost to use for your website hosting? In this guide, you will get all the important information about it along with their features and pricing.
Did you know the most important thing to building a profitable blog?
Web hosting it is. Where you host your WordPress blog or website decides your fate.
Not only your website speed is dependent on your hosting service but it also affects your search rankings. So don't go for a free or unreliable hosting provider just to save a few bucks, it could cost you a lot in the long run.
If you are looking for the perfect hosting for WordPress sites, I've a great recommendation for you, that is: JustHost.
In this JustHost tutorial, I'm going to talk about few features which make it incredible and also discuss few reasons you need to consider JustHost for hosting your WordPress sites? Let's get started.
We get a commission when you buy a product via our affiliate link at no additional cost.
JustHost Review 2022: Is it the best hosting for WordPress?
Before diving into the review of JustHost, let us first talk about the history of it so you will know how trustworthy they are.
A little bit about JustHost background
JustHost was started in 2008 and within a decade, they are ranked among best web hosts in the industry. They are the 4th largest web hosting company in UK and currently they are claiming to be hosting 200,000 plus customers' websites on their servers. It is an award winning web hosting company and so far they have won many awards for their consistent services.
They have set up its main offices in US, UK and Australia. So far they have won many prestigious awards in the web hosting industry including Best Host Award and Editor's Choice Awards etc.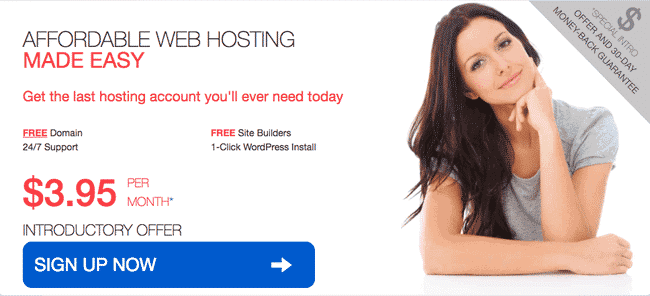 JustHost Features List
Let's first talk about the features they offer in this JustHost guide so you can easily decide whether this hosting is a right fit for your site needs or not. Trust me, JustHost gives you amazing offers you can't resist that too at an affordable price tag.
Their customers can install important web applications like WordPress, Joomla, Drupal and phpBB from their cPanel with a single click only.
Here's a list of incredible features JustHost offers.
Unlimited Disk Space, Unlimited Bandwidth, Unlimited Domain Hosting
Unlimited Email Accounts, Unlimited MYSQL Databases
Free Drag and Drop Website Builder Tool

Free Domain Name Registration (for 1 year)

Free Instant Backup (these are really important!)

30 Days Money Back Guarantee

Unlimited POP3/POP3 Secure Email Support, Unlimited Add-on, Sub-domains and Parked Domains
Google Adwords Free $100 Credits
Giving away 99.9% uptime guarantee
1-Click WordPress Installer
Trendy Site Builder 1-Click Installer, TomatoCart 1-Click Installer, Drupal 1-Click Installer, Joomla 1-Click Installer, Magento 1-Click Installer (so there are a ton of options apart from WordPress)
Their servers are faster than other most of popular web hosting companies servers
Click here to start your WordPress site on JustHost
This JustHost tutorial for 2022 is incomplete without sharing some of its features in detail. Here is the detailed analysis about some of its features you will enjoy while using their hosting on your websites:
Free Website Builder: Create Your Website with Ease
If you don't know how to create a website and not interested in using any content management system, you can create your first website with ease using website builder tool in few minutes time only. Website Builder tool is available in all of their hosting plans for free.
You don't need any technical skills to start using website builder tool. You just need to drag and drop while using this special tool. There is a website builder Wizard available that will help you when you are using website builder tool.
Free Domain Name Registration Facility
If you are thinking of using their web hosting services, you can register your domain name for free with them. Not only this, they will be paying the domain renewal fee every year by the time you are using their web hosting services.
In case you already have registered your domain name, you can use this service anytime from your Control Panel. You can even move your domain from old host to them for free.
Easy to use cPanel from Just Host
Their control panel is one of the best control panel in the web hosting industry with graphical interface. If you are new to hosting, you can still do all tasks you are interested in doing through Easy to operate cPanel. If you are finding problems in installing any web application of your choice, you should use Fantastico for the same.
Remember, if you choose a host without any control panel (cPanel), you will have hard times in installing WordPress, managing your email accounts etc. That's the reason why I've used this JustHost guide to present the most friendly and easy to manage cPanel from JustHost.
30 Days Money Back Guarantee from JustHost
JustHost offers 30-days money back guarantee to its customers. They are able to give such a big guarantee as they have full confidence in their services and customers satisfaction is their top most priority. So you are not going to lose anything by trying their web hosting services for your websites and blogs.
Here are some of the things you should remember.
If you cancel your account within 30 days you receive a FULL refund on your hosting service.
If you cancel after 30 days you receive a prorated refund for the remainder of your hosting term. That means, if you've bought a 1 year hosting plan and asked for a refund after 2 months, you get remaining 10 months of hosting refund. That's a GREAT thing.
If you register a domain with JustHost when signing up, there is a domain fee that is non-refundable. This not only covers our costs, but ensures that you won't lose your domain name. You'll be free to transfer it and you retain ownership of your domain until the end of its registration period.
Their money-back guarantee applies only to their hosting plans, but does not apply to most add-on products, such as domains.
Loving this Just Host review? Why not start your website using their hosting plans?
Click this link to start your website on JustHost
JustHost Customer Services
They are providing 24×7 support through Email, Chat and Phone to its customers. They have a dedicated team of technical persons who know their work very well. These technicians make sure that every query coming from their customers is solved quickly with customer's satisfaction.
JustHost Price List
How can I end this unbiased JustHost review 2022 without mentioning the price?
So what's the price of JustHost?
Normally they charge $7.99/month, but currently they are running a special promo under which you can enjoy JustHost professional web hosting for $3.95/Month Only.
This special offer is going to run for limited period of time. So you should buy their web hosting as soon as possible to make maximum use of this special promo which is available on their website. There are very rare chances when you will again get such a special and discounted offer.
Click This Link to Buy their Web Hosting for $3.95/Month Only
Other Web Hosting Services Review:
Just Host coupon link
Just Host basically offers 3 pricing plans which are mentioned below.
Basic
Plus
Prime
Let's briefly talk about JustHost pricing plans now.
1. Basic plan: This is perfect for starters who want to install only 1 WordPress site. This costs you just $3.95 per month. If you want the cheapest hosting, this one is for you.
2. Plus: This is the most popular pricing plan from Just Host as you can install up to 10 WordPress sites without any hassle. This plan costs you just $6.95 per month. This plan is perfect for those who are serious about making money from blogging by launching various sites.
3. Prime: This is the perfect choice for almost every blogger who are aiming for gaining long term results from blogging. You can install unlimited sites using this plan and it costs you $6.95 per month (for a limited time).
Click here to launch your site on JustHost and Get 60% OFF
Are there any cons of using Just Host?
So far we've talked about the features and pros of using Just Host as your preferred hosting choice. This Just Host review won't be unbiased if I won't discuss the cons of using it.
Here are some of the JustHost cons:
No VPS or dedicated WordPress hosting plans are offered (Just Host only offers shared hosting plans)
Although shared hosting is widely used but it sometimes can cause in downtime issues (when too many people browse your site at a time).
Recommended Web Hosting Resources:
Final Thoughts
If you want to host your WordPress site on a better, faster and reliable hosting that comes at the cheapest price, go for JustHost. This detailed Just Host review was written just to give you a better idea on what it offers along with their pricing plans.
I would Highly Recommend JustHost web hosting to those people who are looking at strong web hosting solutions at cheapest prices in the industry. There are lots of customers speaking great words about their web hosting. So they all cannot be wrong.
Other Web Hosting Reviews:
MilesWeb Review: Is It Worth The Money?
Scala Hosting Review: Is it the best hosting for your site?
WPEngine Review: Is it the best Managed WordPress Hosting?
Unbiased WPX Hosting Review with 50% Promo Code Inside
Kinsta Review 2022: Is it worth The Money?
HostArmada Review: Is it a Game-Changing Web Host?
ChemiCloud Review 2022: Why We Think It's An Amazing Host?
Namecheap Hosting Review: Is It The Cheapest Hosting For WordPress?
This JustHost tutorial is NOT solely written for increasing my affiliate product sales but to actually help you pick the best hosting service that suits your WordPress needs. After all, there are hundreds of web hosting services out there so picking the right hosting is always a pain.
You can rely on their technical team for any of your technical problems. So what you are waiting for, just go and purchase JustHost Web Hosting for as low as $3.95/m only, its look like lowest price charged by them for their professional web hosting services.
So what are you waiting? Have you liked this JustHost tutorial? Are you going to use it to run your WordPress sites? If you have any questions, do let me know in the comments. You can also mail me at [email protected] if you want free WordPress installation service.