How Do I Launch A Successful Blog that Makes Money in 2018
|
Making money online has always been my passion.
Not only it allows me to work whenever I want but I can say it for sure that I'm adding huge value to the blogging community with my content, products and services.
Are you thinking to launch a blog and want to make money from it? If yes, this post is exclusively for you where I'm going to show you few proven strategies that can help you build a profitable blog in the year 2018 and beyond even if you are a beginner.
Why should you start a blog in the first place?
I'm a blogger who is making money online since 2010 so I can say the making money blogging thing works if you work hard. If you are sitting at home or office and wondering why you need to start a blog TODAY, I've five compelling reasons for you.
It helps you build your own brand online
It helps you build HUGE audience around your blogs
It helps you make money
It helps you connect with the influencers in your field
Above all, blogging is fun
So what are you waiting for?
Click here to start your own blog on Bluehost in just 5 minutes
The anatomy of a profitable blog
Let's first talk about how a profitable blog looks in general. Let's see how these 3 highly successful blogs became profitable (each of these blogs make millions of dollars EVERY single year).
KISSmetrics: Neil Patel runs this hugely popular marketing blog. This blog mainly covers topics around marketing, SEO, conversion and web analytics. This is a software used for knowing how your customers behave once they visit your sites. So you can easily figure out what are the things that can be taken care of in order to boost your website conversion rates and sales.
It makes money by offering its software as a service. It has monthly and annual options so it has recurring paying options. Currently it is worth millions of dollars. It has generated its user base mostly through content marketing.
Smart Passive Income: Pat Flynn. You might already have heard his name. He's the guy behind the million dollar blog "Smart Passive Income" which talks about affiliate marketing, email list building, online courses etc.
Pat Flynn makes over $100,000 in income just through affiliate marketing from his blog. He was able to do that by building raving fans around his blog since 2008. His content is top notch and he also offers podcasts and YouTube videos to teach his audience about building successful online businesses.
I Will Teach You To be Rich: Ramit Sethi launched IWT in 2004 and it is now a multi-million dollar blog which has thousands of high paying customers. Ramit was able to build such a profitable blog by teaching his students about how to lead a rich life without saving on lattes.
His content is REALLY insightful and you can make a lot of improvement in your life by applying the strategies mentioned in his blog posts, videos and podcasts. Currently it has grown over to 500,000 monthly readers worldwide and making millions of dollars every year.
3 factors needed to launch a successful blog
Here are the 3 absolutely critical things EVERY money making blog should have.
Informative: No one reads a blog if it doesn't add any value. So make sure your blog is worth reading. Take time to come up with rocking blog post ideas and deliver great content.
A proper monetization strategy: How can I make money from my blog? Never ask this question. Brainstorm your own monetization ways. Come up with a list of ideas you can use to monetize your blog's traffic.
Raving fans: All the 3 successful blogs mentioned above have one thing in common: "raving fans". Without having them, it's really hard to make money from your blogging efforts. Focus on big wins and start small.
Let's now talk about how you can launch a successful blog that makes money in 2018 and beyond. Are you ready? Let's get started.
How to launch a profitable blog that makes money
It all starts with the right topic to blog about
Let me tell you one thing. Choosing the right blog topic is REALLY hard. Yes, it takes a lot of time especially if you are new to blogging.
But if you do this ONE thing wrong, you are wasting both your time and money. That's why it's essential to spend quality time in picking the right topic to write about on your blog.
So how can you come up with the topics that are easy to write and monetize later?
Here are few incredible tips that can help you pick the right blog topic so you can launch a successful blog and make money from it. Again I'm saying, don't skip this step!
Brainstorm a lot of ideas. Find the top 3 topics that you are most passionate about. Ask yourself "can I blog about this topic for 1 year even if I don't get any results". Once it strikes, start a blog around it. You just have found a golden nugget.
Ask your friends, family or colleagues. Tell them about your plans. Ask them to share their opinions. Most of them will give you a lot of ideas. Pick them carefully.
Once you come up with at least 3 ideas to start a blog on, sleep on it. Research more about those topics. Think about how can you drive more traffic and get sales from those topics. Find out the top blogs related around those topics. You will get a plenty of inspiration.
Find out where you are good at. Know your skills. Figure out if you can use your own skills to create a blog. Read popular blogs, online magazines and listen to podcasts around blogging and marketing for inspiration.
Launch the blog. It's the time NOW! Don't just sit and procrastinate. Start the blog around your newly found topic. And find ways to get more exposure to your blog posts.
The 2 SECRETs to money making blog
The 1st secret is to build blog audience.
And the next secret is to monetize them.
Sounds so simple, right?
But building loyal audience and making money from them is NOT easy and it often takes a lot of time, efforts and money. And you can build a money making blog only when you put consistent efforts into it.
If you are ready for it, here are few strategies that can help you build the right audience for your blog in no time.
Know your audience. Define your targeted reader. Don't write for thousands of people. Instead write just for ONE person i.e your ideal customer.
Building blog audience becomes easy if you create engaging content. Don't write blog posts just for the sake of getting links, social shares or search traffic. Traffic means nothing if it doesn't convert. So focus more on giving huge value to your audience with your content.
Identify the needs and wants of your targeted readers. Know what they want. Go where they regularly hang out online. Connect with them. Know what triggers them. Create problem solving content just for them.
Figure out ways to capture the audience from others sites that has similar audience to you. You can do this by writing guest posts. It's the ultimate weapon to build blog audience.
Promote more than you create. Most bloggers make a big mistake of creating more content than they promote. What is the purpose of writing more posts if they don't get more exposure? So make sure you spend 80% of your time in promoting your stuff and remaining in creating content. That's how you build a huge blog audience.
Use social media wisely. Instead of wasting time on Facebook chatting, use it to connect with the influencers in your niche. Once you leverage the connections with the active social media users, you can get a lot of exposure whenever you publish something new on your sites.
Making money from your blog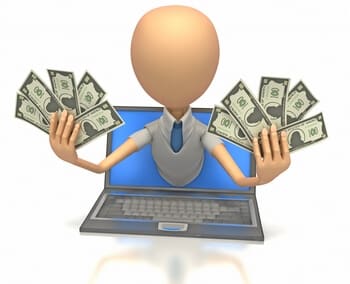 Once you have blog audience, there are a gazillion of ways to monetize your blog. Although I'm not going to discuss about all of them but here are the 3 ways widely profitable bloggers use to make millions from their blogs.
Building an email list: The money is in the list. They said it over a million times and it's true every single time.
If you are not building an email list from day 1, you are making a big mistake. You can simply start using either GetResponse or MailChimp to turn your website visitors into email subscribers.
Once you have their permission, you can start sending email autoresponder series to build rapport with them and to also educate them about the products or services you promote. Then, when you have their permission, you can make sales by sending promotional emails regularly. Just don't pitch too many sales pitches.
Promoting others products: Affiliate marketing is the way to go if you want to make money even while you sleep. This is how Pat Flynn makes millions of dollars from his blog Smart Passive Income.
While it's not so easy to make money by selling affiliate products. But if you know how to sell it right by building trust first, you will find it easy to make money from affiliate marketing. Read more about psychology and marketing and you will soon master how to sell without sounding like a sales guy.
Creating your own products: Neil Patel, Brian Clark, Derek Halpern, Ramit Sethi – all these marketers are making 90% of their income from selling their own products or services. If you want to really make huge money from your blogging efforts, you should consider this strategy.
But make sure you are not targeting a HUGE market. Find out your own niche. Master it. Become the expert. Create products that solve your audience problems and you will find it easy to make sales.
Final thoughts about launching a blog that really makes money
I've been actively blogging for over 6 years now (I started this blog in 2010) and I know building a successful blog that makes money takes time.
If you are just starting out, I would highly recommend you to first subscribe all the top blogs in your industry, go through their contents and understand how they are monetizing their sites.
By building blog audience with your content, you can easily find a lot of ways to monetize your blog's traffic. So focus on your blog audience instead of making money from day 1.
Also add as much value as you can to grow your readership. Find your audience wants and needs and deliver the right products. You will find it easy to increase your sales then.
So what do you think? Are you going to launch a new blog? Are you going to implement the strategies mentioned here? Do you have any more questions. Feel free to ask them in the comments section below.