Nrelate Plugin: Related Content Plugin for WordPress Blogs
|
Note: nRelate plugin was shut down on 31st December 2014. As an alternative, I would recommend going for Yet Another Related Post plugin or Related Post Plugin by Zemanta.
Who else wants to increase their website traffic without publishing more blog posts? If you are searching for serious ways to increase your page views and decrease bounce rates of your WordPress websites, there's a simple tip – show related posts at the end of each posts.
Nrelate related content is one such WordPress plugin that helps you show related contents at the end of each post on your WordPress websites.
Nrelate is another related post plugin for WordPress blogs similar to Yet Another Related Post Plugin (YARPP). The best thing about this plugin is that it allows us the facility to show thumbnail images with text in related posts or related content section. You as a blog owner can show text with thumbnails, just text or just thumbnails using the this related post plugin in related post section on your blog.
There are four ways by which we can show related content in our blogs using Nrelate plugin namely showing related content before or after the post, using the [Nrelate-related] shortcode in your post, adding a widget in our theme and adding the nrelate_related() function file in your theme.
If you want to know how this plugin works, you can see it live in action Bloggers Passion blog at Single Post level. I recently started using this related content plugin on my blog and so far I'm happy with it. Here is a screenshot showing this plugin in action on my blog at single post level: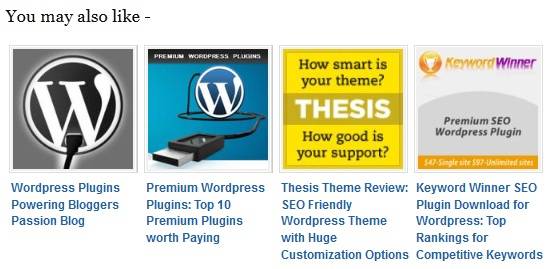 Most bloggers completely forget about their past entries on their blogs. What happens when you neglect your old blog posts? Simply no one cares, everyone ignores your old entries too. Your energy, time and money you spend on creating the posts will just go in vain, so don't make that happen.
Show your related posts at the end of your blog posts to give fresh breath and visibility to your old blog posts. I strongly suggest you to install Nrelate related content plugin as it gives your old posts high visibility. The more relevant contents you have, the better page views you get using this plugin.
As far as the speed of my blog is concerned after adding this plugin, I don't see any negatives after adding this plugin. It's developer are even claiming that if you are moving from some related post plugin like YARPP, you may even notice some improvement in your website speed.
That will be great experience to have where we are able to show related content section in our blog in a visual appealing way and at the same time are able to improve our blog to some extent at least if we are migrating from YARPP kind of related post plugins. You can get the same kind of appearance on your blog in the related content section. So it's time to install Nrelate plugin and play with its features.
This plugin also offers
Automatically display before or after each blog post
Widget in any widget area in your WordPress themes
Place the nrelate_related() function in your theme files to show custom related posts without any hassle
How to Install Nrelate Plugin On WordPress
It's really easy to install this related content plugin on a WordPress blog. Here's a step by step procedure on how to install Nrelate content plugin on WordPress.
Step 1: Go to your plugins section in your WordPress Admin panel and Click Add New. Make search for Nrelate plugin and the very first result will be Nrelate Related Content Plugin.
Step 2: Install it and activate it in to your plugins directory.
Step 3: Access the Nrelate plugin settings section from WordPress left menu section towards bottom. Here is a screenshot showing Nrelate plugin settings section.
Step 4: From this page, you can decide how to show up related content section on your blog using Nrelate plugin. You can make decisions like you want to show thumbnails in related content section or not, thumbnail size you want to use and the maximum number of posts you want to show in the related content section on your blog etc.
Once you are finished with the adjustments you want to make into Nrelate plugin settings, just relax and let Nrelate analyse your blog contents. This plugin will start delivering related contents on your blog within 2 hours after installation.
You can download the latest version of the Nrelate plugin from Wordpress plugins directory if you are interested in uploading this plugin via a FTP client on your blog.
Nrelate Plugin Features List
Nrelate related content WordPress plugin has too many features that most WordPress lovers like; Here are few notable features of this plugin.
The biggest benefit I see of this related content plugin is that it makes our related post section much more impressive and should result in better engagement metrics on our blogs.
As discussed above, your blog performance will not degrade after using Nrelate plugin. You should even experience faster loading blog if you are moving from YARPP plugin.
With the help of the [Nrelate-related] shortcode, you can show related content anywhere in our blog posts and can even customize it to great extent like showing it in left, right and its width etc.
You can even make money showing advertisements in the related content section on your blog by joining Partners.nrelate.com here.
Nrelate Related content plugin not only works on English language website but also supports Dutch, French, German, Indonesian, Italian, Polish, Portuguese, Russian, Spanish, Swedish and Turkish languages.
Thumbnails or text, you decide which way you want to show your related posts under each post. That's so easy to do using Nrelate related content plugin.
You can also show ads on your websites using this plugin. Your ads will be shown similar to the content that is shown at the end of your posts so that you can earn some extra money with your website traffic.
Nrelate related content plugin does't slow down your website speed as 

all of the processing and analyzing runs on their servers, so there will be no burden at your end. 
Nrelate Plugin Vs. YARPP
I have so far got some experience using Nrelate and YARPP on my WordPress blogs. YARPP will more suits to text-based blogs and if you are running a blog that contains lots of images, you can give a try to Nrelate Related Content plugin. I would suggest using Nrelate plugin if you are running a product based, entertainment, image gallery etc. type of blogs.
Here is a screenshot showing YARPP in action at single post level on Bloggerspassion.com:
And here is another screenshot showing Nrelate plugin in action on the same post:
I hope now you are in the better position to make decision about the best related post plugin for your WordPress blogs. Now you have to decide which one will be best for you if it will be YARPP or Nrelate plugin, please let me know in the comments section below.
In a summary about the difference between Nrelate related plugin and YARPP plugin is:
Nrelate related plugin is most suitable if you use at least one image on your posts. So all of your posts will be shown with an image at the end of your posts. If you don't use too many images, and want to show text based links at the end of your posts, YARPP is the best option. Also note that, you can do the same thing with Nrelate plugin i.e you can show text based links.
Here are few more related posts plugins that are similar to Nrelate related plugin.
Link Within: If you want a simple, and elegant design on your related posts, Link Within is just for you. One of the great things about any related posts plugin is that, the speed functionality. Link Within doesn't consume your website loading time, it has its own servers to display your related posts so your website loading time will be as normal as before. You can show up to 3 to 5 related entries at the end of your posts using Link Within plugin.
WP thumbie: Although this plugin hasn't been updated in over 2 years, but I still strongly recommend this plugin to anyone who wants to show related posts on their blogs. The great thing about this plugin is, you can choose the number of posts to be displayed on articles on your websites. You can also select to exclude posts from certain categories as well as exclude several pages from your WordPress sites to give a better experience to your blog visitors.
Note: You should select No Java Script option from this related post plugin settings. If you go for Java Script based version, content in the related post section will not be indexed by Google. If you are trying to install Nrelate plugin on a Thesis based WordPress blog, you may face some formatting issues (Related posts will not be shown up properly).
Nrelate related content is not just another related posts plugin, but it is one of the most effective ways to show laser focused related contents at the end of your blog posts. It use patent pending technology to show highly relevant posts at the end of your posts. This leads to get more page views and you can also drastically decrease the bounce rates of your WordPress websites.
My intension behind writing this post was to suggest one more valuable plugin to my blog readers in the form of Nrelate plugin, a plugin for showing related content on your blog. It's action time now, I would suggest you to try this plugin on your blogs.
Nrelate related content plugin is just a gift for WordPress users who want to increase their page views and decrease bounce rates, I highly recommend using this plugin if you want more traffic. Please share your thoughts about Nrelate plugin, also suggest any related posts plugins to use on WordPress sites. What are the other related posts plugins do you use? Share your comments below, I'd highly consider your views.