Top 6 Best Passive Income Ideas to Make Money Even While Sleeping in 2018
|
Who else wants to know the best passive income ideas to earn more money in 2018 and beyond?
Hands down, passive income is the king of all income sources. No matter how hard you work, if you don't find a way to generate passive income, you will work until you die. That's the harsh truth.
What is passive income?
Passive income which is also known as residual income is the income that you generate even when you are not working actively. In simple terms, passive income is the type of income that you can make even while you sleep.
Some passive income ideas need working upfront to earn passive income later (such as writing eBooks and generating sales from Amazon) and other passive income ideas need upfront money and not time (such as stocks, real estate properties and so on).
In this detailed post, we'll discuss about 6 of the most effective passive income streams you can use in 2018 to generate more money even while you sleep. Let's get started without much ado.
6 Of The Best Passive Income Ideas You Can Use In 2018
#1. Real Estate
Real estate investing or buying rental properties has become one of the trending passive income ideas for most people in 2018.
There are basically two types of real estate rentals where you can earn passive income which are listed below;
Residential real estate rentals
Commercial real estate rentals
Residential real estate rentals are the type of rentals where you can earn passive income by owning and renting out for residential purpose to bachelors, friends and family whereas commercial real estate rentals are those type of rentals where you rent out to offices, small businesses, companies (where you mostly lease out your property for a couple of years).
So it all comes down to where the location of your property is and how big it is to pick the right type of real estate rental to make passive income even while you sleep.
The great thing about real estate rentals is that you will be generating more money depending on how popular your location is and you can increase your rental value every year by upgrading your furniture, installing better lighting, making miscellaneous upgrades to the property and so on.
That being said, here's an intelligent way to use real estate property to earn passive income even while you're sleeping.
"Focus on seller financing".
If you're wondering about what seller financing is, let us explain in simple terms. Seller financing is when the seller of a property takes the place of a traditional mortgage company or bank and lends money directly to the buyer (to help him buy a rental or commercial or any real estate property).
The buyer and seller sign a document (which is known as real estate note) listing out all the terms of repayment such as;
Interest rate
Number of years to repay the loan
Monthly payment (EMIs)
Other terms if any
Here's how the whole process looks like;
That being said, getting loans to buy real estate property has become easier and simple as well. Consider the below example assumption given by Well Kept Wallet.
For example, a three-year $10,000 loan with a Prosper Rating of AA would have an interest rate of 5.31% and a 2.41% origination fee for an annual percentage rate (APR) of 6.95% APR.
You would receive $9,759 and make 36 scheduled monthly payments of $301.10.
A five-year $10,000 loan with a Prosper Rating of A would have an interest rate of 8.39% and a 5.00% origination fee with a 10.59% APR.
You would receive $9,500 and make 60 scheduled monthly payments of $204.64.
Origination fees vary between 2.41%-5%. APRs through Prosper range from 6.95% (AA) to 35.99% (HR) for first-time borrowers, with the lowest rates for the most creditworthy borrowers.
So what are you waiting for? Find different ways to use real estate properties to get passive income ideas to make money in 2018 and beyond.
#2. Sell Information Products
There are thousands of people who are making millions of dollars in passive income every year by selling information products.
If you're curious to know about how you can create and sell information products online for passive income ideas, let's talk about it in detail so you can understand it better.
3 types of information products
Although there are a ton of various information products are being used to make passive income from online but here are the four major types of information products to make passive income in 2018 and beyond.
eBooks
Online Courses
Membership Sites
Let's discuss above each one of them so you will have a better idea about how you can use the information products as best passive income ideas to generate income even while you sleep.
Suggested Reading: 5 Smart Methods To Make Money Online Writing Simple Articles
#1. Making passive income by selling eBooks
One of the best ways to make passive income online is to sell eBooks on Amazon. There are so many people online with or without prior experience are killing it by creating eBooks and generating passive income as Amazon gives you decent commission per every successful eBook sale you make.
How does it work?
If you're wondering about how to make passive income by selling eBooks on Amazon, here's what you need to know more about the market.
If you look at the data above, you'll notice that;
In the US, more than 95% of all consumer eBook purchases and Amazon currently enjoys 74% of all US eBook purchases and 71% of all US consumer dollars spent on eBooks.
That's a HUGE market, right? So why not create and sell eBooks on Amazon?
Here are few proven tips for selling eBooks to earn passive income in 2018 and beyond.
Get an idea for your eBook: The first step to create and sell eBooks that make money is to get an eBook idea that's popular enough and convince enough people to make a purchase.
If you're writing an eBook on a boring topic, no one actually buys no matter how great the content is. So go through Amazon kindle eBooks and find out what genres are selling like hotcakes.
Start writing: You can use tools such as ZenWriter, OmmWriter etc to start writing your eBooks. If you hate writing, you can also hire people or use services like Upwork to find content writers who can create eBooks for you. The key here is to focus on creating content that's informative and engaging.
Promote: You can use email outreach to connect with other bloggers in your industry and send them your eBooks for free. Ask them for a feedback and ask them to give a shout out about your eBooks. If they really find your eBooks useful for their audience, they will help you easily sell your eBooks which help you attract more sales.
If you are wondering about what tools that can be helpful for you to create and craft eBooks, here are 3 exceptional tools used by most people online.
Evernote is undoubtedly one of the best tools for writers which gives you access to a cloud based workspace where you can write notes, to-do lists and create drafts to finish your eBooks.
Scrivener is another fantastic tool for writers that helps you finish your first first drafts, it's a great tool which simply provides everything you need to start writing and keep writing your eBooks of any kind.
hemingway App is hands down the unmissable tool you should be using if you want to write and finish your eBooks which helps make your writing simpler. Hemingway App is what the goto tool for writers of all kinds which is used every single day by best selling authors, novelists, screenwriters, non-fiction writers etc that you can use to improve your writing skills.
Last but not least, make sure to use CloudConvert which converts your finished eBooks into readable file across different devices such as tablets, kindle, eBook readers and so on. Using it, you can easily convert your PDF into .mobi or amazon kindle format in case if you want to sell a Kindle version of your eBook on Amazon.
#2. Online courses
Did you know that at an average, an instructor at Teachable earns $5,426 with each online course?
Online courses are becoming really popular as so many people are interested in learning online and ready to pay for a course if it's worth it.
There are thousands of people who are using platforms like Udemy, Teachable etc to sell online courses and make passive income every single day.
The great thing about creating online courses is you don't need any prior experience, build huge audience, invest more money etc as you can use platforms like Udemy and start selling your courses from day 1.
That being said, here are few insider tips to make money by selling online courses using platforms like Udemy.
Create multiple courses: At an average, all the successful teachers on sites like Udemy have multiple courses because they know the value of creating multiple streams to earn passive income.
If a course is not getting the right momentum, they can make more profits with other options. That's why it's so important for you to pick multiple topics where you have interest and skills and create courses around them.
Create top notch content: There's no other way to create online courses that sell without focusing on creating quality content. You can outsource your content writing part or create it all by yourself. Just make sure to spend enough money and time to get it right.
#3. Membership sites
Yes, starting a membership site is really hard and it takes a ton of time and creative work in order to make passive income from it. But creating membership sites can be lucrative and it is one of the best passive income ideas to generate more revenue each month in 2018.
You can use plugins like S2Member, MemberPress etc to easily create powerful membership plugins where you can give content access only to registered members and take payments effortlessly.
Just make sure to analyse all the websites and bloggers who are using membership sites to get passive income thoughts and earning huge profits in your niche so you get various ideas. The key to building a profitable membership site is to focus on trying out various strategies including content, promotion channels, pricing etc so you get to know what works better for your target audience.
If you want to build a membership site that makes more money, you should go through this detailed tutorial which gives you all the details.
#3. Start An Etsy Shop
Etsy is an eCommerce website where you can sell handmade or vintage items and supplies to earn passive income from online.
Etsy is becoming so much popular as more and more people are preferring to buy handmade items from other creative people all around the world.
Just in case if you're wondering about how an Etsy shop looks like, have a look the illustration below (source: Milk And Honey Tees on Etsy).
Here are some of the tips to earn passive income by setting up an Etsy shop online.
Learn the basic SEO: Make sure to learn SEO so you can easily optimize your product listings on your Etsy shop which can be a great asset which will help you attract potential people to buy from you.
Using a service like ETSY Rank will help but you if you learn and implement some of the basic principles of SEO, you can get amazing results and sales to your products on Etsy shop.
That being said, here are few SEO basics you can learn to build a profitable Etsy shop.
Learn keyword optimization so you can optimize your listings with highly competitive keywords. You can use tools like WordPress SEO by Yoast to optimize your listings.
Make sure to perform keyword research using tools like SEMrush, keyword planner etc so you can easily find tens of keywords for your business – whether you're a painter or sell custom pillows.
Make sure to get 5 star reviews: The amount of sales and passive income you make from your Etsy shop is directly depend on the number of positive feedback i.e 5 star rating reviews you get for your products.
Why? Because the first timers who visit your Etsy shop will be mostly skeptical about buying your products. If they see a ton of positive 5 star reviews about your products, work or shipping – most people will be quickly convinced to buy stuff from you. It's as simple as that.
That being said, here are few quick tips to get 5 star reviews for your Etsy shop.
Photos can make or break a sale on your Etsy shop: The first thing people see while browsing products on any Etsy shop is photos. If they are looking professional and compelling, people will definitely spend more time browsing them, so use high quality photos for your product listings.
Write compelling description: Don't list a product without writing a description. A product description is what most potential buyer read before they make a purchase.
Send a thank you note: Whenever you deliver goods to your customers, make sure to also send a thank you note for purchasing products from you. Make sure to give a 5 or 10% discount for their next purchase and also ask for a feedback. If they find your products useful, they will definitely return the favor.
Be unique and ship fast: No one waits for 10 days to get a product delivery to their doorstep after placing an order. If you're selling on Etsy and offering a 2 day home delivery of your products, try to ship even faster by shipping it in 24 hours so your customers would love to buy more from you in the future.
Also make sure to add some uniqueness to your Etsy shop. If you're like just other 1000 shops which are providing the same features or products listings on Etsy, no one will find it unique and it'll be harder for you to get more sales and make passive income. So be unique from your competitors.
#4. Make Passive Income By Creating An App
Do you want to know how to earn passive income by creating and selling an app? App development is becoming extremely popular these days and so many people including kids are learning app development using online sources and making hundreds of dollars each month selling their apps.
Now if you're wondering how you can make passive income by creating apps, here are few best passive income examples to make money through apps.
Creating paid version of the app (and charging people every month or year)
Using AdSense ads within your app to make money
Promoting others products or apps within your app to earn money
Affiliate income
Using freemium model
Adding subscriptions to your app to earn more money
And the list goes on and on
Here are some of the revenue channels for apps.
So how can you create an app?
Even if you don't know coding, you can use tools like Andromo to create apps or you can hire someone who's good at app development to create an app for you in any target market you desire (or you can simply learn it all by yourself to create and monetize your app which of course takes decent time).
Here's an interesting case study done by an app developer who created a music player app which resulted in 4 million downloads in 2 years and his income from simple banner ads was 300$ a day.
That's a lot of money, right? Yes, $12,000 a month from a single app is a lot of passive income.
Make sure to go through his case study where you can discover so many amazing things like;
App development
Promoting the app
Scaling up downloads
Increasing average ad revenue to $300 a day
And some other fascinating details about app creation and promotion
That being said, here are few proven tips to create apps that you can use as one of the best passive income thoughts to earn more money.
Choose the perfect app: The success of your app hugely depends on the category you pick. There are few categories such as music, entertainment, gaming, photography etc will always attract more people to try your app. So pick a category where most people give a try to almost any app that gets introduced to the app market.
Learn app store optimization: What keywords to use within your app is what determines the success of your app. You should use the RIGHT keywords that your target audience are looking for. So do proper keyword research and make sure to build links around your app (landing page or website) to generate more search visibility.
Create a video for your app: App creation is one thing and app promotion and presentation is another thing. If you don't know how to promote your app, no matter how great it is, you can't attract more downloads to it. The best way to present your app is to create a video around it and make it go viral (you can mention the links within video and description to let others download the app).
#5. Start A Dropshipping Business
Dropshipping is one of the most effective passive income investments to earn huge profits in 2018 and beyond.
If you don't have a clue about what dropshipping business is all about, let us explain in detail so you can consider it as one of the best passive income ideas to earn more money.
Dropshipping is a method where a store purchases the product from the manufacturer or wholesaler instead of storing the products it sells and has it shipped straight to the customer. So what does it mean basically? You're completely taking out the risk of storing and shipping the products you sell to customers.
It means, the store owner need NOT to worry about investing in creating products, paying for storing products, shipping costs, product returns and so on.
Here's a great illustration of dropshipping business.
In the above illustration, you can notice things like;
Customer paying you $200 for an order
You'll be getting the same product for $150 from the manufacturer or wholesaler (where they ship the product directly to the customer, so there's no need of your intervention)
You finally make $50 profit
The best way to build a profitable dropshipping business is to rely upon eCommerce related websites so you can outsource everything from your fingertips online.
Let us explain about it in detail so you can understand it better.
In an eCommerce based online dropshipping, as a retailer, you can set up a website on eCommerce platforms such as Shopify, Magento, Opencart etc only for managing the inventory which you can get from the product suppliers.
You can now connect your eCommerce store with various marketplaces such as Amazon, eBay, Etsy, Flipkart etc and sell your products from these marketplaces at maximum profits.
#6. Affiliate Marketing Is The Holy Grail of Internet
Out of all the passive income ideas mentioned on this post, our favorite is affiliate marketing. It is one of the most popular passive income sources used by millions of bloggers and affiliate marketers worldwide to earn more money while sleeping.
Did you know that affiliate marketing is a billion dollar industry. Just look at the illustration below to find out the popularity and growth of affiliate marketing industry.
Affiliate marketing industry is going to be a $7 billion dollar industry. That's a HUGE market, right?
So why ignore such a great passive income source?
The best part about affiliate marketing is that it is a skill that can be learned by anyone. Yes, it will take some time for you to understand how affiliate marketing works but once you start getting some momentum with it, sky's the only limit to make money from it.
Suggested Reading: The Complete Guide to Affiliate Marketing to Make More Money for Beginners In 2018
In case if you want to know about how affiliate marketing works, have a look at the below image.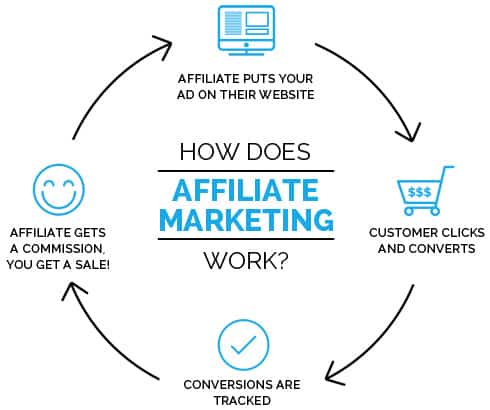 The way affiliate marketing works is;
A customer visits your website
Clicks on any product using your affiliate referral link
Lands on the product selling platform (such as eBay, Amazon, Nike etc)
You earn a commission if he makes a purchase
Are you now convinced to try affiliate marketing to bring more passive income? Want to find out some of the powerful affiliate marketing tips to grow your commissions? Here are some of them.
Pick the right products to promote: Your affiliate marketing success highly depends on the products you promote. By promoting the right products, you can get higher conversion rate along with customer's will to make a purchase using your affiliate referral links.
If you pick the wrong products to promote, you are not going to make even one sale. It's a smart strategy to always conduct a research before choosing which product to promote for your affiliate marketing. Make sure to test the product and measure the performance of every affiliate campaign to get more sales.
Build trust with your website audience: Most people who purchase something online are skeptical. That's why it's so much important for you to focus on building trust in the eyes of a customer and target audience.
Try to build a brand for yourself or build an email list to make yourself trustworthy in the eyes of your website audience so they don't think twice whenever they want to buy using your affiliate links. It's also important to use affiliate disclosures so they might help you earn commission if you add value by creating content or giving discounts etc.
Create valuable content around the products you promote: One of the best tips to make more affiliate sales is to create product reviews about the products you promote. We usually create detailed product reviews and case studies about the products that we use here at Bloggers Passion.
These are the product reviews and case studies that bring us more attention, social shares, search traffic along with the sales. So if you want to increase your affiliate sales, start focusing on creating better content and watch your sales grow.
Promote, promote, promote: Social media sites like Facebook, Twitter and also SEO activities such as link building, blogger outreach etc can help you promote your affiliate products the right way.
Promotion is the key when it comes to increase your affiliate sales. After all, no one buys from you if they don't get to see your products at all. Also use forums to engage with other bloggers and marketers to find out incredible ways to increase your affiliate commission.
Read: Top 11 Affiliate Marketing Blogs Every Beginner Should Follow in 2018
Final thoughts on the best passive income ideas for 2018
Passive income allows you to make money without working. But majority of the passive income sources including real estate properties, affiliate marketing etc take a ton of time in the beginning to turn them into profitable. So patience is the key!
We hope you like our compilation of best passive income ideas for 2018. If you have any more passive income ideas to earn extra income even while sleeping, share them in the comments.