Luckily, India is also getting on the bandwagon of hosting conferences and summits, which revolve around the new age concepts of the digital world. Are you also looking to participate in an event that will transcend your understanding of digital marketing, ads world, and SEO?
Well, here I am representing a fantastic opportunity for you to join hands with SEMrush Conference to be held in Bangalore (India) this year. The fact that you will come across the stalwarts of the digital marketing world in this conference is indeed admirable and one of the many reasons to attend it.
Some Highlights of the SEMrush Conference:
Industry Experts: This event will represent the gathering of various experts in their respective fields. The likes of Deepa Kedoor, Gokuldas K, Larry Kim, among many others, will be present at the show.
Networking Opportunities: Events and conferences provide good ground zero for building growing your network. SEMrush Event will be the host to more than 40 national and international speakers. Add to this, 2000 attendees will also be present here.
Learn and Grow: Want to stay updated with the new age strategies and hacks regarding your marketing campaigns? Well, this event has to be your go-to place for learning everything new with the marketing world.
SEMrush Conference: Here's What You Need to Know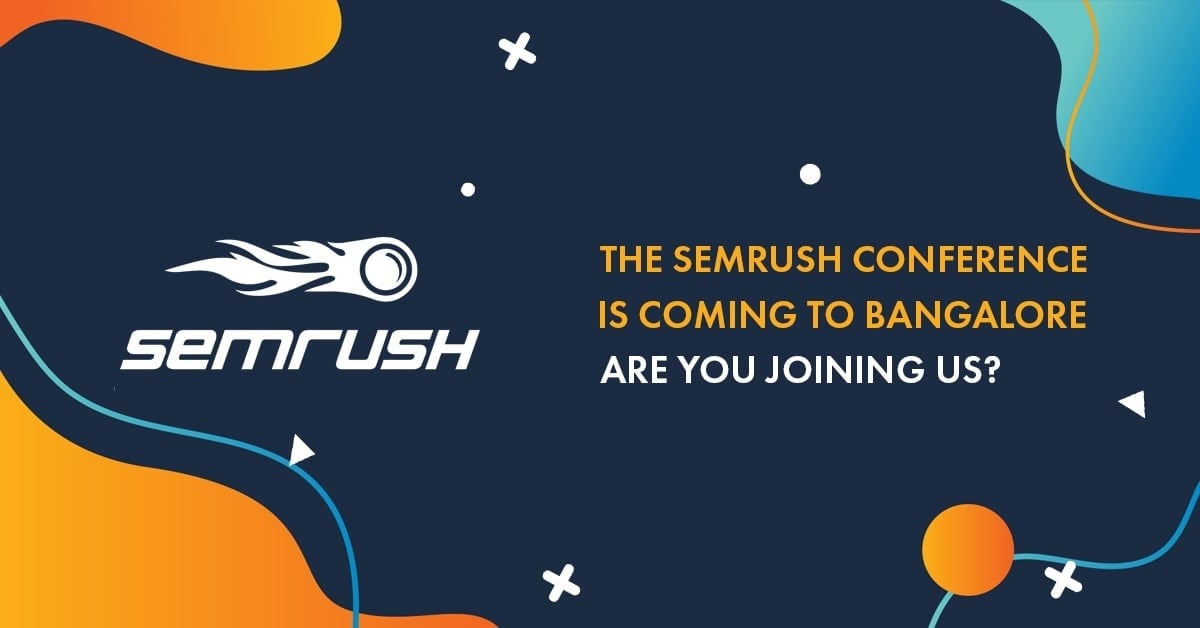 Here's how it will go down:
There are four significant aspects of this event that you need to know about:
Keynote Stage: Through this stage, you will be able to observe the major players of this industry share their perspectives and hacks for better growth in marketing. It is one thing reading the blogs and watching videos by experts. But when you hear them speak, I think it has a bigger impact on your understanding and learning.
SEO Stage: Talk about gaining the perfect knowledge of SEO, and this is the stage where you to be around. From this stage, you will be acquainted with the best actionable workflows and strategies for SEO. Have a goal in your mind for gaining prowess in SEO? Start here.
Online Ads Stage: Want to make a mark in the domain of online ads? It is from this stage that you will come across such tips and tricks to save money which can be otherwise wasted on incongruous interests and lackadaisical creatives. The speakers on this platform will also address issues like automation in online ads. Improvise, Adapt, and Overcome. Because there is a lot that you need to unlearn, add, and train for here. I hope you come packing!
Workshops: Google is coming, and so is Linkedin. I am too excited for these workshops. Can you imagine platforms like Google and Linkedin participating with their full might right here in Bangalore? Plus, SEMrush is also offering a live site audit for your website. Get educated, learn a thing or two, interact with people from diverse backgrounds. Know more about digital ads, talk to the experts. I know this is just an expression, but I will run out of ink.
A 35% Discount for YOU (Limited Time Only)
Here's a new promo code with 35% off discount for any conference pass – SuperEarlyBP
It will be valid until October 16th 2019. 
Here's how you can avail 35% instant discount for SEMrush marketing show Bangalore.
Step 1: For registration, follow SEMrushconf.in. Once you're on the website, scroll down to see the registration form which looks like this;
Make sure to fill out the registration form which includes your first name, last name, email address. Then click on Next button to continue.
Step 2: In this step, you'll need to fill out your other details like company name (or enter your website's name), phone number etc.
Step 3: In the 3rd step, you'll find 3 types of conference pass details including;
Conference pass (costs you $99 where you'll get access to the stages: Growth, SEO and Ads including buffet lunch)
All access pass (costs you  $190 where you'll get lunch, coffee breaks etc)
VIP pass (costs you $399 where you'll get VIP access)
Pick any of the pass that you want and click on Next button to continue.
Step 4: In this final step, just enter our new promo code with 35% off discount for any conference pass – SuperEarlyBP
That's it, you'll instantly get 35% discount (on any SEMrush conference pass among 3 passes). Note that, this promo code will be valid until October 16th 2019. 
Some of the most-awaited Speakers:
Larry Kim: Talking about scale in PPC campaigns, Larry Kim is the first person that comes to mind. His company WordStream handles thousands of campaigns having a collective spend budget of more than a billion dollars. If anyone knows the diversity in PPC campaigns, it is Larry.
Purna Virji: Ranked as the topmost influential expert in the world, Purna is a Senior Manager of Global Engagement at Microsoft. She is a regular speaker at such large scale conferences and specialized in digital marketing, Artificial Intelligence and the future of Search.
Aleyda Solis: A world-renowned International SEO consultant, Aleyda will grace the stage with her years of experience in this niche. She has contributed tremendously to the growth of SEO and has been enlisted by Forbes in their top 10 online marketing experts to follow. Join her for a 30-minute talk about the most common SEO errors in Web Migrations and redesigns.
Luis Rodriguez: You will find Luis in the SEO stage, where he will be talking about 3 agile marketing principles to SEO. This guy is an SEO and Web Lead LATAM working for Uber and Uber Eats. Luis is also an expert in the domain of digital marketing.
Olga Andrienko: Olga has achieved the rank of the head of global marketing with SEMrush. In the event, she will delight the attendees with her perspectives and prowess in the field of marketing. Listen to her speak on Data-Driven Marketing Decision.
Claire Drumond: Claire Drumond handles the marketing of Jira Software and Bitbucket for Atlassian. She will be talking about how Atlassian leveraged Youtube to boost their marketing funnel through Youtube. This will be an exciting thing to hear, isn't it?
Hitesh Malhotra: Hitesh has explored a lot of different roles pertaining to the IT industry. However, he has finally settled with Nykaa.com as its chief marketing officer. At the SEMrush event, you will hear Hitesh talking about why paid search represents only one side of the coin. I wonder what lies on the other side? Join us to know about it.
Gokuldas K: Gokuldas has worked with some of the best startups in the country and has helped them develop their presence with his innovative ideas. Here he will be talking about the role of AI in redefining the Programmatic Advertising.
Schedule and Venue of the event:
The SEMrush event will be held on 5th December 2019 at Sheraton Grand Bengaluru Whitefield. Make sure to book your tickets well in advance as this is a once in a lifetime opportunity for you.
Note the timings: The conference will begin at 10:00 AM with a Welcome Speech from Fernando Angulo. Post this, you can join various speeches by the experts which range between 20 to 30 minutes.
There are three types of Passes:
Conference Pass
All-Access Pass
VIP Pass
For registration, follow SEMrushconf.in.
Curious to read an SEO tutorial? Check out the following tutorial
Step by Step SEO Tutorial for Beginners Including Our 9 yrs traffic stats included]
Here's a token of my appreciation:
I really want you to attend this conference and learn from the experts. Book your spot now and get a 35% discount with code "SuperEarlyBP". Hurry up, use my personal promo code and I will be waiting for you at the event.