SiteGround Hosting Review
$3.99/month
Summary
If you are looking for a reliable and secure web host that makes your sites load blazing fast, SiteGround is the best choice for you. Here's the most detailed and honest SiteGround hosting review along with features, pros, cons and pricing.
Are you thinking about launching a new WordPress website? Confused about what web host to pick? You're in the right place.
There are literally hundreds of web hosts out there and it's really hard to pick the right hosting choice. Here's where a web host like SiteGround comes into play which is not only affordable but also offers you a wide range of features to make your sites fully secure, reliable and faster.
In this detailed SiteGround hosting review, let's talk about some of the biggest benefits of using their hosting along with pros and cons (and we'll also share you few discounts on their hosting plans so you can save more on their hosting while signing up).
Today, we'll review SiteGround hosting which is feature-packed and affordable at best.
SiteGround is one of the top affordable (if not cheap) hosting services for bloggers worldwide. They are officially recommended by WordPress.org people and so you can trust your site on them.
Click this link to get HUGE discount on SiteGround hosting
Let's get started with the SiteGround hosting review without much ado.
SiteGround Hosting Review: Is It The Hosting You Need In 2022?
SiteGround Hosting Features
Firstly, let's talk about the incredible features offered by SiteGround hosting.
You can install unlimited websites (except for their basic plan)
SSD storage with all the plans to make your site speeds faster
Access to free CloudFlare CDN
Access to free daily backups
cPanel access
SSH Access
Free SSL with every single hosting plan
Free website setup and free website builder
Free website transfers
Offers you 30 days money back guarantee
Unlimited email accounts, Unlimited MySQL databases
And the list goes on
Click on this special link to start your blog on SiteGround (73% instant discount)
In this in-depth review, we'll see how well SiteGround fits in the best hosting for bloggers tag and what are the features it has. SiteGround offers one-click WordPress auto-installation, auto-upgradation of plugins, site transfer, WP-CLI, Staging etc.
However, we'll not read the feature list from the official website but will research to see if SiteGround offers what it promises or is just a fad.
We have included data from trusted hosting monitoring metrics sites and personal research. We know this type of research ain't possible for you because you got to focus on your business and online marketing rather than doing research, hence thought of coming out with this review.
1. SiteGround Uptime
Site uptime actually is what matters the most, because cheap hosting sites actually lure you with below-earth prices and then your site is never up for your visitors.
However, if you choose a premium hosting like SiteGround, you can rest assured that your site is always open for your visitors and hence save you from business losses. Very few hosting services provide 100% Uptime and SiteGround is one of them.
This isn't to sell you off, you can check the data from here (credits: HRank) to see SiteGround having a 99.996% uptime.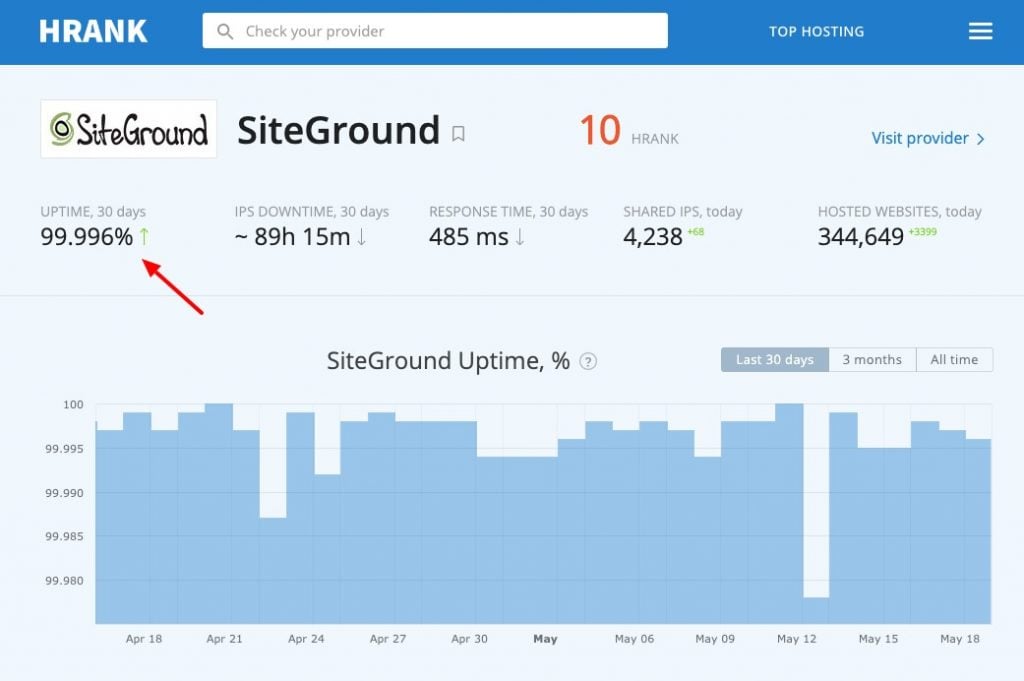 2. SiteGround Page Loading time or Speed Stats
A site with slooooooow loading means irritated visitors and poor conversions. At an average, 47% of visitors expect a site to load within 2 seconds and if it takes them more than 3 seconds to access the site, 40% of those visitors will abandon your site (maybe forever).
So, it is wise to choose a hosting that has good server response time and reduces your blog loading time.
SiteGround has an average server response time of 506 ms which is even faster than the industry favorite Bluehost at 550 ms. In an independent and bias-free experiment done by SiteGround itself, SiteGround was compared with 12 other standard hosting services like Bluehost, A2Hosting, HostGator amongst others.
One reason behind SiteGround's blazing fast speed is using the Varnish Cache technology. It makes their server ready to go lightening speed. I don't want you drag you into boring tech stuff so here is the proof.
SiteGround ranked 2nd with an average loading time of 1.68 sec (without cache) and 1.3 seconds with cache plugin enabled. Check the screenshot.
3. Free Website Transfer
Are you already using a web host that you don't like? Looking to move from your existing web host to SiteGround?
If yes, SiteGround offers an incredible deal for you: they offer you website transfer for free. Yes, you heard it right.
We all know how difficult it is to migrate a website from one web host to another (especially if you're not a tech savvy) and this is the major reason why most people stick to their primary hosting even though it sucks.
But with SiteGround, you can easily avail free site transfer facility.
Except for the basic shared hosting plan, you can get website migration service at free of cost and if you are migrating from a cPanel host, SiteGround customer support team can also migrate your email, FTP, and add-on sites.
As just mentioned, it's free for one site on the GrowBig and GoGeek plans and in case if you have more than 1 site to transfer to SiteGround hosting, they charge you around $30 per website.
Or you can simply install SiteGround Migrator plugin on the site you want to migrate, get a token from your SiteGround control panel and paste it in the plugin.
That's it, you're done as the Migrator will easily and safely migrate all of your website's content to SiteGround hosting servers without any hassle. This plugin is free and you can migrate as many sites as you want using this plugin.
4. Ultimate Features At No Additional Cost
SiteGround is one of the best web hosts that offers you a ton of ultimate hosting features at no additional cost. If you're wondering what they are, here's the list.
SSD storage: If a web host is still using traditional HDDs to host your website, you should stay away from them. Why? SSD drives provide you super faster website loading times and SiteGround offers SSD storage on all the plans.
All of the SiteGround hosting servers are located in some of the best data centres including the US, Europe, Singapore and run on the latest SSD disks to provide you super fast website performance and speeds.
Free SSL certificates: SSL certificates turn your http version into https (secured) version. Once you install an SSL certificate on you web server, it immediately activates the padlock and https and that's how it creates highly secure connections from a web server to a browser and the data is fully encrypted.
All the new websites hosted on SiteGround hosting platform get the free Standard SSL enabled (by default). If you want, you may switch to a free Wildcard SSL at any time from SiteGround hosting control panel.
Free daily backups: Most of the other web hosts such as HostGator, Bluehost doesn't offer free daily backups (as they charge you extra for backup services).
But SiteGround is exceptional and offers you free daily backups as they back up each account daily and store up to 30 copies. That way you can anytime use their 1-click restore option to restore all your backup files in case of data loss.
Free Cloudflare CDN: Most web hosts don't provide you CDN feature but we think every web host should include to provide faster loading times to all the users across the globe.
Fortunately, SiteGround is partnered withCloudflare to provide a free Content Delivery Network to all the SiteGround hosting users, so your website visitors throughout the world can enjoy higher website performance and speeds.
Access to SG Optimizer plugin: Did you know that a powerful and exclusive plugin is offered by SiteGround to all its users? It's called SG optimizer plugin
Exceptional features like automatic image optimizations, lazy image loading, GZIP compression, CSS & HTML minifications etc are all included in this plugin to boost your website's overall performance and page loading times.
This plugin works ONLY with the SiteGround performance services. It WILL NOT WORK on another hosting provider such as Bluehost, HostGator and so on.
5. Site Security with SiteGround
WordPress sites are always prone to hacks and malware attacks thanks to the heck load of free themes and un-updated plugins. But, it is the duty of your hosting service (and of course yours) to keep your site safe in times of vulnerabilities.
SiteGround has several security measures that ensures your site is in safe hands. They provide SSL for free (which is a very important metric if you have transactions on your site and it s a key Google ranking factor) and have daily backup facilities in case anything goes down.
6. Support System: Best Hosting With Prompt Support
The support system of any hosting decides its key business motives and the customer base. If a hosting has a poor customer service, that doesn't last long. SiteGround is probably aware about this and the service it provides is excellent if not the best.
SiteGround offers you 24/7/365 live-chat support irrespective of the plan you choose. They are also available on phone anytime of the day in case you chose that route.
This is SO important because we all make mistakes and have our fair share of bad days. Sometimes we can break a site with a plugin update or at other times we might need a guide to setup a simple task like name servers or even a subdomain.
SiteGround's customer executives are very friendly yet professional and help with the solutions promptly.
7. Beginner Friendly: Is SiteGround Good For Beginners?
Most hosting can be great for those techie bloggers who can do things by their own. But, what about the rest of us who are either too busy to bother about the basics of a WordPress hosting or are beginners to the blogging space?
If you're one like that, SiteGround has got your back covered. With SiteGround's 1-click installs, automatic backups (as I discussed earlier) and awesome support it is best for beginners.
They also have a free site migration service in case you want to transfer your hosting from another host. Imagine how terrible this could be when we do it ourselves! But, with SiteGround you don't have to deal with the headache and all is done by experts after you fill in the details.
8. Staging Sites
SiteGround offers you free staging area, it is basically great for designers who want their site to be designed in an offline and controlled environment before releasing it to the web.
This makes SiteGround one affordable hosting solution for designers and web developers out there who have to design and test sites rigorously before delivering it for approval from clients.
SiteGround gives you full access to their built-in Staging tool (which you can access from their cPanel) which allows you to easily create and modify development copies of your WordPress websites (along with Joomla websites).
The good thing about using Staging tool from SiteGround is that prior publishing your website, it will create a backup of your live copy. That way, you can easily recover an earlier version of your site if things go wrong.
9. Affordable
SiteGround hosting is not only the best in features, it is also one of the most affordable hosting for anyone (bloggers/small business owners and freelance designers) out there.
SiteGround's 30 day money back policy makes this an even sweeter deal because you got to test the waters before getting into it. When I launched my first SiteGround hosted website, I was also worried and thanked them because they had this 30 day money back guarantee and I could bid them goodbye at any moment.
Quick note: If you're looking for the best hosting plan from SiteGround, we highly recommend you to check out their GrowBig plan (we've written a comprehensive review of GrowBig plan).
How to Start A WordPress Blog On SiteGround?
Enjoying our SiteGround hosting review so far? Let's now talk about how you can launch a WordPress site on SiteGround hosting. Here's the simple step by step tutorial for you.
Step 1: Click here to sign up for SiteGround and you'll immediately find their pricing plans which look like this;
As you can see above, there are 3 pricing plans offered by SiteGround, we recommend you to pick GrowBig plan (costs $6.69 per month) but you can install unlimited sites. If you're on a tight budget, you can go for their cheapest plan which is StartUp plan that costs you $3.99 per month.
Step 2: Once you've zeroed down on a suitable plan for you, click on the "Get Plan" button to continue. Now, you'll be asked to choose a domain (either you can register a new domain with SiteGround or you can enter a pre-owned domain if you've bought it already from elsewhere).
Step 3: Now, you'll be on the payment page where you need to enter your contact details along with your payment details.
In the purchase information, make sure to pick a period of 12 months (instead of 24 or 36 months).
Step 4: Finish your payment and you'll get a welcome email from SiteGround. Then, you can sign into your cPanel to install WordPress. That's it, you're done.
SiteGround Pricing Plans
First things first: SiteGround offers you a wide range of hosting options including;
Shared hosting
Reseller hosting
Managed hosting
Cloud hosting
Enterprise hosting
WordPress hosting
Dedicated hosting
As you can see above, there are a ton of hosting environments available which means, you can use SiteGround hosting to launch a normal website to an eCommerce store to a high traffic website.
But SiteGround shared hosting is the one hosting choice preferred by most people as it's affordable and also offers decent hosting features to start a blog. So let's discuss only shared hosting plans from SiteGround.
SiteGround is currently offering 3 pricing options in shared hosting which are listed below.
StartUp plan
GrowBig plan
GoGeek plan
Here are the details of all these 3 shared hosting plans from SiteGround along with their pricing and features.
1. StartUp plan: This is the cheapest shared hosting plan from SiteGround as it costs you just $3.99 per month (normally $14.99/mo) where you can install 1 website and you'll get 10 GB of website space and handles up to 10,000 monthly website visitors.
2. GrowBig plan: This is the most popular shared hosting plan from SiteGround which costs you $6.69 per month (normally $24.99/mo) where you can install unlimited websites with 20 GB website space and handles up to 100,000 monthly visits.
3. GoGeek plan: This is the advanced shared hosting plan from SiteGround which provides you faster speeds and advanced features such as PCI compliant servers, priority support etc and costs you $10.69 per month (normally $39.99/mo) and you can install unlimited sites, you'll also get 40 GB space which can handle up to 400,000 monthly visitors.
So what are you still waiting for?
Click here to get started with SiteGround hosting today! (Avail their 73% instant discount)
Important Note: The above-mentioned prices are promo prices. These promo prices are applicable ONLY for the first invoice. Once your initial term is over regular renewal prices apply.
What does it mean?
It simply means that, if your first invoice (first purchase) with SiteGround is only for 1 year, you'll be charged the regular renewal prices from the 2nd year.
This is the reason why you should buy their hosting for 3 years to save more.
Pros And Cons of SiteGround Hosting
Let's now talk about the pros and cons of SiteGround hosting now.
Pros:
Here's a list of some of the pros of using SiteGround hosting.
Website migration is FREE (you can shift from your existing hosting servers to SiteGround hosting servers at no cost!)
You can install unlimited sites except on their basic plan
Free access to Cloudflare CDN for faster speeds
SSL certificates are free
Unlimited free email accounts and databases
Daily backups (so much helpful if you want to restore your lost data)
Spam prevention, SSH access, server monitoring – all these security features make your website supremely secure
30 days money back guarantee (so you'll get a refund within 30 days, if you're not happy)
Offers you staging feature (except for basic plan) so you can make any website design changes you want without affecting the live site
Access to unlimited FTP accounts
Free drag and drop builder
Free Shopping cart install with all the plans
Customer support via phone, chat, tickets
Access to SuperCacher to increase loading speeds of your websites
Cons:
Here are some of the drawbacks of SiteGround hosting.
Monthly plan is too costly ($29.99/month) so make sure to grab their 12 months hosting plan to save more
It doesn't offer you free domain registration (whereas other web hosts like Bluehost offers you a free domain for 1 year and offers you similar pricing plans)
Other Web Hosting Reviews:
MilesWeb Review: Is It Worth The Money?
Scala Hosting Review: Is it the best hosting for your site?
WPEngine Review: Is it the best Managed WordPress Hosting?
Unbiased WPX Hosting Review with 50% Promo Code Inside
Kinsta Review 2022: Is it worth The Money?
HostArmada Review: Is it a Game-Changing Web Host?
Namecheap Hosting Review: Is It The Cheapest Hosting For WordPress?
FAQs
Here's a list of few important questions around SiteGround hosting which can help you easily decide whether it's a right web host for you to use in 2022 or not.
1. Does SiteGround use cPanel?
This is one of the most common questions for those who want to use SiteGround hosting and yes, SiteGround hosting gives you cPanel (control panel) access. With cPanel, you can easily install WordPress, manage your databases, emails, files at one place.
2. How can I save more with SiteGround hosting?
Although SiteGround doesn't offer exclusive discounts but you can use our affiliate link to save 73% on their hosting plans so that you can get their hosting plans as cheap as $3.99 per month.
Click here to save 73% on SiteGround hosting (only for a limited time)
3. What is SG Site Scanner?
It is a premium monitoring service which costs $19.80/year that checks your website daily and immediately notifies you if your website has been hacked or injected with malicious code. If you're looking for better security and 24/7 secure monitoring of your site, this feature is helpful for you.
4. What's the money back guarantee of SiteGround?
SiteGround offers you a 30 days money back guarantee. That means, if you're not fully happy with SiteGround features or hosting (or whatever reason), you can get a full refund within 30 days. You just need to get in touch with their customer support to get your full refund.
5. What are the other alternatives web hosts to SiteGround?
There are a wide range of web hosts available but if you're looking for other alternatives to SiteGround which are similar in the pricing plans, here are a few of them.
Bluehost (costs you $2.95 per month for basic plan)
HostGator (starts at $2.75 per month for basic plan)
You can use the following links to sign up for these best SiteGround alternatives for 2022.
Here's the link to get started with Bluehost
Here's the special link to host your site on HostGator
Final Thoughts
SiteGround is probably the only hosting that understands the need of beginners and cares to provide them with that kind of service. Rarely does a hosting have free daily backups, free SSL in its lowest pan.
Apart from that SiteGround also manages to offer awesome support which is rare in the hosting industry. We use SiteGround hosting on few of our other sites and therefore recommend SiteGround hosting to anyone looking for a better and reliable hosting that takes the headache off their head.