Before launching your WordPress blog there are a few things you must consider. Avoid them and you're going to build a blog that never brings any traffic or sales. So avoid those blogging mistakes at all costs and figure out your niche then create a list of good domain names. After all, a domain name is what makes your blog unique.
Having a memorable domain name is the key to build a successful blog from scratch. Unfortunately there are too many domain name registrars available in 2023 and makes it really hard to select one. Most beginners have a basic (and very important) question in their minds.. does it really matters where I buy my domain name from?
If you're wondering about the same, I've something for you.. domain registrar is one of the key factors that makes or breaks your blog's success. I've heard a lot of bloggers having issues with domain registrars like GoDaddy (that's the main reason why I don't suggest their services). If you don't spend time in finding out the best domain registrar for your blogs, you will face a lot of issues in the future.
At the same time choosing a domain name for your blog or website is one of the irritating things because almost every good domain is already taken up by someone else. That's why you need to be creative when coming up with domain names. Once you're done with that task, it's time to host your domain on a good domain registrar to make your site rocking.
Most domain registrars follow "pay as you go" method to serve their users. What that means is you have to pay every year you host on their servers. For example, you may consider doing 5 years domain registration at once or you may renew your domain each and every year. Most of these services follow no refund policies, so you won't get any refund if you're not satisfied with them.
Let's find out few top domain registrars that offer outstanding services to bloggers and website owners in 2023.
Top domain name registrars in 2023 for Bloggers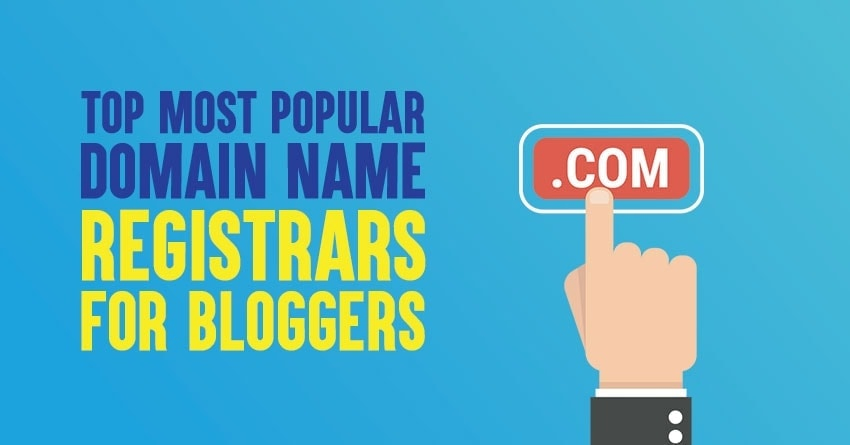 I've been using NameCheap for a long time now, and I'm fully satisfied with the services they offer. NameCheap usually charges $10.69 per year (no hidden charges) for all the .com domain that are available, but for a limited period of time, you can register a .com domain name for $0.88 only. Note that, few premium domains will be more of value and you won't get them until you have a heavy budget.
Recommended: Namecheap promo codes to save more on Hosting & Domain purchase
NameCheap was founded in the year of 2000 and today NameCheap is the leading ICANN-accredited domain registrar and web hosting company in the world. It has over 3 million domains registred in it and they also offer full featured web hosting packages.
Click here to register your domain at NameCheap for $0.88 only
Name.com is one of the go-to companies when it comes to domains. They offer an excellent service, so you'll be comfortable entrusting your domains to their hands.
Their .com, .net, and .org domains are charged for $10.99/year only with so many other additional services. Although, might not be the cheapest in the market but their quality service speaks for them.
They have an excellent feature called "Domain Nabber" which helps users to quickly grab expired domains that might be highly relevant to their business. With this service alone, you can end up picking an expired domain with good reputation and authority which will end up enriching your website with link juices immediately.
Grab your Name.com account now.
This is a well-known domain registration company on the internet. 1and1 was established in 1988 currently, handles over 19 million domains from customers all over the world.
If you ask me, I will gladly tell you that this company offers one of the cheapest domains registrations with their first year being from $1 to $2/year. This also comes with many mouth-watering features you might not find elsewhere.
After you register your domain with 1and1.com, you will also get a free 5-page website together with a private registration to hide your personal data from spying eyes, and a free email account with up to 2 GB of storage.
So many people trust Register.com because of their quality service and experience in the domain industry. They boast of millions of customers from around the world, and their clients have never complained before.
One of their services which I found to be quite outstanding and impressive is that they give all their customers a dedicated customer support team through a phone call.
You don't need to worry much, just head over to their site now and see more.
Sign up with Register.com here.
Domain.com is another fantastic company that offers the cheapest and unbeatable domain registration service with their .com domain coming for $9.99/year.
They are one of the best choices for quality domain registration service which is why most people trusts them. For .mobi domain extensions, you can get it for as cheap as $2.99/year while that of .net and .org is priced at $8.99/year.
You will never go wrong with Domain.com because they'll always give you more value for your money.
Therefore, if you're still sitting on the fence thinking of which company gets a cheap domain from then, domain.com might be your answer.
Create your own account now on Domain.com.
FXDomains.com is a top reseller from Godaddy yet, they offer the one of the cheapest domain registration package on the internet even if it causes them little margins.
The company charges only $8.99 for first-year domain registrations and $9.99 for subsequent renewals. However, they charge an extra $7.95/year for private domain registrations, but they can forget about this additional charge if you register up to 6 or more domains with them.
That's not all; you can also $8.69/domain for private domains when you pay for up to 6 or more names for 3 years straight.
I know you might not have heard about this company before now but, they do have a lot of customers globally so, you can also trust your domain in their capable hands.
Register with FXDomains.com now.
Namesilo offers one of the cheapest domain registrations on the internet. Although not so popular, they have many customers from around the world.
According to them, they are able to charge very little for domain registration because they only focus on domain and nothing else, unlike most of the other sites offering cheap domains I've mentioned that also provides hosting and many other services.
Namesilo charges $8.99/year for single domain registration and $8.39 for bulk registration. The good thing about this company is that unlike most other companies whose price is usually higher on renewals, the $8.99 you paid for your first year with Namesilo is still the same amount you will be paying for renewals, no hidden fees attached.
Furthermore, they have lots of great add-ons for their customers including a free domain defender to avoid vicious attacks, prevent simple mistakes and keep hackers away.
Click Here Now to register your domain with Namesilo.
Hover is another hidden, yet reputable domain registration company other there. Like Namesilo, they also specialize in domains and nothing else. They promised to help you take good care of your domains and be out of the way when you're on to whatever next.
They offer supports through different means including chats, tweets, and email. This is to make it very easy for their users/customers to reach them anytime hassle free.
Their .com domain registration is $13.99/year, $15.99 for renewals, and $10.99 for transfers.
Although, not the cheapest out there but you're guaranteed a quality service once you decide to go with this company.
Register your own domain now with Hover.com.
I bet you've never heard of this company before too except you're always everywhere like me.
IwantMyName is a pure domain management company that offers both world-class domain registration and DNS hosting.
This company charges $14.90/year for .com domain registrations, $16.30/year for .net, $17.20/year for .org, etc.
Most of their packages come with free WHOIS privacy protection, full ownership and DNS control of your domains, etc.
Go ahead and get your own domain from iWantMyName.com now.
You'll get an available .com domain on andi at $15.50 per year, but it is worth spending every penny as gandi is one of the most popular domain registrars in blogging world.
Gandi offers over 380 domain extensions including .com, .net. .biz, .info etc. It is also one of the first approved domain registrars by ICANN. It was founded in 1999 and giving top notch customer services to build websites since then.
Gandi is currently hosting more than 1,500,000 domains from 192 countries, that says it all about the importance of how gandi domain registrar is popular and widely used by most bloggers.
Click here to get your domain on gandi
Browse more Domains Related Tutorials:
FAQs
What is a domain name?
A domain name is basically the address of a website (generally starts with www and ends with .com) that people use to access a particular website.
What are the domain registrars?
Domain registrars are the platforms accredited by the Internet Corporation for Assigned Names and Numbers (ICANN) that facilitate you buying domain names. A domain registrar is responsible for updating the registry when a user purchases a new domain name.
What are the best domain name registrars?
NameCheap.com, Name.com, 1and1.com, Register.com, Domain.com, FXDomains.com, Namesilo.com, Hover.com, iWantMyName.com, Gandi.net, etc. are some of the best domain registrars.
What is a reasonable price for a domain name?
The average cost of a brand new domain will be around $10-12, depending on the registrar, registration period, Top Level Domain (TLD), domain privacy, and popularity.
How to buy a domain name?
Buying a new domain can be done within five minutes. All you need to do is visit a domain registrar website, check for domain name availability, follow the payment process, and you are done.
---
Conclusion
Registering your domain name at the right place is very crucial when it comes to launching a website. Although you can use sites like bluehost, HostGator etc to buy your domain and hosting at one place but if you are on a limited budget and want to place your domain name in a different place, then the above domain registrars are a good place to start with.
So what are your thoughts about registering a domain at the 5 places that we discussed in this article? Are you using any of the above mentioned domain registrars and tell me how is your experience with them? Do you recommend any other sites to register a domain name?