How to Get Your Blog Posts Ranked #1 On Google
Can I really get the first page results of Google for my targeted keywords?
Is it really possible to rank my blog's content for #1 search result on Google?
How come few blogs get #1 results on Google?
These are all the most common (yet unanswered) questions I get asked frequently. That's why I decided to write a DETAILED post about getting your blog posts ranked #1 on Google search results.
Why First Page of Google Search Results Matter?
First things first. Does it really matter to get #1 search results for any keyword?
Yes, it of course does. In fact, if you are ranking #1 for a highly competitive and profitable keyword like "SEO training", you could literally make millions every single year. Yes, I'm not kidding!
At the same time, spending all your money, time and efforts on getting #1 results for not so profitable keywords is a complete waste of time. So you should first know what are the top keywords that are highly profitable.
Once you pick the right keywords and start getting first page results on Google, you will start seeing a HUGE cash flow from your websites.
Is it really possible to get #1 results for your blog posts?
Again, YES! Of course you can get #1 result for any keyword that you are targeting. BUT it takes a lot of time, proper SEO strategies and efforts to get it done.
How long does it usually take to get #1 rankings for any keyword?
Within 24 hours. Within a week. Within a month or within a year.
It all depends on the competency of the keywords you are trying to rank for. If you are aiming at ranking for #1 for low competitive and long tail keywords, you can get great results often within a month. That's what I've noticed so far.
But if you are ranking for competitive keywords, it usually takes more than 2-3 months (or even more sometimes) to get first page results. Your primary target should be getting first page results. Then, aim at getting into top 3 search results. Only then, you can start implementing few more SEO strategies to get #1 results on Google.
So what are all the things and skills that you need to get your blog posts ranked #1 on Google? In this guide, you are going to discover all of them.
So are you curious about finding them out? Let's get started without further ado.
5 steps to getting your blog posts ranked #1 on Google search results
The #1 important thing you need to know before getting #1 results for your blog is this: Google has over 200 ranking factors in their algorithm which includes several factors like Domain Authority, Trust factor, domain age, on-page optimization, links, site speed etc.
While we can't discuss all of them in one page (and it's really not needed). So let's focus on the 80/20 principle where we can talk about few of the essential things you need to get 80% of the search results. Let's start.
1. The first step is to find and fix all your website issues
Use SEMrush to fix your site issues
The best way to find and fix all your website issues is to start using SEMrush. It's an all rounder SEO tool that will help you achieve the following things.
Finding and helping you fix all the issues that your websites have
Spying on your competitors
Doing keyword research
Backlink analysis and so many more
Click Here to Use SEMrush FREE for the next 14 days
Check if your blog's content is properly getting indexed on Google or note
If you are struggling to boost your search engine traffic, it might be due to indexing issues. So make sure if your site is getting indexed quickly on Google search results.
As a side note, here's a great guide by Neil Patel on instantly indexing your new website.
Once your site starts getting indexed by Google crawlers quickly, you will start attracting more traffic, links and social shares.
2. On-page SEO still plays a key role
Did you know the secret to getting #1 result for any keyword?
It is a "perfectly optimized page" for the keywords you are trying to rank for.
Have a look at the screenshot below to know the major factors that affect your on-page SEO. Make sure to improve them and you will get astonishing results for any keyword on Google.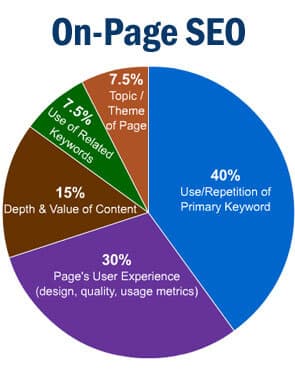 The repetition of your primary keyword contributes to over 40% in on-page SEO.
But that doesn't mean you should be doing keyword stuffing. What should you be doing instead is to place your targeted primary keyword in your
Title tag
Meta description
URL
Sub headings such as h2, h3
Image alt tags
In your blog post introduction
At the end of the post
Just by following above mentioned simple strategy, you can boost your on-page SEO to the next level. And DON'T forget to focus on finding and using long tail keywords. Instead of using short tail keywords like "iPhone reviews", you can get faster search rankings by using long tail keywords like "iPhone reviews in India 2018". I hope you are getting me. Now, let's move on to the next step.
3. It's all about the backlinks
Backlinks are EXTREMELY important when you want to rank in #1 search result on Google for any keyword. If your keyword filled content gets lots of quality links, it will automatically starts ranking higher in Google.
The #1 reason why Backlinko (top blog on SEO) ranks #1 even for highly competitive keywords like SEO, backlinks, google ranking factors etc is because of the backlinks that it attracts.
While building backlinks, remember one thing: build links gradually and steadily not too quickly. Building quick links is the surest way to get penalized by Google as you will most probably tend to use black hat SEO strategies such as using guest posts (paid), buying links etc.
As a rule of thumb, building 10 to 50 links a week is safe and a good way to improve your search results for any keyword that you are trying to rank for. But make sure the link building strategies that you use are all natural and not unreliable sources.
Always focus on quality over quantity when you are trying building links for your sites. You can get better search results by focusing on getting 1 or 2 links from top sites instead of getting 100's of links from sites with less Domain Authority. Quality matters every single time.
A quick note: Don't outsource your link building strategies to unknown sources or people. You can't build 5000+ backlinks with 24 hours. Yes, there are a lot of people who promise to get #1 results for any keyword within a day. They won't work!
4. Content marketing is the KEY
Search engines read your content.
If they find your content is NOT original or if you are just rehashing what everyone else in your industry is saying, you won't get #1 results on Google. It's as simple as that.
To get first page rankings for any keywords that you are targeting for, you need to create high quality engaging content that attracts your audience attention.
Pat Flynn, Neil Patel, Brian Clark – all these bloggers get MASSIVE traffic from Google to their sites because of ONE simple reason: "their content is original, authoritative and informative".
Here are few effective content marketing tips to boost your search rankings.
Create content that sells: Make sure your content is well researched and targeted to solve your audience problems. Always focus on "what's in it for them" while creating content. Don't write blog posts just for the sake of getting top search results.
Write like you talk: No one likes jargon or fuss words. Everyone likes to read content that is easy to understand. As a rule of thumb, even a 5th grade student should understand your writing.
Focus on your ideal reader: While creating content, focus on your target audience. Instead of writing to thousands of people, write just for ONE reader i.e your ideal reader.
Use short paragraphs and sentences: They make it easy for online readers to skim through your content. No one reads word to word. It's the harsh truth. So making it easy for your readers to skim your content is the surest way to make them spread the word about your stuff.
5. Improve these 3 vital Google ranking factors
Mobile optimization: Mobile SEO is the NEW ranking factor. It affects your rankings A LOT. If your site is not mobile responsive yet, you should make one immediately if you want to get first page results for any keyword on Google. Your website visitors should easily skim through your stuff on ANY device effortlessly.
Did you know that mobile Internet usage is dominating the desktop Internet usage? That means more and more people are now using their mobiles to browse information online and what happens when your site is not mobile responsive? You are simply losing a lot of money and traffic on the table.
Site speed: Firstly, go to pingdom site and analyze how fast your website is. You can also use Google PageSpeed Insights or GTmetrix to know your website speed. If it is taking more than 3 to 4 seconds to load, you need to improve its speed. Otherwise you will NOT only kill your own search rankings but you are also killing your website sales and more importantly creating a bad user experience. Use this guide to instantly improve your website speed.
Move to https: I recently moved my site BloggersPassion from http to https. Do you know why? Over 34% of the search results on Google are https. That means Google is giving more and more important to the sites that are secured and have SSL certificates. If you are wondering how to convert your site from http to https to increase your blog's content visibility on Google, you should check out this detailed guide.
Final thoughts about getting #1 result for any keyword on Google
The best way to get top rankings on Google for your blog's content is to focus on your readers not on crawlers.
Don't focus too much on getting #1 results from Google too fast. It might not work. Always treat SEO as a marathon, not sprint. Only then you will get rewarding results from search engines.
Spying on your competition also helps. By knowing the best performing keywords of your competitors, you can easily figure out what kind of topics are bringing the most traffic from Google. You can use SEMrush, Long Tail Pro etc SEO tools for analyzing your competitors.
Getting your blog posts ranked #1 on Google can be a lot of fun if you focus on the journey, not on the outcome. Be patient. Give top priority to your target audience. Attract natural backlinks. Prepare the right content marketing strategy for your business. You will see massive results sooner or later.
So what do you think? Do you have any more SEO strategies that can be useful for getting first page results on Google? Do share your thoughts in the comments below.