WordPress Web Hosting: Best 5 Web Hosting Websites Comparison
|
Which is the best web hosting service provider? This is the common question I get all the time from my readers, so I have decided to write an exclusive detailed post on choosing a better hosting service for your blog or website to make it a success. In this post, I am going to share the best and affordable web hosting services that might suit you for your price of choice. Do you have any of these 3 problems?
Don't know which web hosting to buy for your websites?
Often encountering slow loading times on your sites?
You have been cracked or hacked multiple times on your sites?
If you are facing any of the above situations, then I would strong suggest to immediately use a best hosting service. Web hosting is undoubtedly one of the key factors in making your blog successful. If you have chosen a free or cheap web hosting service, you are bound to get multiple issues in building a better blog. And you often get down times whenever your website traffic stats go up. This is the reason why you need to choose a premium and better hosting service for your blogs or websites.
If you are interested in starting a Self Hosted WordPress Blog or want to move your website hosting to WordPress friendly web host and looking at professional WordPress Web Hosting Solutions, keep on reading. We need a web host that fulfills all requirements like PHP 4.3 or higher, MYSQL 4 or greater and The mod rewrite Apache module to run a WordPress based website or blog smoothly. Without having a great web host, your blog is going nowhere.
There are tons of new bloggers who are not at all aware of the importance of web hosting and they always end up using either cheap or free web host services. If you are one among them, don't make this mistake and use an affordable web hosting service provider on your blogs or websites. You might ask a question, why use premium web hosting services when you are already getting them for cheap or free. So let me first give you few convincing reasons on using best WordPress web hosting service for your sites.
Here are few reasons to use premium hosting services.
1. They offer great customer support
2. You won't face any down time issues
3. You will get unlimited band width
4. Few hosting services also provide you domain name for free (ex: Bluehost service)
5. They are used and trusted by millions of bloggers worldwide and the list goes on and on and on..
Best WordPress Web Hosting Websites List
So here is the list of best WordPress Web Hosting Websites that are offering lots of Bandwidth and Disk Space with One Click WordPress Installer:
1. BlueHost WordPress Web Hosting
I have been using Bluehost for several years on some of my websites now and I am a big fan of their support and hosting services. They offer incredible services and I have never saw any downtime in my websites even when the traffic levels are up. BlueHost is another well known web host when it comes about finding a WordPress friendly web host.
BlueHost fulfills all requirements that we need to run WordPress website on their hosting quite easily and securely. Blue Host offers unlimited disk space, bandwidth and can host unlimited domains on one account. They offer 24 x 7 technical supports and offer 99.9% up time guarantee.

Installing WordPress from BlueHost Like Hostgator, installing WordPress is just a few clicks away from your BlueHost account. After installation, they will notice you about the latest version of WordPress which you could upgrade with a single click.
BlueHost Pricing As far as the prices are concerned, you need to pay $3.95(Reduced price) as the monthly fee to use BlueHost WordPress Web Hosting Services on your blog. Apart from this, you will get any time money back guarantee and no hidden fees. So our money is safe with Blue Host WordPress Web Hosting. BlueHost Features List in Brief:
Can Host unlimited domains from the same hosting account
Unlimited bandwidth, disk space and email account
Free domain name for one year
Free website builder with templates
24 x 7 US support through phone, chat and email
Anytime money back guarantee
99.9% up time guarantee
One click WordPress installation facility
Trusted by millions of website owners and bloggers
$100 free Google Adwords Credit
Click This Link to start Using BlueHost Web Hosting plans for as low as $3.95/month. If you are thinking to launch a website and use bluehost service as your web host, I would strongly recommend you using their services. And I am also offering a $100 offer for all the bloggers who are using my affiliate link to buy their web hosting service. Here are few details if you are interested to get this offer.
2. WordPress Web Hosting Solutions from Hostgator
Hostgator is the #1 hosting provider and used by thousands of bloggers worldwide. When it comes to hosting, Hostgator provider awesome customer service and they offer worldwide hosting solutions.
Hostgator is fully compatible with the requirements shared above to run a WordPress based blog or website.
How to Install WordPress from Hostgator Admin Panel Installing WordPress from Hostgator Admin panel is Just a Click Away. Once logged into Your Hostgator Control Panel, you will have access to ready to use 52 scripts. Automatic WordPress installation is just one of them and thus you will end up finding many more scripts useful for your blog.
Unlimited Bandwidth and Disk Space Lots of website owners face bandwidth and disk space issues with their web host, but Hostgator Basic Plan even offers unlimited bandwidth and disk space. So you will never face bandwidth or disk storage issues with Hostgator WordPress Hosting in any of their hosting plans. Hostgator Pricing Normally, you need to pay $83.40 as the yearly fee with Hatchling Plan from Hostgator.
But with bpwebhosting discount coupon, you will get 25% off on your first billing cycle. So you need to pay only $62.55 as yearly fee for Hatching Plan with this discount coupon. So you will be able to save $20.85 with bpwebhosting discount coupon. You can save more money on Hostgator WordPress hosting if you decide to buy it for 3 years in advance. You will be just paying $133.65 for 3 years of web hosting using the same coupon code and the monthly price in this case will be $3.71 only.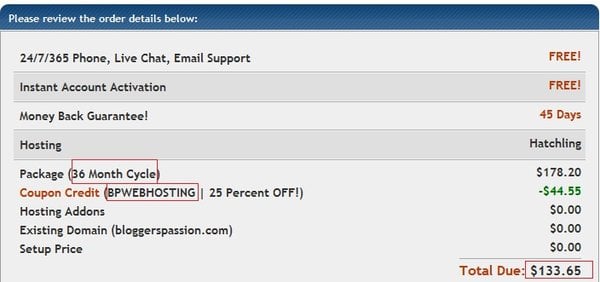 WordPress Class Customer Support Hostgator Team is very popular for their excellent customer services. They offer customer supper via Chat, Phone and Email. And the response will be almost instant whichever mode you use to contact to Hostgator Support team. For complete details, check out Hostgator review here. Some Hostgator Features I found very interesting and useful:
One Click WordPress Installation Facility
unlimited bandwidth and unlimited disk space
Can Host unlimited domain names in all plans except Hatchling Plan
99.9% Up time Guaranteed
45 Days Money Back Guarantee
Free Website Migration Facility
24/7 Technical Support through Chat, Email, Phone and Ticketing System
$100 Free Google Adwords Credit Note
Free Website Builder and access to 4500 plus website templates
Click This Link to Buy Hostgator WordPress Hosting and use bpwebhosting to get 25% discount on your first billing cycle. There is no doubt Hostgator is the go to option when it comes to selecting a web hosting service for your blog or website.
3. WebHostingHub WordPress Web Hosting Solutions
WebHostingHub is backed by professional web hosting company InMotionHosting. Both of them use the same technology, servers and data centers but Web Hosting Hub has a special focus to provide hosting solutions to individuals, bloggers and small businesses interested in starting their own website or blog on WordPress. Again we can host unlimited number of websites with Web Hosting Web and they offer unlimited bandwidth and disk space in all hosting plans.
WebHostingHub Prices Their hosting plans are very affordable and you need to pay only $4.95 per month to start using their Web Hosting Plans. In addition, you need to pay $1 as monthly fee if you want to backup your WordPress blog files. Installing WordPress from WebHostingHub Again WordPress Installation is just one click away with Web Hosting Web. Web Hosting Hub website has 1000's of ready to use Themes specially designed for WordPress blogs. Click Here to Start Using Web Hosting Hub for as low as $4.95/Month
4. WPWebHost Wordpess Web Hosting Specialist
WPWebHost is fully compatible with what we required to run a fully functional WordPress based website or blog. WP Web Host offers 99% uptime guarantee and faster loading WordPress website with CDN support. They have lots of ready to use plugins and themes to suit variety of needs from WordPress users. WordPress Installation with WPWebHost It will take only 2 minutes in installing WordPress with WP Web Host.
WP Web Host comes with WordPress 1 Click installer that will install latest version of WordPress on your website. WPWebHost Pricing WP Web Host most basic plan also popularly known as freedom plan is available for as low as $4.95 only per month. Freedom plan from WP Web Host is best suited to websites and blogs carrying monthly visits less than 30000. Some Important Features in WPWebHost You will get 500 GB disk space and data transfer facility, 50 addon domains and parked domains with WP Web Host. All hosting plans from WP Web Host comes with 99% up time guarantee, 1 click WordPress installer and 30 days money back guarantee. Click Here to Start Using WP Web Host Services with a $4.95/Month fee.
5. DreamHost WordPress Web Hosting
Dreamhost is also used by huge number of bloggers in the blogosphere and one of the best things about this hosting is that they offer a 97 days money back guarantee. It means if you are not satisfied with their hosting in first 3 months or so, you can ask for money return, and they will fully refund your money back. So you have absolutely nothing lose, not even a penny.
DreamHost is one more recommended web host for Hosting WordPress based websites and blogs. DreamHost also comes with WordPress auto installer which helps you install WordPress on your domain automatically with ease. Like lots of other WordPress Web Hosts, DreamHost offers unlimited disk space and bandwidth it all of its hosting plans. DreamHost comes with 97 days money back guarantee which is quite big interval.
So you can enjoy Dream Host WordPress Hosting plans on your WordPress blog and if not satisfied with their services can ask for full money back within 97 days of web hosting purchase. DreamHost Pricing DreamHost web hosting plans starts from $8.95 per month only. DreamHost is offering 100% up time guarantee and this is what you will ultimately expect from a web host. Click This Link to start using DreamHost Web Hosting Plans for $8.95/Month
WordPress Web Hosting Comparison Chart
| | | | | | |
| --- | --- | --- | --- | --- | --- |
| Web Hosts | Hostgator | BlueHost | WebHostingHub | WPWebHost | DreamHost |
| Plan Name | Hatchling | Shared | Shared | Freedom Plan | Shared |
| Monthly Price | $3.71 | $3.95 | $4.95 | $4.95 | $8.95 |
| Disk Space | Unlimited | Unlimited | Unlimited | 50 GB | Unlimited |
| Band Width | Unlimited | Unlimited | Unlimited | 500GB | Unlimited |
| WordPress Auto Installer | One Click | One Click | One Click | 1 Click Installer | One Click |
| Up Time Guarantee | 99.9% | 99.9% | 99% | 99% | 100% |
| Money Back Guarantee | 45 days | Anytime | 90 days | 30 days | 97 days |
So I would suggest you choose your web host for hosting your next or first WordPress website from the WordPress Web Hosting Comparison list shared above and you won't be disappointed with your selection.
In a nutshell: Getting your website hacked or often encountering slow loading times on your websites is majorly depended on the hosting service you use. Always remember that the hosting you use makes or breaks the success of your blog. How? It is the only thing that can offer you band width, disk space and support. When you choose cheap or free web hosting service, they are often easily get hacked and you will see regular slow loading websites. Even worse, you will regularly face down times on your sites for using cheap or free web hosting services. So invest in a better web hosting service, pick one of them from the above recommended web hosting services and you will be alright.
Disclosure: I'm fully satisfied with all the above web hosting services and I'm an affiliate to all the above web hosting service providers and if you click the links in this post and  sign up with them, I will receive some money from them. And it costs you nothing extra for doing that. It's a win win approach to both of us, I'm recommending the best products that are suitable to you and in the return I will be getting some money for purchasing through my links. Are you currently using WordPress Web Hosting services from any of the web hosts shared above, please share in the comments section below.