What is the future of digital marketing in India and globally?
The short answer is that digital marketing is growing RAPIDLY.
Did you know that ad spending in the digital advertising market is projected to reach over $701 billion in 2023 and over $1000 billion by 2027?
So is it too late to jump into digital marketing?
No. If you haven't started yet, today is the RIGHT time to learn and master digital marketing skills.
If you're curious to find out the role of digital marketing, including its future trends and predictions, read on.
The Future of Digital Marketing 2023: Top 5 Trends & Predictions
---
1. Online Marketing Will Overtake Offline Marketing
One of the BIGGEST shifts in the marketing world would be a change in how people promote their businesses.
According to Quantcast, 82% of global brand marketers believed digital marketing was important to their overall marketing efforts, while 40% said the same about offline campaigns.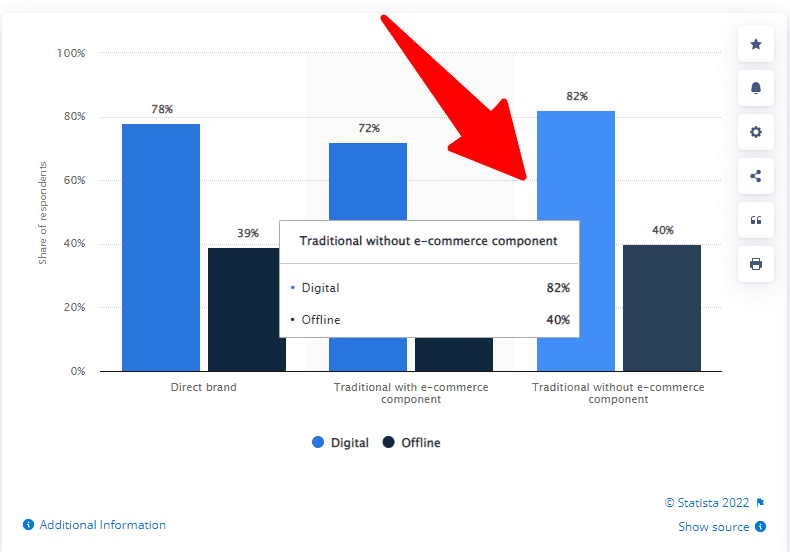 With traditional marketing methods, you must pay for things like advertising space, print materials, etc.
But with digital marketing, most of your costs are paid upfront, making it much easier to keep within your budget. Also, the spending on digital marketing will be less than compared to offline marketing.
With online marketing, you don't need to print brochures, run billboard ads, or set up your offline store in a visible place. You can simply start an online store and try SEO or PPC techniques to attract customers.
Additionally, digital marketing is highly targeted, meaning you can reach your target audience with laser-like precision. You can target specific keywords with your SEO or PPC ad campaigns to attract highly RELEVANT customers to your business.
So yes, online marketing will outrun offline marketing in the future.
---
2. An Increase in the Use of AI (Artificial Intelligence)
AI (Artificial Intelligence) is on the rise.
Whether you want to create content, make videos, or design beautiful images – AI tools can help.
Gone are the days when you spend a ton of money and time on content creation – now you can use AI tools to overcome writer's block and generate content.
Also, AI is becoming more sophisticated and being used in various industries, from healthcare to manufacturing to technology.
Invest in AI tools such as Jasper if you're a digital marketer looking to save more time and money.
In case you're wondering, Jasper is an AI writing assistant that generates content such as blog posts, headlines, stories, essays, etc, based on the input you provide.
Want to write a blog post? Just pick the "One-Shote Blog Post" template from Jasper, give some input and it will instantly create a blog post for you.
Have a look at the template;
As you can see above, we're only mentioning a topic in the "Blog Topic" section and giving it a tone of voice. Once you hit the "Generate AI Content" button, it will create a whole blog post for you.
Have a look at the output;
See that? Jasper AI created a full blog article based on a topic idea within seconds.
That's the power of artificial intelligence.
As AI continues to evolve, we can only imagine the possibilities that will be available to us in digital marketing.
Browse More:
---
3. Video Marketing Is Exploding
Did you know that over 3.26 billion internet users watched streaming or downloaded video in 2021?
The number of digital video viewers worldwide is going to reach over 3.48 billion by 2023 (source: Statista)
So yes, global digital video viewership is on the rise and if you're not focusing on video marketing, you'll lose a lot of money and sales on the table.
Video marketing allows you to connect with your audience or customers personally and share your message in an engaging and visually appealing way.
Additionally, video marketing can be used to generate leads and drive sales. In fact, studies have shown that using video in your marketing campaign can increase conversion rates by up to 80%.
With so many benefits, it's no wonder that video marketing is one of the most effective ways to promote your business.
---
4. Mobile Commerce Shopping Is Growing
Mobile commerce (also known as M-commerce) is buying and selling products or services through mobiles and tablets.
Did you know that the retail mobile commerce sales in the United States exceeded $431 billion in 2022 and by 2025, that figure is projected to grow by approximately $710 billion?
That's a HUGE number, right?
So if you're worried about the future of digital marketing in India or globally, don't worry, as it will be a multi-billion dollar industry.
Remember to focus on mobile commerce as it's exploding. Almost every person on earth has access to a handheld device such as a smartphone or tablet.
Here are a few tips to prepare for mobile commerce as a digital marketer.
Start accepting mobile payments. Whether you're running an agency, website, or app, accept mobile payments and make it effortless for smartphone users to purchase a product or service from you.
Make your site mobile-friendly. Use responsive themes like GeneratePress or hire someone and invest in getting a mobile responsive design for your website.
Optimize the user journey. From visiting your website or app to learning about your products to making a purchase – make it extremely easy for your users.
Here's a free guide on making your website mobile-friendly where you'll find a lot of useful information.
---
5. SEO Isn't Going Anywhere
One of the most important aspects of digital marketing is SEO.
Search Engine Optimization (SEO) is the practice of optimizing your website to improve its rankings in search engine results.
If you're still thinking about whether SEO is dying, don't worry – SEO is NOT going anywhere.
Why? SEO is a multi-billion dollar industry and it is growing rapidly every year. In fact, the SEO industry is worth over $80 billion. You can check out these interesting SEO statistics if you want to know more.
SEO helps you target only those customers who are already interested in what you have to offer. Since people who find your site via Google are more likely to convert into customers than those, who see an ad.
That means SEO provides a better ROI than other marketing tactics. Not only that, SEO costs less per lead than traditional marketing methods such as cold calls, print ads, etc.
All in all, if you want potential customers to trust your business enough to buy from you instead of your competitors, using SEO in your digital marketing strategy is essential.
In case you're curious, here are a few essential tips to help you with the SEO game in 2023 and beyond:
Always focus on the intent while doing keyword research. You should know what keywords are informative, transactional, or navigational. Based on the intent, create relevant content.
Learn to cluster keywords. Keyword clustering is all about grouping keywords that have the same meaning. It helps you target multiple relevant keywords instead of one or two.
Link building isn't dead. Keep building links through various tactics like Quora answers, guest posts, email outreach, etc.
No matter what industry you're in, run website audits to find and fix issues on your site to get better rankings.
Long-form content is not going anywhere. People love to read informative posts or videos on the topic they're interested in. So keep creating detailed content such as videos, and blog posts and make them engaging.
---
The Future of Digital Marketing in India
If you're looking for a digital marketing future in India, this section is exclusively for you.
First things first: the growth of the Indian eCommerce market is HUGE, estimated to cross over 7 trillion (in Indian rupees) by 2023.
With the growth of eCommerce, the digital marketing market size will also increase.
Due to the pandemic, many offline businesses are building an online presence in India. Thanks to mobile payment systems like Paytm, Phonepe, etc – people are now easily purchasing products online.
According to the Times of India, by 2023, the quantity of dynamic Indian web clients will reach around 666 million, which is HUGE.
According to the Goldman Sachs report, the digital marketing career scope in the Indian market will be valued at $160 billion by 2025.
Whether you're looking to grow your profits online or build a career as a digital marketer in India, this is the RIGHT time, as online marketing in India is growing.
The bottom line? The future of digital marketing in India is extraordinary and will only explode (thanks to the massive Young population).
---
How to Start a Career in Digital Marketing in India (3 Steps)
Are you curious about starting a career in digital marketing? Here are 3 simple yet effective tips you can implement today to become a digital marketer.
Start a website
You can learn digital marketing from an institute or get a mentor.
But the REAL experience comes from starting a blog or website.
Fortunately, you don't need to spend thousands of dollars to create a website as you can use reliable hosting providers like Bluehost to get hosting for as cheap as $35/year.
If you're wondering, here's a quick tutorial on using Bluehost to launch your site.
You can click here to visit the Bluehost website.
Click on the Get Started Now button to visit their shared hosting plans.
It offers 3 shared hosting plans starting from $2.95 per month. To be honest, the "Basic" plan is more than enough for most beginners.
The best part? The basic plan costs just $35 annually and offers a free domain.
Have a look;
So what are you waiting for? Go grab their hosting and start your digital marketing career right away.
Focus on one skill to master
Once you're done with setting up a blog, it's time to focus on learning a few important skills.
As a digital marketer, you'll need to learn and master skills like;
Copywriting
Email marketing
SEO
Networking, etc
The key here is to focus on just ONE skill when you start. Why?
Many people believe that the key to digital marketing success is learning as many skills as possible. However, this can lead to overwhelm and frustration, especially if you try to learn too many things simultaneously.
A better approach is to focus on learning one skill at a time.
Not only will this help you to avoid feeling overwhelmed, but it will also allow you to master the skill more quickly. Once you feel confident, you can ALWAYS learn another skill.
That said, a FASTER way to speed up the learning process is to divide a new skill into smaller, manageable parts.
For example, if you're trying to learn SEO (Search Engine Optimization), start by exploring basic keyword research before moving on to more complex tasks like paid ads, site audits, link building, etc.
By taking things one step at a time, you'll eventually become an expert in digital marketing. You can read the top digital marketing blogs to learn and explore new things.
Execute whatever you learn
The best way to learn and master your skills is by doing it yourself. There is no better way to learn how to do something than by actually doing it.
This is why it is so important to implement whatever you learn. If you just read about how to do something or watch a video about how to do something, you will not learn nearly as much as if you actually go out and do it yourself.
Here's where having your own blog or website comes in handy. It's a good idea to keep publishing a new article every week to improve your writing skills.
Also, implement various SEO techniques like on-page optimization, keyword research, etc. That's how you get better at digital marketing.
So, if you want to learn something in digital marketing, make sure that you implement whatever you learn and keep practicing so that you can master it.
---
FAQs
Here are some frequently asked questions about the future of digital marketing in India in 2023.
What is digital marketing?
Digital marketing is a form of marketing that uses online channels to promote a brand, website, or business. This can be done through various means, including SEO, PPC advertising, social media marketing, email marketing, and more.
Is digital marketing difficult to learn?
Digital marketing involves several things, such as email, social media, SEO, copywriting, etc. So learning all those things can be a daunting task. But if you focus on learning ONE skill at a time, it will not be so difficult.
Should you invest in digital marketing?
Yes, digital marketing lets you reach your target audiences quickly. Social media, in particular, has become a powerful marketing tool. You can use online marketing to connect with customers, create awareness about your products and build a strong online presence. 
How to become a digital marketer?
Becoming a digital marketer is the best way to start your blog or website. You can then learn one or two skills, like SEO, content marketing, paid ads, etc., to implement whatever you learn.
What are the important skills in digital marketing?
Here are a few emerging trends in digital marketing in India;what is the future of digital marketing in india
– Writing
– SEO
– Paid advertising
– Email marketing 
– Marketing analytics and data analysis
Does digital marketing have a future in India?
Yes, digital marketing has a BRIGHT future in India. From social media to email marketing to search engine optimization, millions of people discover products from digital marketing.
Is digital marketing a good career in India in the future?
Yes, digital marketing is one of the lucrative career options in India. Many businesses are looking for people with skills in SEO, paid ads, social media, email marketing, etc.
What is the future growth of digital marketing in India?
The Indian digital marketing market is expected to grow at a CAGR of 32% between 2023 and 2028. The digital marketing industry size in India is expected to reach 24.1 billion by 2028.
Related Sources On Digital Marketing:
---
Final Thoughts
The future of digital marketing looks really great. As more and more businesses move online, the need for effective digital marketing strategies will only continue to grow.
In the future, digital marketing will be even more essential for businesses of all sizes, and those who use online marketing will be ahead of their competitors.
So what are your thoughts on online marketing in India and globally? Do you have any questions? Let us know in the comments.