Hostgator Discount Coupon
$2.78/Month
Summary
If you want to host your website on Hostgator, click the below link to get up to 60% OFF on hosting plan of your choice.
If you are looking for the best HostGator discount coupon codes for 2019, you are in the right page.
For a limited period of time, HostGator is offering up to 60% OFF on all hosting plans. This discount will be available on new hosting plans only. You cannot use this exclusive offer during renewal or for existing hosting plans. With this discount coupon, you can start your first website on HostGator for $2.78/month only.
How to Claim Maximum Discount on Hostgator Hosting Plan?
I've clearly mentioned the step by step guide to avail your HostGator discount coupon below. Follow it and claim your offer!
Step 1: Click This Link to go to HostGator website. You will see the following screen: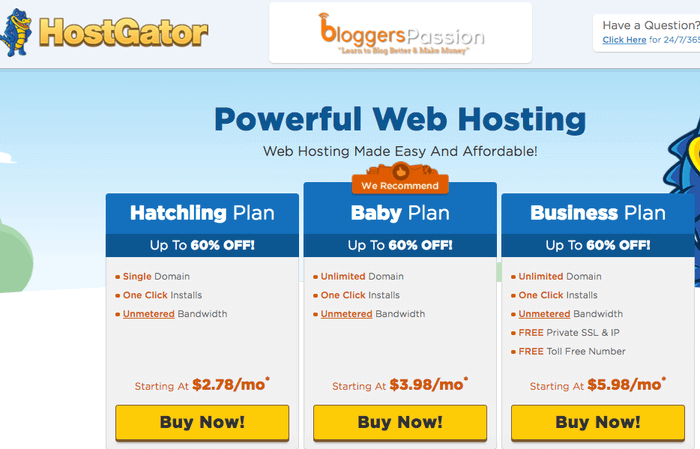 Step 2: Click Buy Now! (Hatchling plan) button:
Step 3: Enter Your Your Domain and select Your Package Type from Hatchling, Baby or Business plans.
Hatchling Plan: if you want to host only one website or blog on HostGator
Baby Plan: if you want to host unlimited websites or blogs
Business Plan: Can hosting unlimted domains. And will get own Toll Free Number, Free Dedicated IP and Free Private SSL etc
Step 4: Choose Your Billing Cycle and fill in rest of details including payment details:
Showing a Sample Screen for HostGator Hatchling Plan Billing Cycle Below:
That's all you need to claim upto 60% discount from Hostgator on hosting plan of your choice.
If you are not happy with HostGator Web Hosting Services, you can cancel your membership within 45 days of web hosting purchase and you don't need to give any explanation for this. So you will not be paying any additional money for trying HostGator Hosting Plans. I'm sure; you will never look back once you start using HostGator Hosting on your blogs and websites.
Don't Miss: Bluehost Coupon Link for maximum savings.
Hostgator Hosting Features (and Hostgator coupon 2019)
1. Excellent Uptime Results
The one important aspect of any web hosting service is website uptime. If hosting service provider uptime is not up to the mark then whatever the features they provide is completely useless. Because, your users will find it difficult to access your products or services, if your site is down.
The #1 reason why Hostgator is better than it's competitors is due to it's server uptime. HostGator is remarkably stable that you don't have to worry about your site going down for longer periods of time.
Save More On Other Blogging Products using: SEMrush Coupon | Bluehost Promo Code | Namecheap promo codes
2. Very popular hosting service
Hostgator is simply outstanding when it comes to company reputation, price, hosting features, room to grow, customer support, and server performance. In the survey conducted in 2016, the most mentioned web hosting name is Hostgator. 30 out of 188 respondents are hosting their primary site at Hostgator.
The most important performance indicator is the speed. A faster website helps in boosting your SEO rankings.
The content is the one that affects the page load time. For example, if your website has many images, then it will increase the page load time which affects your server's speed test results.
HostGator performs really well. To test this, you can use a tool called Bitcatcha. It works differently than other website speed testing tools. Instead of loading the content, it only tests the response time of the server.
The result indicates how fast your site will load quickly around the world.
Did you like this Hostgator coupon page? Then go grab it before the offer ends.
Hostgator offers a wide range of different hosting services namely shared hosting, VPS hosting, dedicated servers, cloud hosting, and WordPress hosting plans. There are three different shared hosting plans. They are Hatchling, Baby, and Business.
The main difference in all the plans is the number of websites you can host.
Hatching plan: You can only have one domain hosted and are unable to purchase a dedicated IP and private SSL. It comes at $2.78 per month that offers unlimited MySQL Database and also can avail Unmetered Bandwidth.
Baby plan: It comes with the same basic 'unlimited hosting' features. It starts at $3.98 per month. You can host unlimited WordPress sites and can avail Unmetered Bandwidth.
Business plan: It starts at $5.98 per month. You will get a lot more extra features including free private SSL, dedicated IP, as well as tollfree business number with 100 minutes of free talk time apart from unlimited bandwidth and unlimited domain hosting features.
Shared hosting is the best way to start a new website with low traffic. On a shared hosting account, you share server resources with other sites hosted on that same server. You will need to upgrade your hosting account if you start getting more visitors at the same time.
HostGator offers variety of hosting plans that fit all budgets and requirements. Here are the other plans offered by HostGator.
Cloud hosting: Cloud hosting utilizes multiple servers. This plan is suitable if your website gets frequent traffic spikes. Like their shared hosting, Hostgator Cloud Hosting also comes in three different plans. They are Hatchling Cloud, Baby Cloud, and Business Cloud.
WordPress hosting: This is their shared hosting plan optimized for WordPress powered websites. It optimizes performance and protects your website from some common WordPress attacks.
VPS: Virtual Private Server allows you to manage your virtual resources on a cloud hosting platform.
Dedicated server: With dedicated hosting, you get a server solely for hosting your website.
Did you like this Hostgator coupon post? Then click This Link to Claim upto 60% OFF on Hostgator hosting
Here are some interesting features which makes HostGator as one of leading web hosting provider in the industry:
HostGator Hosting Plans Special Features
Hostgator provides unlimited disk space in all hosting plans even their basic plan (Hatchling Plan)
Offers unlimited bandwidth in all of its hosting plans
24×7 support via Phone, Chat and Email
99.9 Uptime guarantee
45 Days Anytime Complete Money Back Guarantee
Free Site Builder and instant backups
Free $100 Google Adwords Voucher
Unlimited sub-domains and FTP account in all of Hostgator Hosting Plans
Access your account through easy to operate cpanel
One Click WordPress Installer in the form of Fantastico
Free domain transfer and Hosting facility
Access to 50 plus ready to useful scripts
4500 plus ready to use templates
$100 Yahoo!/Bing Credit
And many more features that rock your WordPress site
Click This Link to go to HostGator Official Website to get 60% discount on any of Hosting Plans for a limited period of time. I will keep on updating this page as I get more exciting HostGator Coupons and offers.
How can I end this Hostgator coupon post without talking about pros and cons?
Hostgator Hosting Pros
HostGator provides 99.99% uptime.
It offers 24/7 support through the phone, live chat and email.
It offers 45-day money back guarantee to test drive their offerings.
It provides automated daily database backups, automatic malware removal and a free SSL certificate for processing website transactions, if you opt for their premium plan.
It is the best web hosting for absolute beginners.
It provides a control panel which is designed for ease-of-use and which is ideal even for beginners.
You can choose between monthly and yearly billing periods. However, longer billing periods will get you the most discount.
Hostgator Hosting Cons
Even though, HostGator says that it provides instant backups, they take an extra $15.95 annually.
If you want the great promotion pricing reflected on your website, then you will have to sign up for at least three years.
Whether you are just starting your first website or already have a branded website, you will find every necessary tool to bring your website to next level. This is the best hosting service for the newbie bloggers with a low budget. If you want to start a blog then it is recommended to go with the HostGator.
Final thoughts about HostGator discount coupon 2019
If you are a beginner and thinking to launch a new WordPress site, I highly recommend you the hosting services like Bluehost, HostGator etc. Not only these hosting services are reliable but they offer you exceptional features at the cheapest price tags.
It's a smart move to get hosting on HostGator when you get the incredible offers such as HostGator 60% off. Don't wait any longer as this offer is valid only for one day.
HostGator is also offering a 45 days money back guarantee to the people who avail this offer. Even if you are not satisfied with them, you can get your full money back within 45 days. So what's your lose?
Make sure to grab your HostGator discount coupon 2019 to get upto 60% OFF on all their hosting plans.
Note: If you don't know how to install WordPress on HostGator or launch a new site, let me help you. If you buy HostGator hosting from this page, I'll install WordPress for you at no extra cost. All you need to do is to email me the billing details and I'd be glad to set up your first WordPress site. You can mail me at anil@bloggerspassion.com for further details.