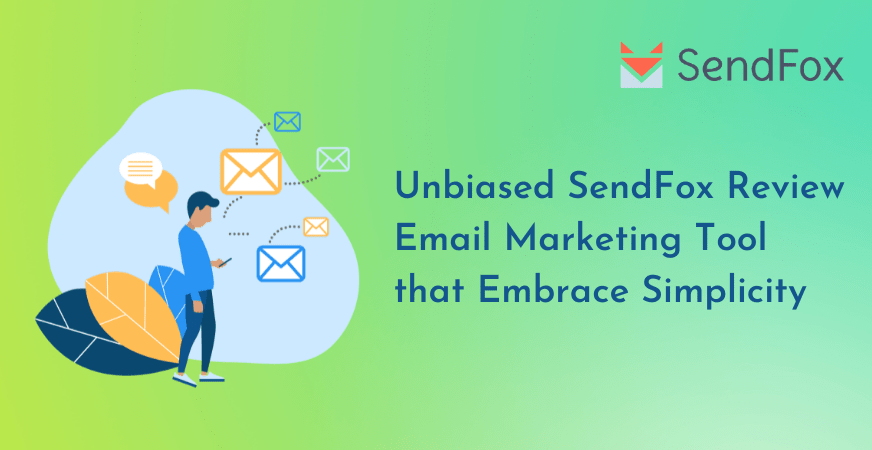 Summary
SendFox is a simple yet powerful email marketing platform that facilitates you with an intuitive dashboard, smart campaigns, automation series, multiple lists, landing pages, embedded forms, and a lot more.
On top of that, what makes this tool great is its pricing and lifetime deal.
So, if you're tired of paying hundreds of dollars every month and want to cut costs on your email marketing software, SendFox may be an ideal option for you.
Email marketing is considered one of the most effective marketing strategies.
But for doing it the right way, you need an email marketing tool that helps you get better ROI and your job is done hassle-free.
And if you're wondering whether SendFox is the RIGHT choice for you or not, we have got your back.
As in this post, we have shared a comprehensive unbiased review on SendFox for 2023.
So, go through this SendFox review till the end to know about SendFox features, pricing, pros, cons, and complete workflow.
Let's get started.
SendFox Review with Features, Pricing, Pros and Cons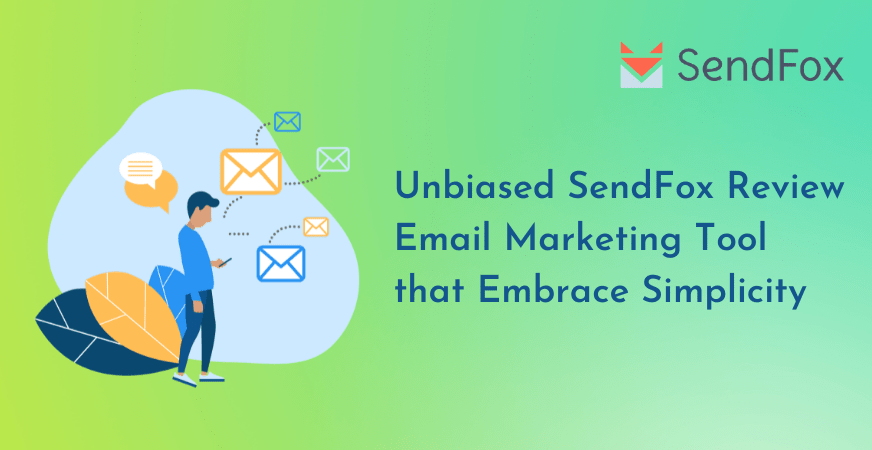 What is SendFox?
SendFox is an email marketing tool specifically designed for content creators that lets you send customized emails to your subscribers so that you can turn them into your customers.
It is a part of the Sumo family of companies who also run AppSumo which is a great platform to grab lifetime deals on SaaS products.
This tool gives access to all the necessary features that one needs to implement sales funnels with automated email sequences.
The one thing that you would surely love about SendFox over other well-known email marketing providers is its simplicity and they are open about not having the advanced features that you might get with some of its competitors.
TL;DR
Send unlimited emails (instant, scheduled and automated) to your email list
Branded emails, landing pages, built-in forms
Integrate with dozens renowned tools like – Sumo, KingSumo, Zapier, API, and more
Best for: Content creators like bloggers, podcasters, and vloggers who want to turn fans into customers
---
SendFox Features That Embrace Simplicity
The one thing that we liked the most about this tool is its ease of use. It has got some cool features that will make your life a little easier as a marketer. Here are they;
Email and Smart Campaigns
Smart campaign is the very first feature of SendFox that will make you say wow about this tool.
Once you visit the Emails section, you will see an auto-generated smart campaign that promotes the latest posts from your content source.
As you can see in the picture above, a smart campaign is there which was auto-drafted.
I tried to explore this campaign and I was quite surprised as this had a very well-formatted context along with links to the last four posts.
You can also schedule it at your convenience.
Not only this but you can also send the weekly newsletter and content updates for every new publication automatically.
In addition to smart campaigns, composing standard emails is also very easy.
All you need to do is click on the Create Email button and enter the relevant matter. Most importantly you can schedule it with a single click.
This is how your mail is displayed to the recipient.
Isn't it great?
So, this way you can save a lot of your precious time.
Grab the SendFox Lifetime Deal Now
Automations
This is another feature that makes this tool more awesome.
To start brand new automation, simply select a template and you're all done.
As you can see, you get a well-designed sequence of emails.
This is how welcome mail is drafted.
The second mail has links to the most recent posts and the last mail is more about making your audience follow you on social media platforms.
You can customize these emails according to your needs and also add more emails to the sequence.
Apart from the email content, you're allowed to set triggers and delays. Most importantly, there is a checkbox available for each mail that you can use to send these emails to active subscribers only.
Click to Grab SendFox Lifetime Deal
Multiple Lists
With SendFox, you can create multiple lists via opt-ins, double opt-ins, and then can use these lists to send tailored emails based on their interests.
One more thing we would like to highlight here is that a user can be linked to any number of lists but they will be counted against your contacts quota only once.
This is a huge plus point over those email providers where a contact counts multiple times if they are in multiple lists.
Landing Pages & Forms
If you are a YouTuber or blogging on any microblogging platform like Instagram then you might not have designed a website for you, right?
And growing your email list without having a website could be problematic for some users.
But if you have access to SendFox, you don't need to worry about it.
Yes, apart from email sending features, SendFox facilitates you with a pre-created landing page.
Though it's all good, you can do small-small changes if you want.
This is how your landing page will look alike.
Not only this but also you can promote it over a number of social accounts at a single click.
In addition to smart pages, you have the facility to create forms and embed them on your website to capture leads.
Creating a form is quite easy and can be customized with CSS the way you want.
Referrals Campaigns
Last but not least, referral campaigns are also included that you can take advantage of to further grow your list.
So now, you might be wondering how to set up your SendFox account and get started with it.
Here we go…
---
How to Setup your SendFox Account?
Getting started with SendFox is quite easy.
Simply go to the SendFox official site and sign up using your email address or Google account.
Next, you will be asked to add a content source. Enter your website URL here, It will help you with smart campaigns, automation, and newsfeed.
On the next page, you can import contacts if you have any.
As you can see in the picture above, there are three ways to import contacts.
We had some email addresses on MailChimp so tried to move them on SendFox and we must say it was pretty seamless.
If you're also using the MailChimp then this is the simple process you will have to follow;
Login to your MailChimp account
Authorize SendFox to access your account
Select the list to import from MailChimp
Within a few seconds, all your contacts will be imported and you will be redirected to your dashboard which looks like this;
We had 37 subscribers in our MailChimp list, so it is showing the 37 total contacts as of now.
In case you skip any step (connecting a content source or adding a list) you can do the same from your account easily.
Important: On successful sign-up, you will also get 200 bonus contacts. Two more bonuses are also there.
Promote your Smart Page in a social account to get 300 EXTRA CONTACTS!
Schedule or send your first email to 10+ people to get 500 EXTRA CONTACTS!
---
SendFox Pricing
Interestingly, SendFox is a freemium tool. This means you can get started with it without paying a single penny.
However, to extend its capabilities, you may opt for its premium licenses which cost a minimum of $49.
But unlike other email marketing software where you need to pay on a recurring basis, this is the lifetime deal price.
That means pay once and get lifetime access to SendFox and all future updates.
Here are the complete details about SendFox pricing plans.
1. SendFox Free Plan
This plan costs you nothing but allows you a maximum of 1000 contacts along with:
Throttled Sending (50,000)
Normal Sending Server
Normal SendFox Branding
2. SendFox Lifetime Plan
This plan costs you a one-time payment of $49 for 5,000 contacts.
Furthermore, you're allowed to add as many contacts as you want, for that you will be charged $49 extra for each 5K contact.
Unthrottled Sending
Better Sending Server
Reduced SendFox Branding
---
SendFox Pros
Here are some more reasons to consider SendFox.
Mobile responsive emails
Test and preview feature
Wide range of integration (Sumo, KingSumo, Zapier, etc.)
GDPR consent feature
Powerful analytics
RSS feed functionality
Multiple domains in one account
Domain validity to make emails appear as though they're coming directly from you
SendFox Cons
SendFox is a complete email marketing solution in its own way.
But if you compare it to the other well-known email marketing providers like Mailchimp, ConvertKit, etc. then of course it lacks several features.
Still, there are two main features you may miss;
No HTML Capability
You are not allowed to add images to your emails. So no more logo or footer image. 
No Attachments
There is no way to add attachments along with your emails.
Read: 6 Best ActiveCampaign Alternatives With Pros & Cons
Read: 10 ActiveCampaign Tips to Improve Email Performance in 2023
Read: Best AppSumo Deals for Bloggers [Lifetime Deals]
FAQs
What is SendFox?
SendFox is an email marketing tool that lets you send mass emails out to your subscribers tailored to their interests.
Who is SendFox for?
SendFox is a great email marketing solution for content creators like bloggers, podcasters, and vloggers.
How much does SendFox cost?
SendFox lifetime deal is priced at just $49 that you can get from the AppSumo platform. Furthermore, a free plan is also there. So you can hands-on this tool without paying anything.
Is there any money-back guarantee on purchasing SendFox?
Yes, you will get a 60-day money-back guarantee, no matter the reason.
SendFox vs Mailchimp: Which one is better?
SendFox is a perfect combination of simplicity and affordability. If you want to do email marketing without getting into any hassles, then SendFox may be an ideal platform for you.
On the other hand, Mailchimp comes with more advanced features but starts at $10.97/month based on 500 contacts.
Which one to choose between SendFox vs ConvertKit?
SendFox is a simple and easy-to-use email marketing platform that you can get access to for a fraction of ConvertKit's pricing.
Yes, there are some basic features (no HTML capability and no attachments) SendFox lacks at. 
On the contrary, ConvertKit is a smart system that does exactly what you need it to do.
Read: ActiveCampaign Pricing Plans: Which Plan is Worth Your Money?
Final Thoughts on SendFox Review
That's all from our side regarding SendFox review 2023.
Based on our research, SendFox has got all the essential features from creating multiple lists via opt-ins to scheduling email campaigns, automated emails that fulfill the basic needs of an email marketer.
And with its lifetime deal offer, SendFox is just unbeatable.
So, it's a no-brainer for small businesses and e-commerce store owners looking forward to taking their business a level up with email marketing while keeping everything simple.
And if you're already a Sumo customer, then this could be another reason to consider SendFox.
Nevertheless, you can always switch to any other platform whenever you feel like you want to do more with your email campaigns.
So, click on this link to get the SendFox lifetime deal on AppSumo.
If you still have any questions about SendFox, let us know in the comments below.
Lastly, do not forget to share this post as this might be helpful for others too.