Bluehost Black Friday Sale
$2.65/month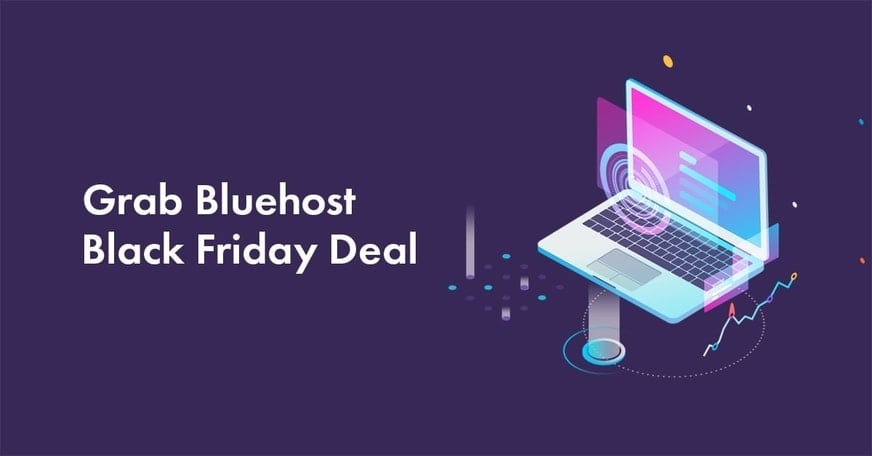 Summary
Start your first website with Bluehost for $2.65/month only using our Bluehost 2.65 deal during this Black Friday (up to 70% discount on selected plans), and get free SSL, CDN along with a FREE domain for one year. The deal is already live and will ends soon!
Are you searching for the best Bluehost Black Friday 2020 deals to get it as cheap as $2.65  a month for 36 months? Well, you have come to the right place.
Bluehost is one of the most popular web hosting services on the Internet as of 2020. With over 2 million sites are being hosted on Bluehost, it becomes the widely used hosting platform for all kinds of bloggers and marketers.
And today, you can save more with their Black Friday sale of upto 70% Discount.
Here are the Bluehost deal details for 2020. Shared hosting plans from Bluehost costs you:
$2.65/month for the Basic Plan (60% Off)
$4.45/month for the Plus (60% OFF)
$4.45/month for Choice Plus Plans (70% OFF)
$9.95/month for the Pro Plan (58% OFF)
Not only that, you'll also get the following deals from Bluehost during this black Friday and cyber Monday sale:
FREE Domain Name for 1st year
Upto 70% Off WordPress Hosting
50% Off VPS Hosting
40% Off WP Pro Hosting
So what are you waiting for?
Grab Bluehost at just $2.65 a Month for 36 months to save maximum money as the renewal cost will be much higher.
When does the sale start?
The sale is already live and will run until 2nd Dec, 2020 (so grab the deals before they expire)
In this post, we will also discuss the following things:
Why should you host your sites on Bluehost
How to activate the Bluehost 2.65 deal for 2020 to get Bluehost black Friday discount and
Pricing plans of Bluehost so you can choose the right option
Bluehost Black Friday 2020 Deal: $2.65/Month + FREE Domain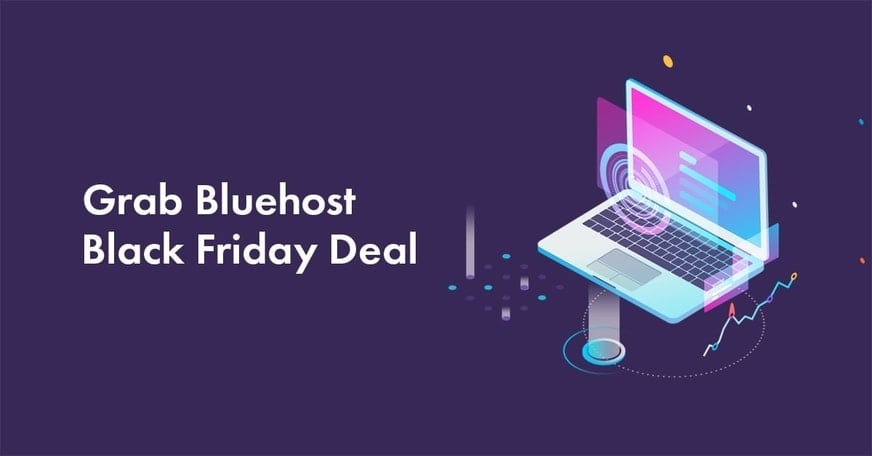 Hosting Plan
Important Features
Discounted Price
Deal Link
Basic Plan
- Can Host One Website
- Free Domain Name
- Free SSL Certificate
- 30 Day Money Back Guarantee
$2.65/Month (60% OFF)
Plus Plan
- Can Host Unlimited Website
- Unmetered Bandwidth & Disk Space
- $200 Marketing Offers
- Free SSL & Domain
$4.45/Month (60% OFF)
Choice Plus Plan
- Can Host Unlimited Websites
- One Domain Privacy + Protection
- Unlimited Email Storage
- Unlimited Parked Domains & Sub-domains
$4.45/Month (70% OFF)
Pro Plan
- Dedicated IP
- Free SSL Certificate
- Domain Privacy + Protection
- Free Site Backup
$9.95/Month (58% OFF)
Before jumping into the discussion of why you need to host your WordPress sites on Bluehost, let's first quickly talk about how to activate the deal so you can get it for as cheap as $2.65 A Month for 36 months.
The Black Friday sale or Bluehost thanksgiving day sale is already live and ends on 2nd December so make sure to grab Bluehost Deal before it ends!
How to activate Bluehost $2.65 deal?
So are you curious to find out Bluehost black Friday offer details? Here's a simple step by step tutorial you can use to activate the $2.65 deal from Bluehost:
Step 1: Click this special link (no coupon code is required) to visit Bluehost hosting homepage. Then, click on 'Start Saving' button.
As you can see above, the Bluehost Black Friday sale is already live and you can get their hosting starting at just $2.65 per month.
Step 2: Select a hosting plan that suits your needs. And enter any of your desired domain name (domain registration is free for one year with Bluehost).
Step 3: Fill out the payment details, and you will be getting a confirmation email from Bluehost. Then, you can install WordPress on Bluehost in under 5 minutes using this tutorial.
Now, let's talk a few things about Bluehost so you can decide yourself whether it's the right choice for your site needs or not.
Benefits of Buying Bluehost hosting During Black Friday And Cyber Monday
Here's what you'll get during this Bluehost special sale:
$2.65/month for the Basic Plan
$4.45/month for the Plus and Choice Plus Plans
 $9.95/month for the Pro Plan
Huge discounts on other Bluehost products such as;
50% off Domains (.com, .org, .net, .co, .biz)
50% off on WooCommerce hosting
3o% off on WordPress hosting
Powerful control panel
A control panel (cPanel) is what makes web hosting great. When it comes to control panel, Bluehost is the best in the industry. You can easily set up your WordPress in under 5 minutes from their control panel.
You can manage all your web pages, website stats (traffic) and create emails effortlessly. You can also create your email using your website URL address. For instance, if you have a site called "example.com," you can create your custom email with the address yourname@example.com. It can all be done fast and simple.
You will also have access to FTP (File Transfer Protocol) which makes it easy for you to upload and download files on your website.
Just have a look at their control panel to get a brief idea about how it looks like.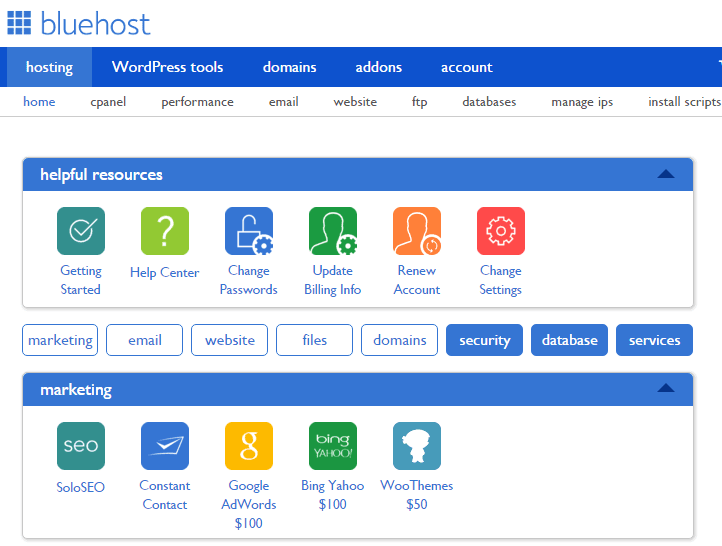 Make sure to avail our Bluehost cyber Monday offer to save more during this black Friday season.
Regular backups
Bluehost offers you regular backups option which you can use to take daily, weekly and monthly backups of your whole website files automatically.
All those backup files can be directly sent to your email address so you can access it any give time in case if you lose files. Backups are extremely crucial when running a website online.
Free Domain for 1 Year
Whether you know it or not, a .com, .net, .org type domain name costs you anywhere around $10 to $20 depending on which platform you use to sign up for. But when you're signing up for Bluehost shared hosting, you can register domain free for 1 year.
Another Reason to Grab Bluehost 2.65 Deal: You'll Get Free SSL
HTTPS is a secure version of HTTP where the information transmitted is encrypted, so your data is safe, and Google also prefers https version over http version.
You can get https version by installing and assigning SSL certificates to your domain.
Bluehost provides you SSL certificates FREE for all of the hosting plans along with parked domain names set up in your account.
Quick note: SSL certificate typically costs you around $10 to $20 per year, so you'll save that money if you're hosting on Bluehost.
Once you're set up an account with Bluehost, it will automatically assign SSL certificates and install itself to your new and existing domains.
Alternatively, you can also manually assign them by visiting the Add-ons tab from your Bluehost control panel and locate SSL Certificates and click on the learn more button. Click the get started button under WordPress Free SSL. Then, click the Install button. That's it!
Get 30 Days Money Back Guarantee
Bluehost offers you an incredible 30-day money back guarantee.
That means, if you cancel your account within 30 days of signing up, you will receive a full refund of all hosting fees. So you don't have to worry or think twice before signing up for any of the Bluehost hosting plans.
Recommended by WordPress Itself
Whether you know it or not, WordPress.org officially recommends Bluehost. WordPress.org only recommends three hosting companies and their #1 choice is Bluehost, which itself speaks volumes about the popularity of Bluehost.
24×7 Customer Support
Bluehost provides you 24/7 support via phone, email, and chat.
Bluehost also offers you dedicated toll-free numbers for both US and international customers worldwide, just in case you need assistance quickly.
So what are you waiting for?
FAQs
Here are some of the essential FAQs about Bluehost Black Friday deal that helps you better understand about their sale and discounts.
1. When is Bluehost black Friday deal going live?
This deal is already live and will be available only until 2nd Dec, 2020 where you can get their hosting just at $2.65 per month.
2. Why should I use Bluehost Black Friday discount deal?
First things first: Bluehost is one of the industry leading hosting services that offers exceptional hosting plans at affordable rates. Only during the Black Friday week, you'll get up to 70% discount on all of their hosting plans.
3. How to sign up for Bluehost Black Friday sale?
Click here to get started with Bluehost and you don't have to apply any promo codes as the discounted price is automatically applied when you click on that link and purchase the hosting from us (we're partnered with Bluehost to give you bigger and better discounts on all of their hosting plans).
4. Is there any money back guarantee?
Yes, Bluehost gives you the 30-day money back guarantee during this Bluehost thanksgiving day offer which means, no matter what hosting plan you choose from Bluehost, you can get your money back within 30 days after signing up!
5. Can I get a free domain with Bluehost?
Yes, you will get a free domain name for one year with any of the hosting plans from Bluehost. You can also pick any of their hosting plans if you already have a domain.
6. Are there any other better Black Friday deals?
Right now, this is the biggest sale among all Black Friday deals where you can save upto 70% massive discount. If there are any more new discounts and Black Friday deals, we'll let you know.
Final Thoughts
If you are looking for the right time to start a blog on WordPress on the right hosting, there's no better time because Bluehost Black Friday deal is on now. So make sure to use it to save more on their hosting plans.
HostGator Black Friday Sale: Get upto 70% Off on Hosting
SiteGround Black Friday: Get 75% Discount Now
WPX Hosting Black Friday Deal: Get 95% Off Now
Namecheap Black Friday Deal: Get upto 98% Off Now
WP Rocket Black Friday: Get 35% Off on Caching Plugin
Did you like the Bluehost 2.65 Black Friday deal and Bluehost thanksgiving day offer mentioned on this page? Have you used it? Do you have any questions before buying? Do let me know your thoughts in the comments below.