Looking for different types of digital marketing that are effective in 2023?
Over the past few years, there has been a MAJOR shift in the way businesses promote themselves.
With digital marketing, you now have A TON of options to promote products and boost your sales. From SEO to social media to email marketing, there are a lot of options to reach your target audience.
With so many options available, it can be difficult to know where to start. So in this guide, you'll discover:
What are the types of digital marketing?
Free resources
Benefits of different types of digital marketing
How to get good at digital marketing methods and much more
Let's get started!
Types of Digital Marketing: Benefits, How to Learn & Free Resources
---
1. SEO (Search Engine Optimization)
Search Engine Optimization (popularly known as SEO) is the process of improving the organic visibility and ranking of a website in search engine results pages (SERPs).
SEO is one of the important components of digital marketing.
The primary goal of SEO is to get more traffic from search engines like Google. The higher a website appears in search results, the more likely it is to be clicked on by users.
How to get good at SEO?
The key to generating more traffic from SEO is to use relevant keywords, build backlinks and create engaging content.
No matter what niche you're in, create content that's relevant to the searcher's needs. Know the searcher's intent for the best SEO results.
Search intent can be of four major types including:
Transactional (ex: buy, cheap, trial, etc)
Informative (ex: how, why, what, etc)
Navigational (ex: any website name)
Commercial (ex: reviews, comparison, etc)
Also, analyze your competitors to see what's missing from their websites. Create 10x better content than your competitors to grow your search traffic.
Remember, search traffic takes time. So stop looking for shortcuts and focus on creating a website that's useful to your users.
Helps you get more search traffic and improve the visibility of websites
SEO is free and long-lasting
The traffic you generate from Google is highly converting and better than most of the other traffic sources.
Helps you build and boost your brand awareness
Helps you with sales and better conversions
Reduces promotional cost of your websites, apps, products, or businesses
High CTR (Click through rates) if your headlines are click-worthy
Helps you discover new markets and audiences
Free Resources on SEO:
---
2. Content Marketing
Content marketing is the process of creating and promoting relevant and helpful content to attract new audiences.
The primary goal of content marketing is to educate your target audience about the products or services you promote.
If done right, content marketing can be extremely effective for growing your website or business. It can help you attract a new audience, convert leads into customers, build brand awareness, and generate sales for your products or services.
How to get good at content marketing?
First things first: content marketing is not about selling. It's ALL about building relationships by providing information that helps your target audience.
When you provide useful information in the form of blog posts, case studies, videos, etc, your target audience will likely consider you as a trusted resource. It ultimately helps you with better conversions and sales.
There are a number of different types of content that can be used for content marketing purposes, including blog posts, infographics, eBooks, video content, and more. The key here is to try different types of content marketing to see what works best for you
Make sure to focus on creating content that is interesting, informative, and useful to your target audience.
Here's an illustration that talks about the importance of content marketing.
Benefits of Content Marketing:
Content marketing is cost-effective. Many content marketing campaigns can be executed on a limited budget of $1000 to $2000 a month.
The ROI (Return on investment) is huge with content marketing as it helps you generate more sales and conversions in the long run.
Helps you build a loyal audience and followers around your blog.
If your content is really good, people will consider you an authority in your niche which can help you with more sales.
Free Resources on Content Marketing:
---
Social media is growing rapidly. Social media marketing is the use of social media platforms such as Facebook, Twitter, and LinkedIn to connect with your audience. It helps you easily build your brand, increase sales, and drive website traffic.
The most successful social media marketers are able to build a loyal following around their brand and create long-term relationships with their target audience.
How to be good at SMM?
The key to social media marketing success is to create engaging content that is shareable and promotes your brand or product.
Find out where your target audience spends their time. Find out what kind of products or content they like and deliver that.
Also, know the best times to post on social media. For example, the best day to post on Facebook is Wednesdays and the best time to post is between 9:00 AM to 3:00 PM on weekdays.
By posting at the right times, you'll get maximum engagement from social media platforms. You can also use social media management tools to schedule your posts in advance and track their performance.
Some of the best social media management tools include:
Buffer
Hootsuite
Sprout Social
Benefits of SMM:
It is a faster and easiest way of communicating with your target audience.
SMM makes you more reputable, whenever you're seen by everyone online, people will recognize you and trust you as a brand.
Helps you build relationships
Helps you network with other people in your niche
You can generate traffic to any product or app you want
Free Resources on SMM:
---
4. Email Marketing
Email marketing offers the highest ROI. In fact, email offers an impressive ROI of $40 for every $1 spent.
In simple terms, email marketing is a form of direct marketing that uses email to connect with your potential customers. Most marketers use email marketing to build relationships with their customers, educate them about their products and promote special deals.
While email marketing can be time-consuming to learn and practice, it can be extremely effective to reach a wide range audience and grow your business.
How to get good at email marketing?
Did you know that there are over 4.3 billion people using email and is expected to grow to 4.6 billion by 2025?
As email growth increases, the importance of email marketing grows. Here are a few effective ways to use email to grow your brand and sales.
Create email sequences. Define your target audience and create a 5-day or 7-day email sequence. Analyze your competitors to see what they're sending.
A/B test your emails and subject lines as much as possible. Almost all email marketing providers offer A/B testing.
Keep your emails about your audience. Don't use emails only to send promotional stuff. Make them informative.
Optimize your emails for smartphones. There are millions of people who use their smartphones to read and reply to emails. So make your emails responsive on all devices.
Benefits of Email Marketing:
It is the most effective way to reach a large audience with personalized emails.
Email marketing helps you attract new customers or convince current customers to purchase something immediately.
It helps you easily educate your audience about the products you promote.
Email marketing is an affordable way to boost your sales.
Helps you with brand building and creating engagement with your followers.
Free Resources on Email Marketing:
---
5. Mobile Marketing
In today's digital world, almost everyone is using smartphones. So the best way to reach a larger audience and grow your business is to focus on mobile marketing.
Mobile marketing is the process of advertising to consumers using mobile devices such as phones and tablets.
Mobile marketing can be done in many different ways including SMS text messages and push notifications to mobile apps and more.
According to Statista, more than 63% of Google searches take place on a mobile device, as opposed to a computer.
How to get good at mobile marketing?
The key to effective mobile marketing is to send a message to the needs of your target audience.
Don't send spam messages just to promote your business. Instead, ask for their permission and let them opt for your products or brand messages. That's an effective way to get better responses.
Also, identify the needs of your target audience and potential customers. Find out what exactly they want. Make sure to track every single message you send to your audience to see how your campaigns are working.
Benefits of Mobile Marketing:
It's a personalized way of marketing that helps you send targeted messages directly to your customers' mobile devices.
It can be used to promote special sales or deals, educate about your new products or services
Mobile marketing is an effective way to reach and engage with potential and existing customers.
It is cost-effective
Free Resources on Mobile Marketing:
---
Viral marketing is a type of marketing that encourages people to share something with their friends and followers.
Viral marketing MOSTLY relies on word-of-mouth promotion where a ton of people share the same message in a short period of time.
It can be in the form of videos, articles, or even social media memes. The goal of viral marketing is to create content that is so compelling that people can't help but share it with their friends and followers.
If you want to reach a wide audience quickly and efficiently – viral marketing is a great digital marketing skill to learn and master.
How to get good at viral marketing?
If you want your content to go "viral," it needs to have a few key elements.
First, it must be something that is new and different. Content that is boring is unlikely to generate much interest. So make sure your content is unique and entertaining.
Second, it must be easy to consume and understand. People will instantly get bored if your content is hard to understand so make it easy to digest.
Finally, your content must be shareable. The best viral marketing campaigns make it easy for people to share the content with just a few clicks.
Benefits of Viral Marketing:
Viral marketing is a low-cost marketing strategy that helps you promote your product to a wide audience
It's similar to the word-of-mouth marketing technique where your message gets shared quickly
Helps with the rapid lead generation when it comes to online
Free Resources on Viral Marketing:
Viral Marketing: The Definitive Guide
This is a must-read from the Backlinko website. It teaches you the basics of viral marketing along with a ton of real-life examples of brands and products going viral.
The Ultimate Guide to Viral Campaigns
This is published by the authority website HubSpot which talks about various viral campaigns and essentials to create content that goes viral.
---
7. PPC Marketing (Pay Per Click)
PPC (Pay Per Click) marketing is where advertisers pay each time a user clicks on one of their online ads. That means advertisers will pay only when their ads are clicked.
PPC ads are usually associated with major search engines including Google, Yahoo, YouTube, etc.
In simple terms, PPC marketing is all about "purchasing website visits" from search engines. PPC marketing requires ongoing effort and regular investment to build and grow your audience.
Here's what PPC ads look like in Google search;
How to be good at PPC marketing?
PPC marketing can be very effective if done correctly, but it can also be very challenging and time-consuming. Whichever PPC marketing strategies you use, make sure that you do your research and plan carefully in order to get the BEST results.
One of the best ways to master PPC marketing is to spy on your competitors' ad strategies.
You can use competitor research tools like Semrush to easily discover ad copies of any website in the world.
Find out what ads they're using, how often they're using them, and what products they're promoting through PPC ads. It can definitely give you insights into what type of ads work best in your industry.
In case you're looking for a free trial of Semrush, use the following link.
Activate Semrush 14-Day FREE Trial (Worth $129.95)
Benefits of PPC Marketing:
PPC marketing helps you see your ads or products by potential customers when they search for keywords related to your business
This is an excellent way to reach a larger audience and promote your business
Gives you faster results in terms of traffic, leads, and sales
You can use PPC ads to promote new products, special offers, and more.
Free Resources on PPC:
---
8. Affiliate Marketing
Affiliate marketing is all about referring a product or service by sharing a unique referral link on a blog, social media platform, or website.
You get a commission whenever someone makes a purchase through your affiliate link.
Affiliate marketing allows you to earn money even without a huge investment as most affiliate programs are free to join.
How to be good at affiliate marketing?
Start a YouTube channel or a blog. The best way to start your affiliate marketing journey is to educate people about the products you promote. Here's where a blog or YouTube channel comes into play.
Did you know that we generate over $13,000 per month from affiliate marketing?
Here's one of our affiliate product earnings.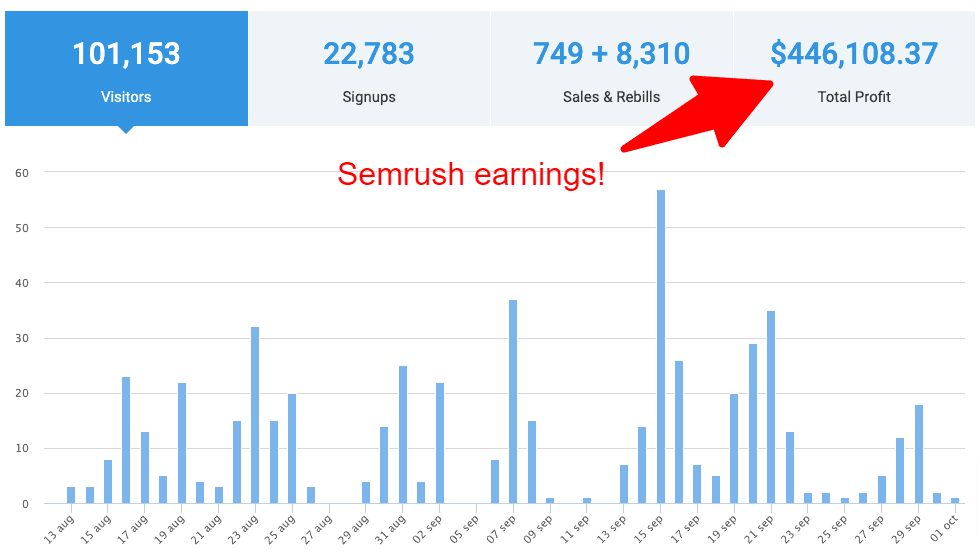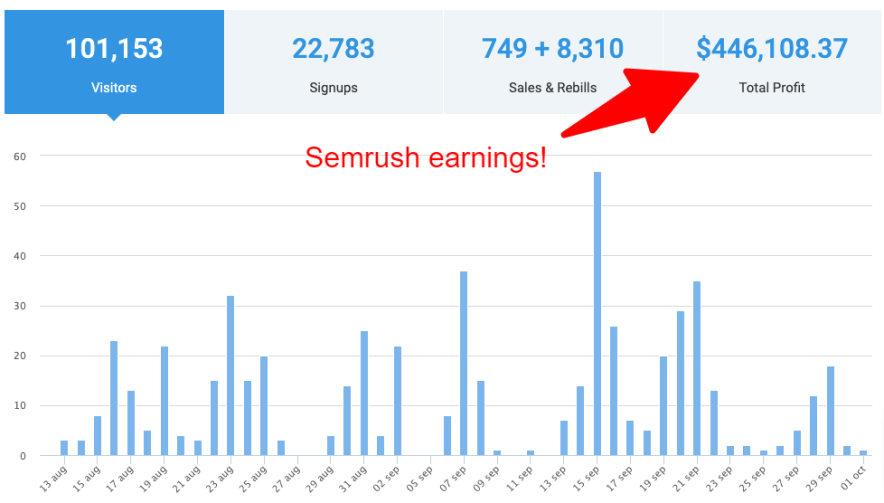 As you can see above, we generated more than 446K from the Semrush affiliate program alone. That's the power of affiliate marketing as it helps you earn HUGE income.
The reason we're able to generate so much income is that we've a blog where we consistently publish quality content and promote relevant products.
Benefits of Affiliate Marketing:
It is the best way to generate passive income online
You can literally promote thousands of products
There are a ton of topics (niches) you can consider to promote affiliate products
Almost all the affiliate programs are totally free to join
The sky's the limit to your earnings
Free Resources on Affiliate Marketing:
---
FAQs | Types of Online Marketing
Here are some of the most frequently asked questions about digital marketing methods.
What is digital marketing?
Digital marketing (also called online marketing) refers to promoting products and services through digital networks such as SEO, social media, content marketing, email, and more.
What are the major types of digital marketing?
The major types of digital marketing includes;
– Search engine optimization
– Social media marketing
– Influencer marketing
– Email marketing
– Content marketing
Which type is best in digital marketing?
SEO (Search Engine Optimization) is probably the BEST type of digital marketing you can learn and master in 2023. SEO is a massive 80-billion-dollar industry and is growing rapidly. Almost every business needs SEO services to attract customers and grow their sales. 
What are the advantages of digital marketing?
What is SEO in digital marketing?
SEO (Search engine optimization) involves optimizing your website and content for Google and other search engines. This can help you to rank higher in search results and get more traffic to your site.
How can I start digital marketing?
The best way to start digital marketing is to start a blog or website. The good news is you can use WordPress-recommended web hosts like Bluehost to launch your website for as low as $2.95 per month.
Related Resources:
---
Final thoughts on the components of digital marketing
Digital marketing has many branches including email, SEO, SMM, paid ads, and so on. If you want to get good at digital marketing, start a blog and implement whatever you learn.
There's a lot of demand for digital marketing professionals. So, having good digital marketing skills can be an asset in the long run.
So what are your thoughts on the types of digital marketing mentioned here? Do you have any more questions? Let us know in the comments.