Are you interested in buying expired domains? Do you want to grab the best domains with high DA and get all the information such as Domain Authority (DA), domain age, backlinks about the those domains?
Well, you are in the right page. In this detailed guide, I'm going to talk about all the necessary information about buying terminated domains and I'll also show you top 9 sites to buy those domains.
Let's talk about the most basic stuff first.
What Are Expired Domains?
Expired domains or those domains which are dropped or not renewed by the people or businesses (after the contract ends). You might know every domain should get renewed after 1 year or in multiples of 1 year (such as 2 years, 3 years depending on how you bought them).
Everyday thousands of domain names get expired. The reasons can include any of the following.
Some people just may forget to renew their domains
Some people who are not interested in renewing their domains
Some people who don't want to pay more for their domains etc
Why should you consider buying expired domains?
Here are 5 simple reasons you should consider buying these domains over new domain names.
They are already established: They might already getting a lot of search traffic so it's an added advantage if you buy a terminated domain name which sends you good amount of traffic from Google.
They will have domain authority (DA): Majority of the people buy those domains for the sole reason of having a great domain authority. Whether you know it or not, having a better DA (above 30) can increase your search rankings.
Backlinks: If you can grab a dropped domain that already has a lot of backlinks, you are in luck. See, Google considers backlinks as votes. The more links a domain has the more faster it improves its search rankings.
It's easier to rank higher: Depending upon your domain age, page authority, trust flow, they tend to rank really well when compared to new domains. Most new domains don't have any DA, page authority or trust flow so it's really harder to rank well in Google. This won't happen with the expired domains as they are already established well and might be getting decent amount of traffic from search engines.
They are easy to type and remember: You can't get a easy to remember new domain name without paying huge bucks these days. Gone are the days where you can simply grab almost any incredible domain name just by paying a couple of bucks.
---
3 Major things to look before buying dropped domain names in 2023
1. Make sure to find out the DA and trust flow of the domain you buy
If a domain has DA (Domain Authority) more than 15, it's a good one to buy. If it has a trust flow with more than 20, it's a great domain which you don't want to miss.
For your information, trust flow of domain is determined by the trustworthiness of the domain and is measured by Majestic SEO.
2. Verify whether the domain you want to buy isn't banned anywhere
You need to check if the terminated domain you want to buy is banned by Google AdSense or Google crawlers or not. If they are banned, then there's no reason for you to buy it because you will have a lot of troubles in the long run.
You can use tools like IsBanned.com, BannedCheck etc to verify whether a domain is banned by Google or not.
3. Check the number of backlinks of the domain you are interested in
As I said earlier in the post, if an expired domain has good number of backlinks, it is much easier for you to rank higher for most of the keywords you try to rank for in the future. You can use tools like Semrush, Ahrefs etc to find the number of backlinks of any domain name.
You can check backlinks metrics like
Number of backlinks
Number of anchor links
Number of referring domains etc.
Now, let's talk about few top websites to buy these domains.
---
Top 9 sites to buy expired domains in 2023 and beyond
If you are blogging for a while, you might have already heard about Flippa. Flippa is one of the biggest marketplaces for buying and selling domains as well as websites.
It also has a dedicated search engine for finding expired domains where you can find all the active domains, soon going to end domains, brokered domains etc. Although the cost of the domains that you find at Flippa would be bit expensive but you will get access to one of the best sites for buying these domains.
Flippa also provides a column called "Editor's Choice" where you will get a huge list of all the those domains that are worth purchasing.
---
NameCheap is one of the most popular domain registrars in the world. It also sells expired domain names at the most affordable prices.
Namecheap currently has over 11 million registered users and 10 million domains across the world.
So if you're looking for a top domain registrar to purchase expired domains for your business, go for Namecheap where you can bid on domain names.
---
GoDaddy auctions is one of the major websites for buying terminated domains.
Not only you will get a lot of better deals but because of its largest customer base, you can quickly find decent domains at an affordable price range using GoDaddy auctions.
By using GoDaddy auctions section, you can also use keywords to search the domain names that you are interested in. For instance, if you type the keyword something like "fitness", it will list you out all the domain names that matches with the keyword "Fitness" so you can easily make a list of all the domain names with your desired keyword selection.
The below screenshot gives you an easy understand about how domain auction and keyword domain search works at GoDaddy auctions.
---
DomCop is one of the top 9 websites to buy expired domains. It won't take you much time, you can easily find great domains within minutes using DomCop. They currently have more than 20 million expired domains list on their databases which include over 31 domain extensions such as .mobi, .net, .info etc.
It also has advanced search functions like Moz rank, Majestic metrics, Estibot etc to find and analyze the expired domains you might want to buy.
Here are few excellent features offered by the top domain marketplace "DomCop"
See more than 10 million new domains every month
Save time by using advanced filtering methods
Filter out fake domains by using 40+ metric checks
Once you click "Show Me Expired Domains" button on DomCop, it will show you all the domain names with the domain age, page rank, Moz DA etc also along with the domain price.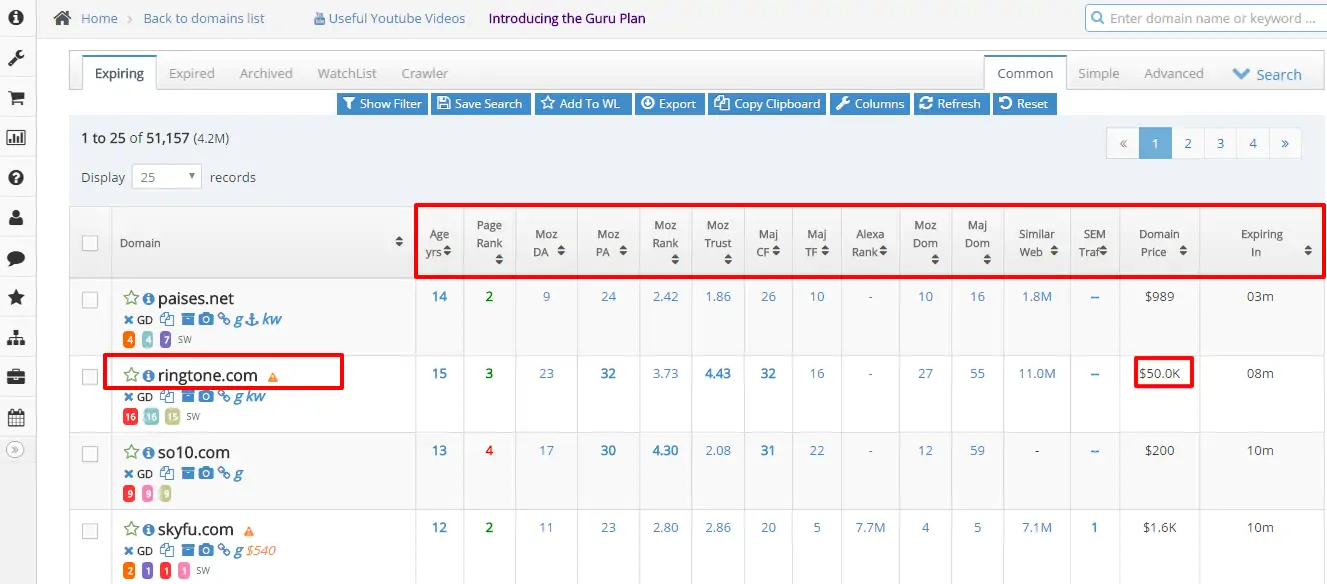 ---
NameJet is the premier marketingplace for buying expired domain names. They use advanced domain software which allows them to display all the domains for domain professionals, small businesses, and individuals to acquire domain names including those that just expired.
There are usually three sections in NameJet.
Hot Picks: This is where you can find out all the hand picked domains by experts. These are usually of high quality with search friendly keywords in them and also they cost you some extra money but they are all worth the money.
Last Chance: Here's where you can find all the domain names that are going to auction very soon so you can make an offer to grab them.
Open Auctions: This is the place where all the domains will be shown in open public auctions. You will find all the closing soon domains, all you have to do is to bid the amount to grab them.
---
SnapNames is another industry leaders that allows you to buy expired domain names of your own choice. They currently have over 30 million domain names that meet any budget.
You can search, bid or buy any dropped domain name you might want to buy. They also have a section where you can have access to the hand-pick domain names by experts where you will get high quality and search relevant domain names.
You can usually buy from SnapNames in "backorder". That means the domain names which are not expected to become available for at least 36 days.
SnapNames will wait for and try to obtain these domain names for you if and when they become available. Once they are available, you can make an offer and snap that domain instantly.
---
ExpiredDomains.net provides a HUGE list of domain names every day. Thousands of domain names literally expire every single day and ExpiredDomains.net is the place where you get all the valuable information regarding the domains you might want to buy.
You can also find deleted domains to register, ExpiredDomains.net also gives you all the necessary information like PageRank, backlinks count age of the domain etc.
---
1 and 1 is one of the industry leaders that provides all the web hosting services. They are operating from US since 2003 and since then are widely known as leading web hosting providers who provide affordable internet products such as hosting, domain registration, site creation etc.
1 and 1 usually allows people to renew their domains within 30 days. If a user doesn't renew his domain within that time period, the domains will be moved to the auction place. This is where you can find lots of those domains that you can buy.
Along with the domain details, 1 and 1 also provides you the following
Email address of the owner
Unlimited subdomains
Free private registration
---
With Domain Hunter Gatherer, it's much easier to find unlimited brandable domains from all of the major domain auction websites including GoDaddy auctions, Flippa etc.
Their advanced domain name searching functions allow you to easily find all the best terminated domains no matter what niche you are interested in.
With Domain Hunter Gatherer, you can
Find unlimited number of high quality and high PR domains
Find domains from a keyword or a site
Find thousands of domains within seconds
Browse more Domains Related Tutorials:
---
FAQs
What is the expired domain?
Expired domains are the domains that are not renewed by the owners before the renewal due date.
What are the deleted domains?
Deleted domains are those domains that are not renewed even in the grace period provided by the domain registrars and become available for everyone to buy.
What happens to email when domain name expires?
When any domain name gets expired, your website and email service stop functioning immediately in most of the cases.
Do expired domains still work?
Yes, they do work. All you need to take care of some important aspects before buying an expired domain name.
What to look for when buying expired domains?
You can look after search traffic, domain authority, trust flow, and backlinks profile. In addition to that, you should check whether the domain is not banned from Google or not.
Where can I buy expired domains?
GoDaddy, Namecheap are some of the best platforms to buy expired domains.
How long is the Namecheap grace period?
Usually, you will get a grace period of 30 days at Namecheap.
How long does GoDaddy keep expired domains?
Based on our research, GoDaddy keeps expired domains for a maximum of 42 days.
What is the domain redemption fee?
When a domain gets expired and even the grace period gets exhausted then to renew that expired domain there would be some extra fee that is called a domain redemption fee.
---
Final thoughts about the top 9 websites to buy expired domains in 2023
If you spend a little extra time in searching domain names, you will get all the best expired and dropped domains that tend to rank well in search engines.
The above list of 9 top websites help you find the best domains ranging from $20 to over $2000 or even more. The domain rate will be mainly dependent upon the trustworthiness of it (DA, domain age, backlinks etc) and it varies niche to niche (from marketing to entertainment to technology).
So what do you think? Did I miss any more top websites to buy expired domains which are also your favorite?