Why should you increase your website speed?
Have you ever wondered why you're not getting enough traffic from search engines even though you're posting quality contents on your blog consistently? It might be because your design is messy or your website speed is really slow.
Did you know that, website loading time affects your search engine rankings? Yes, that's true! Your website speed determines your search rankings.
Among 200+ Google ranking factors, website speed is one of the crucial factors. Google penalizes the sites that have slow loading times and rewards the sites that load really faster.
So if you want to increase your search engine traffic, make sure to optimize your website speed. Let's now dig into the details of how load times affect search rankings.
Find out your website speed.
Before thinking about optimizing your website speed, you need to know how fast your website is loading. There are several tools to help you analyze your website speed that are mentioned below.
You can use a free tool called "Pingdom" to analyze the loading speed of your website and you can also learn how to make your website loading time faster by analyzing a couple of things mentioned in Pingdom speed test.
You can also use Google developed Page Speed Insights to optimize your website page speed.
How website speed impacts SEO?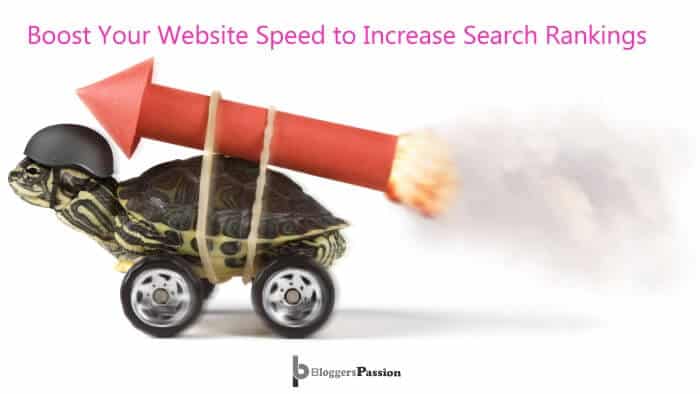 According to a survey, around 51 percent of online shoppers in the U.S claimed if a site is too slow they will not complete a purchase. Another survey says that, 47 percent of web users expect a website to load in under two seconds.
That means not only your search engine rankings go down but you'll also get less sales and high bounce rates if your site is slow.
How your website speed benefits your website?
Boost in search engine rankings: Search engines care more about their users, so they want to show the results on top with websites that load faster. Google considers website speed as their major ranking factor, so by increasing your website loading times, you can increase your search engine rankings and overall traffic too.
High conversion rates: Want to get more conversions on your websites? Optimize your website loading times then. Online people don't like slow websites and they don't buy anything from you if you've a slow loading website. Increasing your website speed increases your overall sales and conversions.
Better user experience: No one likes to read a blog post if it takes too much time to load. What if you land on a blog post and it takes forever to load? You'll immediately close it and move on to other website, right? This often results in high bounce rates, so make sure to increase your website's speed to give a better experience to your website visitors.
Reduced bounce rates: As we all know, how important it is to have a better bounce rate. Less bounce rates are always better and give top results in search engine rankings for any keyword you want to rank for. Most people who arrive from search engines leave your website if it takes more than 3 to 4 seconds to load.  So optimizing your website speed can increase your overall bounce rate of the site.
Must read: How to Reduce Bounce Rate and Increase Page Views for WordPress Blogs
How to improve website speed for SEO or how to fix if it is loading slow?
Now, you know how the speed of your website affect your overall search engine rankings, bounce rates and sales. Let's talk about few effective ways to speed up your website loading times.
Use a reliable, fast and secured web hosting service
I can't stress this enough – you need to use a reliable hosting service if you want to speed up your WordPress websites. Your website speed rely heavily upon the web hosting you use. Don't go for a free or unreliable hosting service just to save some bucks, or it will end up costing you more in terms of website traffic and lost in search rankings.
I personally use and highly recommend Bluehost for all the bloggers to improve their website speed. Here's a special Bluehost coupon code if you want to start a blog on Bluehost.
Use a cache plugin
By removing all the caches from your databases, you can save a lot of bandwidth data from your web hosting service. This results in increasing your page loading times as you can allocate more bandwidth to the pages that are loading on your sites.
Install a plugin like W3 total cache if you want to boost your website speed to increase your search rankings.
Frequently clean up your databases
Cleaning up databases will give you optimum website speed. Often times, you will have a lot of spam comments, revision of posts and pages – all these result in occupying a lot of bandwidth and data on your databases. This will create a lot of burden on your database, hence slows down your website page loading times.
So take time to frequently clean up your WordPress databases by using plugins like WP Optimize to speed up your WordPress sites.
Must read: The Ultimate Guide to Increasing WordPress Website Speed
Browse more SEO Tutorials:
Final thoughts about website speed affecting search rankings
Unfortunately most beginners don't know that their website speed is crucial in increasing their search rankings. If you're aware of it, don't delay, start optimizing your site speed as soon as possible to boost your search traffic.
If you agree it or not, Google cares about your website speed and it affects your search rankings to a great extent. If you're serious about getting more traffic from search engines, you need to speed up your website loading time and performance.
Did you know that if your website takes more than 3 seconds to load, your visitors will go away. So you're risking a lot of traffic and money on the table. Use the few tweaks I mentioned in this guide to speed up your wesite. Make sure to get a reliable and fast hosting service like Bluehost.
So how fast is your website? Do you believe that website speed affect search rankings? What recommendations you've to speed up a WordPress site?