Websites That Pays: List of 21 Get Paid To Blog Websites for Indian & Rest of Bloggers
|
If you are looking for quickest ways to make money from online or your blogs, then this post about amazing websites that pays is a real treat for you.
If you are someone who is struggling to make money, I highly suggest to go through the list thoroughly. Aim for one after the other until you find the right one that pays enough.
Websites that pays to blog are usually those paid platforms where you will be writing sponsored posts for advertisers. Websites that generally pay you to blog are also great marketplaces for buying and selling paid reviews on top blogs in any niche.
So without further ado, let's discover few of the incredible and genuine get paid to blog websites which can be used by Indian and bloggers from rest of World.
Amazing List of Websites That Pays You Money to Blog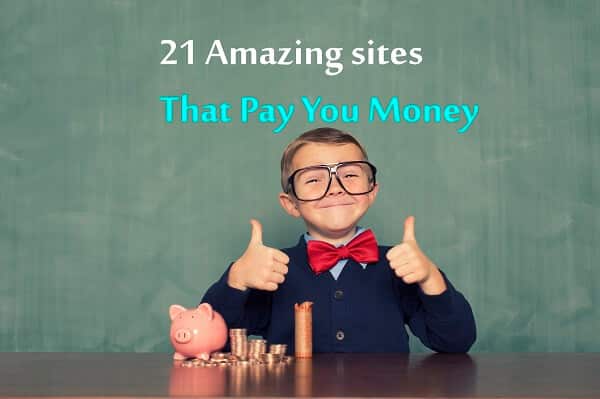 How to get paid for writing or blogging work?
Before getting into the details, you must know how all this stuff works. So here's how it works.
You will need to submit your blogs on these networks. Some of these sites don't even ask for a blog. So it's optional!
You should have a Paypal account as most of get paid to blog websites send payments via Paypal to its publishers. With some paid blogging networks, you can ask for a check even. You can expect to earn $5 to $500 or even higher, which depends upon your blog popularity and advertiser's paying capacity.
Read their guidelines carefully, do the work and get paid! It's as simple as that.
If you are also one of those like me who believe get paid to blog websites can really help you in making great amount of income from your blog, here is the ultimate list of website that pays you good bucks.
1. Sponsored Reviews
Sponsoredreviews.com is a marketplace for buying and selling paid reviews and is a win-win situation for both the advertiser and publisher. Publishers are able to earn some extra income for doing their regular blogging and advertisers are able to get benefit by spreading links and words about their websites and services on top blogs in their niche.
Targeted links from top blogs in their niche help advertisers generate more traffic from search engines and thus more business inquiries and sales. Your blog should be 3 months old, indexed in major search engines and 10 high quality posts before you go for applying as a publisher with Sponsored Reviews website.
2. LinkWorth
LinkWorth is a marketplace for buying and selling text links and paid reviews on blogs. Link Worth has 10's of products that advertisers and publishers can use to get maximum benefit from their websites and blogs. Apart from writing reviews and selling links on blogs, publishers can earn extra income by sending quality advertisers to LinkWorth marketplace. Click here to know various ways one can use to start making money with Link Worth advertising network.
3. Funds for Writers
This is one of the largest writers communities with over 40,000 active subscribers on it. You will get paid for writing quality content. They also give priority to the originality, ideas, word count etc. It is the BEST website that pays you good money for every piece of article that gets published.
Here are their payment rules.
PayPal – $50 for unpublished original articles; $15 for reprints.
Via check – $45 for unpublished articles; $10 for reprints.
Click here to join their network to start making money.
4. List Verse
ListVerse is one of the top news magazines that covers a variety topics ranging from entertainment to lifestyle to science and society. It also pays you $100 for writing for them. Make sure your article length should be over 1500 words and must be unique.
Click here to know more about their rules and payment structure. Note that, they only make payments via PayPal.
Recommended Products for Bloggers – Bluehost | GetResponse | Elegant Themes | SEMrush
5. PayPerPost
Pay Per Post is one of most trusted get paid to blog websites where publishers are paid decent money for every review they publish for advertisers on their blogs. Your chances of making money with pay Per Post are huge if you have a blog having high page rank like 5 or 6.
Your blog must have 3 months age, it should be in English and 20 quality posts in last three months before you went on to apply as a publisher with Pay Per Post blog marketing network. Click here to apply for PayPerPost, a get paid to blog advertising website.
6. Make A Living Writing
This is a great blog itself run by Carol who is a full-time professional blogger cum writer who makes a lot of money from blogging. Her blog is a great platform for budding writers who want to make money by writing detailed and quality content.
She usually pays around 75 to 100 dollars for every post that gets selected. Click here to learn more about her guidelines and carefully read them and start writing to get paid and increase your online exposure.
7. LinkFromBlog
Best thing about Link From Blog website is that they don't change any commission from publisher's earnings. Advertisers can use various parameters like Alexa Ranking, Page Rank, domain page and backlinks count etc to find the blogs of their choice in their chosen categories.
As a publisher, you can send invitation to all advertisers showing your interest of writing paid reviews for them. In response, advertisers can reject, accept or reply back with their counter offer for your invitation. Click here to start using LinkFromBlog website for writing paid reviews on your blog.
8. Blogsvertise
Again you need to submit your best blog for approval in case you want to get approval into Blogsvertise network. Once accepted, you will start receiving get paid to blog opportunities directly into your inbox. We need to give at least three links to advertiser's website in our review and our review length should be more than 100 words.
We are supposed to complete each given task within five days after assigned to us. I myself had some success writing paid reviews for advertisers available on Blogsvertise website on my free blogs in the past. Click here to start writing paid reviews for Blogsvertise advertiser's websites on your blog.
9. HubPages
If you are a freelance writer or someone who want to earn extra income by publishing high quality contents, HubPages is the perfect platform for you. Articles that are published on Hubpages are known as hubs and once any of our hubs went live, it can be monetized with Google Adsense, Hubpages Ad program, Amazon and eBay affiliate websites.
You will earn some revenue whenever someone click on Google Adsense ads that are placed on your hubs and similarity you will receive some commission for every product sold through your affiliate links. Hubpages use to make payments on monthly basis through Paypal to all eligible publishers. Minimum payout in case of Google Adsense is $100 and for Hubpages affiliate program, it is $50.
10. SeedingUp
SeedingUp is a text link buying and selling marketplace. Apart from text links selling, we can sell paid reviews on our blog to potential advertisers on it. Recently, I myself had great some success writing paid reviews for advertisers available on this advertising network. I was able to get $60 plus for each paid review that I wrote for advertisers on this website. Click here to start selling text links and paid reviews on your blog with this website.
12. DigitalJournal.com
With Digital Journal, you can earn revenue in two ways, first by reporting the original news and then by writing news items for this website. This website use to share its revenue with its journalists and how much revenue you will end up making with them depends upon how much active you are on this website and what kind of likes and pageviews your contributed contents are making.
You must have an active account on Paypal as they are making payments through Paypal only and the minimum payout is $10. Click this link to sign up as a digital journalist and benefits of contributing news items for them.
13. WiseBread.com
If you have in depth knowledge about personal finance topics, you can start writing for Wise Bread. WiseBread.com is a strong community around personal finance and it uses to receive 1.8 million page views every month. They are doing revenue sharing on the earnings that are coming from your submitted contents.
While applying, you have to send 3 samples of your work containing 500 words each at least on a topic. Click here to apply for a blogging job at Wisebread.com and to know more in detail about the benefit of working with this personal finance website.
14. PayU2Blog
We need to have 3 months old blog at least while applying for a publisher account on PayU2Blog website. PayU2Blog team takes 2-3 business days before accepting or rejecting a new publisher application. They have advertisers from all major categories. So as a blogger, you will find some opportunities matching your blog niche. They send payments in every two week to the eligible publishers. Click here to start using PayU2Blog get paid to blog website for earning extra revenue from your blog website.
15. The Blogger Network
This platform gives us the opportunity to make money from our blogs by monetizing your content. Instead of taking outrageous commissions, they have a commission structure that starts out at 0% and only rewards them if your blog performs well (to a maximum of 20%).
Here are few ways this helps you make money.
Desktop Display Ads
Mobile Specific Display Ads
In-Image & In-Screen Ads
Interstitial Ads
Rich Media Ads
Native Ads
Click here to join the network to make money by using your website's content.
16. Fiverr.com
Fiverr.com is a great website where you can make money while selling your writing skills. Each gig on this website has a fixed price of $5 and once you finish any of your gigs, $4 will be credited into your account and rest of $1 will be going into Fiverr account. You can withdraw earnings from this website into your Paypal account.
The more gigs you sell and more positive reviews that you are getting from buyers, will end up helping you earn more money with this micro gigs website.
Recommended Reading: Top 10 Fiverr Alternatives worth trying in 2018
17. ReviewStream
Review Stream website allows us to make some extra money by submitting our review on their website. You can make $1.50 or even more per submitted review depending upon your review quality and number of votes it's generated. You are not supposed to use the same review on your blog as it may result in termination of your account from Review Stream network. Click here to start making money by writing reviews for Review Stream website's advertisers on your blog.
18. SoftwareJudge
We can make money in the range of $50 even for a good written review for the software's that are mentioned on Software Judge Website. So we are supposed to write reviews about software's that are available on this website. Click here to start getting paid for your reviews for SoftwareJudge website.
19. Epinions
Epinions.com website pays real people for writing unbiased reviews about the products. We are supposed to write 20 words at least in our review to be eligible to get our review published on their website. Click here to start making money through Epinions reviews website.
20. WorldStart
WorldStart is one of the best tech tips sites that pay you money for sharing technology or computer related tips and tricks.
Here's their payment structure. Payment varies widely depending on the quality of the submission, length, and usefulness of the tip or topic.
Approximately 250 words-$15.00
Approximately 400 words-$20.00
Approximately 600 words-$30.00
Maximum length is approximately 800 words-$35.00
Make sure all the content or images that you use before submitting on their site is completely unique and original and not copied from any other source.
Click here to join their website that pays you money
21. SocialSpark
Social Spark gives us the opportunity to make money from our blogs by writing about the advertiser's products, services and their websites on our blog. For each opportunity that we receive from advertisers, we can reject it, accept it or can do further negotiation with the advertiser. Click here to start using SocialSpark, blog advertising network.
Final thoughts about the websites that Pays You to Blog in India & Globally
The above list of amazing websites that pays you are all genuine and I personally verified them all sometime back.
All you need to do is to find your own skills and read their network requirements to start making money online. Also, it's better to get a PayPal account if you don't have an account on it already.
Are you using any of the above mentioned websites that pays you money and do let me know if I have missed any important get paid to blog websites (from which you are actually able to earn money). Also, if you have any questions, do let me know your thoughts in the comments.