Searching for real online jobs that will help you make money in 2021?
We all want to make money blogging but the only factor that is stopping most people to start a blog is the failure rate. Did you know upwards 90% of bloggers never make even $100 from their blogs? Blogs will never make any money, but businesses do. So if you can't build a product and use your blogs as a promotional tool you can never make a passive income from online businesses.
Finding real online jobs isn't easy especially in this crowded online.
But what if you can make money without a blog? There are thousands of real online jobs available to make some quick money. Are you frustrated with money making scam websites? Are you looking for extra money by doing easy and real online jobs?
Are you a college student wanting to make money online in spare time?
If yes, this article is definitely for you where I'll be discussing few real online jobs for making some quick money online. Most college students are willing to work online to earn some money in their free time instead of wasting their time on Facebook chats. There are thousands of websites that promises to pay money, but in the end they seem to be a spam. But, don't fret there are many sites that pays you for your time and work. If you are also one looking for genuine sites, you just have to read below for more details.
Quick Note: Do you want to start a blog? Here's a simple step by step tutorial on starting your own WordPress blog and make $10,000 plus every month from it.
List of Top 10 Best Real Online Jobs in 2021
Here's the list of few authentic and real online jobs that really pays for your hard work: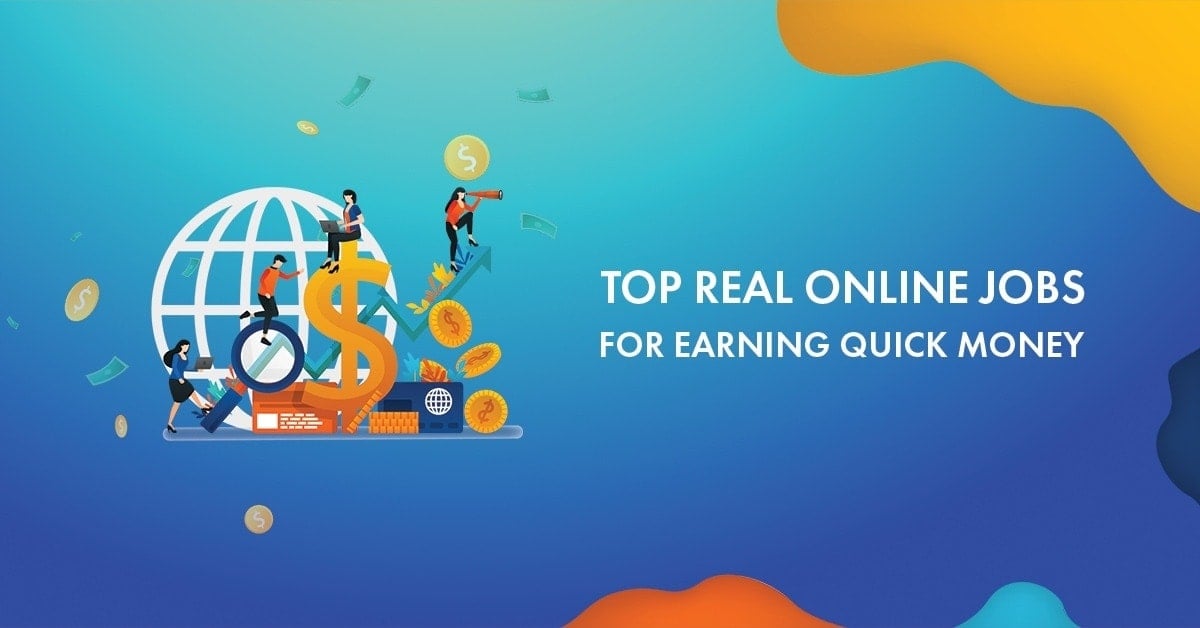 One of the real online jobs to make money is to use Amazon MTurk.
Amazon Mturk is a great website to earn additional income by doing simple chores. Mostly the clients on this website are from the USA, and so the pay is also good. The pay range starts from $0.20 to $5 for jobs. There are all sorts of tasks available on this site including visiting a website, writing an article, or translating a script. Most of the job takes only a few minutes to complete and pay you easy money.
Amazon's MTurk is also known as Amazon Mechanical Turk which enables you to make some real money online. You have to complete few simple tasks using MTurk to make money in return.
For instance, you can video transcribe for someone (converting video output into text) for $3. You might use surveys for $1 each or you'll be asked to write a product review for $2. Most of these tasks on Amazon MTurk are pretty simple to finish and you don't need any expert skills or prior experience to make money online.
Here are few tips to make decent amount using Amazon Mechanical Turk
Stay away from penny dollar tasks, that are really not worth your time.
Focus more on $3 to $5 range tasks that can be finished really fast and can bring you a decent amount in one hour.
Try tests if you're just starting out, they are worth your time and give you good income per hour.
Transcribing media files can give you more money (it ranges from $10 to $100!)
You can sign up for free on this website, but before signing up, ensure that you belong to one of the accepted countries listed there; otherwise you will not be able to withdraw your money. You can only use your earned money to shop from amazon.com.
Note: You are allowed to start transferring your money from amazon to a verified bank account after 10 days you have submitted you first task.
Are you good at coming up with memorable domain name ideas or slogans for online businesses or websites? If yes, PickyDomains is for you where you can make money by suggesting domain names or slogans.
This is one popular and risk-free crowd sourcing website that helps you earn a decent amount of money by creating unique and different domain names. Individuals who have started a new website take the help of contributors at PickyDomains for a good and creative domain name. You have to check the available orders at this website and submit a few suggestions that you feel best according to the requirements posted by the client.
The client may dislike, like or pick up your domain name. Once your domain name is picked up, you will be paid by the client. So, if you can think creatively PickyDomains certainly need you. The pay at PickyDomains is quite high as you can easily earn around $20 to $50 once your domain is approved by the client. Although finding real online jobs is hard, but try this one and you'll never regret.
You'll get up to 40 to 60% of order value if someone picks up your slogan or domain name idea. You first have to register (for free), then start brainstorming various unique domain names and slogans. You will usually get paid within 14 days after payment has been requested.
As the name suggests Microworkers site provides you micro jobs and you will be get paid once the tasks in your hand are completed. They can range from filling up sign up forms to forum participation to rating various videos etc.
When your earnings on Microworkers site reach $9, you will be allowed to place a withdrawal request, and then you can transfer that money to your PayPal or bank accounts. Microworkers.com is a site that is quite similar to Amazon mechanical turk. This site also pays you for doing some odd micro jobs. You can easily earn a few cents by just signing up, writing a small article, commenting on a blog post or by following someone on twitter.
Most people ask me can I really make money using eBay, and my answer is yes. eBay is a leading business eCommerce company established in 1995 and giving top notch services to its users. eBay is the reason why most real online jobs still exist!
You can make quick money on ebay by showcasing and selling your stuff to potential buyers. You can start earning on ebay by selling your own things. There are many international buyers on ebay that are interested in buying a lot of stuff of their interest. If you are good with paints or any creative crafts, you can simply list them on ebay for selling. This way you will be handsomely paid off for your hard work.
Here's a simple step by step process to get started making money using eBay.
Have something to sell (a product, video, eBook etc.)
Write a friendly description about the product to attract people to buy from you
Upload it on to eBay and start making money
Browse popular items on eBay to figure out the hot selling products so you can start creating the similar stuff to make some real money online quickly.
We all have been using some kind of software to get things done online or offline. If you have been using a software for a long time, you must have a good knowledge about its pros and cons, right? So why not write a review about that product and get paid for it?
Or if you have lately purchased a product but you are not at all satisfied with it. Want to write a negative review about it? Then go ahead and write a bad review about that product and still get paid. Here's where SoftwareJudge comes into place where you will be get paid for each and every product review that you write be it a good one or bad one. You can earn up to 50 dollars per every software review that you write.
It's a great place to start making some real money online if you're a person who is using software for getting things done. Go ahead and create a free account and start writing software reviews to make money.
Here's another real online job that you can try (worth it if you want to make money before creating a blog).
6. Triond: Get paid for creating content
Triond is simply like blogging but it will help you really make money by creating content whereas a traditional blogging can not guarantee you to make money. Whatever the content you write gets published on other websites or blogs with a larger audience that gets read and shared and also helps you make money and friends.
7. Freelancing: Earn Money Online & Be Your Own Boss!
Freelancing is not a job as such, but thousands of people across the world make a living freelancing. Here is a definition of freelancer that best describes the job.
A freelancer is self-employed person offering services, usually to multiple clients at a time. Operating as his own boss, a freelancer sets his own service menu, price, and target market of clientele.
There are tons of online jobs requiring freelancers for paid help. Freelancing can be a permanent source of income and living if you have some skills and dedication. There are various types of freelancing jobs that you can do online like:
Freelance writing: You write online content for blogs, magazines, online businesses etc.
Graphics designer: If you have good designing skills, you can earn handsomely by providing content for businesses.
Social media manager: If you have good social media skills, thousands of businesses and entrepreneurs are looking for you to manage their social media accounts for them. Your main tasks include posting engaging content, getting more leads, giving them more visibility, likes, lead whatever the case maybe.
Blog management services: if you are already a blogger and have basic knowledge for setting up a website, content writing etc, you can manage the blogs of already established online entrepreneurs because they are looking for people to manage this so that they can focus on their business aspect.
There are tons of other jobs that come in the freelancing zone, like proofreading, painting, managing emails and PR, Musician, researcher (if you're good at research skills you can research and sent the raw information to the client), fiverr gigs (cheap gigs but easy to get started) etc.
How to get started as a freelancer?
To get started as a freelancer, you need to first see your skills. Take your graduation or school skills into consideration. You can also find out the jobs which friends often come to you to get help from. My friends come to me when they have an issue with writing content or say essays so yes I know that can be a potential job.
The second step would be to get out there and find sites that are looking for writers. You can find other sites related to your skills. I would say, you should first create a portfolio of your work. This is important because clients would like to see what you know and how you do the work.
You can do so, by creating a website for under $100 and then posting articles related to your niche on it.
This way you can show them to your clients when they ask you and you might even land clients when your article ranks on Google.
Some common freelance sites include upwork.com. 99designs.com etc have plenty of jobs posted on a daily basis to start your income from online jobs.
8. Online tutoring: Online jobs for students and graduates
If you're a teacher, or a student with good academic records, you can earn a handsome money online by tutoring students online.
Nowadays, when we all live in the comfort of our houses, people are increasingly preferring at-home and online tutors so that they can learn without having to go anywhere.
Online tuition are great options for people looking for genuine and real online jobs because here you deal with directly the students. No MLM company or any scammy businesses that can rob your money. Students and parents are often sincere and have respect for their teachers hence this job is perfect for people looking for reputed online jobs to earn money from home.
How to get started as a online tutor?
Online tuition teaching is something you can do directly by contacting your friends or posting it in relevant groups on Facebook.
However, if you want to want to prefer an online agency or firm to act as a middle man here are some sites that can help you.
These were some of my favorite sites, there are tons once you Google and find out. These are by far the best online teaching jobs that you can do to earn money without investment. These type of jobs can be done by anyone and anywhere, you just need to have teaching skills.
9. Fiverr: Get Real Online Job Using Your Creativity
Fiverr.com is what I mentioned briefly in the previous point. Fiverr is one of the world's largest marketplace where you can sell literally anything. This can be logo creation, creating a tagline for a website, updating blog plugins, singing a song for someone etc.
Fiverr prices start at $5 per gig but can be extended with bundling (or create packages as they say) and experience or demand of the gig.
Fiverr is famous for having literally any gig you can imagine of. This can be professional services like video editing, writing a transcription of your video, researching keywords, building links for blogs and many more.
They can be other entertaining jobs like just listening to someone's talk of phone, drawing cute cat pictures, sing a song, create a jingle etc.
So, basically fiverr is the best place for anyone who wants to get started with earning money via online jobs. If you have unique ideas, you can sell almost anything. The best advantage of fiverr is that you can get awesome reviews and earn money easily than most other online jobs. Here are 150+ fiverr gig ideas to start selling and earning online.
10. Photography: Generate Online income by Selling Stock Photos
If you're good at photography skills, then you also have plenty of online jobs for photographers and image buffs. If you can take awesome photos of literally anything there are good chances that you can sell them to online image sellers and create a nice side income online.
Here is a case study how Michael Jay, a Berlin based photographer was able to make $200 per month by selling photos to sites like Shutterstock, Fotolia etc.
Here are the best sites to sell stock photos online. These sites buy photos and sell them to other internet companies and bloggers like us.
Fotolia

etc
11. Become a translator
Becoming a translator is one of the best online jobs where you can make money by sitting at your home. It doesn't matter what country you are in, you can use translation online earning sites to earn more money from home.
According to the Bureau of Labor Statistics (BLS), around 22% of translators were self-employed in 2016 and most translators do their work at home which is the reason why most people prefer to become a translator to make money online by sitting at home.
The great part about becoming a translator to make money online is you don't need a degree (although having a bachelor's degree helps) but the most important requirement for any translator is, having fluency in at least 2 languages.
For instance, if you're fluent in both English and Hindi, you can easily get a ton of projects related to transcriptions to make money online. Whether you know it or not, majority translators are divided into several sectors including
professional, scientific, and technical services (30%)
state, local, and private educational services (23%)
hospitals (8%)
government (6%)
Not only that, the national median wage for this career was $46,120 in 2016, although the top 10% of workers earned an average of $83,010.
So there's a HUGE scope for growth in translating services and its popularity is only growing rapidly even in Asian countries like India, Srilanka, Malaysia etc where tourism and cultural activities are shooting up.
Read: How to Make Money Online as a Student in 2021
So how can you start earning money online as a translator?
You can start searching for job postings for translators on sites mentioned below to use as quick online jobs;
UpWork
Indeed
LinkedIn
Freelancer and so on
According to our own research while creating this post on best real online jobs, we came to know that Chinese, South Korean, German and Russian languages are in high demand for the last couple of years but the availability of good translators are very less in India. So if you're an Indian and looking to earn money online by becoming a translator, make sure to spend some time to learn those languages as there's a HUGE demand even in the upcoming years.
How much can you make money as a translator?
It really depends on what languages you know and how effectively can you translate from one language to another. At an average you can earn anywhere around $5 to $50 per page depending upon the languages you excel.
12. Paid Social Media Jobs
Did you know that you can make money online by doing simple tasks like posting others status updates on social media, replying comments on Facebook pages, uploading videos to YouTube?
Yes, social media managing is becoming a vital part for most businesses as they slowly started realising the importance of growing online presence on social media. So it's definitely one of the best paid online earning jobs.
Whether you know it or not, businesses ranging from all sectors whether small or big are hiring people to help manage their social media accounts such as Facebook, Twitter, Instagram, YouTube and so on.
By becoming a social media manager, you can easily make money online by managing other people's social media profiles where you might also need to do regular things like;
Creating Facebook fan pages, twitter ID's, Instagram pages and so on
Creating tweets, Facebook statuses that are worth reading and sharing
Tweeting special offers and promotions
Uploading videos to YouTube
Responding to their customers through comments and posts
Posting status updates and comments regularly to promote their brand or website
And similar tasks
Do you know why are they spending money on doing such small tasks?
These small tasks can be managed by almost anyone but they often take a lot of time. So creative people like bloggers, marketers, brands don't want to waste their precious time on doing such small things, so they often look for people who can manage all of their social media activities on the go.
That's a win/win approach where the businesses and marketers are saving time and you'll be on the other hand as a social media manager is earning money online by doing simple tasks.
Where can you find social media management jobs online?
There are several PROVEN ways where you can get legitimate work as a social media manager which are listed below.
Look for a list of bloggers (especially those bloggers who are making good amount of money from their blogs) to see if they need any help with managing their social media accounts.
Search for those bloggers who mainly write about social media and also look for social media managers and experts to see if they need any helping hand from you in managing simple tasks like posting statuses, replying to comments and so on
You can also use Problogger job board to find social media manager job postings as there are mostly bloggers and marketers who regularly use that job board to find people to get things done.
Or you can simply look for such jobs in sites like Paid Social Media Jobs where you can get paid for managing social media accounts of others.
13. Try transcription jobs
A transcription service is simply a task where you convert speech (either live or recorded) into a written or electronic text document (such as PDF, word file and so on).
Most of the transcription services are used mostly by the following fields
Business (marketing, eCommerce, real estate and so on)
Legal
Medical purposes
How much can you make as a transcriber?
Speed and accuracy – these are the two things that play a key role in how much you can get paid from transcription services. If you're 100% accurate and can provide the projects to your clients within the deadline, you can ask for higher prices as most people love accurate services delivered fast.
As said above, speed and accuracy are two biggest factors in the overall price of your transcription and to give you an idea, the industry standard is to charge $1 to $1.50 per audio minute.
If your clients need a turnaround time of 48 hours, expect a standard fee of $.75 per audio minute. For a 24 hour turnaround, the fee can be $1.25 per audio minute and same day service charges can be $1.50 per audio minute.
The great part about using transcription services (where you transcribe audio files to text), you can upsell by offering few more features like;
Subtitle File (this can be used as YouTube or video caption file and with other players $.50 to $.75 extra per audio minute)
BITC (Burnt-In Timecode) (this is the on-screen timecode embedded in the video frame to be used for time coding the transcript $.50 to $.75 extra per audio minute)
Strict Verbatim (this is the charge for having your file transcribed verbatim can run from $0.50 to $.75 extra per audio minute
Where can you find transcription jobs and gigs to earn money online in 2021?
Here is a list of some of the widely used online transcription services that you can use to make money online as a transcriber.
Apart from audio transcribing, medical Transcription is another widely used transcription services that you must give a try if you want to earn money online by using transcription services.
Medical transcription is simply the method of converting medical dictations (digital voice) to textual format (usually in a word document, PDF file and so on).
The voice files usually contain the voice of medical professionals or their assistants dictating for a physician that you need to transcribe into a textual format file.
The money you make from medical transcription depends on various things and these services often charge per line of text. The average cost is usually $0.12 to $0.14 per line, prices can actually range anywhere from $0.07 to $0.20 per line.
So there you go, those are the best ways to work online from home and get paid 2021.
Read: How to Make Money Online In India Even If You Are A Beginner
FAQs About Real Online Jobs In 2021
Here are few most important and widely asked questions around real online jobs in 2021.
What are the best real online jobs for students in 2021?
If you are a college student and looking for part-time jobs to make money online in your free time, we recommend you the following three online jobs where you can earn decent money.
→ Become an online tutor
→ Become a freelancer
→ Become a blogger
What are the best real online jobs from home without investment for 2021?
There are a ton of real online jobs that you can use to make money from home without any investment and some of them include;
→ Blogging
→ Social Media
→ YouTube
Are there any real online jobs for housewives and work at home moms?
If you're a stay at home mom or a housewife who's looking for online jobs to earn some money in your free time, then we recommend you to find these micro jobs:
→ Sharing a page, liking a Facebook page, tweeting others stuff
→ Commenting
→ Searching on Google for research (content, video ideas and so on)
→ Identifying an image or video (to find copied content)
→ Keyword research
→ Watching a video
→ Writing reviews
→ Giving testimonials and so on
Can you list me the best genuine online data entry jobs?
You can use the following sites to find genuine online data entry jobs in 2021 and beyond.
→ Fiverr
→ Elance
→ Upwork
What are the best part time jobs from home that I can find online?
Here are few ways you can earn part-time income from online.
→ Part-time blogging (by building a profitable blog from scratch)
→ Freelance writing for others
→ Data entry jobs
→ Finding gigs on sites like Fiverr, UpWork etc
→ Online tutoring using sites like Wiziq, Tutor India etc
→ Do online surveys on reliable websites like ySense, PrizeRebel
→ Play games to get paid
→ Work as a social media manager
→ Become a virtual assistant and provide secretarial services to employers
→ Start video editing
→ You can work as an App developer
→ Start Dropshipping
Recommended resources around making money:
In a nutshell on real online jobs in 2021
Don't wait to start making money online. It doesn't matter whether you're a blogger, student or a working profession, just get started. In the beginning, it might not be as fun as you think. But once you start making money using the above online jobs, you will love it.
With lots of legit job sites available online, it is easy to make few dollars at our own leisure. Earning from these real online jobs website on't make you rich overnight, but definitely you will be able to pay some bills or buy yourself your favorite Android game.
So what are your views about the post? Do you have any more online jobs in mind that help people to make real money online? Please share them in the comments.