If you want to take your business website to next level, Hostgator Business Plan will suits you. You will enjoy all the benefits that were were getting with Hostgator Hatchling plan or Hostgator Baby Plan with Hostgator Business plan also. Special thing about Hostgator business plan is that you will get dedicated IP address for your website, SSL certification and one toll free number.
Ideally you should go for Hatchling plan in case you want to host one domain only. But in case you want to host multiple domains on the same hosting account, Hostgator Baby Plan will suit you the most. But what you will do in case you are looking to get a dedicated IP, private SSL and your own toll free number for getting more business from your website, then you will get all these features with Hostgator Business plan.
Hostgator Business Plan Features
So following all the additional features you will get with Hostgator Business Plan:
1. Toll Free Number
You will get a toll free number of your own without any extra charges. You will even get 100 minutes of calls for your toll free number. Toll free services from Hostgator (Business Plan) is a forwarding services that will use your existing number (in US and Canada) and VOIP's will use that number to forward all calls. So you don't need to set up anything from your end. You will even get a control panel that you can use to modify your forwarding number. After 100 minutes of free calls, you will be charged 4.9 cent per minute by VOIP's directly.
2. Dedicated IP Address
You will get free dedicated IP address for your website and it will give a SEO advantage to your website over your competitors who are not using dedicated IP for their websites.
3. Private SSL
You will also get private SSL so that you can accept credit card payments safely through your website. Private SSL will also help you get more transactions from your website as presence of SSL in your footer section will send a positive note to your website users and they will feel they information is safe with you. This SSL certification can be applied to your main domain or any sub-domain of your choice. But you will get only one private SSL certification per Cpanel. You can use Private SSL icon on your website by the time you are Hostgator customer.
Hostgator Business Plan Price
Normally you need to pay $14.95 as the monthly fee for Hostgator Business Plan. But with the BPWEBHOSTING discount coupon, you will be able to save 25% on your first billing invoice. So in case you use BPWEBHOSTING discount coupon for buying Hostgator Business Hosting Plan for 12 months (1 year), you will need to pay only $134.55 and will end up saving 44.85. And if you purchase Hostgator Business Plan for 3 years (36 months) in advance, you will need to pay $349.65 only for three year of hosting from Hostgator and will be able to save $116.55 using the BPWEBHOSTING discount coupon.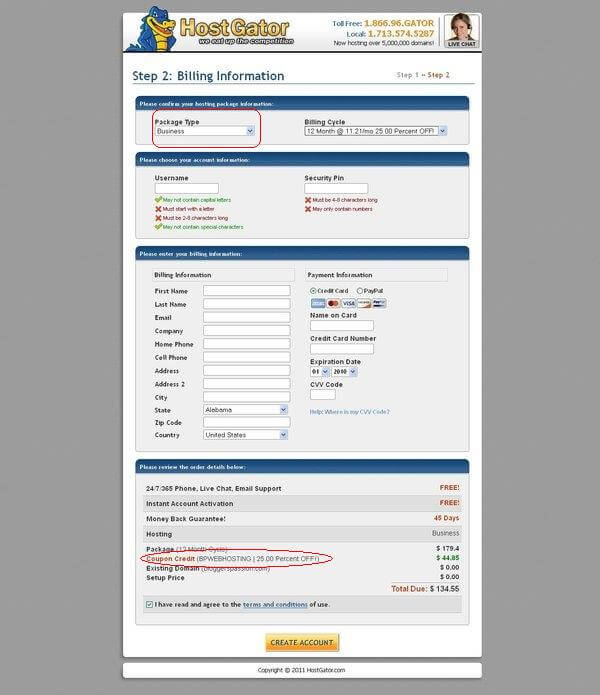 Conclusion
If you need a private SSL or your own toll free number, signing up for Hostgator Business Plan makes lots of sense.
Click This Link to buy Hostgator Business Plan while using BPWEBHOSTING discount coupon to save 25% on your first billing invoice