In today's post I'm doing Hostgator Hatchling Plan review to help website owners and bloggers finds the best and most affordable hosting plan for their needs. This shared Plan is for those individuals and businesses that are looking up web hosting solutions for hosting single domain only. This plan will also suit to those website owners and bloggers who are launching their first website. This Plan is the basic and most economical hosting plan from Hostgator. As I have mentioned earlier, you can host only one domain with Hatchling Plan and if you are planning to host multiple domains, you should buy Hostgator Baby Plan.
Hostgator Hatchling Plan Features List
You will get unlimited bandwidth and disk space in all hosting plans from Hostgator including Hostgator Hatchling Package. Here is a quick summary of features you will enjoy while using this shared plan from Hostgator:
You can use Site Builder feature to design your website in case you don't know how to design a website
You will get 24×7 support via Email, Chat, Ticketing Submission and Phone in all hosting plans from Hostgator
You can instantly take backups into your hard drive and can restore the things in case something went wrong
They are offering 99.9 percent uptime or even better to their clients. One cannot expect much more than this from their web host
All hosting plans from Hostgator come with

45 days money back guarantee

. They are giving away this money back guarantee because they are sure about what they are promising and what they are delivering to their customers. But somehow, you are not satisfied with their services, you will get all your money back and no question will be asked for this refund. But you need to make sure you ask for refund with 45 days of buying your Hatchling or any other Hosting plan from Hostgator. And I myself feel 45 days is good time in itself to make decisions about a web host. So you can enjoy risk free web hosting solutions from Hostgator for your business needs
You will get $50 Google Adwords Credit that you can use to send targeted and high quality traffic to your website from Google Search
My Experience with Hostgator Hatchling Package
I myself have been using this Plan on some of my WordPress Based blogs including Bloggers Passion. And I'm really happy for choosing this plan from Hostgator. Not only with Hatchling Pan, but also with all other hosting plans from Hostgator, you will find all features you have ever imagined in a web hosting website.
Hostgator Hatchling Pricing Plan
Duration              Coupon Code               Discounted Price          Save
1 Month                    bloggerspassion994                   1 cent                              $8.95
6 Months                 BPWEBHOSTING                       $40.27                             $13.43
12 Months               BPWEBHOSTING                      $62.55                              $20.85
24 Months               BPWEBHOSTING                      $107.1                              $37.7
36 Months               BPWEBHOSTING                      $133.65                            $44.55
So you need to pay only One Cent Only in case you want to try Hostgator Web Hosting under Hatchling Plan for a month only using the bloggerspassion994 discount coupon. You can try the Hostgator Baby Plan as well for one cent in first month using the same discount coupon. But if you have decided to buy Hostgator Hatchling Plan for longer period of time like one year or longer, you should use the BPWEBHOSTING coupon code to save 25% off on your total purchase. BPWEBHOSTING coupon code will help you Save 25 Percent on your first filling invoice on Baby and Business Shared Hosting Plans.
Here is a screenshot showing the amount of money you will need to pay for buying Hatchling plan for 36 months in advance with BPWEBHOSTING coupon code. If you buy this plan for 36 months in advance, you will be just paying $3.71/Month Only: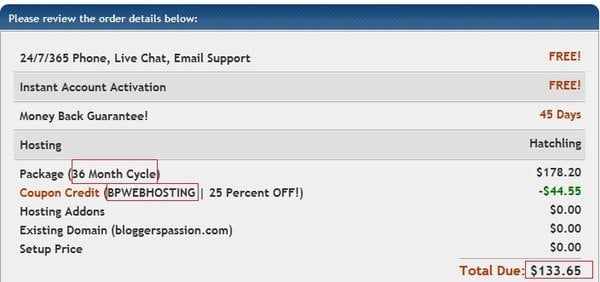 Click This Link to Buy Hostgator Hatchling package using the Above Coupon Codes