Check Website Traffic: 7 FREE Ways to Estimate Traffic Of Any Website
Are you looking for the little known ways to spy on the traffic of other websites? Do you want to know how much traffic a top blog in your niche gets? If yes, you're in the right place.
Checking website traffic of your competitors is an effective way to find out what's working and what's not working on any niche.
Most bloggers especially the beginners spend a lot of time on checking their competitors website traffic. If you are one among them, this post is a visual feast for you. Why? Because, if you want to see website traffic, I'm going to share few little-known ways to find website traffic report of any site for FREE!
Why check others website traffic?
You may ask, why do I even need to find website traffic of my competitors? Here are few benefits of estimating traffic of a website.
You can get estimated monthly or daily sessions any of your competitor website is getting.
You'll know top traffic keywords. You can target the same set of keywords to drive more search traffic to your own website.
You will know the traffic breakup of any website (How much traffic is coming from different sources like Organic, Social, Direct and Referral)
You can know any website engagement details (Like Bounce Rate, Page Views Per Visit and Time Spend etc)
Creating "suitable content" for your audience becomes easy
If you are looking for different ways to check website traffic for free, don't skip this post, let's find out those tools now.
7 Sites to Check Website Traffic for Free Online
Here is the ultimate list of tools that you can use to check website traffic of your competitors or any website of your choice for completely free. Let's dive in to the details without much ado.
1. SEMrush
One of the BEST tools that come to my mind to check any website traffic accurately is SEMrush.
Whether you know it or not, SEMrush is the best recommended tool by most SEO experts. If you want to estimate the accurate traffic of any website, use SEMrush. It not only helps you view website traffic but it gives you a list of all the keywords that are helping your competitors to grow their search traffic.
Just enter any of the URL you want to find the website traffic and SEMrush gives you the following details.
You can also use SEMrush to find the right kind of affiliate products to promote to increase your income, come up with the high performing keywords to boost your overall website organic traffic, check and analyze the backlinks of any site and many more.
Great SEMrush Deal for BloggersPassion Readers
A GREAT News: I'm giving away 30 days free access to SEMrush Pro account to BloggersPassion readers. You just need to sign up using your credit card details to claim SEMrush pro version worth $69. You can read my unbiased review of SEMrush and claim this deal from this link. It's ONLY for BloggersPassion readers and you won't find this deal anywhere so claim it before the deal ends.
If you want to read a detailed and unbiased review of SEMrush, please click on this link. You will find a lot of information on how to use SEMrush to overtake your competitors no matter what your niche is.
2. Similar web
After SEMrush, I highly recommend you to check out Similar Web to estimate the traffic of any site worldwide.
Similar web is the fantastic way of checking any website traffic for free. You just have to go to their website and type in your desired website name to find out the traffic levels of the site.
It not only provides you the most competitive insights about any site but also gives you ranking insights for any website.
You will not only get the traffic stats of any website, but you will also get the details of how many page views it is getting, how much time every visitor is spending, referrals, bounce rate, social influence etc. you will get almost all the results. That's fantastic information you could get from a free website traffic checking tool, right?
Here's the screenshot of Bloggers Passion, though the results are not so accurate, but I still liked their data and the precise information that they got in some cases.
Here's the screenshot of actual traffic data.
The above screenshot gives you a detailed list of the monthly visits a site gets along with the estimated monthly site visits and the average time a user spends, total number of page views and the bounce rate of a site. Pretty detailed information offered by a free traffic checker tool, right?
3. Google AdWords Display Planner
Now Google Ad planner is replaced by Google Display Planner where you can guess what amount of traffic a website gets. Google display planner is the combination of three long time AdWords tools, the Contextual Targeting Tool, Placement Tool, and Google Ad Planner.
Google Display Planner is the most accurate ways to measure a website traffic, after all it is created by SEO gurus in the industry and you will check any website traffic for free using this tool. I would strongly recommend using Google display Planner because whenever I use it, I get accurate results regarding my websites.
This traffic estimating tool from Google will give you important traffic metrics like average number of visits per visitors, average time on site, unique visitors, total page views, total unique visitors to a website in month time and broad category for the entered website.
To start using Google display Planner (one of the effective website traffic checker tools) to check traffic to a website, enter the desired website domain name in the "Get ideas and estimates" section's landing page URL then click on "Get ad group ideas".
You will now come up with "Available network inventory" impressions that the site you enter. I have analyzed data available from Google display Planner with the traffic details of some websites I own and I find data available from Google Ad Planner very close to my website original traffic numbers.
How to use Google display planner to check website traffic?
Please watch this video to use this tool.
The above video gives you a summary on how to use AdWords display planner to find golden keywords that not only increase your visibility but also sales. It also gives you the estimate monthly search traffic of any site you are targeting.
4. Alexa.com – a traditional yet golden way to check website traffic
One of the best website traffic checker sites is Alexa. I know you are very much familiar about Alexa, after all, we all love to see Alexa rank each and everyday right? Do you know that by using Alexa, you can check any website traffic for free? Yes, it is possible to find any website traffic using Alexa search box.
Go to Alexa.com website and enter a website address in the Search Box available.
After entering website address, you will get important metrics like Alexa Traffic rank (Global), Traffic Rank in Specific demographics like for India specific website, Alexa Traffic Rank in India. Apart from Alexa rank, you will see other website traffic numbers like page views, page views per user, bounce rate, time on site and search percentage.
You will also get list of top search queries for a website. So these search queries can be considered as best performing keywords for that website. Apart from this, you can use Alexa.com website to compare your website traffic graph with 4 websites of your choice. Alexa.com will not give any traffic estimates for new or websites with few daily visits.
Alexa is undoubtedly the best website traffic checker tools out there. The data available from Alexa.com is not accurate but you can make your own prediction about the traffic numbers about a website after using this tool.
Here is a screenshot showing traffic numbers for BloggersPassion.com blog:
5. Compete.com
Another free way to check website traffic is Compete. It is a web traffic analysis service of Compete, Inc. which operates in the United States (USA) and publishes the approx. number of U.S. visitors to the top 1,000,000 web sites. That's a whooping sum, right?
Want to get the most comprehensive website traffic report? Try Compete and you will get how many unique visitors a site gets and a lot more additional information that you need to understand a site's audience.
Go to compete.com website and enter a website URL in the search box available under 'See The Traffic For'. This website gather data from US users and the traffic details shared by this website will be close to the actual traffic generated by US websites only.
They have active database of 200000 US users that they use to make prediction about a website traffic and engagement metrics.
The only drawback about this tool is that it only allows you to view unique visitors from the United States for the last year to a particular domain name be it your own website or your competitors.
Here is a Screenshot showing traffic details for Problogger.net blog.
In the above screenshot, you can clearly see that, this tool showing the unique visitors count along with the rank by comparing its close competitors.
6. QuantCast.com: Website traffic metrics tool
QuantCast is another popular website traffic checking tool among internet users. Quantcast is a digital advertising company, founded in 2006, that specializes in audience measurement and real-time advertising.
Quantcast is the perfect free website traffic estimator that provides you free direct audience measurement including the traffic, demographics and many more details like their interests etc.
Quantcast consistently showing relatively lower numbers than Google Analytics, so I am not sure how accurate it can give traffic stats of a particular website, but it is definitely worth considering.
Note that, a website or blog with a small number of unique visitors will not necessarily display results due to insufficient data. So if your blog or website don't have decent traffic, this tool is of no use for you to measure your website traffic. So you have to again depend on your Google analytics metrics to precisely get your website traffic data. This is a fantastic website traffic checker to estimate traffic. 
Here is a screenshot checking website traffic for Problogger.net from QuantCast website: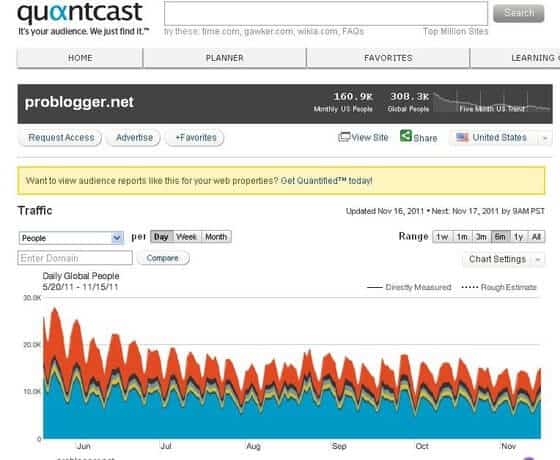 In the above screenshot, the tool is showing you the daily unique visitors a site gets and also showing the graph for every single month. Give this tool a try and you will play with it very often as I do.
7. BuySellAds.com 
Basically BuySellAds (BSA) is an ad network for selling banner advertisements on our websites and blogs. We will get traffic estimates very close to the actual traffic numbers on a page, the only condition is that website or blog should have buysellads script installed. So we can believe on the data available from BSA.
To check website ranking, the only downside is that we can get estimated page impressions for a website selling advertisement through BSA. To know traffic details about a website, you need to click on the Your Ads here banner pointing to BuySellAds.com website. Here is a screenshot showing the kind of metrics you will get through BSA.
The above screenshot gives you insights on seeing a website traffic detailed information including the website unique monthly visitors. A great place to spy on your competitors traffic and find their keywords.
Finding website traffic is never an easy task especially if you are new to blogging world. Here's where the above list of website traffic estimator tools help you find the accurate details of traffic that a website gets.
Final thoughts on the tools to check website traffic for free
From now on use the above tools to check any website traffic for free. I hope the website traffic checker tools mentioned in this detailed article will help you estimate traffic of a website.
I hope you now got the answer to your question "how to check website traffic" from this detailed guide.
Don't rely on just one website traffic checking tool, spend your time on trying out different sites, then find out yourself which is giving you the close numbers.
Though I'm a big fan of Alexa to check any website's traffic for free, but I use it more for fun to spy on the keywords of my competitors. So, give it a shot and try out all the above mentioned websites to find the website traffic.
Important note: One of the easiest ways to find accurate results of any website traffic is to through Flippa! Just go to flippa and search your competitors websites on their search box, if they are selling their sites on Flippa, you will get their Google Analytics reports in PDF format. Basically these are the accurate results so that you can easily find out how many monthly visits they are getting, what keywords are bringing them top search results and what's their bounce rates. So why not try your luck? Check out if their sites are listed on Flippa to find out their website traffic for free.
This is how I used to check website traffic to any website of my interest. Do you any sites or tools that can be useful in finding the traffic of any website? Share your thoughts in the comments below.