SEMrush Review & Tutorial for 2019: Sign Up Now to Get 14 Days Free Trial (Worth $47)
in SEO Tools
|
Last Updated : February 17, 2019
|
If you are looking for an informative tutorial and in-depth SEMrush review, this page is for you. I've been using SEMrush for over 2 years and I know every detail about it (along with its pros and cons!).
Recently when I asked over 40 SEO experts about their favorite SEO tool, among 18 of them recommended SEMrush. It was also recommended as the best keyword research tool by 50 SEO & Blogging experts (Got 36 Votes).
That caught my attention of doing an in-depth SEMrush review. If so many people and SEO's are recommending it as their favorite SEO tool, there's something good about it, right? In this SEMrush review of 2019, you're going find it out.
Here is the Link to get SEMrush Pro free trial for the next 14 days (worth $47), so go grab it now!
What is SEMrush?
SEMrush is a top paid SEO tool that's helpful for doing keyword research to competitor analysis to site audits.
Increasing your organic traffic is not easy. It takes a lot of time, research and efforts to find high performing keywords. One of the most effective ways to find profitable keywords is to research your competitors.
You can watch the below video tutorial to learn how to find out profitable keywords using SEMrush tool:
If you find and analyze the keywords that are used by the top blogs and websites in your industry, you will get a better idea on how to create a perfect content creation strategy to increase your overall search engine traffic.
Here's where SEMrush comes into play. This will help you easily research your competitor's keywords, their backlinks and almost everything.
Start your free 14 days PRO trial and get access to all features. Now let's dive into the details of SEMrush review to find out what it offers.
Detailed SEMrush Review 2019: How to Dominate Google And Crush Your Competitors
SEMrush tool is created by SEO and SEM professionals. This tool has a large data of 120 million plus keywords and about 46 millions of domains including AdWords ad copies and positions, organic positions for domains and landing URLs, search volumes, CPC, competition, number of results, and so much more.
It is used by giant sites like Philips, PayPal, Forbes, Hyatt etc. It also has 30 databases to give you accurate results to find the number of backlinks and search traffic a website gets.
Find Top Performing Keywords & Landing Pages for Your Niche
Hands down, keyword research is the key to dominate Google. Without performing keyword research, no matter how much content you create, it's not going to be useful. But finding great keywords is NEVER easy.
Using SEMrush, you can easily find out all the top keywords that are sending more search engine traffic to your competitor blogs and websites along with their top landing pages. Sharing you a sample screen showing top performing keywords on search engines for one of my favorite site:
If you look at the data shared in red boxes, you can easily find out the highest traffic driving keywords for any website using SEMrush tool. You will also get a feel of how much these keywords are contributing percentage wise to overall organic traffic.
I'm sharing you one more screen showing top performing landing pages for the same website below:
So using the data available from these two screens, you will get a feel of which keywords and landing pages are bringing the maximum traffic to a website from Google and other search engines.
You will get a clear idea on how much search traffic your competitor sites are getting each and every single day by using this search marketing tool.
Loving this SEMrush review 2019? Why not give it a try (get 14 days free account)?
Site Audit: Improve Your Website SEO
Would you like to know whether you're hit by Google updates like Panda or Penguin? And want to fix and recover from Google updates? Try SEMrush then. It gives you a list of all the issues your website has, and you can rectify them to a better site performance in search engines.
If you are having difficult times in increasing your website search traffic even though you are posting quality contents, you need to find out the loopholes on your websites. By performing a thorough Site Audit on your blogs, you will be easily able to figure out what is missing.
You can also rectify all the issues you have on specific pages by clicking on View all issues button as shown in above screen.
Sharing one more Screen Showing Broken Links Report that I recived while doing Site Audit for my blog. I'm going to fix them now:
Thankfully, this SEO tool gives you all the data that you need to perform a complete Site Audit for your websites and blogs. You can use the suggestions to improve your overall search engine rankings.
Performing Backlink Analysis: Find Links of your Competitors
Want to find out all the incoming links (including do-follow links) of your competitors? Just enter their domain and this tool gives you a list of all the data of total backlinks it has.

It doesn't matter whether you are trying to increase your organic traffic or analyzing your competitor's website traffic, you need one important data and that is backlink analysis. If you know how many links are pointing to a site, you will be able to easily create a perfect SEO strategy for your sites to increase its rankings.
Performing backlink analysis is easy by using SEMrush. It shows all the links in dofollow and nofollow pie chart option to find out the number of quality backlinks of any site. It also shows you how many total backlinks a site has including the referring domains. This is a good metric when analyzing the backlinks of a site to boost your overall search traffic.
You can also uncover link building opportunities from this backlink analysis report. I'll explain you here how.
Once you click on the "Referring Domains" under "Backlinks" section on SEMrush dashboard, it will show you a list of all the Domains that are pointing to your competitors site.
You simply have to email outreach all the bloggers who are already linking to your competition (by providing them value).
If you want to boost your search engine traffic and rankings for any keyword, you need backlinks. Link building is the only effective strategy that helps any website to rank higher in Google search results.
Once you have access to the full version of SEMrush, you will be able to find all the link opportunities from competitor websites. You will be able to analyze the total number of links a site gets including the dofollow backlinks. Once you find out who is linking to your competitors, you can use guest posts or blogger outreach strategy to start building backlinks for your sites.
You can uncover most of the link building opportunities by using this tool. Most SEO experts are trying to take advantage of this tool to crush their competition. So it all depends on how you use this tool to your advantage.
After all, search engine traffic is all about finding the right link building opportunities. Once you have the list of all the sites where you can get links from, you will only see huge improvement in your site organic traffic.
Keyword Research: Find Profitable & High Searched Keywords
How can I forget talking about keyword research in this SEMrush review? You can find lots of profitable and highly searched but less competitive keywords using SEMrush. So you can use this SEO tool to increase your website search traffic & sales.
Enter any keyword of your interest into SEMrush search box. It will give you monthly volume for that keyword and also will share some more valuable keywords you can target through your website as shown below:
From the above screen, you can see SEO Tips keyword has a monthly search volume of 1300. If you have a new website or just starting out, don't target such keywords. Go for keywords that has even less search volume like SEO tips for Bloggers or Blogger SEO tips. Loving this SEMrush review post?
Click here to get a 14 days free trial of SEMrush without paying anything.
Here's a simple step by step tutorial on how you can get SEMrush for free.
Step 1: Click this special link to grab your 14 days SEMrush account for free (which is worth $47). You'll now have to register by entering your email and any password of your choice. Fill out the captcha (in case if you find one).
Step 2: You will be now redirected to the page that looks like something like this.
Step 3: Enter your details (email, password and billing details) to grab your SEMrush Pro account absolutely free for next 14 days.
Once you click on the "Place The Order" button, it will create your SEMrush account without charging you anything.
Keyword Rankings: Keep Track of Your Own & Competitor Rankings
As the headline says, you can use SEMrush to keep track of your keyword rankings on Google, Bing & Yahoo. You can also find keyword positioning in specific countries and device (Desktop or mobile) of your interest.
For this you have to enter the list of keywords you want to keep track of with country of your interest and device type in SEMrush. Once added you will get the keyword ranking report in your SEMrush account as shown below: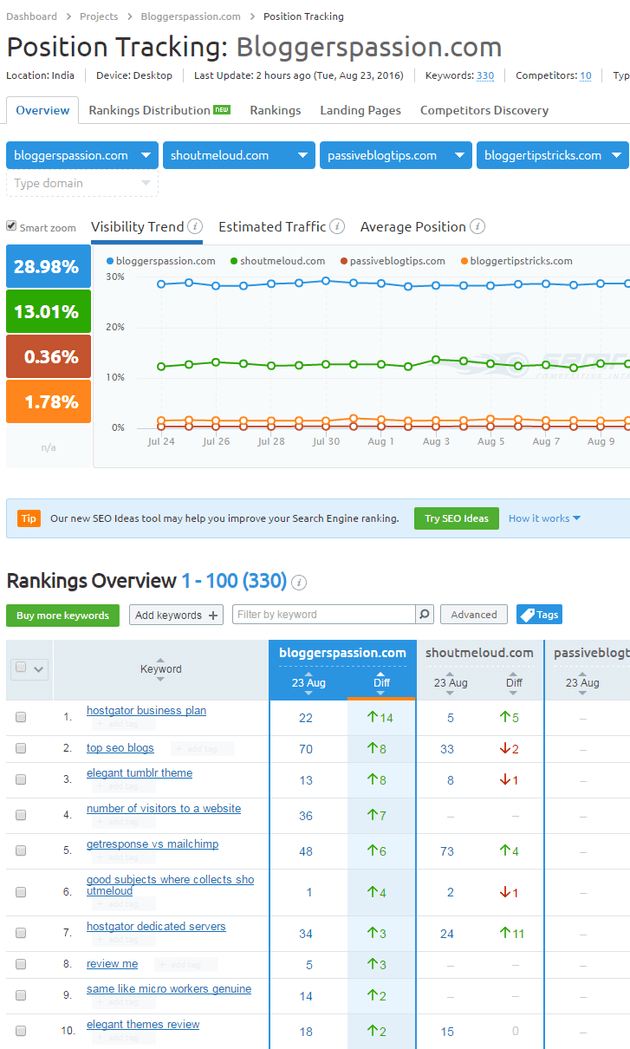 You will get the updated keyword ranking report after every 24 hour and can be exported in CSV and PDF format.
Good News for Indian Bloggers & Website Owners
SEMrush recently launched its database that allows you to check all the keyword rankings for India targeting as well. If you are targeting to Indian readers or marketers, this is a huge benefit.
You can check your competitor's keyword rankings in India from the latest database updated from SEMrush. Just select the Indian database and you will get all the keyword ranking results.
SEMrush Content Tool Tutorial: Keep Track of Your Content Performance
Recently, SEMrush has added new services like SEO Magic tool, content tool, traffic analytics, lead generation tool, organic traffic insights brand monitoring tool, and many more. With content tool, you can track your content's journey across external sources.
This SEMrush review is incomplete without discussing about the four features that this content tool offers:
1. Track how your content is performing
With SEMrush Content Tool, you can track how your content is performing on external sources. It provides you with all the metrics you need, to evaluate your content's results on other websites.
You can know the number of shares your article got on Facebook, Twitter, Google+ and LinkedIn.You can know on what day your article got most shares and can figure out the reasons behind it. You can also monitor how many of those shares have been deleted afterwards.
2. You can know which websites are referring to your content
With the Content tool you will be able to track all the backlinks that your articles have acquired. Backlinks from spammy and untrusted websites won't bring any valuable outcome. It helps in assessing both the quantity and quality of these links and also provides you with a trust score and a page score for each backlink.
3. Track your SEO performance
You will have a constant flow of traffic when your content is indexed organically for relevant keywords. Content Tool allows you to see how well the article is attracting traffic from search engines by finding all the keywords your article is being indexed for in Google Top 100.
You can track up to 5 keywords. Also, SEMrush suggests if there is a keyword you are indexed for that you have missed.
4. You can discover which article got better results
With Content Tool, you can pinpoint the most successful author and also can discover which article got better results. You can create customized URL groups for an even deeper analysis. So that, you can decide which source, topic or author to focus on as it gives results after comparing.
Brand Monitoring Tool: Track Your Online Reputation
With SEMrush's brand monitoring tool, you can track your online reputation. It is highly time-consuming to find mentions and may require hours of research. Monitoring your brand is crucial to every business and in the digital space your brand mentions can affect your business.
With the new Brand Monitoring tool, you will automatically be notified of new mentions of your and your competitor's brands and be able to analyze the results in one place. You can track all your brand, product or service mentions on web and social media.
If you're finding this SEMrush tutorial useful, why not give a try to it?
1. Keep track of online mentions
Surveys shows that 70 percent of customers trust online reviews from other people over information they learn from ads. So, monitoring your online reputation should be your top priority.
With this Brand Monitoring tool, You can keep track of online mentions and customer reviews of your and your competitors' company, product or service and also can estimate their potential reach in Social Media and various online communities. You can identify communities where people talk about you or your competitors.
2. Find new opportunities to promote your brand
If any popular blogger in your niche or even a regular customer mentions your brand then it impacts your business a lot than conventional advertising.
Brand Monitoring tool allows you to get insights into how your competitors and industry leaders create such opportunities. You can adopt their best tactics by researching their past and current promotional activities. You will be able to find new channels for distributing your content without wasting your time and money on trial and error.
3. Track and manage backlinks
Finding mentions with backlinks helps you in growing your SEO rankings.You can compare yourself with your competitors in terms of backlinks. If you have backlinks from trusted and popular sources then Google recognizes that you are doing well and deserve higher rankings.
The Brand Monitoring tool helps you identify backlink sources that can serve as an effective marketing channel for promoting your brand.
This tool shows you where your brand – whether that's your own name, or your business name is being mentioned around the internet and where your backlinks are coming from, and opportunities for you to act on them.
PPC Keyword Tool: Manage Your SEM Campaigns Effectively
SEMrush's PPC Keyword Tool gives users the ability to monitor, manage and implement all changes needed to their PPC campaigns. You can organize your keywords at the campaign and ad group level, set up effective negative keywords and export all of your planned out data seamlessly into your Adwords account.
Simply to say, You can build a perfect keyword list for your PPC campaign.
1. You can collect keywords in different ways
You can import keywords from existing AdWords campaigns, .csv, .xls sheets* and .txt files. The interface of the PPC Keyword tool makes it easy to organize your keywords at the campaign and ad group level.
You can import any existing campaigns you have on AdWords into the tool to manage both your new and existing campaigns in the same place.You can find related keywords and phrase matches and also merge keywords to build new keyword combinations.
2. Manage and optimize keyword lists
The advanced filters of the PPC Keyword Tool allows you to choose the best keywords based on CPC, volume, difficulty level and other vital metrics. You can also filter by word to gather closer sub-groups of keywords.
The 'Remove duplicates' button will delete numerous duplicates in your list. The 'word count filter' allows you to search for long tail keywords and generic phrases. So that, you can create separate ad groups for long-tail keywords and generic keywords. The tool also helps to remove special characters and unnecessary figures.
You can add negative keywords at the group level or campaign level. Negative Keywords are keywords that can be added to your campaign to tell Google not to show your ads when searched.
3. Say no to cross-negatives
Most of the PPC marketers make one mistake that during  their campaigns, they set up ad groups with broad match keywords that inadvertently trigger the wrong ad on the results page. If you have similar broad match keywords in different ad groups, you may expect one ad to show, but Google shows another ad instead.
By using the 'Cross-group negatives' function in this tool, you can avoid any crossover between groups and optimize your campaign. When you manage big campaigns, this 'Cross-group negatives' button will save you time. It helps you stay on budget and avoid competition among your own ads.
4. Polish your keyword list with recommendations
Sometimes you might overlook duplicates, negatives or unnecessary elements in your keyword list and 'Recommendations' feature allows you to bring your campaign to perfection.
Always execute the recommendations in the same order they are given. 'Recommendations'  menu features a few quick links to optimize your campaign. From here you can "clean" your keywords, apply cross-group negatives and remove any empty groups. .
If you have imported a campaign from AdWords and are looking to improve the efficiency of your adgroups and ads then this helps a lot.
Reverse engineering top performing content for better results
With SEMRush you can intelligently reverse engineer the social media techniques that are working for others. Collect your master list of competitor domains and start plugging them into the tool, one-by-one. To analyze entire domain, remove "http://" from the URL and enter.
Analyze what exactly you want to reverse engineer. Is it their organic rankings or backlink profile or their paid advertising campaign? Whatever it is, you can use the sidebar navigation to dive into that specific set of data and analyze each point.
Detailed competitor analysis
Perform deep organic research
With this tool, you can perform deep, organic research.  Click "Organic Research" in the sidebar and it will take you straight to the "Positions" analysis. By default it shows US-specific data but you can change to your country area. Once you set that, analyze Organic Traffic Estimates.
Spy on your competitor traffic stats
After setting the above, you will see Organic Traffic Estimates analysis which gives you an idea of both a website's organic traffic volume and the trend of that traffic over time.
You can look at a sites overall traffic statistics too. Just click "Traffic Analytics" in the sidebar. And you will get a complete breakdown of how traffic flows through a given competitor's site. Remember, SEMRush doesn't include mobile traffic stats, only desktop.
It is just an estimate based on keyword search volumes, organic rankings and average click-through rates.
Find keyword competition
Now, return to the Organic Research tab. The 'Organic Search Positions' feature shows you all the keywords any domain or specific page is ranking for, allowing you to reverse-engineer their best performing keywords.
SEMRush will sort these results by 'Traffic %', or the keywords that are estimated to bring in the most traffic and it is the most effective way to to uncover sites most valuable keywords. You can pick out the best performing keywords.
SEMRush shows you keyword difficulty for each of your results:
Assess SERP competition strength
The "Position Changes" analysis shows you changes in organic rankings for any domain or URL. You can check the top 100 organic search results for New keywords, Lost keywords, Improved keywords, Declined keywords. And you can filter out results based on either of those categories.
If you are only interested in keywords that are performing well then narrow it down to the "New" and "Improved" filters. It allows you to identify tons of long-tail keywords that your competitors are ranking for, as well as keywords that are climbing in the SERPs.
SEMrush Tool Pricing: Pick the Plan as Per Your Need
I can't finish this SEMrush review without discussing its pricing options. SEMrush tool offers 3 options namely Pro, Guru and Business account.
SEMrush Pro account will cost you $99.95/month, Guru account $199.95/month and you have to pay $399.95/month to use their business account. Please go through the below image to see what you will be getting with these three pricing plans from SEMrush:
There are currently over 1,040,167 people who are using SEMrush to find and analyze their competitor keywords. So why wait? Get your hands on SEMrush today.
So what you need to know before you buy SEMrush?
I'll be honest with my SEMrush review here. I've been using this tool for over a year now and I'm seeing so many positive results from my SEO efforts. Not only did I see a huge traffic growth on my blog's search traffic but I'm able to find and compete with the best performing keywords of my competitor's sites.
So how does all these data helps you?
First things first. SEMrush gives you huge amount of data as we discussed above. That means, it allows you deeply look into your competitor's websites to analyze their current website traffic, backlinks, best performing keywords, PPC ads etc and use the same information to improve your SEO efforts.
By using this tool, you will learn how to optimize your posts for best keywords by analyzing your competition, you can also estimate the current traffic of any website and you will be able to better understand the backlink analysis of your competitor's.
This is the reason why I put so much time on writing this unbiased SEMrush review to help you understand the power of it to increase your overall SEO knowledge.
Pros and Cons of SEMrush Tool
This SEMrush review will be biased if I don't talk about its pros and cons, so here you go!
Pros of SEMrush:
It's an all in one SEO tool (you can save a ton of money just by using this one tool, you don't need access to other premium tools like SpyFu, Ahrefs, Moz, Long Tail Pro etc)
Finding high potential keywords is really easy (as they have accurate data)
Want to know how good or bad a website is performing on Google? Simply use their site audit tool and you'll get all the site issues.
Competitor research is incredible.
Cons of SEMrush:
The pricing is bit of a downside (but still, that's a great package) especially for starters.
You need some time to get used to it. Although their interface easy to use but you need to watch some of their training videos or read some tutorials to get good feel of it.
Sometimes, the backlinks data is inaccurate (backlink analysis is really great from Ahrefs tool).
Do I recommend SEMrush SEO Tool?
Absolutely yes, I recommend SEMrush.
If you're reading this SEMrush review so far, you might already have fallen in love with it. It's perfect for people who want to crush their competitors and dominate Google SERPs.
Don't use it if you want quick results. After all, SEO is a long term game, not a sprint.
So make sure to first grab the tool FREE for 14 days, start using it seriously and if you get good results, go ahead and grab their account.
SEMrush tool: Is it right for you?
If you want to find out the keywords your competitors are using, this tool is the best fit for you. If you want to find out the best performing keywords along with the backlink analysis, this tool is for you.
To estimate the traffic of any website, this tool gives you almost accurate results. Although there are a lot of tools out there to check website traffic but this is the trusted source as it has advanced options to give accurate results to the users.
Whether you want to increase your income by promoting the right affiliate products or increase your website organic traffic by using the best keywords that your competitors are using – SEMrush tool is for you.
I know a lot of bloggers are posting articles on their blogs just to increase their website search traffic so that they can make more sales and increase the revenue to make some passive income. If you are also one among them, SEMrush is the best tool for you where you won't regret paying around 70$ to grab the best rewards from your SEO efforts.
So what are you waiting for?
Click here to start using SEMrush immediately. They are also giving away 14 days free trial to BloggersPassion users.
FAQ's About SEMrush In 2019
Here are few frequently asked questions that you might have about SEMrush SEO tool. So use this FAQ section about SEMrush to understand better about SEMrush.
1. What does SEMrush do exactly? Is it really worth paying?
SEMrush is an all in one SEO toolkit which helps all kinds of bloggers, SEO enthusiasts and agencies to do everything from keyword research to backlink analysis to competitor research to site audits and many more.
Is it worth buying? Yes, definitely SEMrush is worth every single penny that you are paying for because you'll be paying access to a ton of SEO tools.
2. When there are so many SEO tools out there, why should I only go for SEMrush?
Yes, there are so many SEO tools out there which are great alternatives to SEMrush but here are few of the stats from SEMrush that are enough for anyone to start using it over other tools.
Over 1 million users who are using SEMrush
Databases with over 800 million keywords (so you get a HUGE keyword list of ideas no matter what industry you are in)
Over 130 million domains to analyse (you can analyse almost any decent website to find out their backlinks, top performing keywords, ads if any)
3. What are the pricing plans in SEMrush?
SEMrush is currently offering 3 pricing plans which are listed below.
Pro (costs you $99.95 per month, perfect for starters who wants to grow their websites using SEO)
Guru (costs you $199.95 per month, perfect for small business owners who wants to grow their websites using SEO where you'll get all the Pro features plus: branded reports, historical data and extended limits)
Business (costs you $399.95 per month, perfect for agences who wants to grow their websites using SEO where you'll get all the Guru features plus: White label reports, API access and extended limits with sharing options)
4. What are your personal thoughts on SEMrush?
We're using SEMrush for over 2 years on Bloggers Passion and we're really glad with the results. We also created a detailed case study on how SEMrush increased our website traffic really quickly.
If you're someone who is struggling to increase your website traffic from search engines like Google, you should definitely go for SEMrush. If you're someone who is think about start offering SEO services to your clients, SEMrush can be your greatest weapon to easily do so many important SEO tasks like site audits, website domain comparison, keyword analysis, advertising research etc.
5. Can I make money using SEMrush?
Yes, you can use SEMrush to build websites (be it authority websites or niche websites). If you're looking to build a profitable affiliate related niche website, tools like SEMrush comes into handy where you can easily find a ton of really profitable keyword ideas within minutes.
Also you can use SEMrush for doing a thorough competitor research where you can easily find out what tactics your competitors are using to build links, drive more traffic and sales to their websites.
So the opportunities are just unlimited to make money using SEMrush. You can also start promoting SEMrush through their affiliate program to start earning recurring commission per every successful sale you make.
6. Can I get SEMrush for free?
Unfortunately SEMrush is NOT a free SEO tool. It's a premium SEO tool but we've a great news for you.
You can use this special link to get SEMrush free for 14 days. If you're satisfied, you can go ahead and continue using it to grow your business and search traffic.
Final Thoughts About SEMrush Review 2019 and its Tutorial
Everyone thinks SEO is a rocket science. But if you have access to right tools, you will find it easy to increase your traffic.
SEMrush is the ultimate SEO tool that helps you spy on your competitors keywords along with the backlink analysis. Use this tool to your advantage to increase your overall traffic. This SEMrush review is NOT made just to make more sales but to help people who want to find the right SEO tool to dominate Google.
All in all, this is the best SEO tool that will help you increase your organic traffic by also spying yon your competitor keywords. Don't hesitate to buy SEMrush, you can also try their 14 days pro account for free worth $47 before taking a decision.
Affiliate disclosure: I'm a SEMrush affiliate, when you buy it using any of the links from this post, at no additional cost to you, I'll earn a small commission. I only recommend the product I'm using. I've been using SEMrush for more than a year now and I'm happy with the results and I found it useful for the bloggers who want to increase their organic traffic and find better keywords to outrank their competition.
If you liked this SEMrush review, please share it with your friends,  who you think this tool will be beneficial for.
55 Comments