SEO Features

Ease of Use

Pricing

Customer Support

Customer Ratings
Summary
I have been using Semrush for 8 years and it is the MOST popular SEO toolkit used by over 10 million people worldwide. It offers over 55 tools including keyword research, site audits, competitor analysis, PPC research, and so on.
Are you looking for the unbiased Semrush review 2023? You're in the right place.
I am sharing my 8 years of hands-on experience with Semrush. I will discuss how Semrush can be beneficial for you, its features, advantages, and disadvantages in this article.
What is Semrush and What Exactly It Does?
Semrush is an all-in-one SEO toolkit of 55+ tools used by 10 million people worldwide for keyword research, backlink analysis, SEO audits, and a lot more.
Using Semrush, you can easily find highly profitable keywords for any niche, conduct link building, manage social media campaigns, etc.
Whether you're looking to analyze a competitor's website (including their keywords, ads, and backlinks) or aiming for long-tail keywords, Semrush has everything covered for you.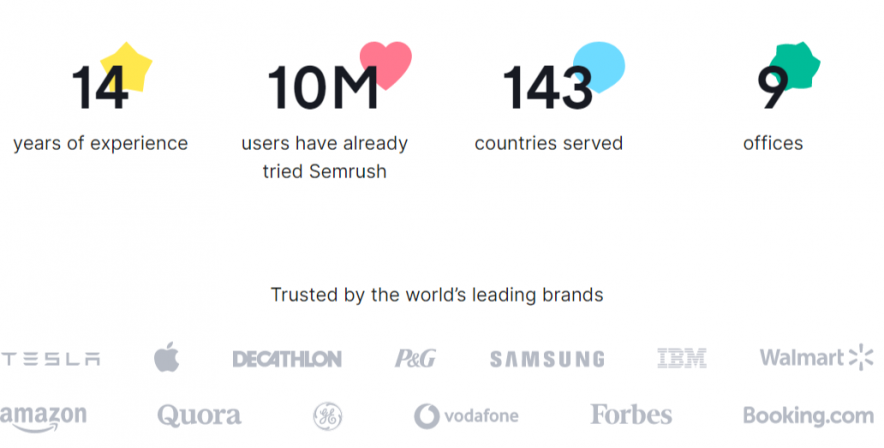 ---
In-depth Semrush Review 2023: Sharing My Journey So Far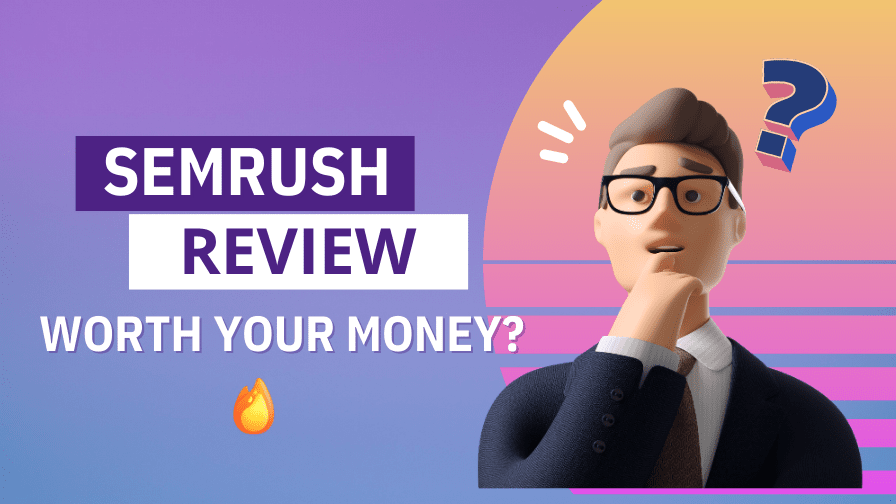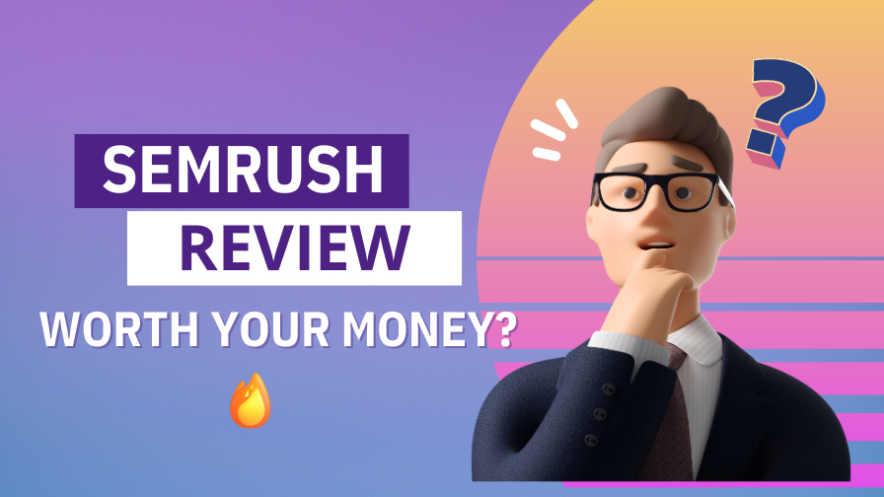 I am a verified Semrush user (8+ years). I am here to share my story so that you can understand whether Semrush is a good SEO investment or not.
In Today's Semrush Review,
I am going to share Semrush common tools for which I and most of the SEO experts are using this great tool. Yes it's more like a quick walkthrough but I will also try to explain that How I am using those Semrush features to grow my site traffic effectively.
Before going deep,
Allow me to answer the most confusing question users have in mind about Semrush: Why should you use or invest in Semrush, a leading SEO tool?
Why am I Using Semrush for SEO Strategy?
Life Before Semrush:
Before Semrush, I was performing day-to-day SEO tasks manually like every amateur does. Going solo without any SEO tool, extracting accurate data, or performing some essential tasks (Example: Link Building) was almost impossible for me.
Before Semrush, these are the primary problems I was suffering from:
Various Tools Dependency: I had to use so many single featured driven SEO tools for each task
Keyword Research: I was able to find keywords, but not the accurate search volume and keyword difficulty. Failed a lot of times because of targeting the wrong keywords.
Link Building: Failed to find good potential link-building prospects.
Site Audit: Failed to perform deep SEO audits on a technical as well as content level.
Poor SEO strategy: I never was 100% successful in analyzing competitors properly. I had no source of keywords, link building prospects, etc that are already working for my rivals.
No Source for LSI keywords: Was doing a long manual hussle in collecting perfect semantic keywords for my niche topics.
Always hanging low on content ideas: Had invested so many manual hours in figuring out content ideas that my audience was actually interested in.
Life After Semrush:
To be honest, I am using Semrush for these main reasons or benefits:
To eliminate the need for various SEO tools and save money
For accurate data
To Ease my Link Building task and keyword research
To do a proper competitive analysis
To reduce manual SEO work
For achieving an effective SEO strategy
For the entire site audit
And ultimately, to improve rankings and site traffic
All the problems I was facing before Semrush have been solved by Semrush effectively. In my Semrush case study, I even explained how it helped me to grow website traffic.
---
Pros and Cons of Semrush
Most of the Semrush reviews that you find on Google search don't actually cover its pros and cons. So let me share what I like and what I didn't about Semrush.
Pros of Semrush:
It's an all in one SEO tool (you can save a ton of money just by using this one tool, you don't need access to other premium tools like Ahrefs, Moz, etc)
Provides you accurate KEYWORD volume data
Finding high potential keywords is really easy (as they have accurate data)
Want to know how good or bad a website is performing on Google? Simply use their site audit tool and you'll get all the site issues
Semrush has the largest keyword database in the world (with 21 billion keywords) and it gets frequently updated
Semrush is widely used and trusted brand in the world which is used by over 10 million people
You can easily find and estimate the traffic of any site
You can easily find profitable keywords
You can track your keyword rankings
It can also be used to perform site audits to find and fix your site's technical and SEO related issues
Competitor research is incredible
Offer excellent SEO reports (including white label reports)
Cons of Semrush:
Semrush's interface is user-friendly, but first-time users may need some time to get used to it. You can watch Semrush training videos or read tutorials to learn about the platform.
Semrush should also provide a "number of clicks" metric in its keyword research tool as Ahrefs does.
---
Semrush Features Overview
Semrush provides a bundle of 55+ tools categorized into numerous categories: SEO, Content Marketing, Advertising, and Social Media.
When I first started with Semrush, I was like "Yes, I get 55+ powerful tools for my SEO strategy." But sooner I realized, I don't require all the tools.
I am not complaining about Semrush's large number of features but it's not always the case that you require all of them for your day to day SEO operations. For example, if you are a blogger like me then you might not be interested in Semrush Advertising tool kit and Local SEO tools.
That is why you should always start with Semrush 14 Days Free Trial and analyze how many exact tools you need for your business growth.
So here is my opinion on my Semrush favorite SEO features… (You can also consider this section as a guide to start with Semrush or using Semrush for SEO driven purposes.)
Domain Overview: Get an instant analysis of ANY domain
"It's like Getting a Bigger Picture of Competitors SEO Performance in one click".
Domain overview is the first tool you will find under "Competitive Research" Semrush dashboard.
Well, the Domain Overview feature of Semrush is always my go to tool whenever I come across any new competitor in my niche space. In the past, I used to analyze competitor backlink profiles, keywords, and traffic sources one by one, which was quite overwhelming.

That's why I liked this "Domain Overview" tool of semrush which simply does the in-depth competitive analysis of the given domain (website) and gives you the compiled "Overview Report" quickly.
Now, I am able to spy on ANY competitor and estimate their strengths, weaknesses etc easily.
You can enter any of the competitor's website URLs to find out their current website traffic, keywords, backlinks, traffic growth over time, and much more.
Here's what the Domain Overview of a website looks like;
The Domain Overview shows you a full overview of the website including;
Authority score (Semrush's metric used to measure the overall quality of the domain)
Overall organic search traffic
Total number of backlinks for the domain
Traffic distribution by country
Organic traffic growth over the months (or years)
Top Keywords
More…
The best metrics I found useful is list of all the best performing keywords of your competitor along with keyword metrics like;
Keyword intent
Current position in SERPs
Search volume
CPC
Traffic % and more
Ahrefs or Moz doesn't have this "Keyword or Search Intent" feature.
Semrush almost always gives you accurate traffic information of a website or domain as it updates its databases very frequently.
I should inform you that Semrush Guru Plan (I am using) allows you to access historical data (Jan 2012 to present). You can use a domain overview tool to reveal the entire long unknown history of any domain.
Domain Overview > Growth Report:
Just like Historical data, I am also a regular user of the "Growth Report" tool mentioned in the same dashboard. I frequently come here to see how my site as well as competitors are performing in terms of traffic, backlinks, etc for over a period of time.
Domain Overview > Compare Domains:
Another essential time saving tool helps you to compare up to 5 domains at a time. I generally used this tool to compare the performance of my site with other rivals in terms of traffic, backlinks, gained or lost keywords, etc.
It gives you a better idea of which domains are gaining up in Google search results and which ones are going down.
Note: Growth report and compare domains features are available in the Guru plan. I have explained all the Semrush plans in the later part of the article.
When you scroll down a bit, you will come across this "Top opportunities" widget which is nothing but the widget of "Keyword Gap" tool. From here you will instantly find the top competitors keywords you have forgotten to target.
I am a fan of the "PDF Export Report" button which gives us enough time to analyze competitors' SEO efforts and hence for our SEO strategy plan.

In a nutshell, I am sure you will find the Domain Overview feature extremely helpful in learning how your competitors' SEO strategy is performing. You will definitely use this feature to plan your SEO strategy from day one.
Ultimately, Playing with the Semrush Domain Overview tool is fun. Previously, It was time consuming to figure out crucial metrics of competitors but Semrush made everything so simple and organized.
---
Semrush Keyword Research Tool: The Game Changer Tool for Finding Keywords
I use Semrush to make my keyword research strategy easy. Semrush has done an amazing job so far.
With Semrush, Now I can say I learned how to perform a deep keyword research and increase site traffic.
With Semrush, Keyword research can be possible through 2 tools:
Keyword Overview (Gives you insights for one keyword)
Keyword Magic Tool (For detailed suggestions)
Anything comes related with Keywords in mind, I call Semrush Keyword Magic tool to resolve all the issues.
Semrush Keyword Magic Tool helps me to find various types of keywords across different countries such as:
Question-based keywords
Broad match keywords
Phrase match keywords
Exact match keywords
Related keywords
With so many keyword suggestions, you can easily find the most profitable and high-traffic keywords in your niche.
You can watch Semrush team's video on keyword research to learn step by step process
Compared to Google search console, I find these additional essential metrics with the help of this awesome keyword research tool: KD%, Intent, CPC Value, Total Volume, Trend, Featured Snippet, Current rankings (device specific), etc.
With these details, you can easily decide whether the keywords you enter are a perfect match for your site or not.
The letters C, N, T and I represent the search intent whether a keyword suggestion is informational, navigational, commercial or transactional.
Semrush defined these terms as
Informational = the user wants to find an answer to a specific question
Commercial = The user wants to investigate brands or services
Navigational = the user wants to find a specific page or website
Transaction = the user wants to complete an action (make a purchase or other conversion).
I use the intent feature to filter the keywords based on their intent. You wouldn't find the "intent" feature in other SEO tools like Ahrefs and Moz.
Semrush keyword magic tool also has tremendously powerful advanced filters that help me to narrow down the results I need accordingly.
I use include keywords and exclude keyword advance filters to filter the keyword ideas.
For example in the above SEO tools example, you can add the keyword "best" in include keywords box to get all the keywords related to SEO tools having best in them.
Before using Semrush, I was struggling to find the best keywords to increase my overall website search traffic. I used Semrush as it helped me to find the best-performing and unused keywords in my niche.
For Example: I frequently target "Question Keywords" found through Semrush Keyword Magic Tool.
One of the easiest ways to get targeted visitors from search engines like Google to your site is to use "Question Keywords".
Question keywords are those keywords that a searcher types a complete question into Google. These are usually long-tail keyword phrases because they're mostly specific. And the chances of appearing in a feature snippet for these keywords are SUPER HIGH!
For example, instead of using a general keyword like "Neil Patel", a question keyword would be "What is Neil Patel's net worth?".
As you can see, my site is ranking #1 for the above question keyword I got from the Semrush keyword database.
Here are a few benefits of finding and targeting question keywords within your content
They help you easily get featured snippets (because you're answering specific questions and Google loves it)
They easily help you get top rankings (even if there's competition)
They can send you highly targeted visitors from search
They convert really better
So Before Semrush, I used to take help from sites like Quora, Answerthepublic to find question keywords but they are not really accurate and don't give you many search metrics (such as the number of monthly searches, related keywords, competition, CPC value for the keyword and so on).
Here's where the Semrush keyword magic tool comes into play and really helps me with all of those things.
Now finding question keywords with Semrush is a job of hardly few clicks.
Once you're on the Keyword Magic tool, enter any seed keyword or topic to find question keywords based on it.
Once the keyword list is generated, simply pick the "Questions" tab.
Have a look;
Along with relevant question keywords, Semrush generated following key metrics which I usually consider in my SEO strategy planning.
Intent (shows the purpose of a search in a search engine)
Search volume
Trend (shows the interest of searchers in a given keyword during the period of 12 months)
Keyword difficulty (KD%), and much more
So, this is one of the many ways where Semrush helped me to find good keywords on which I was able to rank my site and increase traffic.
Quick Tip: While doing keyword research with Semrush, do not select the keywords with a search volume of more than 1000 per month, as they require a lot of effort to get the required traffic for your site. Choose the keywords between 500 to 1000 per month search volume (or even below) so you can get top 3 or at least first page rankings even if you have a new website.
Finally I must admit, It doesn't matter whether you want to find better keywords for PPC ads, AdWords, Bing Ads, or simply for your own blog content, Semrush is the right keyword research tool.
---
Semrush Organic Research: Powerful Competitive Analysis Tool
This is the "Semrush's Way of Finding Highest Traffic Competitors Organic Keywords". Allowing you to reverse-engineer their best-performing keywords.

Well as an experienced blogger, I should admit that sometimes it is better to target your competitors keywords rather than doing your own keyword research from the start.

By creating better content on those targeting keywords of your competitors which are already performing is one of the smart moves to enhance your own site organic traffic. I am doing this, you can also make this happen with Semrush.

Finding competitors' top organic keywords was almost impossible earlier, But Semrush is known for its SEO magic and with its "Organic Research" tool I can easily look into the Google Search Console lookalike dashboard of my competitors.
So for me, Another BIGGEST reason to use the Semrush tool is to spy on your competitor's keywords.
The key here is to create high-quality content around those keywords to outrank your competitors to get more search traffic to your site.
This is how Semrush "Organic Research Tool" dashboard looks like:
Not just keywords, you will also be able to see the competitor Organic traffic volume and the trend of that traffic over time.
As you can see above in the positions tab, you can easily find all the keywords your rival website is ranking for. You'll also get keyword metrics like;
Keyword intent
Search features
Keyword positions
Traffic %
Keyword difficulty and more
You can analyze competitors' top-performing articles that are driving the most traffic for your competitors. You can get valuable insights into the type of content and topics that resonate with your target audience. You can plan your own content strategy based on this information that is more likely to attract and engage your audience.
You can also see the position changes of your competitors' keywords in search engines like Google, Bing.
Have a look;
See that? You can instantly see the keyword positions of your competitors as you can identify;
Improved keyword rankings
Declined keyword rankings
Newly ranked keywords
Keywords that lost rankings
If you don't know your competitors then you "organic search" to find your competitors that rank on the similar keywords.
You will receive a list of websites that rank for some common keywords. It's important to note that not all of the listed websites may be direct competitors. This list may include platforms like YouTube, LinkedIn, Quora, and Reddit, which are not typical competitors.
You should focus on websites that produce content on similar topics or within your niche to identify your true competitors. These are the competitors whose strategies and content can provide valuable insights for your growth plan.
In a nutshell, the Semrush organic research tool is like having access to the Google Search Console of your competitors. You can discover almost every keyword along with its current rankings and put them in your keyword research strategy.
An important point to remember: Semrush updates its database daily and multiple times a day to give you accurate details about the keyword ranking positions and traffic of a website. Thus, it helps you find the latest report on keyword phrases for your targeted seed keywords list.
---
Semrush Traffic Analytics Tool: Analyze Where Traffic is Coming From?
Semrush Traffic analytics tool is a replica of SimilarWeb.
Just above the Organic Research tool, you will find Semrush Traffic Analytics. Its main job is to provide domain traffic source data. You will get a complete breakdown of how traffic flows through a given competitor's site.
Remember, Semrush doesn't include mobile traffic stats, only desktop. It is just an estimate based on keyword search volumes, organic rankings, and average click-through rates.
You can also compare or look into five competitors at the same time.
I am not really fond of this tool compared to Organic research, However, I once had great help from this tool. Back then when I was new in my site niche space, I was trying to find the possible social traffic source of my audience.
I simply put up a few competitors' domain names and it gave me a list of all popular social channels (traffic source) names from where my competitors' sites are receiving traffic. This way, I found a social channel where my audience existed or hung around on a regular basis.
---
Semrush Link Building Tools Review:
Whether you believe it or not, Backlinks are still one of the top 3 ranking factors of Google and other major search engines. You might do keyword research without an SEO tool, but link building is not possible without a powerful tool like Semrush.
I am a fan of the Semrush Link Building toolkit. Semrush literally nailed it in Backlinks. It helped me to find relevant prospects to manage link-building outreach campaigns and hence I was able to grow my domain authority and website traffic.
Semrush Link Building UI is as intuitive as Ahrefs offers. Semrush offers 4 Link Building Tools which are unique and helped me to manage complete link management from one place.
Backlinks Analytics (Semrush Backlink Checker Tool)
Semrush Backlink Analytics tool is the best tool to find backlinks of ANY website or specific URL in the world.
Semrush Backlink Analytics tool has a HUGE database of over 43 trillion quality backlinks. It surpasses other link explorer tools including Ahrefs (29.8 trillion), and Moz (43.1 trillion).
If you want to uncover link building strategies along with their backlink sources, you need the Semrush Backlink Checker Tool.
For instance, by knowing who is linking to your favorite blog or competitor's website, you can reach out to them and ask them to link to your sites too (if you have valuable stuff, they will link to you!).
Here's what the Semrush Backlink Checker dashboard looks like when you ask for any domain link building profile:
As you can see above, Semrush will instantly give an overview of the backlink profile where you can see;
Authority score
Referring domains
Total number of backlinks
Monthly visits and more
New and Lost backlinks
Similar profile
If you want to find the backlink sources of the domain, simply click on the "Backlinks".
Have a look;
You can easily find out all the incoming links (including do-follow links) of your competitors.
You can filter the backlinks in various ways including:
Dofollow
Nofollow
UGC
Sponsored
Tools like Ahrefs failed to provide valuable information that Semrush can offer in the same dashboard, such as Similar Profiles, Categories of Referring domains, etc.
The list of domains Semrush has extracted in the "Similar Profiles" tab has the similar link building profiles to the domain you have entered.
Meaning if you put up your domain in the Semrush Backlink Checker, it will work like reverse engineering and gives you a list of potential domains which has a similar link profile or "PROSPECTS" where you want to build links – This is one of the smart moves I am utilizing with the help of Semrush for finding relevant link building prospects.
Backlink Audit Tool:
Apart from the Backlink Analytics tool, Semrush also offers another powerful tool called "Backlink Audit" which you can use to get rid of all the toxic links that are preventing your site from getting higher rankings.
Here's what the overview of Backlink Audit on Semrush looks like;
As you can see above, you can easily discover the toxic domains that are linking to your website. You can simply use Google's Disavow Tool to remove all the bad backlinks.
During my early days of learning SEO, I made the mistake of building links in toxic domains and hence got penalized by Google. But with the help of the Semrush Links audit mechanism and Google disavow tool, removing toxic links is now an easier task for me.
Now I am always trying to build links on authoritative similar domains in my niche space. Google always considers the "quality" of the links and not the "quantity". Hence building a link relationship with a non toxic domain always showed me a good ranking boost and no penalties.
Moving forward to another valuable link building Semrush feature: Backlink Gap
Backlinks Gap (Semrush):
I really find this best backlinks building strategy so far.
To find hidden backlinks opportunities that your competitors utilized and you haven't yet, you can use this amazing tool.
All you have to do is enter your domain and your competitors domain URL's (up to 5) and hit the "find prospects button". Then Semrush starts its magic and presents you with all those WEBSITES (prospects) which are already linking to your competitors but not you.
After using both Backlink Checker and Backlinks Gap tool, I found Backlinks Gap finder tool a more powerful and quicker approach to revealing untapped website prospects.
Quick note: Just like Backlinks Gap, Semrush also has a Keyword Gap tool which enables you to discover unknown keywords your competitors' sites rank for and you haven't.
Semrush Links Building Tool:
The last useful hack for building links in Semrush is this tool "Link Building". Compared to Backlink Checker, this won't give you tons of data and metrics.
Instead, I am using this tool whenever I require tons of potential prospects on the basis of targeting keywords & competitors and running a "Link Building Outreach Campaign" inside Semrush itself.
Semrush also managed to provide contact details of prospects as well as give SEO experts to monitor the progress of outreach campaigns.
In a nutshell, Semrush Link Building tool is a complete solution to play a link management game from one place.
---
Site Audit: Using Semrush to Perform Full Site Audit
Website audits are essential if you want to find and fix your website's SEO or technical issues. But here's the thing: conducting a site audit is a painful job and takes a lot of time especially if you've a bigger website.
Fixing Technical SEO issues and On-Page SEO issues is now possible with Semrush.
Semrush Technical SEO (OFF-Page) Audit:
Earlier I was using Google Search Console inbuilt site audit tool but its capability of finding technical SEO issues is limited. You cannot go beyond core web vitals and mobile usability audits. Hence I switched my entire website auditing approach and replaced it with the Semrush Site Audit system.
Semrush comes into play as it makes it extremely easy to perform FULL website audits. By auditing your entire site, it gives you an overall score which helps to understand how much improvement is needed.
All you need to do is to enter your domain and Semrush will start crawling your website. You can overview every single detail of your website including the top 3 issues, errors, and warnings that are causing your site.
Here's what Semrush Site Audit overview dashboard looks like;
As you can see above, you'll find everything from;
Site health
Crawlabilty issues
Internal linking issues
Schema markup issues
Core Web Vitals score
SSL Problems
Robot.txt issues
Semrush capability of auditing technical SEO issues isn't ordinary. Here you will not just learn the reason for the issues, but also introduced to the solutions.
The solutions Semrush audit system advised is beginners friendly. If you would like to hear from me, 8 out of 10 times, I was successfully able to implement Semrush advised solutions for my site's technical SEO errors.
Semrush On-Page Checker:
Want to get actionable suggestions for On-Page SEO issues, Semrush got you covered.
Semrush On-Page SEO Checker is an amazing feature that constantly crawls and analyzes my site for all On-Page errors and major problems.
The ideas or actionables Semrush suggest for On-Page SEO health has been divided into these 7 major categories (shown in image)
If you drill down to these ideas in the "optimization ideas" tab, you will actually see the possible suggestions Semrush suggested for On-page SEO health.
Among all the suggestions, I review the following On-Page SEO metrics recommendations by SEMrush:
Missing keywords in the content as well as meta tags
Semrush suggestion to make my site pages optimized for featured snippet
Missing internal links opportunities
Words on content length
Ideas for reducing keyword cannibalization
Ideas for Backlinks
Suggestions to reduce keyword stuffing from every possible areas
LSI keywords opportunities
Semrush audit system works on all CMS and website builders and hence it is accessible to all kinds of websites. Finally, If I have to rate Semrush Site audit tool from my previous experience, I would give 9/10.
I am using it to resolve technical SEO issues and some On-Page SEO problems I mentioned above. However, I was never able to resolve all the errors Semrush advised. There are literally so many suggestions and especially if you have a bigger site like mine you would be on the same page.
Resolving SEO errors might not always produce good results in Rankings, but it is always better to be on the safe side. That's why addressing Semrush site audits issues might be a great help for traffic & ranking boost.
I always try to minimize errors as much as possible and learn from my experience what works and what doesn't. Because as we all know there are tons of ranking factors. And since Google's helpful update, I am doing minimum efforts on SEO and specially focusing on building high quality Backlinks with Semrush and great content.
You can watch a detailed video on SEO audit using the Semrush.
---
Position Tracking: Track Your Own & Competitor Rankings
Semrush Position tracker helps you to enable "Position Tracking" on a given set of keywords.
Apart from Link Building tools, Position Tracking is one of the interesting and highly useful tools available in Semrush. Using Semrush, you can track every keyword that drives traffic to your website including the traffic volumes and rank positions.
I have been utilizing this tool for a long period of time. Not just my own targeted keywords, I have also used this to track my site position on competitors keywords as well. Previously, Position tracking for me was all about searching keywords one by one on the browser manually.
But with Semrush tracker, I am getting an updated keyword ranking report every 24 hours which can be exported in CSV and PDF format. You can also set up email notifications for receiving regular alerts in a situation where your defined keywords lost or gain ranking positions in SERP.
Semrush Position Tracking supports all 3 major search engines (Google, Yahoo & Bing). And You can also find keyword positioning in specific countries and devices (Desktop or mobile) of your interest.
Semrush updates its keyword rank tracking databases every single day, so you'll know the exact positions of your keyword rankings. Here's the visibility trend for BloggersPassion in the last 7 days. Have a look at the below screenshot.
And below is the screenshot for Google featured snippets.
Overall I am happy with how Semrush position tracking works, no problems yet.
---
Semrush Content Marketing Tools: Topic Research & SEO Content Template
Out of all Content Marketing features Semrush has been offering, the Topic Research and SEO Content Template are the most effective ones I found in my experience.
Let me tell you, I have also used "SEO Writing Assistant" – One of the viral Semrush tools you'll find a lot of SEO Guru's talking about. I tested it a lot of times and I found suggestions for improving readability, content tone is weird. And this is not a Semrush fault, its major functionality lies in SEO tools and since it is not a dedicated writing assistant tool like Grammarly, I better ignore it.
Anyway, let's move on further…
Topic Research Tool:
As a blogger, I was stuck a lot of times in brainstorming new content ideas for my website. Yes, I have used various popular topic ideas generator tools (including ANSWERTHEPUBLIC) but the Semrush Topic Research tool is pretty solid and extracts additional metrics.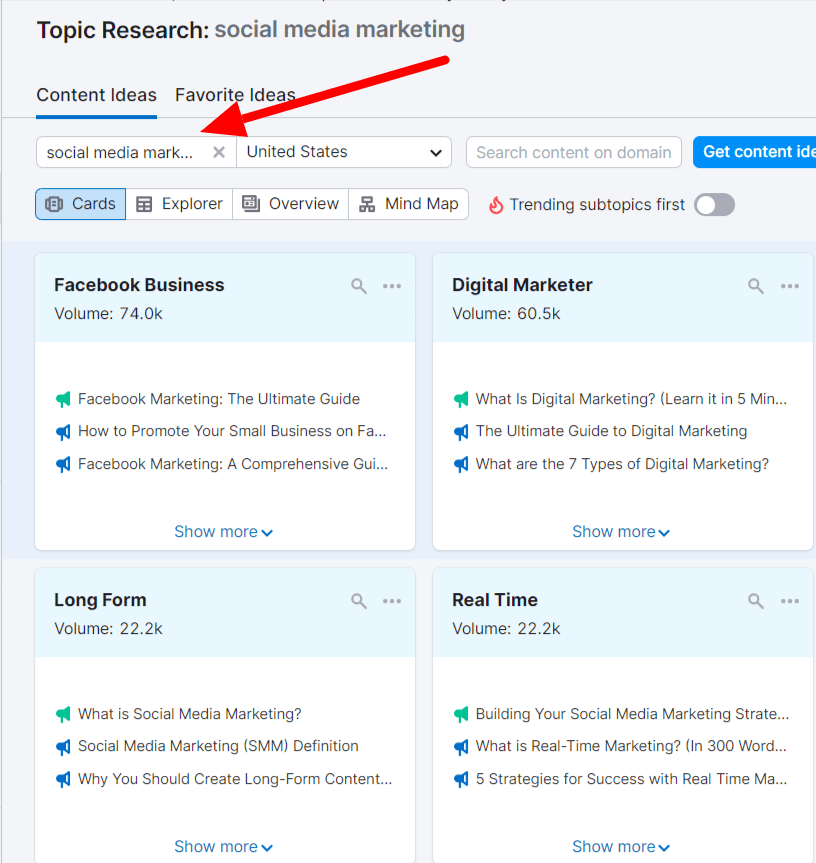 The reason behind is, It not just generates "related topic ideas" but also gives users a list of top performing content pieces. You have to subscribe to tools like Buzzsumo for this crucial information but not anymore.
Semrush saved you a lot of additional bucks by providing the same information without charging extra pennies.
So, a lot of times I also used Topic Research tool as an inspiration to understand what type of content (topics) users are already enjoying in my niche space.
Not all content ideas you found through this Semrush tool useful. But if you ignore some weird suggestions, you'll still have some potential ideas left for content creation. Hence in this review, I am rating "Topic Research tool" 8 out of 10.
SEO Content Template Feature:
Another hidden gem of Semrush is this SEO Content Template tool.
It asks you for a "Seed keyword" and it will give various SEO recommendations for your upcoming content by scanning the top 10 results of SERP.
Specifically, it gives me recommendations about:
LSI keywords (I mainly use this tool for finding Semantic related keywords)
Backlinks
Readability
Recommended Text Length (My another reason for using this Semrush feature)
It also provides more recommendations about Page Title, Meta Description, and H1. To be honest I am not really a fan of these Semrush recommendations.
---
Words on Semrush Other Features (Beyond SEO)
So far I have shared my review of the Semrush tools that I have used for my SEO business. However as mentioned earlier Semrush has a huge list of tools covering Local SEO, Advertising, and Social Media categories as well.
Here are some noteworthy SEMrush features that you might find useful.
Market Explorer (Trends):
I love this latest released feature of Semrush. It's like having a powerful version of Google Trends inside Semrush.
Market Explorer simply shows you the pictorial image of Market competitors which are growing faster and its related data such as Market size, Top Market Leaders, Game Changers, Top Keywords, Trending Keywords, Top Traffic Channels, Geo Distribution, etc.
PPC Keyword Tool (Advertising):
Semrush's PPC Keyword Tool gives users the ability to monitor, manage and implement all changes needed to their PPC campaigns. You can organize your keywords at the campaign and ad group level, set up effective negative keywords, and export all of your planned-out data seamlessly into your Adwords account.
Simply say, you can build a perfect keyword list for your PPC campaign. In other words, it helps you to Manage Your SEM Campaigns Effectively.
PLA Research (Advertising):
PLA (Product Listing Ads) reveals your competitor's ads information including the list of keywords, titles, CPC, cost, and paid traffic. This will help you find out the advertising and paid ad strategies used by your competitors to increase their website traffic and sales.
Social Media Toolkit:
Imagine having the power of Social Media Management tools inside SEO tools like Semrush. Semrush Social Media tools are still in beta stage but probably save huge bucks once they are fully released.
As of now, I am utilizing the Social Tracker tool which simply tracks the growth of my social channels.
---
Words on Semrush Customer Support
Complex SEO tools full of robust features should offer priority customer support. And if that's not the case, there will be a waste of investing huge money each month.
But Gladly, Semrush customer support assistance is top-notch and available through 3 main channels:
Other ways to get help are through Knowledge Base and Semrush Academy.
I mainly consult them through their live chat support and the response rate is amazing (within 1 minute).
But one thing should be noted, the live chat support facility isn't available 24*7 and you have to drop a message between Monday to Friday EST 10:00 am to 6:00 pm. Hence counted as Cons of Semrush. 😒
During off days or weekends, Email support is there. The response rate is expected as a full business day.
---
Semrush Pricing Options: Is It Worth the Investment?
Semrush is an expensive SEO tool. No denying that.
But, the amount of data and features it provides at such a price is more than a thousand percent worth it. You can scale up your business with the help of Semrush in the long run and double up your earning.
For getting access to data like 24B keywords, 43T links, and 808M domain profiles, Investing in Semrush seems totally worthy to me.
Compared to top SEO tools like Ahref or Moz, Semrush entry plans pricing is similar however the organization of the features is better.
And yes, I found Semrush's most expensive plan (Business $499/month) is cheaper compared to Ahref agency plan ($999month) and Moz's top-level plan ($599/month)
Tip: Activate the Semrush promo code. It will help you get a Semrush Pro account for free for the next 14 days. You don't have to pay a penny. Or if you want to try Semrush Guru Account for free, then 14 days free trial access is available here.
Semrush Pricing Options: How Much Does it Cost?
Semrush offers 3 Plans based on number of projects, keywords metrics & features. Remember, the annual plans saves you up to 17% so make a wise decision.
Pro: $108.33/month
Guru: $208.33/month
Business: $416.66/month
1. Semrush Pro Plan
Price – $108.33/month
Features
Create 5 projects
500 keywords to track
10,000 results per report
1 lakh pages to crawl per month
No historic data
No content marketing platform
Best for – Beginners
2. Semrush Guru Plan
Price – $208.33/month
Features
Create up to 15 projects
1500 keywords to track
30,000 results per report
3 lakh pages to crawl per month
Get historic data
Get a content marketing platform
Best for – businesses, or affiliate marketers
3. Semrsuh Business Plan
Price – $416.66/month
Features
Create up to 40 projects
5000 keywords to track
50,000 results per report
10 lakh pages to crawl per month
Access to historic data
Get content marketing platform
Get API access
Best for – Agencies
Semrush Pro or Guru plans are more suitable for new businesses, affiliate marketers or marketeers.
Whereas the "Business Plan" should be given more preference when you are running a big agency with a lot of clients and requirements of more data (Keywords & Reports).
If you are totally new and have never used any SEO tool before, I advised you to start with a Semrush free trial and see how it goes with your business. And then upgrade accordingly.
---
Final Verdict
The MAIN Reasons to use Semrush is its database and the availability of so many SEO tools.
The main goal of Semrush is to reduce manual work, save countless hours on SEO tasks which can't be automated without a SEO tool.
By doing proper keyword research, and trying on relevant prospects for link-building analysis, your SEO strategy could possibly become robust and hold a high potential to produce positive results.
The biggest relief I get by choosing Semrush is to get free from using so many SEO tools for every SEO task (little or bigger). Semrush has a solution for all SEO problems (covering On-Page SEO, Local SEO, Technical SEO, Content Marketing, Advertising, etc) in a single place.
All in all, if you are searching for an SEO tool that helps you in every regard of SEO, try Semrush.
If you want to find out the keywords your competitors are using, this tool is the best fit for you. If you want to find out the best-performing keywords along with the backlink analysis, this tool is for you. Yes, it is a little bit expensive but has a huge potential to grow revenue over a period of time.
To estimate the traffic of any website, this tool gives you almost accurate results. Although there are a lot of tools out there to check website traffic but this is the trusted source as it has advanced options to give accurate results to the users.
Whether you want to increase your income by promoting the right affiliate products or increase your website organic traffic by using the best keywords that your competitors are using – the Semrush SEO tool is for you.
In a nutshell, whether you are a blogger, affiliate marketer, content marketer, small business, large enterprise Semrush has something for you.
---
FAQs | Semrush SEO Tool
Here are a few essential questions and answers you must know about Semrush tool:
What is Semrush?
Semrush is a comprehensive online marketing tool that offers over 55 SEO tools including keyword research, domain analysis, site audits, position tracking, and much more
Can I do a domain comparison using Semrush?
Yes, you can easily do side-by-side domain comparisons using Semrush in the Domain Vs Domain feature where you can enter any two or more of the domains to compare and Semrush will immediately fetch all the essential details that you need to analyze your competitors in one place.
What does Semrush do exactly?
Semrush is mainly used as a competitor research tool and it can also be used as an all-in-one SEO toolkit where you can easily do all the following things.
→ Keyword research
→ Site audits
→ Keyword rank tracking
→ Backlink analysis
→ Site positioning
→ Content creation ideas
→ Competitive analysis and more
What can I do with a Semrush free account?
If you're wondering about what features you get with a free account from Semrush, it gives everything just like a usual premium monthly plan. That means from keyword research to competitor analysis to backlinks, you can use Semrush free version to do whatever you want until your trial period expires.
How can I get Semrush for free?
Semrush offers a trial account that allows you to try it for 7 days but BloggersPassion is tied up with Semrush to provide you exclusive Semrush free trial for 14 days.
What are the alternatives to Semrush for keyword research?
Although Semrush is an incredible tool for finding profitable keywords, if you're also looking for the best Semrush alternatives especially for doing keyword research, we recommend you to check out the following tools.
→ KW Finder
→ Moz Pro
→ Ahrefs Keywords Explorer
Is Semrush worth paying for?
Yes, Semrush is a premium tool and starting plan costs you $108.33 per month. Although it sounds like an expensive tool but it gives access to over 55 SEO tools under one roof, which makes it worth every penny.
How much does Semrush cost?
Semrush currently offers 3 pricing plans for monthly subscriptions which are; Pro for $108.33, Guru for $208.33, and Business starting at $416.66. All three plans are recurring subscriptions which means you will have to pay every single month until you cancel the account (and you can cancel your account at any time easily).
is Semrush legit?
Yes, SEMrush is a legitimate and reputable SEO and digital marketing software platform. It has been used by more than 10 million professionals in the field for keyword research, competitive analysis, backlink analysis, and various other SEO and marketing tasks.
Browse More SEO Tool Contents:
Have you found this comprehensive Semrush review useful? Still have any questions? Let us know in the comments.