Are you looking for an honest comparison of Moz vs Semrush?
If you're looking for an all-in-one SEO toolkit, both Semrush and Moz are great tools as they offer amazing features (at almost similar pricing).
So, picking the RIGHT SEO tool among them is definitely a daunting task.
Fortunately, we've been using both these tools for over 7 years, so we know which tool has the BEST features. So in this post, let's talk about both of their features, pricing, pros, cons, etc, and the unique benefits so you can easily decide which one you should go for.
That being said, we HIGHLY recommend you try out both these tools before investing your money. Here are the quick links to both these tools' trial versions. So grab them and get a feel of both the tools.
| Which is Best SEO Tool? | Semrush Pro | Moz Pro |
| --- | --- | --- |
| Pricing | $129.95/Month | $99/Month |
| No. of Keywords Tracked | 500 Keywords | 300 Keywords |
| Keywords database size? | Over 21 billion keywords | Over 500 million |
| SEO reporting available? | Yes, including custom and white label reports | Yes |
| Provides accurate keyword volume? | Yes | Not so accurate |
| Content marketing toolkit available? | Yes | No |
| Scheduled PDF reports | Yes | No |
| Is Site Audit available? | Yes | Yes |
| Suitable for | Beginners, SEOs, bloggers, marketers and agencies | Mostly SEO experts and SEO agencies |
| Get Your Free Trial | | |
Without much ado, let's dive into the details of the Moz vs Semrush comparison.
Moz vs Semrush: Which is the BEST SEO Tool for 2024?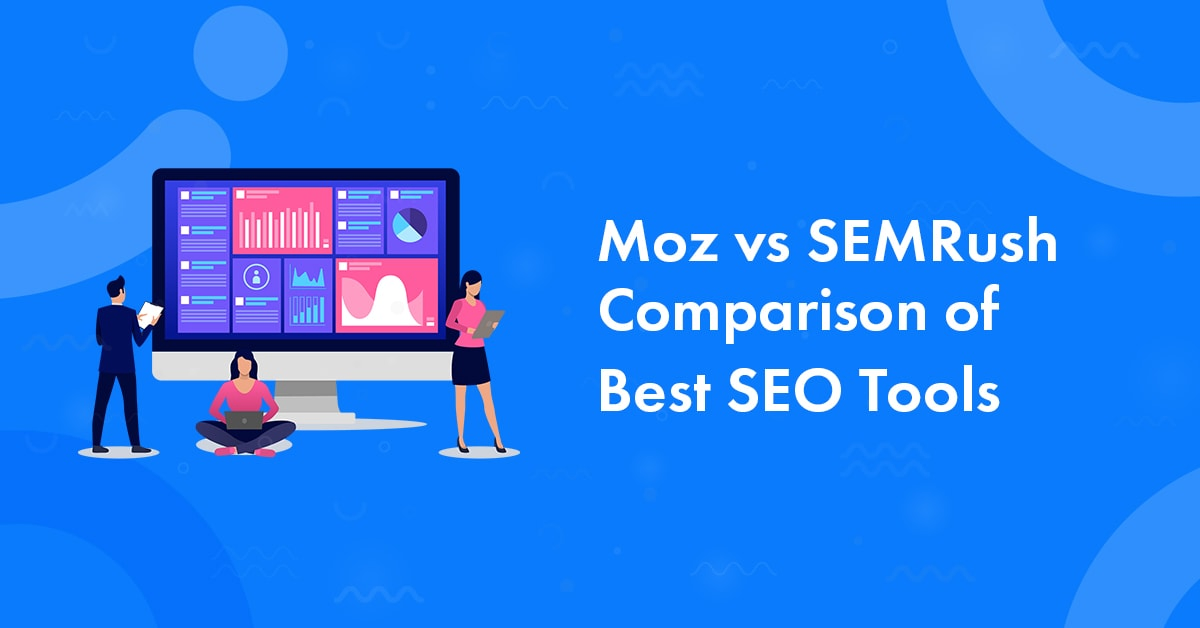 Features Comparison
Moz is an advanced SEO toolset and its pricing starts at $99/mo which is backed by the largest community of SEOs whereas Semrush is an all-in-one SEO toolkit and its pricing starts at $129.95/mo which is used by over 10 million people worldwide.
Although Moz and Semrush are both SEO toolkits Semrush offers even more useful tools when compared to Moz. So let's first have a look at all the features of Semrush and Moz.
List of Semrush features:
Keyword Magic tool contains over 25 billion keywords in its databases
Organic research which helps you easily find your competitors top performing keywords, new competitors, analyse domain position changes and so on
Backlink too which helps you perform deep link analysis of any website
Keyword research tool helps you find the right keywords for SEO and PPC campaigns
Traffic Analytics tool helps you find any website's traffic and monitor their strategies
Market Explorer helps you analyze new markets and niches
Domain vs domain comparison
Site Audit tool helps you check your site's health, find all your site issues and fix them
Social media tracker
Brand Monitoring
On-page SEO checker
Advertising research tool to find your competitors ad copies and strategies
Try Semrush FREE for 14 days (Worth $129.95)
List of Moz features:
Keyword Explorer tool contains over 500 million keywords
Offers proprietary metrics like Page Authority (PA), Domain Authority (DA), and Spam Score which are extremely useful for all kinds of bloggers and marketers to analyse the popularity of a site
Save keyword lists that you can track whenever you want
Track your keyword rankings both local and national searches
Search Visibility score gives you a holistic view of how you rank for your keywords (great feature for SEO nerds)
Audit feature is excellent as you can easily find all the website issues and fix them
Offers recommendations to improve your on-page optimization
The ability to create custom reports
Try Moz Pro FREE for 30 days (Worth $99)
---
Major Differences Between Semrush and Moz
Only 300 keyword rankings are allowed in Moz Pro whereas Semrush allows you to track up to 500 keywords (with daily updates).
Semrush Keyword Magic tool gives access to a whopping 25 BILLION keywords whereas the Moz Keyword Explorer has over 500 million keywords
The dashboard of Semrush offers you more data than Moz Pro
Semrush offers over 50 tools under one roof whereas Moz Pro offers only around 5 to 6 tools
---
Semrush Dashboard Overview (With Pros & Cons)
Here's what the Semrush dashboard looks like;
As you can see above, from domain overview to backlink gap to position tracking, you can find literally do almost any SEO-related task using Semrush.
Pros of Semrush:
Currently, Semrush has over 21 billion keywords data from 142 geo databases (no matter what niche you are in, you can find tons of keyword ideas)
Semrush provides the MOST accurate keyword data for search volume (this is the #1 reason for anyone to use Semrush over Moz)
It also offers excellent SEO reporting including custom PDF reports (branded or white label reports)
Semrush helps you grow your search traffic, rankings and keyword visibility.
You will find almost every tool that helps you improve your SEO from finding keywords to backlink analysis to keyword position tracking. It covers everything.
It allows you to check Domain Vs Domain metrics which is really helpful for competing with your competitors.
You can track your competitors and consequently improve your own SEO ranking.
It provides more competitive data and each keyword is backed by a long history like how popular it is, who has used it, what is its value, and so on.
You get an estimation of how much your competitor might be spending on Ads in comparison to Product Listing Ads (PLAs).
If you want to know how good or bad a website is performing on Google, then use Semrush's site audit tool and you will get all the site issues.
Cons of Semrush:
Moz Pro pricing plans start at $99 per month whereas the Semrush Pro costs you $129.95/mo. Apart from pricing, Semrush excels over Moz in everything.
---
Moz Pro Dashboard Overview (With Pros & Cons)
Here's what the Moz Pro dashboard looks like;
Moz Pro offers a ton of tools including keyword research, custom reports, site crawl, page optimization, etc (as shown above).
Pros of Moz
The analytics and results that Moz provides are very detailed and helpful.
Its spam score will help you to find potentially spam links on your websites.
It offers 30 day free trial so that you can explore all of its features.
Moz pro helps you to uncover lots of quality link building sources that you can increase your traffic to your blog.
Helpful community and forums. Have any issue in using the Moz tools? Just ask your question in Moz forums and you will get awesome responses. If you are a beginner, what can you expect more?
Moz continues to update their tools and adding more features to their list. This will certainly help SEO guys to boost their SEO rankings.
Cons of Moz
It has many great features which are highly useful. It may take a while to figure out all of its functionality when you first get started. Once you figure it out, it will be a lifesaver.
Moz Pro doesn't offer as many tools and useful features as compared to Semrush.
---
Semrush Pricing
Semrush pricing plans start at $129.95 per month and go all the way up to $499.95. You can save up to 17% when you go with their annual plans.
Want a 14-day Semrush free trial?
Grab 14 days FREE trial of Semrush (Worth $129.95)
---
Moz Pro Pricing
Moz Pro pricing plans start at $99 per month and go all the way up to $599 per month. You can save up to 20% when you pay yearly.
Want a free 30-day trial version of Moz?
Grab 30 days FREE trial of Moz Pro (Worth $99)
---
Keyword Research Overview
Here's what the keyword magic tool on Semrush looks like;
As you can see above, you'll find a ton of keyword data including search volume, keyword difficulty, CPC, keyword suggestions, and keyword trends.
You'll also find;
Phrase match keywords (with volume, CPC, SERP)
Related keywords (with volume, CPC, SERP)
SERP features
Question-based keywords and so on
Here's what the Moz Pro keyword tool looks like;
As you can see above, you'll get keyword data including monthly volume, keyword difficulty, and organic CTR along with keyword suggestions and SERP analysis.
---
Site Audits Overview
Here's what the site audits look like in Semrush;
As you can see above, you can get a full health score of your site along with;
Errors
Warnings and
Notices
It also gives you suggestions on how to fix all your site issues to improve your site's health score for better SEO performance.
Here's what the site audits look like in Moz Pro;
Similar to the Semrush site audit tool, Moz Pro also offers a site crawl tool that helps you easily find and fix all your site issues including missing H1 tags, alt tags, lengthy URLs, and so on.
---
Backlink Analysis Overview
Here's what the backlink analysis tool looks like in Semrush;
As you can see above, you can find the authority score, referring domains, backlinks, keywords, etc. You can also use it to find all the backlink sources of your competitors (along with new and lost links).
Here's what the Link Research looks like in Moz Pro;
Moz Link research tool also offers you extensive data where you can discover any site's link along with new and lost links.
---
Why Use Semrush?
Semrush is your all-in-one SEO tool that helps you find profitable keywords and crush your competitors by spying on their keywords, backlinks, traffic, and ad strategies.
If you want to outrank your competitors, this is the only tool we recommend.
We've been using it for over 6 years and are extremely satisfied with the results so far. Semrush not only helped us grow our site's search traffic but it helped us generate over $13,000 per month from the blog you're currently reading.
Semrush databases are updated very frequently, and that's the one reason why you get accurate data.
If you're looking for the RIGHT tool among Moz vs Semrush and looking for a better tool to know what keywords your competitors are ranking for along with their traffic, backlink sources, etc – Semrush is the perfect tool for you. Here are a few major benefits of using Semrush over Moz Pro.
1. In-depth backlink analysis
You can easily conduct a deep backlink analysis using Semrush. Backlinks can be considered as "positive votes" by search engines like Google, the more you have the better rankings you will get.
But you need to find a way to deeply analyze the backlinks of your competitors if you want to uncover a few link building strategies, here's where this tool helps you!
You can conduct a deep analysis and know what kind of links are pointed toward your website. Its effective backlink checker helps you to keep a check on incoming links, how authoritative it is, and so on.
Its backlink report helps you to improve the quality of the backlink you receive and also discover new referral traffic sources.
Here are a few things that this tool will help you with:
You can know whether the backlinks you received are genuine or spam.
You can know from which location you have been referred.
You will get all information like, from where your competitors are getting strong and authoritative backlinks.
In fact, it also offers a tool for finding toxic links.
As you can see above, you can use their Backlink Audit tool to analyze your site's backlink profile. You can easily discover toxic links on your site and disavow them for better rankings.
2. Find the best performing keywords in ANY niche
Now, finding profitable keywords is easy with Semrush. Go to the Semrush dashboard, and choose "Keyword Magic Tool" under the Keyword Research section.
Enter any keyword and it gives you a detailed list of all the keyword ideas along with the monthly search volume.
Here's what it looks like;
As you can see above, the Keyword Magic tool is your ultimate choice for keyword research.
Want to find keywords with less competition? Check!
Want to find low-competitive keywords? Check!
Want to target money-making keywords? Check.
Semrush keyword magic tool is the perfect tool to discover the most profitable keywords in any niche. You can check out our article to learn how to find profitable keywords with Semrush.
It also gives you a list of all the organic search results that are ranking at the top of Google.
Here are a few things you can get:
It will give a complete list of the best keywords related to your niche.
You can explore keywords that are region-specific.
It displays Match keywords as well as phrases.
You can also discover related keywords.
3. Find advertising opportunities
There are sites that pay for the traffic you get, through Google Ads. If you could find those companies, then you could make money by suggesting they put their ads on your site directly.
Semrush looks at all the keywords you are ranking for and then identifies companies that are advertising based on these keywords and displays them in a chart.
This is what you can see in the chart:
Domain: This is the website that is paying for the traffic
Common keywords: They bid on these keywords that you happen to rank for.
Ads keywords: They target these keywords.
Ads traffic: The traffic generated from these ads.
Ads traffic price: The cost of driving this traffic.
So, start searching for some relevant companies and approach them to know whether they are interested in putting ads on your site. If they are spending a lot of money advertising for keywords you already rank for, then that will be a huge benefit to you.
Here are a few more ways Semrush helps you.
Semrush is an all-rounder SEO package tool. If you want to crush your competition, this is the tool you should first give a try. Here are a few more ways it helps you.
Spy on your competitors' keywords: This tool is mainly used for spying on your competitors be it by finding their backlinks, checking their website traffic, and even their best-performing keywords. This allows anyone to easily better understand their competition and target audience. If you know your competitors' keywords, you are well ahead of them in any niche.
Find out your competitors' ad strategies: If you are focusing on using ads to boost your traffic, leads, and sales, you first need to test the waters. If you want to do it without spending any money, use Semrush to check your competitors' ad strategies.
Use Site Audit to find and fix your site issues: One of the major reasons we love Semrush is it provides a Site Audit feature. This helps you easily find and fix all your website issues. The great thing is that it shows you how much "health percentage" your site has (along with the issues it has). So you can improve it every time by fixing your website issues such as crawling issues, images with no alt tags, long title or meta description, too many internal links, etc.
Position tracking tool: Everyone wants to know how their keywords are performing well in search results, but most of us don't know how to track them. If you want to track any keyword position, Semrush allows you to do that. You can also import all your data to your emails so that you can have access to it at any time and make necessary improvements.
Here's what it looks like;
Create projects: With Semrush Projects feature you can create projects by including your blog's domain details. Once you create the project with your existing blog's domain, Semrush will automatically compile all the data of it and gives you daily reports on the keyword positioning, daily search traffic, etc. This can be so helpful in improving your website's overall search engine traffic and rankings.
---
How to grab Semrush Pro Free for 14 Days
Step 1: Click on this special link to grab your 14 days Semrush account for free (which is worth $129.95 and you'll get free from the link).
Once you click on the link, you'll be taken to our co-branded landing page which looks like this;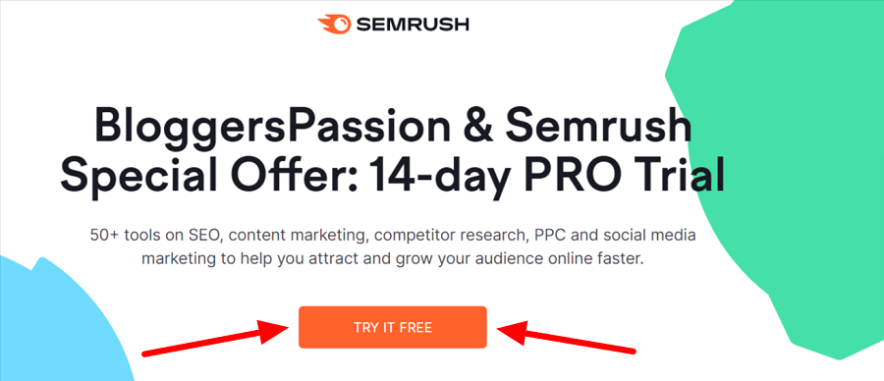 Step 2: Just click on the "Try it Free" button to continue.
Enter your email and password to create your Semrush account.
Then, you will be now redirected to the page that looks like something like this where you should enter your credit card details to get access to Semrush.
Step 3: In this final step, make sure to enter your details (email, password, and billing details) to grab your Semrush Pro account absolutely free for the next 14 days (which is worth $129.95)
Once you click on the "Place The Order" button, it will create your Semrush account without charging you anything.
---
How to Grab Semrush Guru account free for 14 days
Here's how you can access the Semrush Guru account free for 14 days.
Step 1: Visit this link and you'll be redirected to the following page.
Step 2: Once you click on the "Try it Free" button, you'll be taken to the following page.
Enter your details to create an account and you'll be taken to their payment page.
Step 3: Enter your details (email, password, and billing details) to grab your Semrush Guru account absolutely free for the next 14 days.
Browse More:
---
Why Use Moz Pro?
Moz is an SEO software that allows you to unlock all kinds of keyword metrics, on-page recommendations, link building opportunities, crawl errors, online mentions of your brand, and many more.
If you are serious about your blog or business then you need to invest in powerful SEO tools to automate tasks that normally take hours to complete. One such is Moz Pro, a comprehensive SEO software suite with several SEO functionalities.
It offers both basic and advanced research tools like keyword research tools, an SEO keyword generator, and link analysis that gives detailed data on your inbound links and link quality to improve your search engine optimization.
So in this Moz vs Semrush post, let's first talk about Moz Pro features so you will know whether that's the right tool for you to invest in or not.
1. Link analysis
With Moz Pro, you can know from where the most powerful backlinks are coming. This tool helps you to identify mentions of your business online.
Sometimes, your website gets mentioned in a blog post but the blogger failed to link back to your site. With this tool, you see all of your unlinked mentions on the web. You can even know how much people are talking about your blog.
The brands & mentions section creates a visual graph of all your site's mentions in one place.
Here's what it looks like;
As you can see above, you can find the domain authority, linking domains, inbound links, and much more.
2. Keyword research
Moz's new tool Keyword Explorer helps in determining which keywords to target for SEO. For this purpose, Moz intelligently created four metrics namely Volume, Difficulty, Opportunity, and Potential.
Keyword Volume: It is the number of times the keyword is searched monthly.
Keyword Difficulty: Based on domain authority and how many backlinks and social shares your competitors have, it shows how challenging it will be for you to rank well for that keyword.
Keyword Opportunity: In addition to regular search results, you can see things like ads and SERP features appearing on Google's front page. As more and more features crowd the front page of SERPs, the lower organic CTR will be.
Keyword Potential: A higher number means a better chance of ranking well in the SERPs for the keyword. So a keyword with a higher potential score typically has strong search volume and lower competition.
Moz does estimate what keywords led to your page visits. If your site is not ranking on the first page or in the top 3 places, then you should know the reasons behind it to work on. And this tool provides valuable insights into those making it to the top page.
It primarily focuses on the page authority and the domain authority to assess your competition.
3. Open site explorer
Open Site Explorer is one of the most popular tools of Moz. However, to access the best features of it, you need to be a paid subscriber.
Here are a few things you can analyze with this tool.
It shows spammy sites that link to your website.
You can learn what keywords the site might be ranking for. It analyzes the phrases and terms most commonly used as anchor text to link to the provided URL or domain.
To maximize link building, you can target the best pages. You can see top pages on this domain according to Page Authority.
You can find broken and unlinked link phrases on your website.
Here are a few more amazing things you can do with Moz tools.
Moz Analytics: Want to improve your search traffic, rankings, and keyword visibility? Moz Analytics tool is exclusively for you. It helps you audit your site, track your current keyword rankings and see what your competitors are doing. A perfect tool for all levels of bloggers who wants to improve their search visibility.
Competitor rank tracking: You can track keywords ranking from over 200 countries and you can easily discover who your top competitors are and compare their ranking performance. This helps you easily overtake your competitors in every SEO aspect.
Mobile rankings: This is a newly added feature by the Moz Pro team. This helps you easily analyze all your mobile rankings. You can also compare all the mobile Vs desktop rankings and you can also easily track your "mobile-friendly" tags. If your site is not mobile responsive yet, make sure to do it first. Otherwise, both your search rankings and traffic will eventually go down.
Find link opportunities: With Moz Pro, you can also easily discover unlinked mentions, reclaim broken links, find competitive link opportunities and get site contact information of any website of your competitors. This helps you uncover lots of quality link building sources so you can increase your traffic to your blog or site. Their Open Site Explorer helps you easily find out the Domain Authority (DA), Page Authority and page link metrics, etc features of any domain you enter within a few seconds.
Crawl test tool: You can crawl any website to find errors, HTTP status codes, and other useful data. You can explore up to 3000 links on any URL. You can also export this report to your emails. If you want to identify your site problems be it duplicate content, missing titles, crawling issues, etc, this tool helps you get instant information.
Fresh Web Explorer: Want to figure out who is linking to who? One of the simplest ways to grow your search traffic is to get more links. By analyzing the keywords and links of your competitors, you will have a fair advantage in where to find opportunities to build quality links for your sites. This tool helps you analyze mentions of your blog, competitors, and keywords.
Rank Tracker: If you want to boost your search rankings, first you need to know where your pages are currently ranking in Google search results. By knowing your keyword positions, it becomes easy for you to set goals to increase your rankings. This tool helps you get instant reports on where your pages are ranking in Google for any keyword.
On-Page Grader: On-page SEO is the key to building a high trafficked website. Unfortunately, most bloggers do it all wrong. Here's where Moz's On-page grader comes into help. It instantly audits your on-page SEO and gives you great insights on tweaking your pages for higher search engine rankings. Sounds great, right? The On-Page Grader scores your web pages by over 30 criteria, then ranks recommendations by importance and difficulty.
Keyword Difficulty and SERP Analysis Tool: Anyone who is doing SEO for a while knows the importance of keyword research. When you are finding new keywords to increase your traffic, it's important to know the difficulty. Otherwise, you end up wasting time and money on picking the wrong keywords that are highly competitive (and impossible to rank). Fortunately, with the Keyword Difficulty tool from Moz, you can choose the right keywords to minimize your time and effort, and maximize your results.
Spam analysis: Again, this is another newly added feature on the Moz Pro tool. The spam score will help you find potentially spam links on your websites. Once you find and fix those links, you will notice your traffic going up. You can also avoid Google penalties and audit your site thoroughly for harmful links.
Here's what the spam score looks like;
Page Optimization Checklist: Did you know that Moz Pro started giving an optimization checklist to boost your website's rankings? You can easily improve your page or post rankings by using Moz's tailored SEO recommended checklist. Even if you are an SEO newbie, you will find it really easy for you to improve your SEO rankings.
Moz also offers free tools such as Open Site Explorer (to identify link building opportunities), Followerwonk (to track Twitter accounts), MozBar (to perform keyword research and page analysis), and MozCast (to track daily changes in Google rankings).
Is Moz Pro worth paying for?
We've used Moz tools for a long time and we're quite happy with the tools they offer. Every tool is distinguished from the other, you will have access to most of their tools by just logging into your Moz account after signing up. They are worth your money if your goal is to take your SEO optimization to the next level.
Verdict: If you are using content marketing to grow your online business and website traffic, you should try Moz tools. They help you properly optimize your website content to grow your search traffic.
Is the Semrush tool worth paying for?
This Semrush VS Moz review was done to give you whether both tools are worth paying for or not. So yes, it's worth every penny. We're not exaggerating it but try Semrush free for 14 days and let us know. You won't regret buying it.
Verdict: Semrush is the #1 tool that is highly recommended by the majority of SEO experts. If you are on a budget and want to have access to an SEO tool that allows you to perform almost everything from finding keywords to spying on your competitors' backlinks, try it.
---
FAQs | Semrush vs Moz Review 2024
Here are some useful questions about Semrush Vs Moz.
What is Semrush used for?
Semrush is trusted by over 10 million people worldwide and is used for SEO, PPC, and SMM projects it offers 50+ advanced tools. You can find your competitors' traffic sources, rankings, and social media results, run site audits, find better keywords, and so on.
How much is Moz worth?
Moz offers FOUR pricing plans priced at $99, $179, $299, and $599 per month. With annual billing, you get a 20% instant discount on four plans.
Who owns Moz?
Moz was founded by Rand Fishkin and Gillian Muessig in 2004. After 17 years of working at Moz, Rand Fishkin left Moz and launched a new startup called "SparkToro".
What is Moz pro?
Moz Pro includes premium plans offered by Moz which are priced at $99, $179, $299, and $599 per month. All Moz Pro plans include 1-on-1 onboarding and 24-hour online support.
What is Moz rank?
Moz Rank estimates the linking authority. You can download their free MozBar to quickly evaluate ranking probability with Page Authority (PA) and Domain Authority (DA) scores.
Which is the best SEO tool among the Semrush, Moz, and Ahrefs?
Semrush is the best money-for-value SEO toolkit as it offers over 50 tools in one place. Moz is backed by a huge SEO community whereas Ahrefs offers excellent keyword data. When it comes to money for value, Semrush is great.
What is Semrush?
Semrush is an all-in-one marketing toolkit that offers 50+ SEO tools for SEO, PPC, SMM, and Content Marketing.
Is Moz or Semrush better?
Moz is an SEO software that lets you help with Keyword Research, Rank Tracking, Backlink analysis, and Site audits whereas Semrush is a complete growth hacking platform that helps you with SEO, Content Marketing, Market research, Advertising, and Social media.
Is Semrush accurate?
Yes, Semrush is very much more accurate than other SEO tools, as a result, 45% of Fortune 500 companies use Semrush as their go-to marketing tool and have been awarded 14 international awards.
Which is the best SEO tool?
When it comes to the value-for-money tool then Semrush could be the first choice.
---
Final Thoughts on Semrush Vs Moz Review
We know that picking one tool among Semrush vs Moz is really hard because they both are great SEO tools. They have their own unique features and come at unique price tags.
Moz and Semrush both are perfectly optimized SEO tools and they offer excellent features to their customers. If you are a small business owner, we'd recommend Moz because of the features it has. If you're a blogger and marketer, give Semrush a try, you will find it essential to growing your search traffic.
Choosing one among Moz vs Semrush has nothing to do with your budget, Moz tools starter package starts at $99 per month whereas Semrush comes for $129.95/mo.
Before jumping to a conclusion on which SEO tool to use, we highly recommend you to try them both (Moz and Semrush).
So what are you waiting for? Try them for free and let us know the best-suited tool for your SEO in 2024. We hope you liked the comparison of Semrush vs Moz review. If you have any more questions, let us know in the comments.