Announcement: Semrush has limited its free trial duration from 30 days to 14 days as of May 17, 2023. This would apply to all new users.
Are you looking for Semrush free trial? Whether you're looking for Semrush Pro or Guru free trials for 14 days, your search ends here.
Semrush is an all-in-one SEO toolkit that offers over 55 tools under one roof.
BloggersPassion is offering the Semrush trial of 14 days on both Pro (Worth $129.95) and Guru (Worth $249.95) plans. Claiming a trial can be done in 3 simple steps:
Choose Semrush Pro or Guru Trial
Create a Free Account
Fill up a Free trial form
---
In this post, you'll discover how to claim a free trial of Semrush Pro and Guru accounts. Plus, I will also show you how I was able to increase my website traffic using SEMRush.
How to Grab Semrush Free Trial: Claim Pro & Guru Accounts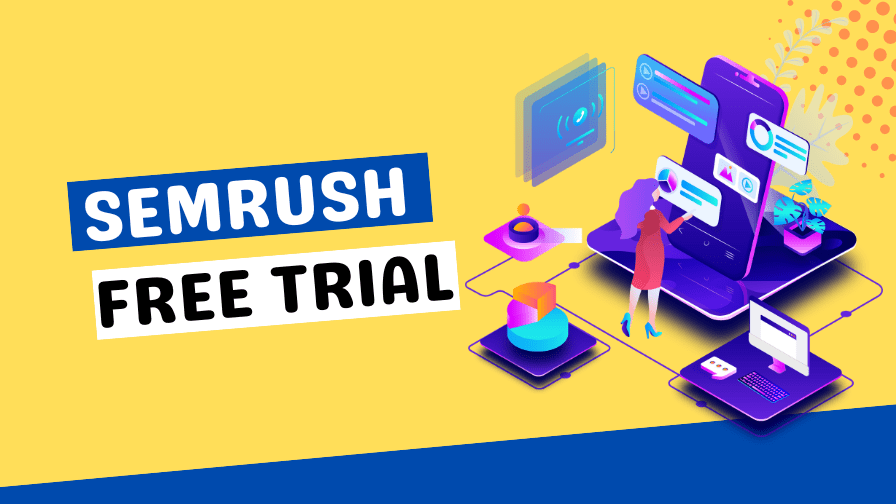 How to Activate Semrush Pro 14 Days Free Trial Worth $129.95?
Follow these steps to get a Semrush pro trial account for 14 days.
Step 1: Click on this offer link (coupon code is already applied) to activate your 14 days Semrush free trial.
You'll land on our co-branding page;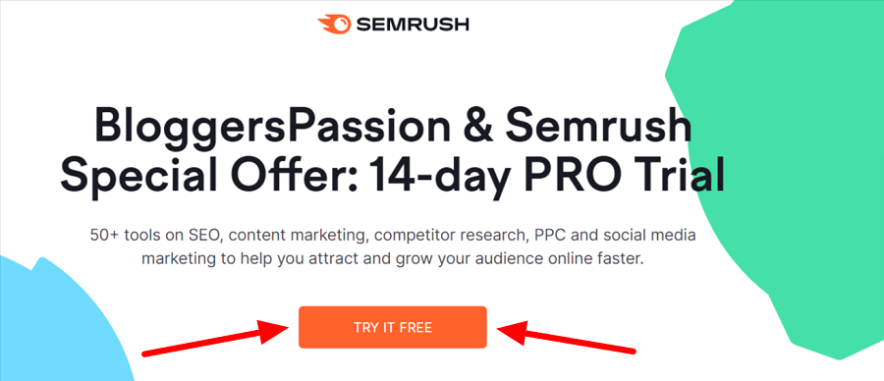 Click the "Try it Free" button to continue.
You'll now have to register by entering your email and any password. You can also register via Gmail.
Step 2: Once you enter your details, you will be now redirected to the page that looks like this, where you'll need to enter your billing details.
Step 3: Enter your details (email, password, and billing details) to grab your Semrush Pro account worth $120.95 free for the next 14 days, and start using the tool to boost your search engine rankings.
Once you click the "Place The Order" button, it will create your Semrush account without charging anything.
Looking for a GIF illustration to grab Semrush 14 days free trial? Here's it.
That's it! You now got Full Access to the Semrush Pro account for free for the next 14 days.
You are now ready to use Semrush's full features for the next 14 days, and if you are not happy with them, you can cancel your account at any time by sending an email to [email protected].
---
How to Activate Semrush Guru 14 Days Free Trial Worth $249.95?
Do you want to know how to get a Semrush Guru trial for free for the next 14 days, worth $249.95? Then, follow these steps.
Step 1: Click on this offer link to claim the Guru free trial from Semrush. Once on their site, click the "Try it Free" button.
Here's what it looks like;
Step 2: Then, you'll need to create an account.
Once you have entered an email and password (click on Agree to their terms and conditions) to create your account, you'll be taken to their payment page. It looks like this;
As you can see above, you'll be charged $0 and given a free 14 days trial to your Guru account.
Step 3: Enter your payment billing information to grab a Semrush Guru account free for 14 days after signing up.
That's it! You can cancel anytime and be charged $249.95 monthly if you continue using their Guru account.
---
Semrush Pro vs Guru Free Trial: Which Plan is More Suitable
The difference in the number of projects, keywords metrics & few features can be seen in Semrush plans. And these are the main factors on which your decision should be based.
| Features | Semrush Pro | Semrush Guru |
| --- | --- | --- |
| Projects | 5 | 15 |
| Results per report | 10,000 | 30,000 |
| Reports per day | 3,000 | 5,000 |
| Keywords to track | 500 | 1,500 |
| Pages to crawl | 100,000 | 300,000 |
| Monitoring | 50 Profiles | 100 Profiles |
| PDF reports | 5 | 20 |
| Historical Data (Jan 2012 - Now) | ✕ | ✓ |
| Content Marketing Platform | ✕ | ✓ |
| Keyword Cannibalization Report | ✕ | ✓ |
| Content Auditing (Pages) | ✕ | 20,000 |
| Plagiarism checks | ✕ | 5 Per month |
Quick note: Free cancellation before 14 days is applicable on both Semrush trial plans (No risk at all. Start today! )
Did you know you can always upgrade/downgrade your Semrush plan within 7 days? These 7 days will start counting when your 14 days free trial ends. And guess what, 100% refund is provided easily.
I have been using Semrush Guru since 2015, but you should first review both plans and then opt for the free trial.
Have a look.
Semrush Pro Plan:
Semrush Pro trial is designed for small marketers, freelancers, medium sized blogs, or for those who have a limited budget.
Projects: 5
Results per report: 10,000
Reports per day: 3,000
Keywords to track: 500
Pages to Crawl: 100,000
Monitoring: 50 Profiles
Scheduled PDF Reports: 5
Following features are accessible in the Semrush Pro:
Organic search
Keyword research
Advertising research
Backlink analysis
Traffic Estimation (Any Site)
Keywords difficulty (KD) analysis
Domain vs Domain comparison
Keyword positions tracking
Site audits
Semrush Guru Plan:
Semrush Guru trial is surely the best option for those bloggers who have numerous sites (Projects) or SEO consultants with plenty of clients.
I am using it for these additional features which are missing in the Pro plan:
Access to historical data (From Jan 2012 to now)
Content marketing tools (Very Powerful)
Keyword cannibalization report
And more…
Also, these are the updated metrics in the Guru Plan:
Projects: 15
Results per report: 30,000
Reports per day: 5,000
Keywords to track: 1,500
Pages to Crawl: 300,000
Monitoring: 100 Profiles
Scheduled PDF Reports: 20
Verdict:
Kicking off with Semrush with a Pro trial would be a wise decision because 9 out of 10 times a user requires an SEO tool to streamline these 4 tasks: Keyword research, Link Building tools, Competitor research, and Site audit. And the Pro trial has all of it. In a trial period of 14 days, you will get enough time to get used to the Semrush user interface and most of the features.
If you feel a need for content marketing features or access to historical data, then you can plan to upgrade your plan to Semrush Guru. Otherwise, the Pro plan has enough potential to satisfy your SEO requirements.
Which Semrush Plan Should You Consider After Free Trial Ends?
Semrush offers three pricing plans. You'll get an instant 17% off when you pay annually.
For more details, check out Semrush pricing plans, where you'll find which pricing plan best suits you.
---
Benefits Included in a Semrush Trial?
Throughout the trial period, you have full access to explore all the features of both SEMrush Pro and Guru, which is why dozens of benefits can be derived from the fantastic Semrush tool.
Using this tool consistently has brought forth a couple of benefits, like…
1.) Track Keyword Rankings with Ease:
To rank well on Google, it's essential to track keywords and use effective SEO tactics. Understanding how your website performs on Google relies on tracking keywords. This is where Semrush stands out as a user-friendly tool.
If you've been manually tracking keywords in Excel sheets, Semrush's Rank Tracking tool will automate this task entirely. It saves you loads of time on a daily basis.
Semrush provides accurate data on all your tracked keywords, showing their positions on Google. You can also compare multiple sites easily:
Check where competitors' keywords rank
See their search volume
Understand their search ranking details
According to the plan you choose, you can track a specific number of keywords. Within an hour, Semrush initiates tracking and provides you with daily updated data, displaying changes in rankings. You can quickly see which keywords have dropped and which ones have improved.
2.) Backlink Analysis Made Simple:
With Semrush, understanding backlinks is easy. It quickly finds and keeps track of websites linking to yours, helping improve your SEO based on what competitors are doing. Three tools would be available for your easy Link Building: Backlink Gap, Bulk Backlink Analysis, and Link Building tool.
Semrush's Backlink Audit Tool makes it simple to check your links, keeping them good and avoiding trouble with Google.
The Backlink Gap feature lets you see what links your competition has, up to five different ones.
Bulk Backlink Analysis helps you check out lots of other websites to see what they're doing with links.
Also, Semrush's Link Building Tool helps you get good links by talking to other websites and asking for links.
3.) Hassle Free Keyword Research:
Why should you trust Semrush keyword research? It has a database of 25 Billion keywords. That's HUGE.
Most SEO experts prefer using fewer SEO tools to save time and stay focused. That's why Semrush is at the top of their list.
Semrush offers five handy tools in its keyword research suite, each with its own purpose:
Keyword Overview: See how popular a keyword is, its value for advertising, how hard it is to use, and more.
Organic Research: Learn from your competitors' successful keywords. Find new ways to show up in search results that matter to your audience.
Keyword Magic Tool: Get tons of keyword ideas from just one word and discover lots of keywords to use.
Keyword Gap: Find new ways to make your website better for Google searches. You can compare a few different websites at once.
Keyword Manager: Save time by organizing lots of keywords. You can group them and share them with your team easily.
Organic Traffic Insights: Use Semrush with Google Analytics to see more about how people find your website.
As a Semrush user, I find these tools super helpful. They make finding the right keywords easier and help me understand what works best for my website.
---
How To Cancel Semrush Free Trial
So far, we have discussed how you can claim Semrush free trial offers.
If, for any reason, you don't want to continue the free trial, here's how you can cancel the free trial of Semrush.
Step 1: Log in to your Semrush account. Click on the profile icon in the top right corner of the page.
Select Subscription Info. Or simply follow this link, which takes you to the cancellation page.
Step 2: Find the link that says "Active" next to "recurring" and follow the "Contact Us" link to the cancellation form.
Simply fill out the cancellation form, and you're done!
The Semrush customer support team will contact you within a few hours. You can ask them to cancel your account to end the free trial.
---
Testimonials
Semrush is one of the oldest SEO tools that offers more than 50 tools today. In today's time, SEO experts, content marketers, bloggers, social media users – everyone is using Semrush. Talking about its customer base, it has exceeded 10 million users.
1.) Brian Dean, Founder of Backlinko says – Semrush stands out for its great value, offering both a complete SEO software suite and Google ads tools for one simple monthly price.
2.) A Organic Growth Lead working at Wix says,
3.) A Content Strategist working at Landbot says
---
FAQs:
Does Semrush offer a free trial?
Semrush offers a free trial for Guru and Pro plans for 14 days.
Can I cancel my Semrush account after the free trial?
You can cancel your Semrush account before the trial ends to avoid getting charged. Just send an email to [email protected] with your cancellation request.
Can I get the Semrush free trial without credit card?
No, you can't. You need to enter your credit card details to claim its free trial.
Is Semrush offering a 60-day trial or more?
Semrush used to offer 60-day free trials. But now, it is giving access to only 14-day trials.
How much does Semrush cost per month?
Semrush monthly plans start from $129 and go up to $499.
Which is better: Semrush or Ahrefs?
Semrush and Ahrefs are the 2 legendary SEO tools of all time. Ahrefs usually has a better user interface but Semrush clearly wins in a number of features and money aspects.
Is a feature of the White label report available in the Semrush trial?
No. The "White Label Report" feature can only be found in Semrush business or enterprise plans. Unfortunately, there is no trial available for the Semrush business plan.
Is any money back guarantee applies to Semrush paid plans?
Yes. Semrush follows 7 day 100% refund money back policy.
---
Final thoughts on Semrush Free Account
Is Semrush Free Trial Worth it? Should You Extend It?
If I have to answer this in short:
Yes, Upgrading to Semrush for full time will be a game changer move for your business.
I am saying this because of the POSITIVE impact Semrush made up on our site traffic in just 14 days. The benefits Semrush are huge and required to run a successful marketing or blogging business.
"I was able to increase our site's ORGANIC traffic (14.83%) in a month" – You can always review our Semrush case study if you feel Semrush isn't worth it for you.
SEMrush may not suit everyone's needs, especially for beginners who are on a tight budget. The pricing, even after the free trial, might not be in line with their financial constraints.
Keep in mind that SEMrush is just one of many SEO and digital marketing tools available. Depending on your specific requirements, you might want to explore other alternatives in the market.
If you're on the hunt for a powerful marketing toolkit, Semrush is a must-try.
The best part? With its 14 days free trial coupon, you can try Pro or Guru accounts for $0.
So what are your thoughts on Semrush's free trial account? Have you claimed it? Have any questions? Let us know in the comments.