How to Start a Blog in 10 Minutes Or Less in 2019 [Step By Step Process]
Do you want to know how to start a blog or website in just 10 minutes?
Starting a blog was the best step I have taken in my professional life. Now, I have a range of niche websites besides this very blog and all I can say is blogs are the best way to express yourself, earn money online and build authority around your brand.
Now, when I look back, I wonder how profitable I would have been if I knew the right process about how to start a blog back in those days.
If you've been thinking to start a blog, this post is for you because I will lay down the exact process I use (now) to start my websites successfully.
These steps have ensured that my blog give my business the right exposure, perfect search engine rankings and bring the right passive income by converting visitors into sales. Let's get started!
How to Start a Blog in 10 Minutes in 2019 [Process Explained]
This is the only guide you need to read for starting a blog and it is a long one. So grab your coffee and get started. While the actual verbiage of blog launch can have as many steps, I will showcase you all those in 5 easy-to-follow steps to building a successful blog in less than 10 minutes or so.
What you will learn in this post?
Choosing a name (domain) for your blog and where to host it
Giving your blog a design that converts
Writing blog content for your readers (most essential part)
Setting up SEO & analytics for tracking visitors
Promotion plans to reach more people
Step 1: Choosing your Domain Name and Hosting
Step 1: Click This Link to start your WordPress blog on Bluehost
Step 2: Select the hosting plan of your interest
Pick the hosting plan from basic, plus and prime on the basis of your need as shown below:
Step 3: Enter your desired domain name  (you'll get free domain for one year with Bluehost)
Try to pick a domain name that is easy to read, type and remember.
Step 4: Enter your account information and click "next"
Here you have to enter your account details to buy hosting from Bluehost.
Here are the Bluehost discounted pricing details for Bloggers Passion Readers:
36 Months: $2.95/Month
24 Months: $3.95/Month
12 Months: $4.95/Month
Step 5: Create a secured password and login
Please pick a strong and secured password that contains alphabets, numbers and symbols to make your password is not easily predictable.
Once you've set your password successfully, you will get something like this;
Step 2: Giving your website a design that converts
Now that you have set up a blog, you would want to give your blog a definite look and feel. Notice how each blog looks and feels different even if they are hosted on the same WordPress? This website design is due to WordPress Themes.
Your website design is what represents your blog's persona, your brand feel and decides how your visitors convert. This is why you must choose a premium WordPress theme.
PRO TIP: If you're wondering why I am suggesting paid tools to start a blog, I would say these three are the most essential and perhaps the only compulsory investments you need to start your blog. WordPress comes with free themes and they are so generic that you would better not use them, leave alone the featureless properties.
My Recommendation:
My blog is powered by a custom designed theme which can cost you anywhere between $1000 or so. But, you don't need to shell out so much money. For starting a new blog, you need a simple yet professional theme. You should go for Elegant Themes which costs $89 for 87 uniquely designed themes.
Other Tips to a winning blog design:
Don't clutter your blog with ads, at least not before you have a meaningful number of visitors.
Leave a lot of white space.
Elegant Themes above gives you 87 different themes, choose the one that best fits your need.
Invest in a logo. You can get yourself a decent logo for $5 using Fiverr or hire someone (if you have the budget).
Use some social sharing buttons to help your readers spread the word about your posts. The best thing about WordPress is, it has a ton of plugins (like tools) that you can install and get the work done.You can choose a premium social sharing plugin like social warfare or get the work done with free plugins like add this.
Step 3: Writing blog content for your readers
Now that you have setup your blog, it will be blank and will have nothing for your readers. Hence, you need content to showcase your readers. This content can give an idea about what your visitors can expect from your blog and initial posts on the topic you are going to write.
Your first blog entries would be divided into two types:
The basic yet important pages
The content that sells (posts)
Quick Tip: Pages are when you want to have content that is timeless (stays same over the time) and cannot be included in RSS feed. Posts on the other hand are changed over time and are more share-worthy. Pages mostly include informational content like a about us page, privacy policy page etc.
1. The basic yet Important pages:
These are the pages that almost every blog must have. You need to write a compelling about us page (see mine here) which will house your purpose of blog, team members, what the visitors can expect etc.
Other pages that you must add are:
Privacy policy page (example)
Contact page (example)
Any services page (if you offer) (example)
2. The content that sells (posts):
This part of the writing process is what is going to continue as far as your blogging continues. These are called blog articles or entries. Writing your first blog entry can be difficult if you have never managed a blog before but it doesn't need to be complicated.
Here is a step by step process for publishing your first blog entry easily.
Few things to keep in mind while creating a content strategy side by side of your new blog launch announcement:
1. Make sure you have enough articles to satisfy your visitors:
When you get the word about your blog out there, you need to have enough articles that your visitors will stick around for a while. Having not less than 5 articles is considered ideal but you can have anything more than that. The more, the better!
Having enough content on the blog before launching will:
Reduce your bounce rates
Increase your business impression by showcasing your expertise on the subject
Give you enough time to focus on next step, that is, promotion.
2. Create a pillar post:
Pillar posts are something that are resourceful guides on the topic. These posts are often the one larger than other posts and should be catered towards problem solving in your niche. Here is a guide to create pillar posts that rank. You should definitely write at least one pillar post prior to your launch so that you can show your authority in your niche.
For example: If you are starting a food blog, you can create a resource on complete guide to food photography or the complete guide to kitchen maintenance.
Now the question arises,
3. How do you create posts that bring traffic to your website?
In the blogging world, website traffic is the other name of money. The more and targeted your traffic is, the more you earn. So, it is very essential to write content that brings traffic and converts.
You cannot do it manually, and there are a lot of tools in the market that can help you do it faster and better. If you want to come up with content ideas for your newly launching website there is no better place than competitor research.
And the tool to help you find golden keywords that are easier to rank and bank is SEMrush.
I have been using this tool since quite a long time and it has helped me go from writing random posts to writing posts that get traffic and convert into sales.
How to use SEMrush to find content ideas for your new blog?
Use this link to get SEMrush for 14 days absolutely free of cost. You can buy it for sure (check here for discount coupon) but if you are tight in budget using the 14 days free trial is a no brainer.
The next step would be plug in any of your competitor sites on the search bar of the SEMrush dashboard. Taking our example of food blog above, I typed Pinchofyum.com on the place.
SEMrush is quick to give you all the possible keywords that the site might be targeting including the paid (adwords) keywords (remember seeing ads in search results? That is adwords ads).
See the screenshot below to see top 5 keywords and if you click view full report, it gives you complete report and even more keywords.
And if you want even more sites, the competitors of Pinchofyum would be your competitors. So, SEMrush even gives you the competitor list of your entered website so that you can target those sites and see for some low hanging fruits (keywords) to target in your newly launching blog. Check out the same pinchofyum.com example.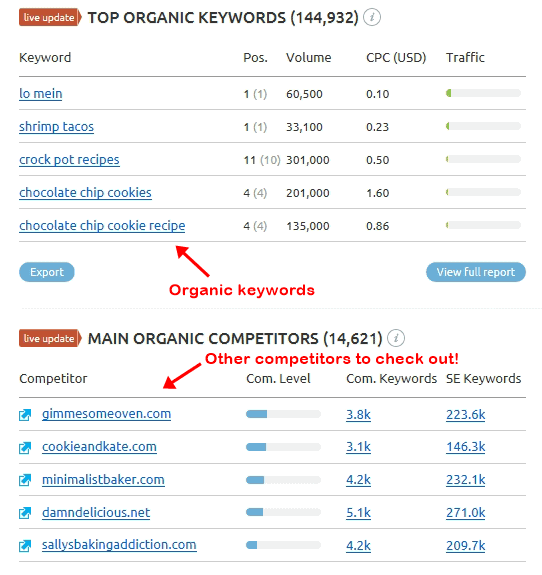 This is the exact formula I use to create a content plan for all my new blogs and guess what, they rank faster and generate sales sooner than those sites which do not have a solid content or keyword strategy.
Read the detailed guide to finding keywords for your blog.
Here is your 14 days free trial link again!
Step 4: Setting up SEO and Analytics for your blog
Now the next and most important step is to optimize your blog for search engines. This is crucial because search engines are what will drive organic traffic to your blog. Here are the steps you need to perform to make your blog search engine optimized.
1. Install WordPress SEO plugin:
WordPress SEO by Yoast is the most used plugin that will make sure your posts are SEO-optimized, help you in setting up search snippets and also create a sitemap for your blog. All this for free.
PRO TIP: Use this guide to setup Yoast SEO on your blog.
2. Add Google analytics code:
Google analytics code is like the soul of your blog. It helps you track your page views, unique visitors at any point of time. Much more than that, it tells you which pages get the most traffic, what keywords bring you traffic and a heck load of data about your visitors like demographics, device used to access your blog and interests etc.
Installing Google Analytics on your blog is a must-do if you want to blog professionally. Here is the video guide to install Analytics on your site.
3. Submit your site to Google search console:
Google search console is a platform where you can manage your site, the sitelinks that you want to appear, disavow bad backlinks etc. You can submit your sitemap to Google here. Click here to learn more.
Similarly, submit your blog to Bing and Yahoo webmaster tools. These aren't necessary but why leave even a small piece on the table?
4. Create official pages on social media platforms:
This is essential for creating your brand presence and will also give your domain some trust signals. Pinterest asks you to verify your domain ownership which can be done with Yoast easily.
Step 5: Website promotion plan to reach more people
After you have set up your blog, written content on it and set your social profiles, the last step would be to get the blog launch announcement wording out there. Initially search engines won't send you any traffic.
This is the time you have to focus on marketing and networking to make your blog launch successful.
Here are some ways to get some initial traffic to your new blog:
1. Write Guest Posts:
Guest posts are a very good way to get some initial traffic from targeted audience of other blogs. This can be done by building a relationship with other authority blogs in your niche and pitching them your guest posts.
Most blogs don't allow backlinks to your new blog but you can suffice it by adding a link to your coming soon page or even homepage on your author bio. Guest blogging can bring you tons of initial visitors and subscribers even before you officially launch your blog.
Jon Morrow used this same principle to get over 13,000 subscribers even before launching his now authority blog SmartBlogger.com. Similarly, Leo Widrich of Buffer managed to get 100,000 visitors to his 9 month old blog just by guest posting.
2. Ask your peers and friends to share it:
If you are a business organization dealing with launch of your company blog, the best thing you can do is ask your teammates, colleagues and employees to share your blog to your network. You can even do a press release if you wish.
Otherwise, you can use social media platforms and ask your friends, fellow bloggers to get you the initial exposure. If you have the money, using facebook ads is the best option to reach your target audience on autopilot.
3. Broadcast to your email subscribers:
You can use your email list, if any, to broadcast about your new blog launch.
4. Leverage blogging communities:
Blogging communities like Blogengage and social media sharing communities like viralcontentbuzz or justretweet are sure to give you the initial traffic flow and social media shares that will boost your blog visibility.
5 Mistakes To Avoid When Starting A New Blog Or Website
Building a new website is easy but there'll be a ton of blogging mistakes most beginners make. While there's nothing wrong in making mistakes but you'll be building a profitable blog quickly if you can avoid a few costly and common mistakes.
Here are top 5 mistakes to avoid when launching a new website in 2019.
1. Don't cover too many topics
Seriously, a lot of bloggers cover too many topics. They cover something about fitness. The next day they cover something about technology. If you want to build a money making blog, don't do that mistake. Focus on very few topics that you master in the long run.
As a rule of thumb, we recommend you to stick to just 2 to 3 topics and create blog posts only around those topics.
2. Don't ignore SEO
SEO is the #1 reason why the majority of the blogs and websites get a ton of traffic and sales. If you want to survive in the long run, make sure to give importance to SEO. SEO basically involves keyword research, on page optimization, building backlinks and so on.
Here's an ultimate guide around SEO where you can get every detail around SEO to improve your search traffic and sales.
3. Your website speed matters a lot
The more time it takes to load your website pages, the higher your website bounce rates will be. Make sure your site loads within 2 to 3 seconds. The best way to get faster loading times is to use a faster hosting service (we recommend WPX hosting).
Above all, make your site mobile responsive because smartphone internet usage is increasing at a rapid rate.
4. Don't steal
One of the most common mistakes beginner bloggers make is trying to steal from others. Don't copy others content. Don't steal others images. It doesn't add any value. In fact, it degrades your online reputation in the long run.
5. Invest where its needed
It takes money to make money online. Always remember that. Here are a few things where you should invest money to make your blog successful in 2019.
Website design (invest in premium WordPress themes)
Get a unique logo
Proper hosting
Email marketing and SEO tools (like Drip, SEMrush and so on)
FAQs On How to Start A Blog In 2019
Here are few important questions you might want to know about how to start a blog or website in 2019 and beyond.
1. How to launch a website on WordPress and how much does it cost?
Launching a WordPress site is extremely easy and basically involves in 3 easy steps which are;
Register a domain name (when you're on hosting like Bluehost, you get a free domain for 1 year)
Get hosting (we recommend Bluehost)
Install WordPress on your hosting
It's as simple as that.
Now coming to the question of the cost of setting up a WordPress site. It costs you around $100 for a year (along with hosting, domain etc).
2. How to choose a memorable domain name for a website?
Choosing a memorable domain name is not easy. There are some characteristics of good domain that you must consider to be able to register a great domain. You can also use tools like Panabee.com, Namemesh.com, Dot-o-mator.com and so on to easily come up with a ton of ideas. You can also quickly know whether the domains are available or not.
3. How to install WordPress on Bluehost hosting?
Installing WordPress on Bluehost hosting is so easy. We've written a simply step by step tutorial on installing WordPress on Bluehost just within few minutes and it's also included all the screenshots.
4. What are some tips to making money online with your blog?
There are a ton of ways to make money from blogging but majority of the bloggers choose the following ways to make money.
Affiliate marketing (which means selling others products where you earn commission for every successful sale made through your affiliate referral links)
Display advertising networks (such as AdSense, Chitika, RevenueHits and so on)
Selling your own products (such as eBooks, videos, plugins, themes and so on)
Selling online courses
Paid reviews (you'll get paid for promoting others products where you need to publish reviews of their products or services)
Blog consulting
Offering services (such as freelance writing, design, SEO and so on)
You can also check out this post on best alternatives to AdSense where you can find over 25 ultimate platforms to make money from your blog.
5. What are the top earning blogs in India?
So are you curious about knowing the top earning Indian blogs? There are literally hundreds of blogs in India that make a lot of money but here's a list of few best Indian blogs where you can find a ton of Indian blogs along with the blog owners.
Final Thoughts: How to start a blog in 10 minutes or less in 2019
With this, you come to the bottom of how to start a blog process in 2019. If you were wondering how to start your dream blog, I hope this step by step guide gave you the exact idea. It does take less than 10 minutes for sure but the time is actually worth it. There is no alternative to have a perfect blog launch without following these steps.
You can do it.
This process is nothing difficult. You just have to follow the steps one by one and I am sure you will get a hang of it.
If you have any doubts or questions about how to build a blog, kindly comment below and I will assist you in launching your dream blog the right way.
11 Comments