Bloggers income report is one of my favorite things. Whenever I stumble upon various blogs, I always search for income reports to find out how much money do bloggers are making.
And I know, many people are as interested like me to find out the income reports of other bloggers. After all, we all are really curious about knowing how much do top bloggers make, it gives us enough boost to take blogging as a challenge to make some real money online.
If you've been searching for bloggers income report, don't search anywhere else on the Internet, I made this guide a one stop place to figure out others bloggers income reports.
So bookmark the post and share it with your friends to know how much do bloggers make.
Making money online and generating a residual income stream is what many full time bloggers strive for. Even though these bloggers are figuring out how to handle withholding allowances, as well as keeping accurate accounting records, the residual income can be (and often is) quite substantial.
There are stories about bloggers making six figure incomes and it is but natural to be curious about who is making how much and what the sources of income are.
In this post we will cover few such bloggers who are making a decent amount of money online and also go behind the scenes to see who is running the show and what his website parameters are. The details of latest income reports will also be listed.
The format followed is introduction of the blogger, the vital statistics of his blog and the earnings report.
While concluding the post we will analyze the data and present some interesting facts, which we hope will be immensely beneficial for any blogger who wants to earn his living online.
If you also want to be featured in this post please do contact us. We'll be more than happy to share your success story with our readers.
Income Reports of Bloggers Worldwide (Know how much do top bloggers make!)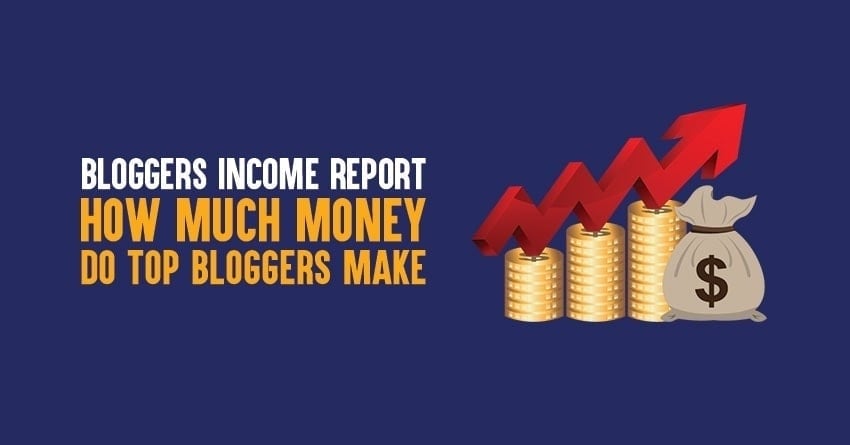 Blogger Name & Blog URL
Monthly Income
Income Sources
Ryan Robinson, RYRob.Com
23,205.48
Online Courses, Affiliate Sales
Alex And Lauren, CreateAndGo.com
$135,985.02
Affiliate Marketing, Digital Products and Services Selling
Anil Agarwal, BloggersPassion.com
$10,844
Affiliate Products, Direct Advertising, Consulting
Johnny, JohnnyFd.com
$3,645.86
Affiliate Products, Dropshipping, Book Sales
Jeremy And Angie, LivingTheDreamrtw.com
$4,276
CPM Ads, Affiliates, Sponsored Content
Ron Stefanski, LivingTheDreamrtw.com
$23,766.17
Affiliate products, Google Adsense, Online Courses
Michelle, MakingSenseOfCents.com
$159,592.42
Affiliate Products, Online Courses, Sponsorship, Direct Ads
Pat Flynn, Smartpassiveincome.com
$167,553.31
Affiliate Products, Book Sales Consulting, Public Speaking, Niche Sites
Podcasts, Software's & Apps
Amit Agarwal, Labnol.org
$100,000 (Estimate)
Google Add-ons, Affiliate products, Google AdSense
Harsh Agrawal, ShoutMeLoud.com
$40055
Affiliate Products, Own Products, Direct Ads
Bobby Hoyt, MillennialMoneyMan.com
$57,407.11
Online Courses, Affiliate Selling
Kristin Larsen, BelieveInABudget.com
$18,128.60
Affiliate Income, Online Courses, Ads
Kate, RootAndRevel.com
$15,753.29
Affiliate commissions, Business Coaching, Sponsored Content
Matthew Woodward, MatthewWoodWard.co.uk
$25,718.28
Affiliate Products, Consulting
Ryan Robinson
Ryan Robinson is a writer and part-time entrepreneur and reputed blogger.
He has built his last side business to over $160,000 in 1 year while working a full-time job and he'll show you the exact methods used on how to do it on his blog.
Here's the income report breakdown of RYRob.com for the month of January 2021:
Gross Income: $23,205.48
Built to Blog Course Sales: $2,289.79
Affiliate Earnings: $20,915.69
Total Expenses: $3,483.08
Net Profit: $19,722.40
Blog Stats for January 2021: 197,224 Sessions and 153,097 Total Email Subscribers
Here are few stats of the RYRob:
Alexa Traffic Rank: 24,865
Alexa Traffic Rank United States 16,992
Sites Linking In (according to Alexa): 128
Domain Rating (DR): 78
No of pages indexed in Google: 498
Twitter Followers: 24K
Learn How to grow your affiliate income from $0 to $1,000 in a month (Worth $197)
Alex and Lauren
If you want to start a blog and make money from it, you should definitely check out this amazing blog called Create And Go.
It is run by Alex and Lauren who went from broke to earning over $100,000 per month within 3 years.
January 2021 Blogging Revenue (Total revenues from Avocadu and Create and Go): $135,985.02
Here's the breakdown of their income report for the month of January, 2021:
$56,231.13 made from affiliate marketing
$71,887.77 made from selling digital products and services (eBooks and online courses)
Here's a list of some of the ways where they made that money.
Leadpages (email opt-in landing pages)
Teachable (sales pages + course hosting)
Clickfunnels (sales pages + ebook hosting)
Tailwind (pinterest scheduling and analytics)
Social media warfare (social icons and sharing)
The website stats of Create And Go:
Alexa Traffic Rank: 53,314
Alexa Traffic Rank in US: 22,226
Sites Linking In (according to Alexa): 65
Domain Rating: 59
No of pages indexed in Google: 89
Facebook Likes: 19647
Read: Interview With Alex Nerney from CreateAndGo On Making Full-Time Income from Blogging
Anil Agarwal
Yes that's my blog.
I also earn a decent income online. Though I am not that regular at publishing my income reports regularly but I earned a total of $10,844 in the month of January 2021.
I am Anil Agarwal, a blogger and SEO professional from India and have been blogging for a long time, here is more information on this blog:
BloggersPassion was started on Jan 01, 2010 on the world's most awesome blogging platform – WordPress. This blog was started to share blogging tips and for helping you become a successful full time blogger.
Blogging is an art and the more you do it, the more you perfect you become.
The main motive behind BloggersPassion is just one – to help upcoming bloggers to help with their blogging needs whether it's about promoting their blogs or monetizing it through various means. Serious blogging is not very easy and you need guidance throughout so that you cruise along. I will try my best to help you with whatever I can and will share everything you want to know.
And for those who want are thinking of starting their own blog, do not wait. Act today and get a domain name and hosting now. If you want any help on selection of hosting or domain, feel free to contact me
I regularly write about 10-15 blog posts on my blog on a monthly basis. The posts revolve around, blogging tips, seo, social media marketing, make money online, web hosting, affiliate marketing, WordPress tips and tricks and I also help newbie bloggers set up their own WordPress blog.
Earnings Report:
Month: January 2021
Total Income: $10,844
Total expenses for the month of Jan 2021: $3700 (Payment for team members (Content, Design, development, videos), Email marketing Software, CrazyEgg and Quora marketing etc.)
Here is the detailed income report for Bloggers Passion for the month of Jan, 2021:
Vital Statistics:
Listed below are some important statistics for bloggerspassion.com:
Alexa Traffic Rank: 175,373
Alexa Traffic Rank in IN: 31,029
Sites Linking In (according to Alexa): 418
Domain Authority (DA): 47/100
No of pages indexed in Google: 492
Twitter Followers: 17.2K
Facebook Likes: 8831
Email Subscribers: 2200
Johnny
Johnny is a digital nomad who shares his blog journey by travelling around the world.
He also has a podcast where he shares how you can travel around the world and start living on your own terms.
Few statistics of the blog:
Alexa Traffic Rank: 123,726
Twitter Followers: 2847
Facebook Likes: 7900
Johnny's total profit for the month of January 2021 is $3,645.86.
Recommended Blogging Resources: Free blogging sites list | Guest blogging sites list | Blog commenting sites | Blog submission sites
Jeremy and Angie
Jeremy is a full-time blogger at Living the Dream. Jeremy and Angie (his wife) are two travel addicts.
If you're looking for a travel blog to plan your trips, build profitable blogs and make money from online, it's a great stop for you.
Income report of Living The Dream for Jan 2021
The total income was $4,276.
Here's their income breakdown included the following:
CPM Ads: $3,169
Affiliates: $1,107
Their expenses for the month of Jan 2021 were roughly $632 including;
Mailerlite: $65
Programs: $27
Domains: $10
Social media ads: $390
Grammarly: $140 (review)
Important website stats of Living The Dream:
Alexa Traffic Rank: 603,972
Sites Linking In (according to Alexa): 147
Domain Rating (DR): 36
No of pages indexed in Google: 655
Twitter Followers: 22.8K
Old Months Income Reports
Ron Stefanski
As the name suggests, Ron is a college professor and entrepreneur who has been helping people all around the world about how to build thriving businesses online.
He also has an email course (free course) that explains how to start an authority website.
So if you're someone who's looking to build a money making website, check out his blog and make sure to grab his email course for free by entering your email address.
Income report of One Hour Professor
Here's the detailed income report of One Hour Professor in the month of January, 2020:
Aweber Email Platform $20.70
Shutterstock Website Images $40.00
Thrive Themes: $402.00
OHP YouTube Channel $588.00
Website 4 Amazon FBA Sales: $532.47
Consulting: $3,240.00
Website 4 Partners and Affiliates: $288.95
Website 3 Partners and Affiliates: $327.46
OHP Partners and Affiliates: $423.50
Website 1 Partners and Affiliates: $9,554.31
The expenses for January 2020 include the following:
Intuit Quick Books: $85.00
Adobe Photoshop Account: $10.61
Google Business Drive Storage and Apps: $38.13
Mailshake Email Software: $12.00
Deadline Funnel: $37.00
Ahrefs: $107.66
Active Campaign: $135.00
SiteGround Hosting: $155.00
Freelance Writing: $2,861.83
Freelance Research and Labor $2,066.83
Total net income for the month Jan, 2020: $23,766.17
One hour professor key website stats:
Alexa Traffic Rank: 271,417
Alexa Traffic Rank in US: 162,199
Sites Linking In (according to Alexa): 40
Domain Authority (DA): 30/100
No of pages indexed in Google: 533
Twitter Followers: 1055
Facebook Likes: 533
Michelle
Michelle covers personal finance and lifestyle tips on her blog.
She also received a lot of mentions and awards from notable blogs like Ready for Zero, BadCredit etc.
If you are looking for personal finance tips from a guy who knows about it, this blog is for you.
Few statistics of the blog:
Alexa Traffic Rank: 74,608
Twitter Followers: 18.3K
Facebook Likes: 94,785
Income report for November 2018:
Bluehost – $30,240.00 (review)
Survey companies – $10,192.50
ConvertKit – $784.95
Ebates – $500.00
Media.net (Review) – $0.00
Sponsorships & advertising – $23,500.00
Making Sense of Affiliate Marketing Course – $38,018.00
Display advertising – $2,295.00
Six Figure Blogger – $2,282.00
Miscellaneous affiliates – $12,377.00
Michelle earned $159,592.42 in business income in the month of November 2018.
Amit Agarwal
Amit Agarwal from Labnol is a Computer Science engineering graduate from IIT who previously worked with clients like Goldman Sachs and Merrill Lynch.
In 2004, Amit left his job to become India's first professional blogger who went on to build a highly profitable blog called Labnol which makes thousands of dollars every single month.
His blog Labnol includes technology related stuff including how to guides, software tips, gadget reviews, mobile app recommendations, video tutorials, blogging related stuff and so on.
So if you're a technology enthusiast, you must check out his blog to find latest updates around technology.
Amit Agarwal Income Report
So how does Amit Agarwal from Labnol makes money?
First things first. Amit Agarwal doesn't reveal his income stats publicly online, so there's no way you can find how much Amit makes or labnol.org net worth exactly. Labnol is definitely one of the top earning blogs in India. But here are few ways Amit makes money from his online businesses.
Making money from Google Add-ons: Amit Agarwal makes most of his money from selling Google Add-ons that have 500,000+ users and are used by some of the biggest companies around the world. Currently there are 13 Google Add-ons are available and each one of them costs $29 (you can find all of his premium Google Add-ons from here).
Selling Amazon affiliate products: Amit also earns money online by recommending Amazon affiliate products where he makes commission based on the products he recommends. Here's a list of few Amazon products he's currently recommending and using them to make money online.
Apart from the above, there are multiple sources of revenue Amit uses to make money online which includes
Google AdSense
Contextual ad networks
Direct ads through Blogads & IDG Technetworks
And the list goes on and on
What's the approximate income of Amit Agarwal from Labnol?
If you've gone through the above mentioned sources of Amit's income, we can safely assume that he makes upwards $100,000 every single month considering the fact that his online connections, the amount of search traffic his blog receives (which is in millions) and his diversified income sources.
Here are few vital website stats of the most popular Indian website Labnol.org:
Alexa Traffic Rank: 10890
Alexa Traffic Rank in US: 5005
Sites Linking In (according to Alexa): 5361
Domain Authority (DA): 78/100
No of pages indexed in Google: 4800
Twitter Followers: 95.5K
Facebook Likes: 251,235
Harsh Agrawal
Shoutmeloud.com is one of the top earning blogs in India which is owned by Engineer turned professional blogger from India Harsh Agrawal.
Shoutmeloud earned a total of $40,055 in the month of February 2018 which was started in 2008 and over these years it has grown into one of the largest and most popular internet marketing blog.
Harsh loves computer and technology, he successfully converted his passion into a full time lucrative residual income stream.
According to Harsh:
I'm a normal guy who lives life to the fullest, loves travelling and lives a happy-go-lucky kind of life. I like to talk stuff related to marketing, solopreneurship and art of living. I have network of Blogs under main brand "ShoutDreams" and I blog for passion. Here at ShoutMeLoud, I share tips which I learned over time about blogging and how to earn passive income online. I don't promise to make you rich overnight, but I could promise that you will be earning handsome income, if you have what it takes to become a blogger. If you have writing skills, a passion for learning, a dream of brining a change, and most important if you want to be your own boss, ShoutMeLoud is the perfect place for you to start.
Harsh writes on diverse topics ranging from blogging tips, how to's, latest technology trends, making money online, linux and also offers wordpress customization services. The frequency of posting on shoutmeloud.com varies between 30-45 posts per month and he is very popular among social networks.
Do you want to know Harsh Agarwal income and curious to find out about Indian bloggers income like Harsh? Let's find it out.
Vital Statistics:
Here are some important facts about shoutmeloud.com:
Alexa Traffic Rank: 17,111
Alexa Traffic Rank in IN: 1,955
Sites Linking In (according to Alexa): 2,194
Domain Authority (DA): 68/100
No of pages indexed in Google: 5040
Twitter Followers: 46.7K
Facebook Likes: 63,377
Feedburner Readers: 6,380
Email Subscribers: 28,715
Earnings Report:
Month: February 2018
Total Income: $40055
Income Breakdown:
Quick Note: Do you want to start a blog? Here's a simple step by step tutorial on starting your own WordPress blog within 10 minutes.
Bobby Hoyt
Bobby Hoyt runs this blog who walks the walk by teaching how to manage your money in a better and smarter way.
Bobby paid off his $40,000 in student loans in less than two years on a teacher's salary and shares you every smart decision he took to become financially independent.
What's the income report of Bobby Hoyt?
Here's the income breakdown of his blog Millennial Money Man in September 2018:
Millennial Money Mastermind: $18,037.00
Digital Marketing Income: $5,369.95
Bluehost Blog Hosting: $1,240.00
Credible: $840
ConvertKit: $18.40
Staff writing: $1,500.00
Course launch FB Ad Retargeting: $2,500.00
Ads/Traffic: $730.03
Net Revenue: $57,407.11 (after all the expenses spent on his blog)
Here are key website stats of Millennial Money Man:
Alexa Traffic Rank: 234,586
Alexa Traffic Rank United States: 58,116
Sites Linking In (according to Alexa): 66
Domain Authority (DA): 37/100
No of pages indexed in Google: 626
Twitter Followers: 16.9K
Facebook Likes: 41,700
Kristin Larsen
Kristine covers most of the digital marketing related stuff including side hustling, entrepreneurship, starting a business, blogging and Pinterest related topics.
If you're someone who's looking to learn more about digital marketing and build your presence on social media platforms like Pinterest, you must follow her blog.
Kristin has also been featured on some of the amazing publications online including;
U.S. News & World Report
CBS News
MSN Money: Six Bloggers Making Six-Figure Salaries
Chain of Wealth Podcast: How I Make Money Blogging Full Time
Here's the breakdown of Believe In A Budget 2018 July online income report
$729.86 Ads
$8,132.50 Affiliate Income
$9,266.50 Courses + Products (Pinterest Presence, Become a Pinterest VA TODAY!, Pinterest Pin Templates, Side Hustle to Success)
Total Income: $18,128.60
Here are Believe In A Budget 2018 July expenses:
VA work + professional services
Affiliate payouts
Total Expenses: $2,956.74
Believe In A Budget website stats:
Alexa Traffic Rank: 464,973
Alexa Traffic Rank in US: 173,806
Sites Linking In (according to Alexa): 71
Domain Authority (DA): 38/100
No of pages indexed in Google: 672
Twitter Followers: 2752
Facebook Likes: 6664
Kate
Root And Revel is one of the must read food blogs run by Kate where you can discover a wide range of excellent articles related to food, recipes, healthy living and so on.
One of the primary reasons you can follow income reports of Kate from Root And Revel is she reveals almost everything including every source of her income along with the expenses for the month in detail.
So you can better understand how she really makes money from her blog every single month.
Total income for the month of Aug, 2018: $15,753.29
Here's the detailed income breakdown of Root And Revel blog in the month of Aug, 2018:
AdThrive Ad Network, $3,133.00
Affiliate Commissions, $6,129.04
Butcher Box $3,070.00
FoodBloggerPro $11.60
Sponsored Content, $6,146.00
Business Coaching, $290.40
eBooks (13 Pitches That Worked eBook and Superfood Green Smoothies), $54.85
Amazon $673.77
US Wellness Meats $579.37
Dry Farm Wines $200.16
Thrive Market $630.00
True Botanicals $78.75
Vital Choice $125.68
AnnMarie Skincare $39.46
SunBasket $80.00
Truvani $21.70
Credo Beauty $28.28
Kettle & Fire $14.94
Beautycounter $242.80
The Detox Market $22.66
Reward Style $39.08
Vital Proteins $25.92
Loom & Leaf $12.95
Urthbox $17.00
Bluehost, $85.00
EverlyWell, $64.10
Love Goodly, $26.86
Bulletproof, $18.26
Total expenses for Aug, 2018: $4,537.51
Here's the breakdown of expenses:
Social Media Management $29.98
Virtual Assistant $2,959.48
Website/Tech/Tools $248.57
Photography + Video $150
Ads $437
Accounting/Bookkeeping/Payroll $229
Courses + Education $199.00
Office Supplies + Networking $434.38
Adobe Creative Suite $9.99
Net profit: $11,215.78
Traffic Overview: 148,349 pageviews for the month (a 30.30% increase from last month)
Stats of the website Root And Revel:
Alexa Traffic Rank: 293,443
Alexa Traffic Rank in US: 62,960
Sites Linking In (according to Alexa): 68
Domain Authority (DA): 48/100
No of pages indexed in Google: 587
Twitter Followers: 3125
Facebook Likes: 8400
Matthew Woodward
Matthew Woodward is an Internet marketer that helps people to learn SEO, increase their traffic and sales.
If you are struggling to make money blogging, MatthewWoodWard.co.uk is the right place for you to get started as Matthew provides some real insights on getting your websites rank in the top Google search results and he also shares working ways to make money from your blogs.
He generally write posts every week although he doesn't have any consistent posting schedule, but his posts are usually very detailed with a lots of snapshots.
His blog also achieved great awards including
HubSpot Top 5 Internet Marketing Blog March 2015
UK Blog Awards 2014 Digital & Technology Highly Commended
Affiliate Summit Best Affiliate Blog 2013
Technorati Top 100 Business Blog July 2013
The Best Of Search Engine Journal 2012
ProBlogger One To Watch 2013
Unbounce Top 75 Internet Marketing Blogs
Matthew WoodWard 26 years old who lives in the north west of the UK, he's also a full-time blogger.
Here's his income report for the month of December 2017:
Ahrefs – $273.29
Blog Advertising – $461.84
Bluehost – $65.00
GSA Captcha Breaker – $245.05
Aweber – $133.70
Drip – $59.10
GSA Search Engine Ranker – $378.04
Kontent Machine – $290.05
Domain Hunter Gatherer – $979.00
iPage – $1,920.00
LeadPages – 0.00

LongTailPro

– $471.50 (review)
OneHourIndexing – $256.38
SEO Powersuite – $798.30
Semrush – $1,216.84 (Review with 30 Days Free Trial)

WPX Hosting

– $0 (review)
TheBestSpinner – $119.26
Other Income – $12,019.69
Total earnings for the month of December 2017: $25,718.28
Here are few vital statistics for MatthewWoodWard.co.uk
Alexa Traffic Rank: 60,288
Alexa Traffic Rank in India: 11,167
Sites Linking In (according to Alexa): 1,330
Domain Authority (DA): 56/100
No of pages indexed in Google: 410
Twitter Followers: 17.8K
Facebook Likes: 39,493
Pat Flynn
Smartpassiveincome.com earned a total of $167,553.31 in the month of December 2017.
This blog is owned by Pat Flynn and he's one of the highest paid bloggers and richest bloggers in the world.
The details of income and its breakdown will follow later but let us first find out who is Pat Flynn.
Here is Pat's version on his blog:
I'm a 30 year old dude from Southern California who makes a living on the internet. I consider myself the luckiest person on Earth.

I didn't win the lottery, I don't drive a fancy car, and I'm not a millionaire. What I do have is a beautiful wife, two amazing children, a loving family, awesome friends, and a line of work that allows me to spend most of my time with them.
Pat writes around 5 -10 posts per month along with podcasts, webinars, interviews of other bloggers who've carved their own niche in online markets and is a popular speaker in global events. Before taking on full time blogging, Pat was working as a Job Captain in an architecture firm.
The first thing you notice about Pat is his open-ness, he hides nothing. You can read more about how his journey into online domain began and what did it take to earn his first dollar online on his blog – smartpassiveincome.com.
Vital Statistics:
Following are the vital parameters of Pat's blog smartpassiveincome.com. Please note that Pat owns multiple niche websites and they all contribute to his online income.
Alexa Traffic Rank: 40,602
Alexa Traffic Rank in US: 12,301
Sites Linking In (according to Alexa): 2,442
Domain Authority (DA): 65/100
No of pages indexed in Google: 3,190
Twitter Followers: 153K
Facebook Likes: 155,938
What does Pat offer to his email subscribers?
Pat offers an eBook guide and a weekly newsletter to his email subscribers as mentioned on his blog:
PAT'S EBOOK GUIDE
He offers the most comprehensive guide available on how to Publish, Market, and automate your own killer eBook.
Over 75,000 people have enjoyed this eBook the Smart Way and receive a weekly newsletter with exclusive online business and blogging tips.
Earnings Report:
Month: December 2017
Total Income: $167,553.31
Total Expenses: $39,647.21
Income Breakdown:
Affiliate Earnings: $167,553.31
Book Sales: $2,246.50
Course Sales: $41,849.98
Consulting and Public speaking: $0.00
Niche Sites: $3,866.96
Podcast Sponsorship: $3,389.00
Software & Apps: $10,581.74
Analysis of Top Blogger Income Reports
We have listed a lot of top bloggers income reports above in the post. The #1 reason for us to do this income reports post is this: we wanted to help new and aspiring bloggers to inspire and find PROVEN ways to earn money from their blogs.
By giving you some live examples of top bloggers along with their income reports and other essential website stats, you can easily understand how one can make money blogging.
That being said, here's the analysis of income reports from top bloggers mentioned on this page.
Majority of the bloggers are getting decent amount of traffic to their websites starting from 30K visits to million visits per month. Whether you know it or not, traffic is the lifeblood of any money making blog, so focus on increasing your website traffic (mostly from search engines like Google, because it converts really well).
If you've observed the above top bloggers income reports carefully, you'll notice that most of the bloggers are full-time bloggers spending majority of the time on building their blog and increasing their network. Obviously full-time bloggers have an advantage of spending more time (typically 8 to 10 hrs a day) than part-time bloggers who spend 2 to 3 hours a day.
Almost all of the bloggers share both expenses along with their income sources on their income reports and most of them don't share their earning reports every single month (as there are very few bloggers like Pat Flynn who shares his income reports every single month religiously).
Affiliate marketing, display ads and offering services (such as freelance writing, design and so on) are still the most preferred ways for majority of the bloggers mentioned here. There's an increase in bloggers who are also making a ton of money by offering 1:1 coaching, consulting, selling their own online courses.
Each and every blogger mentioned here know the power of email marketing and everyone is offering at least one freebie (such as newsletter, free eBooks, email courses and so on) to build and grow their email lists.
Above all, almost all the top bloggers who are successfully earning thousands of dollars and sharing their bloggers income reports have one thing in common: they create really amazing content. Be it videos, podcasts or articles, their content is worth following and that's the reason why they're easily able to build email lists, grow their traffic, increase their sales and so on.
Affiliate marketing is one of the biggest source of income for a majority of these bloggers. And if we dissect it a layer further, we find that web hosting, website plugins, themes and website tools form a lion's share of this affiliate income.
Adsense – The Google's lucrative contextual advertising program, which used to be a big source of income for bloggers is not the major source of income as of now. Though there are some blogger whose main source of income is adsense, but most of them are looking and focusing on other avenues. The low ROI on adsense ads and the constant fear of getting banned might be some of the reasons.
Barring a few most of the blogger have mechanisms in place to built a double opt in email list to which they can send further promotional offers. Ebooks, newsletters, tips, how to guides, freebies etc. are the most popular methods of getting people to subscribe.
Social connections are becoming increasingly important in getting bigger paychecks. As you can see from the above data the bloggers with a better presence on Facebook, Twitter, Google Plus and other social media platforms are having better earnings.
The frequency of posting of successful money making blogger vary between 5 posts per month to 30 posts per month but the bloggers which post around 5-10 posts per month and make their post authoritative by researching well both about the niche and focusing on the right keywords are getting better traction. I also noted that, few of these bloggers are not at all consistent with their posting schedule, but they are still trying to get massive amount of traffic from search engines to increase their passive income.
Most of the bloggers above are doing it full time (well almost and they are enjoying it too) and many of them were forced to get into blogging as they landed into financial doldrums or had an intense desire to quit the office cubicle and a 9-5 regular work.
Many of these successful bloggers are not relying on just a single website but have multiple niche websites and some are also a part of blog network which brings in another level of security just in case one of the sites is not working.
These bloggers are well connected with other bloggers in their own respective niche and often collaborate and harness each other's strengths to generate new revenue models.
These bloggers are constantly looking for new affiliate models and products and are not reluctant to try new things even if they have to pay for it. Failing fast and a keen eye on trying new things helps them stay ahead of the crowd. And most of them are offering either consulting or selling digital products to make more money from their sites. You must need to consider doing this as well if you're aiming at making such amount of huge income from your blogs every month.
All of these blogger have invested in getting a professional look to their blogs and their designs, unique voice, techniques are all regularly tested and many of them do a lot of A/B and multivariate testing to improve on their existing designs and get the maximum out of their investments. We all know the importance of having a professional design, so if you want to make money like these bloggers, invest your time and money on getting an appealing design for your blogs. I'd personally recommend you to use Genesis or Thesis as they both are search engine friendly and great looking themes.
Browse more Income Reports:
FAQs | Bloggers Income Report
Can I really make money from a blog?
Yes, a BIG yes. I have already mentioned the income reports of the top bloggers in this blogosphere including me.
How do beginner blogs make money?
One can start money-making blogging by placing ads, selling your own products like ebook, Courses, and affiliate marketing.
Which blog site is best for earning money?
WordPress is the world's most popular CMS to start a blog and make money online.
How do I start a blog?
You can start a blog under 20 minutes by choosing a domain name and web hosting service.
Does it cost money to start a blog?
Though you can start blogging for free if you want to make money blogging you should start a self-hosted blog which will cost you approx. $60 for a year.
Final Thoughts
Hopefully this post on blogger income reports has helped you understand better about building a profitable blog and also inspired you to put serious efforts into growing your blog.
If you haven't started a blog yet, this is the right time to start one now and make sure to follow all the bloggers mentioned here to learn something from them. Making money from blogging is not a challenging task as you need to put consistent efforts, create a monetization plan and focus on getting quality visitors to your site.
That was a really long post, but we think it is worth the effort. Again if you want to be featured in this bloggers income reports post do contact us. Suggestions and feedback is welcome. Feel free to share and cite this post among your readers and friends, most importantly with those who are trying to make money online as it will help them a lot. So did you like this bloggers income report post? Do you have any questions? If yes, let us know in the comments below.