BloggersPassion was launched on 1st January 2010.
Here's how BloggersPassion website design looked like in 2010.
Here's a screenshot of the total traffic in the year 2010.
As you can see above, BloggersPassion was visited by just around 3000 people in ONE whole year.
Now, the blog has grown into one of the popular blogs which is read by millions of people worldwide.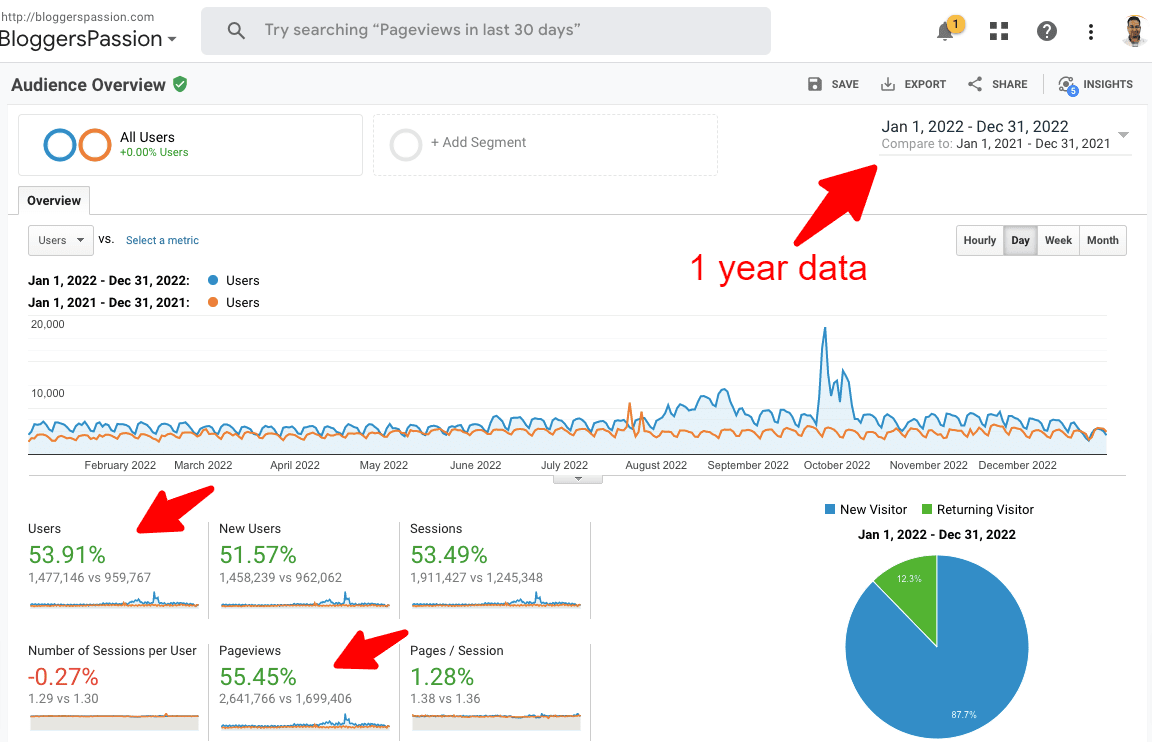 Here's the earning report of BloggersPassion for the year 2021-22:
We generated over $225,000 in 2022 from BloggersPassion.
So yes, we're consistently earning $18k a month from this blog. There's still a LONG way to go!
If you're reading BloggersPassion for a while, you already know that most of the income comes from affiliate marketing.
Here's a screenshot of the affiliate product earnings (which generated over $459,000 in affiliate commissions).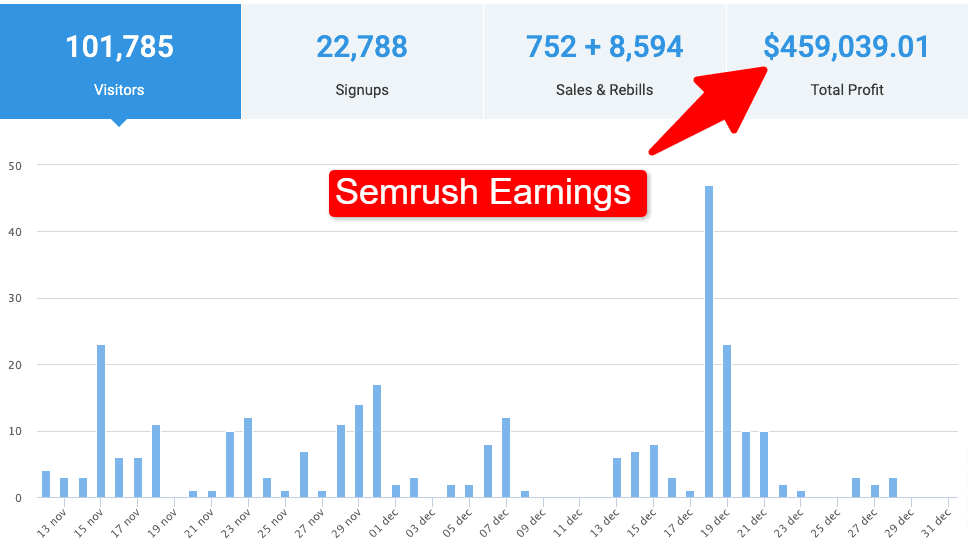 So in this BloggersPassion journey post, I'm going to talk about some of the biggest blogging lessons I've learnt, how we generate most of the traffic, how we promote the blog, plugins we use and a few other important things.
So if you're really curious to know about our journey, this one's a treat for you. Let's dive into the details.
5 Crucial Lessons I've Learnt in My Blogging Journey So Far
I don't consider myself an expert because I'm still learning. In fact, I've still got a long way to go. That said, here are 5 of the biggest blogging lessons I've learnt in BloggersPassion journey so far. I hope they will help you too!
Lesson 1: Outsource, Reinvest, Don't Spend!
Over the last few years, I've outsourced the majority of the tasks such as;
Content creation
Website design
Social media management
Blog promotion and a couple of other things
That's the reason why I get so much free time to work on what really matters.
Yes, I need to invest money to outsource all those things (which are listed below) but I'm saving a ton of time every day.
Whenever my blog generates money, I reinvest that money into "outsourcing". Most bloggers don't do this as they often spend money on unwanted stuff like expensive gadgets, cars and so on.
So if you want to make a career in blogging, make sure to invest whatever you earn from blogging. Don't spend on useless things.
Lesson 2: Focus On Passive Income Sources
Most bloggers rely upon income streams such as AdSense, banner ads, paid reviews, sponsored posts etc. What happens if you suddenly see a huge traffic drop in your site?
All your blogging efforts will be gone overnight. That's why it's so important to focus on passive income sources such as affiliate marketing, selling your own products, courses and so on.
Even if you see a traffic drop, you will still be earning money especially if you are earning from recurring affiliate products which pay you every month (not just once). The same thing applies to membership sites as well. You'll get recurring income.
So focus on monetizing your blog using recurring products so you can earn money even while you sleep.
Lesson 3: When Things Go Wrong, Stay Strong
One biggest hurdle in building a profitable blog is things often go wrong.
You may face issues with your site's security (due to bad hosting or other security vulnerabilities like someone hacking your site)
You may face website traffic drop issues (due to freaky updates from Google)
You may face issues with your website conversions
And the list goes on
So yes, there are a ton of things that can go wrong. Most of the time, you don't have ANY control over things.
But it's during the difficult times, you need to stay strong. Don't give up.
When Google banned my AdSense account, I found another way to monetize. When I saw a sudden drop in traffic, I worked hard on diversifying traffic sources. I never gave up. Instead, I worked hard. That's why I'm still here.
Lesson 4: Don't Be Afraid To Try New Things. Be Everywhere
Blogging is all about expressing yourself. Don't limit yourself to only your blog. You need to pick new platforms such as YouTube, podcasts, seminars, webinars, Quora etc to build a platform for yourself.
It not only helps you with more traffic but helps you with brand recognition which is extremely important to make your blog successful in the long run. So don't be afraid. Try new things. Life is all about choices. Learn every single day and develop a positive mindset.
Side note: You can follow me on Quora and say hi. We often publish high quality answers related to blogging tips, making money online and SEO.
Lesson 5: Set A Long Term Goal But Start Small!
Blogging is NOT a get rich quick scheme. But you can certainly get rich if you blog consistently for several years. Patience is the KEY.
That's why you need to think long term. Set bigger goals. Be realistic when setting goals. I often see most new bloggers saying things like "I'll earn $10,000 per month within 1 year".
It's not going to happen (especially if you're starting from scratch with zero marketing skills). There's nothing wrong in setting ambitious goals but you'll often get depressed if you don't hit your goals constantly.
So start small and set realistic goals (such as earning your first $1000, next $2000, $5000 and so on).
Enough said! Let's now talk about how we operate BloggersPassion so you'll get an idea about what it takes to build a profitable blog.
How We're Generating Traffic to BloggersPassion?
Are you curious to know how we are bringing traffic and visitors to our site?
Without a doubt, traffic is the key to any website's success. If you're not getting a decent amount of visitors, it's impossible to survive in the long run.
That being said, most of the BloggersPassion traffic comes from Google.
Although Google is well-known for its frequent algorithm changes, we always managed to do well in search results (despite huge competition in our niche).
There's a reason why we're always focused on increasing our traffic from Google (it sends you highly qualified visitors from search which converts really well for us to increase our affiliate sales).
Apart from Google, we also generate traffic from other mediums including;
Referral traffic (from Facebook groups, Quora, YouTube etc)
Direct traffic (people visiting directly from their smartphones, tablets, desktops etc)
Search traffic (which we already mentioned above)
How Do We Promote Our Blog?
Blog promotion is extremely important. If you want to make more money from blogging, you need traffic. To get more traffic, you need a promotion strategy.
We usually use the following approach to promote our content.
Creating long-form of content
Hands down, long-form of content is the key to getting more traffic from search engines. Gone are the days when you can get search traffic by writing 500-word articles. If you want to get first page rankings for competitive keywords, you need in-depth and highly informative content.
We always make sure our content is highly practical, informative and in-depth. Long form content also helps you optimize your content for a ton of keywords (which all help you bring more organic traffic).
Trying to be everywhere
From the beginning of 2020, we started writing answers on Quora almost every single day. We also try to be everywhere through blog comments, guest blogging, interviews, videos, Facebook group and the list goes on.
We are no more relying upon just Google for traffic. It's always a better idea to diversify your traffic sources. Try all the mediums and find out what's working well for you in terms of traffic and conversions. So you can spend more time on those traffic channels for better results.
Tools We Use to Run BloggersPassion
We have actually created an exclusive page on BloggersPassion toolbox where you can find most of the tools we use to run the blog.
That said, here are some of the tools that we can't live without.
WPX Hosting (this is the web host we're using since 2016, and it's worth every penny)
Rank Math SEO plugin (recently started using Rank Math, previously used Yoast plugin because Rank Math offers a ton of incredible features for content optimization)
Semrush (this is the ONLY SEO tool we can't really live without, helps with keyword research to site audits and competitor analysis)
ActiveCampaign (the email marketing software we're using at BloggersPassion)
WordPress (hands down, WordPress is the #1 CMS in the world and we're proudly using WordPress platform ever since the inception of this blog)
How Are We Generating Money from BloggersPassion
For the last 3 to 4 years, we are relying mostly on affiliate marketing. We HIGHLY recommend you focus on passive income sources such as affiliate marketing as well.
After all, that's how you earn money even while you sleep.
We are mostly selling the following affiliate product types:
Web Hosting: We promote all kinds of web hosts ranging from affordable web hosts to dedicated hosting plans. But we mostly recommend web hosts like HostArmada, Bluehost and WPX Hosting as we're personally using all these hosts and really happy with their hosting features and pricing options.
SEO Tools: We use a ton of SEO tools (most of them are premium SEO tools) at BloggersPassion. Whenever we're getting great results from those tools, we write in-depth reviews around them. So yes, that's an opportunity to promote affiliate products. If you're promoting a product by creating awareness about it, your sales usually go up!
WordPress Themes & Plugins: WordPress themes ranging from Elegant Themes to GeneratePress and plugins ranging from VaultPress to Rank Math, there are a ton of WordPress tools that we promote and earn from their affiliate sales.
Sponsorships: Rarely, we also promote sponsors (either through blog mentions or reviews) that are really good.
Plugins we are using
We're currently using 17 plugins at BloggersPassion.
As you can see above, here's the list of plugins that are powering our site.
A3 Lazy Load (If you're using images, this one's a must for you and it speeds up your site and enhances frontend user's visual experience in PC's, Tablets and mobile)
Akismet (Great plugin which combats with most of the spam comments)
Classic Editor (We somehow liked the old classic editor)
Contextual Related Posts (Want to show related posts at the end of your posts? Use this plugin)
Custom post templates (Provides a drop-down to select different templates for posts from the post edit screen)
Easy affiliate links (If you're promoting affiliate products, this one's a must plugin to use)
FB gravatar cache (Speeds up your website by making sure the Gravatars are stored on your website and not loading from the gravatar server)
My Theme Shop plugin (We're using MyThemeShop to customize our site's design and this plugin is extremely helpful for us)
Rank Math SEO (it offers excellent features for content optimization)
ShortPixel image optimizer (Helps with optimizing image sizes)
Simple Redirect (Easily use 301 redirects with this plugin)
Social Snap (Helps you easily show social shares on your blog posts)
Table of contents plus (If you're creating in-depth contents just like us, use this plugin as it automatically creates a table of contents)
TablePress (Helps you with feature-rich tables into your posts and pages, without having to write code)
WP Review Pro (You can choose from Stars, Percentages, Circles, Points or Thumbs for review scores. Extremely useful if you want to include reviews within your posts)
WP Rocket (This is the #1 premium caching plugin)
Apart from the above, we are always concerned about improving our site's conversions. Here's where a heatmap tool like Crazy Egg comes into play and it also helps us to improve our speed and analyse the user behaviour.
Quick tip: If you're on WordPress, don't install too many plugins (keep it under 15 to 20 plugins) as using too many plugins can clutter your site's speed and performance.
We're Featured On
BloggersPassion has been featured on a ton of huge online publications ranging from Forbes to The HuffPost to Lifehack and so on.
Here are some of the blogs where we got featured:
Side note: If you're interested in doing an interview with me, you can mail me at ani[email protected] with the subject line "Interview request".
Can You Consider Blogging As A Career Option?
Now, let's finish our BloggersPassion journey post with an insightful question "can you really consider blogging as a career option?".
To be brutally honest, blogging or digital marketing as a career option is not a cakewalk as many of you think. It's certainly not a get rich quick scheme.
You might be tempted to start a new blog by reading or watching success stories of other successful bloggers. It's not an easy path.
That said, there are so many perks involved in blogging or digital marketing. I'll try to include the perks of taking blogging as a career first.
Perks of blogging:
Let's now talk about some of the precautions you should take if you want to choose blogging as a career in India or other countries.
You can work from home (or literally anywhere in the world). All you need is a laptop with an internet connection.
You can spend more time with your family. If you're married, you can never miss the chance to spend time with your kids (without missing your work).
You are your own boss
You can make money even while you sleep (for that, you need to monetize your blog with passive income sources such as selling affiliate products, selling your own products, courses etc)
Zero commuting (you can save a ton of time every single week and use that time to grow your blog)
You can become an influential person in your industry. Once you become a go-to guy in your industry, there's no stopping for you as you will get a plethora of opportunities to earn more (from paid gigs to consulting to selling online courses and so on)
You can develop a ton of skills while building blog (including writing, SEO, networking, web design, email marketing, social media skills and the list goes on and you'll eventually become really good at a ton of things which can help you find more career opportunities in the future)
Once your primary blog or website starts earning decent money on autopilot, you can start developing a couple of more blogs or niche websites which can eventually bring you in more profits.
Blogging difficulties:
Too many distractions. There are just way too many online distractions (from Facebook notifications to emails to other social media distractions). Unless you have strong will power and laser-focused mindset, it's harder to eliminate distractions at least in the beginning.
Getting the motivation to work online is a challenging task. It's harder to work consistently on your blog if there are no deadlines.
If your blog is NOT generating enough traffic, sales and conversions, there will be little to no motivation for you to work even harder. That's why you always need to set small blogging goals (so that once you keep on achieving them, you'll gain momentum to work hard).
As you can see above, blogging has its own perks and difficulties. But if you're really interested in full-time blogging or making a living from online, here are some quick tips for you.
If you're a student, this is the RIGHT time to start a blog as you'll have plenty of free time. Use your free time to develop your blogging skills such as writing, coding, SEO etc. Make sure to earn a decent income from blogging before you finish your graduation so you can seriously consider taking blogging as a career.
If you're a housewife, blogging is the way to go. You can also consider starting a YouTube channel around your passion (such as DIY hacks, cooking, gardening, fitness etc) and build an audience. Once you've enough following, there are plenty of ways to make money.
If you're already working, don't quit. Work on your blog while making money from your job. Make sure to create an emergency fund for at least 1 or 2 years before you quit your job to start working full-time on blogging.
Quick note: If you're looking to launch your own blog, I highly recommend you to check out this simple tutorial on how to start a blog in 2023 and earn $10k/mo from it as you'll learn a lot of new stuff along with simple tutorial on staring a new blog.
In a nutshell, blogging or digital marketing is a great career choice if you're consistent, willing to work hard and ready to invest some money. If you're looking for shortcuts, blogging is definitely not for you.
How can you get in touch?
I'm mostly active on my email as I try to answer the majority of the emails I get.
You can contact me via email at [email protected], Twitter, Facebook and Join My FB Group from here.