Are you a WordPress enthusiast? Are you looking for the best WordPress blogs to learn more about WordPress tutorials, tips, and tricks? Getting WordPress help is the best way to increase your knowledge and skills.
WordPress is the #1 CMS (Content Management System) in the world which is used by most profitable companies and magazines like TED, NBC, CNN, TechCrunch, People magazine, etc and it also controls more than 40% of all the websites that uses content management system.
So if you're equipped with the proper knowledge, WordPress is a great platform to enhance your skills.
That being said, you don't have to pay anything to learn more about WordPress as we are going to give you a list of top 14 WordPress blogs you should follow in 2023 to learn a lot of stuff for free.
Best WordPress Blogs at a Glance:
| WordPress Blogs | Best For | Twitter ID |
| --- | --- | --- |
| WPBeginner | How to tutorials, Best plugins & themes posts | |
| WPKube | WordPress plugin reviews | |
| Code In WP | WordPress coding development guides | |
| WPTavern | WordPress news | |
| Manage WP | Technical WordPress guides | |
| Hongkiat | WordPress design (UI & UX) | |
| WPMU DEV | WordPress development guides | |
| Smashing Magazine | WordPress design related guides | |
| Yoast WordPress | WordPress SEO | |
| Elegant Themes | WordPress theme & page builders tutorials | |
| WooCommerce Blog | WordPress WooCommerce & eCommerce store guides | |
| Themeisle Blog | General WordPress topics (themes, plugins, etc) | |
| Kinsta Blog | WordPress performance guides | |
| BloggersPassion Blog | WordPress themes & plugins | |
14 Best WordPress Blogs to Follow in 2023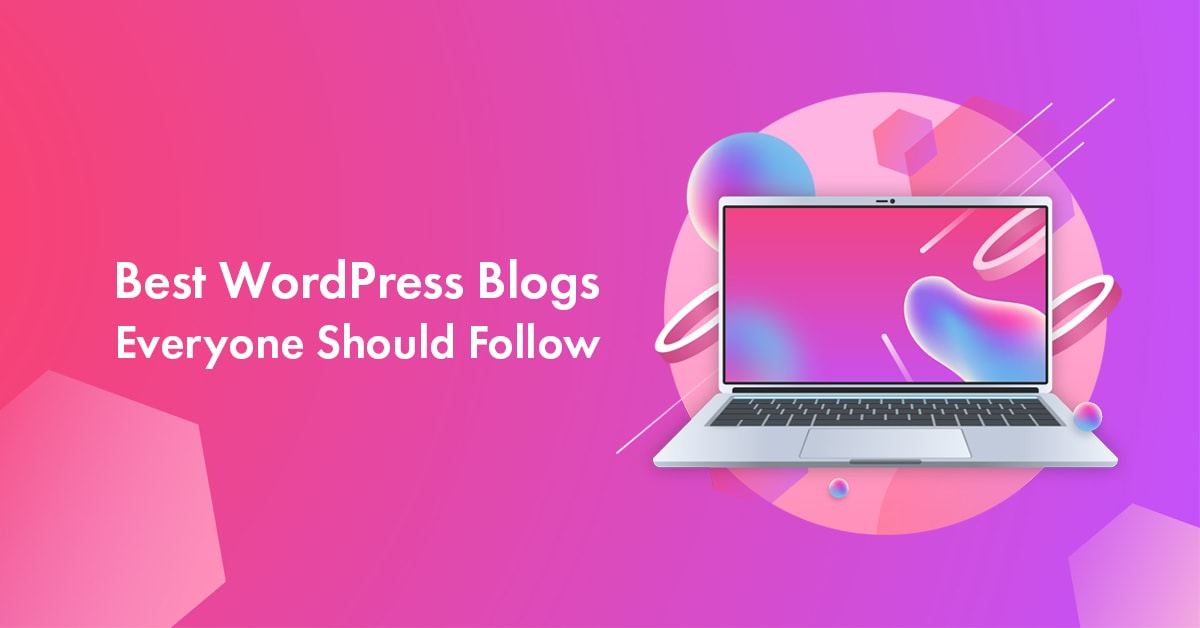 Quick note: Before jumping into the details, we want to let you know that, this list of WordPress blogs to follow is not mentioned in any particular order (almost all the blogs mentioned here are equally important and worth following). If we missed any one of your favorite WordPress blogger, please mention them in the comments and we'll look into it.
Hands down, WPBeginner is the ultimate resource for everyone who wants to learn more about WordPress. WPBeginner is one of the most popular blogs in the world which is run by Syed Balkhi.
What are the topics covered at WPBeginner?
Here are some of the things you can learn from the biggest WordPress online learning platform like WPBeginner.
WordPress news (where you'll discover all the latest happenings around WordPress)
WordPress detailed guides
WordPress technical issue solving tutorials (for ex: how to fix your hacked WordPress site)
Deals around WordPress and so on
What makes WPBeginner unique from other blogs?
The great thing about WPBeginner is that you will not only find articles related to WordPress but you'll also find a ton of video tutorials to take your WordPress skills to the next level. WPBeginner also has some amazing products like OptinMonster which helps you quickly boost your email subscribers.
All in all, WPBeginner is definitely one of the go to sources and best blogs every WordPress enthusiast must follow in 2023 and beyond.
You can take a taste of WPBeginner WordPress guides right now.
Here are 2 WordPress blogs we have just finished reading on their site: How to Customize the Background Color of WordPress Block Editor, How to Embed a YouTube Live Stream in WordPress
---
WP Kube which is a WordPress related site dedicated for WordPress news, tutorials, themes and plugins which is run by Devesh Sharma. The great thing about this blog is that it focuses on quality over quantity (very less sites do that) and that's why you'll find a ton of useful guides, tutorials and tips related to WordPress on this blog.
What are the topics covered on WP Kube?
Here are some of the things you can learn from WP Kube.
WordPress guides
WordPress reviews (around plugins, tools etc)
WordPress hosting and so on
Why should you follow WP Kube?
Apart from WordPress tutorials and guides, WP Kube also offers an exclusive "coupons" page where you can find a huge discount on majority of the best WordPress related tools such as plugins, email marketing software, hosting etc where you can save more.
---
Code In WP is all about sharing everything that's related to WordPress. You'll find a ton of useful WordPress tutorials, design guides, WordPress news etc every single week. If you're a WordPress freak, you should definitely subscribe to their email newsletter so you can never miss a single update from their blog.
What are all the topics covered on 'Code In WP' blog?
WordPress news
WordPress tutorials
WordPress design guides
WordPress SEO
WordPress hosting
WordPress security, plugin collections and so on
What makes Code In WP unique from other blogs?
It has easy to follow yet highly informative tutorials related to WordPress that get published every single week so you can get better at WordPress. You'll find a ton of WordPress tutorials, list posts, comparison posts etc every week.
Some of the editor picks blogs you will find on the CodeinWP site are:
---
WPTavern is WordPress only focused blog which was launched back in 2009 and offering exceptional tutorials, WordPress news and guides related to WordPress since then.
Apart from WordPress related tutorials and articles, it also has a weekly podcast where you can learn more about WordPress latest news, changes, tips and so on. You will also find so many amazing WordPress related interviews on their podcast.
What are the topics covered on WPTavern blog?
Here are few of the major topics that you'll discover on WPTavern blog.
WordPress news
WordPress plugins
WordPress tutorials
BBPress related articles
Blogging tips and so on
Why follow WPTavern blog?
It has an awesome community of WordPress enthusiasts who you can connect with if you have any questions related to WordPress and that's what makes this blog one of the best blogs in the community which is run by Jeff Chandler.
---
Manage WP is one of the most successful WordPress management systems that helps you everything that you'll ever need to manage multiple WordPress websites with ease.
It is also one of the most useful popular blogs to follow that shares useful WordPress tutorials to build a better WordPress site.
What are the topics covered on 'Manage WP'?
Case studies around WordPress sites
WordPress tutorials
WordPress technical related guides
WordPress latest news
Web development related tutorials and so on
What makes Manage WP the best WP blog?
Apart from learning so many things about WordPress web development related stuff, if you're looking for a better management system to manage multiple WordPress sites, you can use Manage WP dashboard for easier access.
---
If you don't consider yourself as a typical designing buff, this blog is just for you. Hongkiat is one of the most popular designers friendly blog where it has an exclusive WordPress category that talks about everything from WordPress tutorials to tips and tricks.
What are the topics covered on Hongkiat?
Here are few of the major topics included on this blog.
Web design related articles
WordPress tutorials
Coding
UI and UX
Graphics etc
Why should you read Hongkiat?
Hongkiat is just not limited to WordPress as it goes beyond WordPress and talks about all the aspects of web design. So if you're someone who is looking for a one stop solution to hone your designing skills to build better websites online along with WordPress tips, this blog is definitely for you.
---
Want to learn more about WordPress security, backups and performance from WordPress experts? Then, this WordPress blog is just for you where you'll find dozens of in-depth tutorials on every WordPress topic.
Did you know WPMU Dev is also a developer of a few of the popular WordPress plugins including Smush and Hummingbird?
What are the topics covered on WPMU DEV blog?
Here are few most important topics you can find on this blog.
WordPress plugins
WordPress tutorials
WordPress news and support
Backups, security, performance and so on
What makes this blog worth following?
You'll find a ton of free resources to learn WordPress but WPMU DEV blog is especially known for its WordPress premium academy where you can learn from experts to develop your WordPress skills.
You'll find a ton of courses on WordPress along with the member discussions so you can quickly become an expert on WordPress. It's completely free to WPMU DEV members. You'll have to pay for their WordPress academy if you're already not a user of their site.
Suggested Reading: Best WordPress SEO Plugins To Increase Your Website Rankings
---
Smashing Magazine is probably the biggest community for web designers and developers who want to hone their web design skills and it has millions of readers worldwide. It also has a dedicated WordPress section where you can find hundreds of tutorials and easy to follow guides on WordPress.
What are the topics covered on Smashing Magazine?
Here are some of the topics you can find on this blog.
Design related articles
WordPress tutorials
WordPress guides
Web development articles and so on
What makes this blog stand out from the crowd?
If you want to learn from the best online resource to improve your WordPress designing skills, you should NOT miss this one out.
---
How can we wrap up this post without including Yoast WordPress? Yoast WordPress has developed one of the most popular WordPress plugins called WordPress SEO by Yoast which has been downloaded by millions of users worldwide.
It allows you to add SEO title, meta description, and meta keywords to each post and page of your site to rank better in Google search. This blog also has a separate WordPress category which deals with latest WordPress news and tutorials on WordPress to make your site better.
What are the topics covered on Yoast SEO blog?
Here are some of the topics that you can find on this blog.
WordPress tutorials (you'll find all the tutorials related to WordPress SEO)
Technical SEO
UX
SEO basics and
Analytics
What makes Yoast WordPress worth reading?
This blog is run by professional WordPress SEO experts and WordPress freaks, so they know what they are talking about and you're in good hands when you start reading and applying their tips and techniques. If you are looking for a perfect blend of WordPress and SEO, you shouldn't miss out on following this blog.
Here are one of the oldest yet helpful WordPress blog posts of Yoast you might be interested in reading: What are WordPress breadcrumbs?
Suggested Reading:
---
Elegant Themes is all about Divi WordPress theme and WordPress plugins. Elegant Themes has been in WordPress themes and plugins building business for more than a decade and this is the company behind one of the most popular WordPress themes – Divi.
Most information you will find inside this website is related to "Divi theme" and WordPress plugins. However they do cover WordPress tips & tricks, basic web designing topics (front-end focused), hosting reviews, and Online tools in their blog category.
Elegant Themes consist of 10+ blog categories. But the category "WordPress" is more likely to update.
What are the topics covered in the Elegant Themes Blog?
Divi Theme tutorials and resources
Divi Builder plugins tutorials
Best "WordPress Plugins" list in all categories
Specific online tools guides. Example: What is Microsoft Clarity
General WordPress how-to-based tutorials. Example How to enter Recovery mode in WP, etc.
Few In-depth Plugins guides.
Few Hosting Reviews and how-to-based hosting tutorials and so on.
Why should you read the Elegant Themes blog?
Well, the foremost reason to become a regular reader of this blog is Divi tutorials. If your WordPress blog is built on the "Divi" theme then you don't have to go to other blogs for Divi-related information. You can also consider subscribing to "Elegant Themes Newsletter" to receive regular updates.
Plus a lot of in-depth blogs related to WordPress plugins are also available. If you have a general question about WordPress or maybe you are looking for the best plugin in a specific category, just use the search box inside the "Elegant Themes Blog" page.
---
Beginners or professionals, we all are aware of WooCommerce – one of the oldest WordPress plugins of all time. But have you been aware of the blogs section of the WooCommerce plugin's official website?
Well, we must say the WooCommerce blog section is a goldmine for all levels of eCommerce sellers.
The blog doesn't only have resources about the WooCommerce WordPress plugin but it also has so much useful content that definitely helps WordPress eCommerce sellers in the long run.
The WooCommerce blog section has covered all aspects of WordPress eCommerce which is not limited to online selling. The marketing and shipping section is also there. You will have tons of information tagged under these blog categories of the WooCommerce site.
Plus you can subscribe to a WooCommerce newsletter anytime to always be updated in the WordPress eCommerce world.
What topics can be seen under the WooCommerce Blog section?
The topics have been divided into 3 main categories: Sell Online, Marketing, and Shipping.
Tutorials for building an eCommerce store from scratch on WordPress.
eCommerce trends
General selling topics. Example: How to price your products
Topics related to marketing of WordPress eCommerce stores. Example: A guide to using Pinterest to market your products.
Important shipping topics.
Why Should You Become a Regular WooCommerce Blog reader?
WooCommerce only focused on online selling (eCommerce) and building eCommerce stores on WordPress.
All information under the blog section is published by professional eCommerce and WordPress experts. For people who have a desire to build an eCommerce store through their WordPress site should put up the WooCommerce blog section in their reading list.
---
Themeisle is another popular WordPress blog serving how-to and list-based content related to Starting a blog, Email Marketing, WordPress plugins, General WordPress topics, and whatnot. The content quality is premium – In-depth yet simple to understand.
What topics does Themeisle Blog is covering?
Topics for building WordPress website from scratch
Email marketing topics: Example: Email marketing tools
Web hosting posts: Example: Best web hosts, cheap domain registrars, etc.
Reviews of popular tools, plugins, and web hosting services
WordPress tutorials (basic to advanced)
Plugins list posts and so on.
Let's take a feel of Themeisle's blog writing tone & quality, read: Make a WordPress Website: The step by step guide
Why should you follow Themeisle Blog?
The Themeisle blog has been in business for the last decade and because of this, you can trust the information they produced on various topics.
The blog's quality is supreme, they performed tests and practicals whenever required. The readability, writing tone, content structure, and format are great. If you are a beginner or expert, you will find a lot of good tutorials and resources under Themeisle.
---
Kinsta is known for its powerful high-speed website hosting services. Likewise, their blog section is extremely powerful. Here you will find more technical WordPress topics which are mainly related to website speed and performance. After exploring its blog section, we must say Kinsta could be a top-notch resource for both WordPress and non-WordPress users.
What are the topics covered on Kinsta Blog?
Here are the few topics Kinsta has been covering for WordPress users:
WordPress Development
WordPress Performance
CDN topics
WordPress Issues
WordPress Plugins, Security
WordPress Tips
WordPress SEO
WordPress website design
Website errors
Web development tools
WooCommerce and so on.
What makes Kinsta the best WordPress blog?
Nobody covered the technical aspect of WordPress and web development as Kinsta does. So you should definitely put Kinsta on your reading list. No matter what is causing your website performance, you will find the solution inside this blog.
Do you want to take a feel of Kinsta's blog content quality?
Just have a look at this amazing technical WordPress guide on the topic "Clear WordPress Cache". You'll definitely be amazed at the briefness and helpfulness this WordPress tutorial offer to the readers.
Read: Kinsta Review 2023: Is It Worth Paying for?
---
BloggersPassion is run by Anil Agarwal – The SEO Expert and Full-time Blogger.
It's mainly focused on SEO, making money online, and affiliate marketing.
Specially for WordPress enthusiastic users, BloggersPassion has a dedicated WordPress category where dozens of high-quality content related to WordPress plugins & themes are available.
This blog was launched in 2010 with an ultimate goal – teaching new bloggers how they can start a successful WordPress blog that makes actual money.
Blog Owner: Anil Agarwal
Domain Authority: 72
Backlinks: 200K
Average Monthly Earnings: $13k+
What are the topics you can expect from BloggersPassion Blog:
WordPress Plugins: List Posts, Individual Plugins, etc.
WordPress Themes: Comparison of popular themes, Reviews, etc.
Resources on "Make Money Online"
SEO in-depth guides
Web Hosting reviews, and more.
Why should you become a regular reader of BloggersPassion Blog?
WordPress users would be delighted to know that BloggersPassion has been expanding WordPress-oriented content at a faster pace. And don't forget, here you will be finding all kinds of essential information related to SEO & affiliate marketing. So if you're looking for one great resource for all kinds of blogging + WordPress high-quality content, BloggersPassion is waiting to be a part of your reading list.
---
FAQ's
Can I learn WordPress within a week?
WordPress is a HUGE platform. Even if you're a geek, it's almost impossible for you to get your WordPress basics right within a week. But you don't have to become an expert in WordPress to start using it like a pro. That being said, there's an awesome page created by WPBeginner where you can learn the WordPress basics within a week.
How big is WordPress and why do most people use WordPress?
WordPress now powers 30.7% percent of the web, according to data from W3Techs. That being said, here are 3 major reasons why most sites are powered by WordPress.
→ Plethora of options
→ WordPress is easy to use
→ WordPress is an all-rounder
How do I start a WordPress blog?
There are two ways to start a WordPress blog.
→ WordPress.com (which is free to use but gives you less control over your site)
→ WordPress.org (which is a self-hosted platform where you need to buy a domain and hosting)
How much does it cost to build a WordPress site?
How can I make money using WordPress?
There are a ton of ways people use to make money from WordPress. Here are few options for you:
→ Become a designer:
→ Start a blog and make money:
→ Create plugins or themes to monetize
→ Offer WordPress services:
Digital Marketing Related Blogs List:
---
Conclusion
Whether you want to learn WordPress for building websites or simply want to improve your WordPress skills, the list of blogs on this page are suffice to take your skills to the next level.
Almost all of them are free resources to learn WordPress and we deliberately didn't include the premium sources like WP 101, Lynda, Udemy etc as most of the free resources like WPBeginner are good to go.
So what do you think about the blogs mentioned here? Did we miss any of your favorite WordPress blogger? Share your thoughts in the comments.