Are you looking for the top free directory submission sites list with high DA (domain authority) and lowest spam score? You're in the right place.
Gone are the days where you can simply rely upon one strategy to build a high traffic website. You have to try every single thing to get better rankings for your sites.
If you're struggling to increase your traffic, focus on SEO. But it is NOT easy as it sounds. You need a lot of quality backlinks in order to generate more website traffic. Here's where free directory submission sites (High DA with lowest Spam Score) help. I won't say they can give a ton of traffic or SEO value but they are worth giving a try if you're just starting out to get more traction with your site.
So without much ado, let's talk about few essential things about free directory submission sites, then you'll discover a list of 45 (10+35) free directory submission sites (DA from 40 to 100) to submit your site for free in 2023.
25 High DA FREE directory submission Sites List [2023 Edition]
When you are thinking of building links to your website from web directories, only go for those directories that has good domain authority (DA) and lowest spam score. You can use Moz Link Explorer tool to check the DA and spam score of any website.
I have seen some web directories having spam score of 40 or even more out of 100. Stay away from those websites. If you are submitting your website on website directories that have high spam score, you could end up building bad backlinks for your website.
And this could result in lower rankings for your website. Sharing below 10 high DA web directories and that have spam score of less than 5 out of 100.
Entireweb Directory: DA 52
SoMuch.com: DA 36
Jayde.com: DA 41
LinkCentre.com: DA 41
Cipinet.com: DA 34
MasterMoz.com: DA 28
AceWebDirectory.com: DA 32
PromoteBusinessDirectory.com: DA 27
WorldWeb-Directory.com: DA 25
DirectoryCritic.com: DA 32
Learn How to bring MASSIVE traffic from Google (Worth $197)
---
Top 40 High DA Best Business Listing Sites for Submission
Business listing directories help you get more exposure, search rankings and business listings of your website. So we recommend you to check out the best business directories mentioned below.
Whether you're running a restaurant business online or trying to capture real estate leads online or even looking for health care businesses, we highly recommend you to get your website listed on the following 40 best business listing directories as they are so helpful.
Facebook Business Pages: DA 95
Rent.com: DA 65
Caring.com: DA 66
Zomato for Businesses: DA 84
SpaFinder.com: DA 63
Orbitz.com: DA 74
Booking.com: DA 94
ZocDoc.com: DA 77
RateMDs.com: DA 63
DemandForce.com: DA 57
PissedConsumer.com: DA 76
BBB Directory: DA 90
TripAdvisor.in: DA 74
YellowPages.com: DA 61
Lacartes.com: DA 49
Google My Business: DA 81
Bing Places for Business: DA 52
FourSquare for Business: DA 93
MapQuest for Business: DA 89
Yelp for Business Owners: DA 94
Yellow Pages Business: DA 73
Angi.com: DA 38
Manta.com: DA 80
BoTW.org: DA 55
Spoke.com: DA 57
ChamberOfCommerce.com: DA 56
Hotfrog.com: DA 56
2FindLocal.com: DA 45
Company.com Business Listing: DA 56
BrownBook.net: DA 55
iBegin.com: DA 50
CitySquares.com Business: DA 47
EZlocal Business Listing: DA 53
CYLEX Business Directory: DA 50
Quick tip: While submitting your site on any of the above mentioned sites, do not prefer submitting to a site that requires reciprocal link back or banners on your site as it may harm your site's SEO and you're unnecessarily passing your site's link juice when you can easily find a ton of FREE directory submission sites.
---
What exactly is directory submission?
Directories are a kind of website which are used to store businesses and their information. Simply to say, it is the process of adding website to web directory. In telephone directory you can find any number by name. Just like that, you can find any business and information about business.
It is one of the off-page SEO techniques. To submit your website details like name, link and description of your website, you need to select the best directory. Your domain authority will increase and helps you to get more traffic from google search engine if you keep doing this regularly.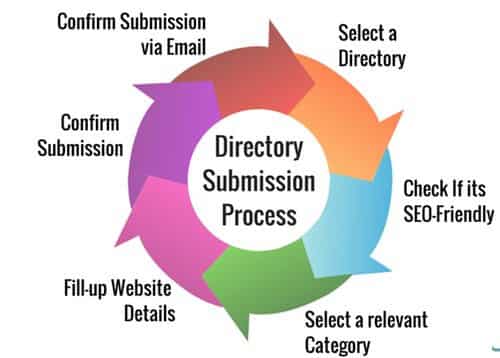 It also increases your domain authority in google search results. Directory submission helps to generate more traffic flow towards your website and improves the search engine rankings.
---
What are the benefits of directory submission in SEO?
Directory submission is one of the most commonly used SEO strategies. Here are the few solid benefits of directory submission
1. For better search engine rankings: By listing your website in the top directories, your website will get the required exposure in online. Directory submission is a great way to build links and boost search engine rankings. Although majority SEO experts argue that most free directory submission sites are of no use in terms of getting better SEO results but they are definitely worth giving a try.
2. Increase link popularity: One of the main benefits of directory submission is you will get high quality backlinks. Search engines consider the number of backlinks you have and directory submission will give your website the required backlinks. It is very easier method to build links for your website. Free directory submission sites definitely give you an advantage in SEO or link diversity. Just make sure to pick the right DA sites to submit your sites or you can also hire people to do it for you!
3. Indexing of pages and blog posts: Directory submission provides guaranteed search engine indexing. When you submit your website to directories, it will get indexed in the search engines. The search engines locate your website following the backlinks from other websites.
4. Generate more traffic to your blog: If you have used the right keywords for your submissions, your directory listings will get listed in the search engine listings. This will send you targeted traffic to your website even if your website does not have top rankings in the search engines.
---
Types of directory submission
To build up backlinks, directory submission is undoubtedly an impressive strategy. But do you know there are several types of directory submission? Here are 8 types of submission.
Free directory submission: It is free for directory submission but there is no guarantee for getting approved your link by administrator and it will take lots of time.
Reciprocal regular web directory listing. You need to submit a reciprocal link to your site when you activate directory link. Then only directory administrator will approve your link.
Paid directory submission: The owner of directories site will charge for submission. You will get fast backlinks from this type of submission. Some sites offer this package for yearly or lifetime.
Automatic directory submission: You can use software and tools to submit directories.
Manual directory submission: You need to do directory submissions manually. However, all the search engines including Google don't encourage manipulative ranking efforts.
Nofollow directory submission: The nofollow attribute usage is becoming controversial in the world of search engines. In directory submissions, should you consider submitting your site to no follow directories?
Dofollow directory submission: If you are a blogger who wants to increase your blog rankings then dofollow directories helps you to get SERP. Dofollow backlinks helps in getting high rankings. high amount of traffic.
Niche directory submission: These are the directories that includes RSS feeds, blogs, scripts and software's, Web hosting companies, Web designers, SEO companies and other online businesses. Every niche directory is dedicated to a specific subject, listed as a category under a general directory.
The more the frequency of links in your site, the more the internet visibility and rankings. As the ranking of your site increases, search engines visit your page more frequently and considers it as the most important and relevant site.
---
Top 5 things to consider while doing directory submission
When submitting your site to directories, you need to follow a number of guideline . Here are some tips and recommendations that you can follow while doing directory submission.
If the directory itself is not indexed, there is no point in getting listed in it. So, make sure that the directories are indexed and cached by major search engines like Google, Bing etc.
Target various terms like your brand name, main keywords, exact match domain name, related keywords, synonyms of main keywords, long tail keywords etc in the titles and descriptions.
Manually submit to each directory or use the services of a manual directory submission service provider. Never use automated submission tools which makes 1000 submissions in one minute.
Don't depend entirely on directory submissions. Use other link building tactics like guest blogging, infographics, social bookmarking etc. along with directory submission.
Submit to various types of directories like general, niche, regional, country specific, industry specific, premium directories etc.
---
Do's and don'ts of directory submission sites
Make sure you follow these while submitting your site to directories:
Do's of directory submission sites:
Here are few do's of free directory submission sites. So you can follow them while submitting your site or blog to these free directory submission sites.
Check whether the directory is indexed by the topmost search engines or not. If it has not been cached by search engines, then there is no point in submitting your links on it.
Submit to popular directories as it brings traffic and also the kind of backlinks that will actually enhance your site's optimization process.
Make sure that the directory in question offers a unique category structure that helps in better organization of info when you submit your site into categories. This will help you in locating relevant information in quick time.
Check the outbound links on the category link pages. So that it will give you a good insight into how helpful such a submission would be for your site.
Make sure you check the domain authority of the web directory
To ensure your site is not already listed, perform a quick search in the directory. This saves your time.
Before submission process itself, read and follow the guidelines of the directory.
The web directory has an enormous array of subjects to choose from. Identify the single best category for your site. Submit a site to the single most relevant category. If you submit to inappropriate or unrelated categories,then your site will be rejected or removed.
While building links always keep in mind of quality. Instead of numerous non-quality links, a single qualitylink is better. Submitting the sites in quality directories can improve the site's ranking.
Include the keywords you are trying to target in your anchor text, but do not make them spammy. Do not use the same description and anchor text for every link. Try to change it around a bit and target different keywords.
Always use appropriate title and description. Title should be your targeted keyword which appears in the anchor text. Create a description with all main keywords of that page. But make sure you don't stuff keywords in the description.
Links from high PR directories carries more weight. So, try to get quality links from high PR directories.
Never rely on automated tools and softwares. Always prefer manual submission. If you want to submit websites to directories on a regular basis then you can use Roboform which is an autofill password keeper that's encrypted. It is an all around serious tool.
Avoid paying for links and always aim for one way links through directory submission.
Check your approval status on a regular basis and keep track of your submissions. There are a lot of free directory submission sites that instantly approves your site submission and there are also sites or agencies that take money to submit your sites on few top sites.
Document your work for future reference. This is important because you need to know whether your SEO strategies are working well in your favour or not.
Don'ts of directory submission sites:
Avoid the following things at all costs while submitting your sites to the above mentioned free directory submission sites.
A directory which uses the 'rel=no follow' attribute for your link is absolutely no help in your optimization campaign. Search engines will actually never follow that link to your site. Even redirects are usually not considered for back links by search engines.
Beware of link farms, bad neighborhoods and free-for-all (FFA) link sites as it harms your site.
If any directory is approving site without reviewing it manually then don't submit to those directories as it uses some automated scripts to do the same.
Mirror sites contain identical content, but have altogether different URLs. So, do not submit mirror sites.
Do not submit URLs that contain similar content as other sites you have listed in the directory.
Some directories don't accept sites you submitted once in the same month. Few sites may accept this but most of the directories displays an error message, "Domain already exists in the directory". If you are not listed, rethink your submission, drill down to a deeper, more relevant category and resubmit.
If the sites has overlapping and repetitive content, then they are not helpful to users of the directory. Multiple submissions of the related sites may result in the exclusion or deletion of those and all affiliated sites.
Never disguise your submission and submit the same URL more than once. For example, sending https://www.domain.org and https://www.domain.org/index.html is not a good practice.
If any site with an address redirects to another address, then don't submit that.
If site contain incomplete and "under construction" notice or contain broken graphics or links then don't submit such sites to a directory. Wait until a site is complete before submitting it.
---
FAQs
Here are few FAQs you might have about free directory submission sites in 2023 and beyond as they will give you better understanding about them.
Does directory submission still work in 2023?
Yes directory submission is one of the best off page SEO techniques where you can easily get links without paying or waiting for too long (unlike guest posting to get links). It's undoubtedly the best way to attract great backlinks and increase traffic on your site even in 2023 and beyond.
What is business directory submission?
Business directory submission is simply including your website's address or URL in business directories such as Google, YP, Yelp etc. It helps you boost your business performance on local search. Here are some of the best directories to use for local businesses.
Does blog directory submission get your website rank higher in search engines?
Honestly speaking, blog directories to some extent might help you in getting links but certainly they are not going to be useful if you want to get first page rankings on Google for most of the keywords.
We recommend you to use all kinds of link building tactics like guest posting, skyscraper technique, email outreach, infographics etc and NOT to depend only one off page SEO technique like blog directory submission.
How to do directory submission step by step?
Here are 3 simple steps to do directory submission easily.
Step 1: Pick any of the free directory submission sites.
Step 2: Choose a relevant category for your submission.
Step 3: Once you found the appropriate sub category on the submission site, you can find buttons like "submit blog", "click on submit your site" etc to submit your site for free.
Is there any free automatic directory submission online?
Yes, there are few tools and also platforms that allow you to do free automatic directory submission online but we don't really recommend using them. The sole reason is often these automatic directories are filled with few hundreds of blog directory sites (most of them include spam sites too) and they automatically post your site URLs across these sites.
Does duplicate content in the descriptions of business directory sites impact SEO?
This is one of the most important question. Most of the blog directories including business directory sites fetch your details (including title, meta description) automatically when you insert your blog URLs.
But here's the thing: most of these directory sites don't provide you do-follow links so they don't pass any link value or create much impact on your site rankings, so you're good to go. That said, it's also advisable for you to use unique content descriptions wherever possible.
How to build more quality links in 2023:
---
Final Thoughts
While most SEO experts don't believe in free directory submission but I would say it's really a nice addition to newly launched sites to get some exposure or SEO advantage.
So what are your thoughts? Did you find this post useful? Do you have any questions regarding to free directory submission sites? Leave your thoughts in the comments below.
We get a commission when you buy a product via our affiliate link at no additional cost.