Should you invest in SEO as a major part of your digital marketing strategy in 2023?
SEO can help you in multiple ways to grow your business, from awareness to trust to ROI.
That's why, I've created a list of the top 10 benefits of SEO so you can understand the potential and importance of SEO for your business.
But before that, let's start from the basics.
What Is SEO?
SEO stands for Search Engine Optimization. It is the process of improving a website to get free organic traffic from search engines by getting top positions on SERP (Search Engine Result Pages).
With SEO, you get top positions on Google for your important keywords (terms/phrases your potential customers are searching on Google) without paying anything per click and get traffic for your website.
Top 13 Benefits of SEO; Advantages of SEO
SEO Benefit 1: SEO Traffic is the Best Traffic
There are lots of marketing channels and methods to drive traffic to a website; you can use ads, social media, press releases, etc. But SEO traffic is the highest quality traffic.
Here are some reasons for this;
SEO traffic is free
You get the most targeted traffic
The user who has visited your website is ready to buy from you. (no or low trust issues)
You can know what a user has searched on Google to visit your website.
SEO traffic has a higher conversion rate.
SEO traffic is organic traffic from search engines like Google. People search their queries on Google to know or buy something. And Google provides relevant results to those search queries.
So, if a user is searching for the same product that you're selling on your website, It means the user needs that product and wants to buy it.
When the user searches for the product to buy and your website is listed on top of Google, then the user will visit your website and buy from you.
Simply put, you'll get users searching queries or terms related to your business or product and are looking to buy. That is not possible with other marketing channels. No other marketing strategy can deliver the same kind of targeted traffic.
This is why top companies are heavily invested in SEO, and SEO is the top traffic source for 90% of companies.
SEO Benefit 2: SEO Is A Cost-Effective Channel
SEO is one of the most cost-effective channels to get traffic to your website in comparison to other channels like Social media ads.
You need to spend money on content, promotional videos, landing pages, creatives, experts, and experiments, and you also need a budget to spend on ads.
But for SEO, you just need to improve your website quality and some content. There is no need for a budget to spend every month on SEO. You can even do the SEO for your website if you have time or have no money to hire an SEO expert.
Also, You can reduce your ad spend once your website starts getting results through SEO.
With SEO, your efforts get reduced over time while increasing results. But with paid campaigns, it is impossible, and you always require a budget to run ads.
This blog is the best example of this. I started with nothing, but today, this blog (BloggersPassion.com) is earning more than $18,000 per month only with SEO. It can be possible only because of SEO.
SEO Benefit 3: SEO Supports Paid Marketing
SEO is an organic channel, but it can support your Paid Marketing Campaigns in multiple ways.
SEO enables you to discover valuable keywords to focus on in your advertising campaigns.
According to Google, over 15% of searches are completely new, representing people's first-time queries on the platform. Furthermore, it's important to note that keyword research tools have limited data, that everyone is using to run PPC advertisements.
But Google has all the data and you can get it in your Google Search Console. You can find all the search terms people used to buy from you. You can find lots of keywords that you can't find with any other keyword research tool.
So, you can target those unpopular terms through ads. Because there will be no or low competition for those terms, you'll have to pay a lower pay-per-click cost for those queries. You can increase your sales and conversions.
Also, SEO can help you to get more real estate on Google SERP by connecting with paid campaigns.
If you're already doing well on Google for a keyword that makes you money with SEO, you can also put ads for that keyword to get another spot on the same page.
Having more listings on the same page of Google means more probability of getting clicks to your website. Also, it positively impacts your brand because of the mere exposure effect.
Here is a real example of Bluehost.com ranking organically with SEO and having an ad placement on the same page.
SEO Benefit 4: SEO Makes You A Trusted and Popular Brand
People trust search engines like Google for authenticity. This is the reason that more than 99% of users don't go to the second page of Google SERP.
That's why getting higher rankings on Google improves the trust of your brand. Your business looks more reputable and legitimate.
Also, SEO helps you with brand awareness and popularity.
When a user (who doesn't know about your business) searches for something related to your product on Google and if your website ranks higher there, it will become aware of your business by seeing your listing and visiting your website.
You appear for more searches, which means more trust and a familiar brand. That will help you become a popular brand.
Over time, people will start searching for your brand name on Google to buy directly from you. That means more brand loyalty and authority in your industry.
SEO helps you with some of the most important elements that a business requires to grow and become a memorable-trusted brand that customers love. This is one of the biggest benefits of SEO over other digital marketing strategies.
SEO Benefit 5: SEO Helps With Buyer-journey
Another one of the biggest benefits of SEO is that it helps you connect with your potential customers at every stage of the customer journey.
For example, a business owner is planning to get a website for his business. So, he will start searching queries like "benefits of having a business website," "How to build a website," and "Cost of building a website."
But later on, he started searching for website design experts or agencies by searching for queries like "Best Website Design Agency in (location)" or "Web Design Agency Near Me."
In the same way, with SEO, you can connect with your targeted audience from the initial stage of the customer journey. You should create content for the top, middle of the funnel, and Bottom of the funnel.
It will help you to connect with potential customers at the very early stage of their customer journey. Connecting with customers from the very beginning by providing useful content & information helps you to build trust and loyalty. And whenever that person has to purchase, he'll prefer to buy from you.
SEO Benefit 6: SEO Delivers High ROI
ROI: Return-on-Investment is the most important factor for business and marketing channels. You can't run a business without money. That's why A business should heavily invest in marketing channels that deliver high ROI for the business.
When we talk about SEO, higher ROI is one of the top benefits of SEO. In fact, Google officially confirmed that organic search has a higher ROI of 5.3x than the paid search ROI, which delivers 2x ROI.
But SEO can deliver much higher ROIs. I have seen an ROI of 35x from some SEO campaigns in my career.
Also, Over time, The ROI from SEO gets higher. In the initial months of an SEO campaign, ROI will be negative or lower, but over the months, it becomes positive, and over the years, you get the highest potential of SEO.
Here is the screenshot of the SEO campaign over MoM and YoY.
SEO has a compounding effect that keeps improving over time, consistently delivering better and better results. Moreover, the true return on investment (ROI) of SEO can't be measured solely in profits. It extends to enhancing your brand's trustworthiness, reputation, visibility, customer loyalty, cost savings in marketing, and more. This is why smart businesses prioritize investing in SEO right from the beginning.
SEO Benefit 6: SEO Helps to Know Customer Behavior
Improving your website SEO means you're aware of the latest trends and user behavior changes.
Keyword Research data, Google Search Console Reports, and Google Trends help you to understand the users' interests and the latest trends. For example, the decline in keyword volume shows that fewer people are searching for that term. That could be due to the lower demand for that product.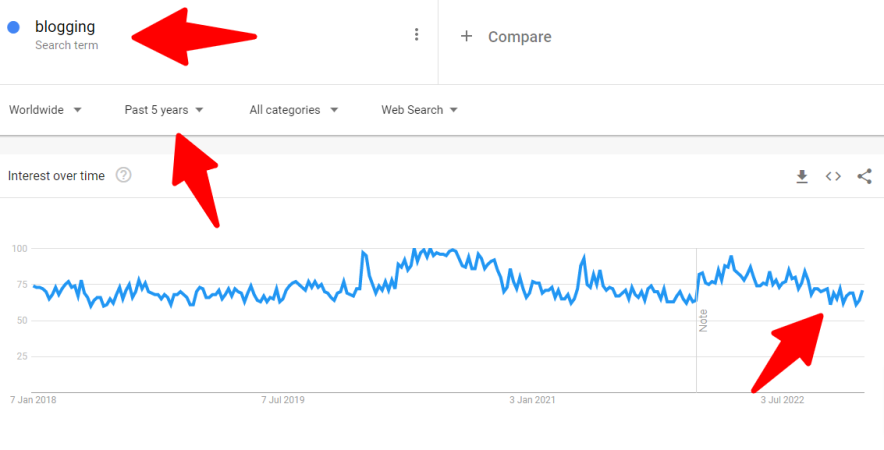 Google Trends Graph can tell you about whether the popularity of something is growing or not. You can also find data about the latest trends in your industry.
It can help you to make changes to your overall digital marketing strategy at the right time and help you put your efforts in the right direction so you can always stay on top of your business.
SEO Benefit 7: SEO Gives A Competitive Edge
The importance of SEO is reflected in its ability to help you compete with big brands and crush them.
With SEO, you can compete with the biggest brands and outrank them to grow your business without requiring millions of dollars in your pocket.
No other channel gives you the same opportunity. For example, You can't compete with brands in PPC if you don't have millions or billions of dollars to spend every month.
But with SEO, you can crush the competition by doing proper keyword research and using the right SEO strategies to acquire more organic market share.
SEO Benefit 8: SEO Helps With Marketing Strategy And Channels
Improving the SEO doesn't only grow your organic traffic. It also improves the overall performance of your digital marketing campaign. Best SEO practices like improving page speed, user experience, satisfying search intent, writing high-quality content, etc., also help you get better results from your other marketing strategies.
For example, Providing a better user experience and high-quality content helps you get more leads and conversions even if you're not getting organic traffic.
Improving page speed helps to get more conversions, and having high-quality backlinks from reputable sites helps you to get referral traffic to your business that can be interested in your product.
Also, the data you get from an SEO campaign helps you to improve your overall marketing strategy. It gives you a clear idea of what's working and what's not and where you should focus and invest.
SEO Benefit 9: SEO Helps Local Businesses
In this digital era, everyone searches for a brand or store before visiting it offline. Before hitting the store offline, they're looking for the products, reviews, feedback, etc..
So, if you're already running a business offline, investing your time and money in SEO can help your business grow immensely.
According to a study, 82% of smartphone users research a product with their phone before they make their final purchase in-store offline. The study also found that 45% of consumers read reviews online before making a purchase offline.
Also, 90% of people are influenced by online reviews, according to a few surveys.
What does it tell you?
You need a solid local SEO strategy to grow your local business. Not only will it give online visibility to your business, but it also help you with offline sales. Here are a few things you can do online to improve your Local SEO.
Create and optimize Your Google My Business Profile Listing.
Get more reviews from your customers on your Google Business Profile.
Find Local Keywords. You can use a tool like SEMrush or Google Keyword Planner (free).
Get local citations
Create a website for your business.
Target those local keywords and improve On-page SEO.
Build some links.
Local SEO is an important factor if you want to grow your business. Otherwise, your competitors will grow.
SEO Benefit 10: SEO Is Measurable
One big reason most brands and small businesses invest in SEO is it is measurable.
You can measure the traffic, conversions, leads, and the source of conversion including the time taken by it to convert.
That being said, here are some of the essential KPIs (Key Performance Indicators) to track in SEO.
Organic traffic (which shows you how many visitors come to your website from organic search results and it can be easily discovered from Google Analytics)
Keyword rankings (which shows you how your keywords are performing in search results and you can use tools like Semrush to track keyword rankings)
Search visibility (which tells you how often your domain is shown in search results for the keywords it's ranking for and it can be discovered through Google Search Console)
Average session duration (it shows you how much time your visitors spend on your website and it can be found in Google Analytics)
Organic CTR (it measures the ratio of clicks on your link to the total number of users who viewed the search results)
Bounce rate (it shows you how much percent of your website visitors bounced from your website without taking any action and it can be easily discovered from your Google Analytics account)
As you can see above, most of the SEO KPIs can be easily discovered when you've access to both Google Search Console and Google Analytics. Both are free to use.
So once you set up a website, make sure to connect your website to Google Analytics to measure your SEO efforts.
SEO Benefit 11: SEO can be used for Almost any kind of business
Another big advantage of SEO is that it can be used for any kind of business. SEO can be helpful for almost every industry and any kind of business.
No matter whether you're an individual startup, e-commerce, B2b, B2c, small business, local business, national business, global business, or an enterprise Fortune 50 brand, SEO still has the potential to grow your business.
Even if you don't have any business, then you can still make money with SEO. For example, Blogging, Affiliate Marketing, and providing services, etc.
If you're short on budget, you can learn SEO online and do it by yourself. But if you have enough budget, then you can hire an SEO expert or an SEO agency to help you with SEO.
SEO is important for everyone, like Lawyers, Doctors, Plumbers, Carpenters, Dealers, Franchises, Wholesalers, Manufacturers, individuals, companies, etc. But if you're not investing in SEO and thinking that SEO is no longer effective, then You're missing so much business and giving it to your competitors for free.
SEO Benefit 12: SEO Promotes Your Business 24/7/365
Google works 24/7 and appx. more than 99,000 people search on Google every second, and more than 8.5 billion daily.
You can get customers 24/7/365 for your business. That's another thing whether your business can provide 24/7 service or not. But SEO promotes your business all day and every day.
You're providing solutions to users when they require them and search for them on Google. It increases the value of your website and business.
SEO promotes your business but in a non-promotional way.
SEO Benefit 13: SEO is Long-Term
SEO is a long-term, ongoing strategy to grow your business. It means The results from your SEO efforts will keep giving you results in the future years, too.
That's why SEO is the strategy in which every business should invest every year. You can maximize your digital marketing ROI by investing in SEO as a core digital marketing strategy or the long term.
So, your company can keep getting the benefits of SEO for your business for years.
FAQs
What is SEO, and why is it important?
SEO stands for search engine optimization – the process of optimizing a website to get more targeted organic traffic for a business from search engines.
What are the pros and cons of SEO?
Some of the SEO advantages include – Higher ROI, targeted High-quality traffic, brand awareness, measurable results, etc. But there are some disadvantages or cons too, like high competition, effort and time required to get results, etc.  
What are the benefits of SEO in the future?
Brand building is the future of businesses, and without investing in SEO, you can't build a reputable brand. That's why investing in SEO is more important than ever.
What is the biggest impact of SEO?
SEO drives the most targeted traffic to your business for free, all day, every day, and converts better than traffic from other channels.
What are the benefits of SEO for small businesses?
SEO is important for every small business to survive and grow in the long term.
What are the benefits of SEO for websites?
SEO improves a website's overall quality and performance and makes it more accessible to users.
What are the benefits of SEO for e-commerce?
SEO helps e-commerce businesses in many ways, like reducing the overall marketing cost, improving ROI and customer retention, increasing sales and brand loyalty, etc.
How much traffic can I get with SEO?
There is no limit to how much traffic you can get from SEO every day, every month. It depends on your website authority, niche, SEO strategy, SEO efforts, and skills of SEO experts who are managing your SEO.