How to Increase Your Website Traffic Without Building Links
in SEO Tips
|
Last Updated : August 17, 2018
|
Getting massive traffic from search engines to websites is the biggest challenge for most bloggers. After all, if you want to increase your website sales and income, you have to bring more visitors from search engines, right?
Majority of the bloggers try a lot of link building strategies to boost their overall website search traffic. Often times, they fail to grow their traffic because they solely focus on building just links.
What happens when you focus on link building to increase your organic traffic? Google considers your site as a spam link building platform and penalizes it in the search results. So focusing only on link building without having great content on your blog will never get you good results.
And we all know getting quality links will surely increase your overall search engine traffic as well as search engine rankings. Apart from building quality links, if you try other ways to build links, it will just not help you in the long run.
If you are struggling to build links, you should definitely find out few ways to boost your traffic. If you are someone who wants to increase website traffic without building links, this post is exclusively for you.
Before diving into the post, we'll talk about few important things first.
Is it really possible to increase your website traffic without building links?
First things first. It's not all about links. Most SEO professionals made up your mind that it's all about links. But in reality, it's not true. There are so many websites ranking really well on Google search results without having too many links.
Haven't you ever seen a new website ranking well in the top of Google search results? So the point is it's not about links and it's very much possible to increase your website search traffic without actually link building.
So if you are doing the right on-page SEO with proper internal linking, image optimization, keyword research etc it won't take much time for you to increase your website search traffic without link building.
Incredible ways to increase website traffic without link building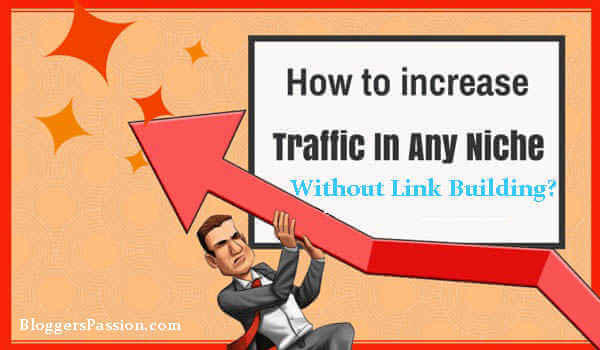 Did you know that social shares on your blog posts or web pages actually improve your overall search engine rankings for every keyword you target? Yes, it's true that social signals matter a lot and Google gives top priority to the pages that get more social shares (be it from twitter, Facebook or Google+).
The amount of shares you get on Facebook, number of retweets and every Google+ on your content is taken into consideration by Google search crawlers when indexing your pages. More social signals can help you rank well in the Google search results almost always.
According to Searchmetrics, increased social signals improved their overall search traffic, sales and their online visibility.
So how to increase social signals for your website?
Figure out when to post on social media sites like Facebook, Google+, twitter etc. Because the timing is everything when it comes to increasing your social media shares. Read this detailed post on finding the right times to post on social media sites.
Always ask your readers questions to get more social shares. Did you know that social media users are 21% more likely to engage with a question? So start asking compelling questions that your readers want to answer.
And make sure to write more "How to" and list posts as they tend to get highest social shares (around 47%) when compared with any other headline idea. So if you want to boost your social shares for a post, start the headline with "how to" or include a number in it.
Also, conducting frequent contest for your social media followers is the surefire way to increase your social media engagement by 39%. So what are you waiting for? Start focusing more on increase your social media engagement to increase your overall website traffic.
Create a holistic content creation approach – write in-depth articles
Did you know that 16% of Google search results contain In-depth articles?
One of the best ways to bring more traffic from search engines is to write detailed articles with over 1500 words. It will definitely bring you more traffic.
Practice makes a man perfect. Creating great content makes a website profitable. Great content is the king. We all know the rule but we barely follow it.
If you are looking for ways to increase your website traffic, without having great content that goes viral, you will barely get targeted audience.
Increasing your website traffic without building links seems only possible if you are creating "right kind" of content to your audience. So how can you do that?
Here are few effective ideas on crafting a great content creation approach.
#1. Make sure to create a content framework
If you observe any popular blog post in your niche, you will understand that it has a proven framework that attracts readers to share and comment on it.
Any great content framework contains the following so make sure to include them while crafting your blog posts.
Incredible headlines: Powerful headlines are backbones of any website that gets more clicks. If you are spending 5 hours writing a post, I strongly recommend you to spend at least 1 hour on crafting your headlines. Come up with at least 5 headline samples for every post you write. That way you will be able to use the best one for your posts to grab more people attention.
Meat of the content: Great content revolves around the topic and data you provide on your blog posts. Without properly researching, don't publish any blog post. Spend quality time on researching, crafting and publishing a post. Use lots of real time examples and data to write problem solving content.
Call to actions: Use as many call to actions as possible on your posts. You can use tweetable quotes, questions, subscribe now etc within your content to persuade your readers to take some action while reading your content.
Conclusion: Always use a conclusion on your posts to give a brief idea to your readers. Your readers should get a better idea about your content after reading your conclusion of the post.
#2. Find and analyze the best performing blog posts, videos and Infographics in your industry
If you want to increase your blog traffic, you need to find out the top trending contents in your niche. No matter how much competitive your niche is you still can rank better in Google search results if you find the "proven content formula".
For that, you need to analyze the best performing posts and videos in your niche. This is also known as Skyscraper technique that I've discussed in detail here.
In a summary, Skyscraper technique is all about finding the great content that already attracting a lot of shares and links in your niche and the creating even better content around it.
Then, reaching out to the right people who shared or linked to the original source to get more links for your content too. This works like a charm especially if you are a beginner who is searching for proven ways to get more shares and links.
You just have to keep in touch with the other bloggers in your niche through blog comments and emails and keep searching for the hot topics in your industry by using tools like Buzzsumo, Topsy etc.
#3. Find the right ways to promote your content to get more exposure
You build and they will come. It won't work now, it used to work a decade ago where people will naturally find and share your blog posts. If you follow the same rule now, it won't give any good results. You have to get out and bring more exposure to your blog posts by promoting well.
Promotion is the key to increase your website traffic without building any links. You can use your own email lists, social media sites and blogging forums to increase your blog exposure.
Start building connections with other bloggers
Building relationships with other bloggers is the surefire way to increase your website traffic without building links. Here are few evergreen ideas on building strong relationships with other bloggers in your industry.

Forum participation: I strongly suggest you to find and participate in the relevant blogging forums in your niche. You can also sign up in the best blogging communities like Blog Engage, Blokube, Just Retweet, Indiblogger etc to start connecting with other amazing bloggers. These blogging forums are free to join and you will find a lot of blog post ideas too if you ever stuck in coming up with new post ideas for your blogs.
Guest posts: Guest blogging is not dead as most bloggers say. It's still one of the best ways to increase your website traffic and more importantly to build relationships with other bloggers. Just don't consider that guest posting is all about building links. If you think that way, you will fail to increase your traffic. Simple as that!
Interviews: Conduct the interviews of experts in your niche. Talk to them either via Skype or emails and ask them interesting questions. When the interviews go live on your blog, make sure to email other bloggers to promote it. Most people do it without any hesitation.
Blog commenting: If you are a beginner, I would recommend you to leave 20 to 30 comments every single day on other blogs. Read their posts entirely and leave insightful comments on their blogs. This will definitely help you build long lasting relationships with other bloggers.
Focus on creating a relevant and user-friendly website
Relevancy is the key to bring targeted traffic to your blogs or websites. What's the use of writing blog posts that don't bring quality visitors from search engines?
People won't buy anything from you if they are not interested in your content or products you promote. So focus on building a relevant and user-friendly website that helps you increase your readership and sales.
Use proper SEO tools such as SEMrush to spy on your competitor's keywords. Figure out how many links they have and how they are using various keywords to boost their blog traffic. By having access to the right SEO tools, you can boost your website traffic to a great extent.
Make sure to focus on on-page optimization as it really is the key to increasing your website traffic from search engines. Make sure to use your primary keywords in your title, meta description, image alt tags, internal links, sub headings etc to get more visibility on your blog posts from search engines.
Final thoughts about increasing website traffic without building links
Start focusing on writing in-depth articles if you quickly want to increase your website traffic without actually building links. If you are a beginner, I strongly recommend you to spend quality time on researching your articles instead of writing mediocre stuff.
Also, focus on social media engagement and blogger outreach as these are the two major factors that make or break your website's success in terms of increasing your traffic.
So what are you waiting for? Start implementing the strategies I mentioned in this guide to get good results to increase your web traffic.
Do you have any more thoughts or tips on increasing website traffic without building links? Please share your views in the comments and do share this post with others so they can benefit.