Creating a successful blog takes time. Sometimes it takes years to build a money making blog. When you're blogging, you'll make a ton of mistakes.
As they say "every expert once was an amateur". There's nothing wrong in making mistakes though but you can build a better blog really quickly if you can avoid few common blogging mistakes which you're going to discover on this page.
Go through each and every mistake we're going to cover so you can avoid them in the long run.
10 Blogging Mistakes to Avoid for Beginners In 2023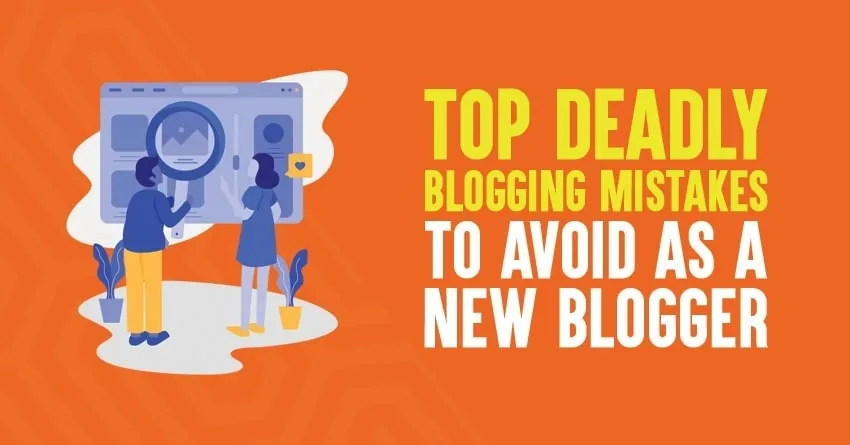 1. Not doing any keyword research
Did you know why your blog is struggling to get more search traffic even after posting contents regularly?
It might be mostly because you publish posts without keyword research.
Keyword research is simply the process of finding "words" or "keywords" which generate more traffic, leads and sales to your websites from search engines like Google.
Here are few essential tools you can use for keyword research
Semrush (this is the same tool we're using to find potential keywords for our site, you can literally find every single detail of a keyword using Semrush)
KWFinder (this is a long tail keyword research tool with a great interface and it shows you trend, search volume, CPC, and level of difficulty in results)
Ahrefs (another incredible tool which gives you accurate keyword data)
Ubersuggest (if you're looking for a free keyword research tool, you must check this one out)
While doing keyword research, make sure to focus on one thing: long tail keywords.
Long tail keywords usually contain 4 or more words.
Example is "best fitness apps for iPhone" is a 5 word long tail keyword which can be easier to rank for when compared to short tail keywords like "best fitness apps".
Are you getting it? So next time, before publishing any new posts on your blog, make sure to find long tail keywords and use them in your title, meta description, URL and heading tags such as h2, h3 to optimize your contents well for search results.
If you're on WordPress, install Rank Math plugin as it's the best plugin to optimize your blog posts for your desired keywords.
Read: The Complete Guide to Affiliate Marketing to Make More Money for Beginners In 2023
---
2. Inconsistency in blog posting schedule
There are so many blogging superstars who've emerged recently and there's one reason that differentiates the successful bloggers from the failure which is "consistency".
Not only in blogging but consider any field in the world, consistent people will succeed.
That's why "don't focus on the results". Instead, focus on creating a consistent blog posting schedule and stick to it. Even if you're posting one post a week, stick to it for an year and it becomes a routine for you!
Here's the key to creating a proper blog posting frequency.
Publish less frequently but make your content extremely detailed.
Gone are the days where you can publish blog posts daily to get more search traffic. Yes, search engines like Google loves fresh content but it doesn't mean you should publish mediocre contents every single day.
Quality beats quantity.
It's always better to create 1 in-depth article instead of publishing 5 crappy posts as in the long run in-depth contents perform really well over average blog posts. If you're covering any topic, make sure to include A to Z information about it.
If you're writing about a complicated subject, use real-world examples as they make your content more compelling.
And make sure to spend more time engaging with influencers in my niche. You can do interviews or expert roundups when you're just getting started as they provide you buzz and more social shares.
One quick tip to be consistent is to create an editorial calendar.
You can get started with the Editorial Calendar plugin to organize your blog posting schedule. It's not only free but provides a simple drag and drop interface which you can use to plan your contents in advance.
Note: Don't miss to check the common blogging mistakes video that I recently created below:
---
3. Not focusing on ONE niche
Covering too many topics is one of the deadly mistakes most beginners make. If you're running a new blog, you need to first establish yourself as an authority to succeed in the long run.
People don't listen to newbies, they listen to experts.
How can you become an expert or goto guy in your industry by covering too many topics?
So don't do that mistake. Make sure to focus on a single niche where you can create outstanding content.
If you're still wondering about why should you focus just on one niche instead of covering too many topics, here are few benefits and reasons.
Less competition (that's the biggest benefit of all as you can become an expert if you blog about one particular topic for few years)
The ability to dominate your niche
You can become an expert and thought leader in your niche
You can attract laser focused audience and customers to your site
Increased visibility
You can easily stand out from the crowd
And the list goes on
So if you're wondering about how you can use it, here's a solid content marketing strategy that you can use by focusing on a single niche to dominate in 2023 and beyond.
Create pillar contents: Pick a topic and create 10 to 20 (or even more) pillar contents around that topic. A pillar content is an in-depth article which literally covers A to Z information about the topic you're covering.
Pillar contents act as pillars which help you attract links, social shares, comments for your blog in the long run. They also help you establish yourself as an expert in your niche.
Find what's working: The best way to create a niche content marketing strategy is to analyse your competitors. Find out what's working and what's not working for them. Find out their top performing posts and pages to see if you can create on the similar lines.
You can use competitor research tools like Semrush to easily find your competitors top pages, backlink sources, ads and so on.
Read: Google Search Ranking SEO Case Study: How Long Does It Take to Rank for A Keyword
---
4. Focusing more on quantity rather than quality
One of the common questions most beginners ask is "should I create more blog posts frequently" or "should I publish only high quality posts infrequently".
That's a great question to ask if you're a beginner.
Brian Dean from Backlinko once said "Too many pages create too many problems". He's so true about it.
If you focus on quantity over quality, you're going to fail miserably.
Whether you know it or not, Brian Dean published barely 30 blog posts on his blog and his blog receives over a million views from search engines every single month.
That being said, not creating in-depth articles is one of the biggest mistakes.
Creating long form of content takes a lot of time. You need to spend quality time in research, writing, editing, promoting and so on. But it works like a charm in the long run.
So how do you create quality content that outranks your competitors content?
Here are few PROVEN tips that we use to create high quality content for our blog which is useful for any blogger.
Spend more time in research. Yes, the more you spend on researching the topics you're going to cover the better they will come out.
When you're writing using tools such as Google Docs which help you save your data even offline (so if your internet goes off suddenly, you still can save your writing without any hassle)
Read your competitors articles which are already performing well in search engines so you can understand how to craft and write your own blog posts.
Write 1000 words every single day. Yes, practice writing every day so you can create engaging content that ranks well in search engines.
Once you're done with writing a blog post, take time to reread it twice or thrice. Edit all the unwanted words. Keep your paragraphs short so your readers can easily go through your posts.
Use proofreading tools like Grammarly as they help you easily create error-free contents. After all, no one likes to read a blog post which is full of grammatical mistakes, right?
---
5. Not building a blog community
There are 2 best ways to build a blog community that helps you succeed as a blogger in 2023 and beyond.
Creating a Facebook group
Building an email list
Let's briefly talk about the above 2 ways.
1. Using Facebook groups to build a blog community
One of the best ways to build a blog community is to use Facebook groups smartly. As soon as you start your blogging journey, it's a smart idea to create a Facebook group that covers mostly the topics you cover on your blog.
Make sure to find and connect with other Facebook groups which are highly relevant to the topics you cover. That way, you can engage with other bloggers who can help each other in sharing, linking and commenting on each others blog posts.
Quick note: Here's our Facebook group called Bloggers Passion VIP group where you can find all the topics such as blogging, SEO, affiliate marketing etc which help you build a money making blog.
Here's how it looks like;
As you can see the group engagement is really great even though we have only around 2k members.
2. Using an email list to build a blog community
An email list is a great way to build loyal readership around your blogs. The best part about building an email list over social media is that email list gives you highest ROI as email gives you $40 in returns for every $1 you spend.
Once you start building an email list, make sure to provide freebies such as eBooks, giveaways etc to quickly add more subscribers. Also provide highly educational contents in the form of newsletters to your email list instead of sending sales pitches.
Subscribe to top bloggers email newsletters in your industry and analyse how they are sending emails (at what intervals) and see how they are using their emails lists to make money.
---
6. Not having a monetization plan
What's the foremost important factor that determines the success of your blog in the long run?
If you said, having the RIGHT monetization strategy, you're absolutely right. Unfortunately most beginner bloggers don't come up with a sales funnel or monetization plan.
All they do is create random blog posts and wait for the traffic to grow so they can monetize their traffic sources. That's a wrong approach.
If you want to build a money making blog, you need to have a monetization plan even before you launch your blog. You need to find out and analyse things that help you make money within the first year.
Yes, it is really difficult to make more money in the first year itself but you need to set your target low which are actually achievable. Don't compare your beginning with someone else's end chapter as comparison don't help you grow!
How to fix then and come up with a foolproof monetization plan to make money from your blogs?
Here are a few proven tips to create a solid monetization strategy for your blogs in 2023 and beyond.
Offers your own services: One of the quickest ways to make money from blogs is to start offering your own services. Here are few services you can offer;
Offer freelance writing services (there are a ton of bloggers and agencies looking for content writers)
Offer web design services
Offer SEO related services
WordPress services such as installation
And the list goes on
The key here is to create a "services" page and link to it whenever you're writing new blog posts or guest posts. That way you can increase exposure to such pages which increase your sales and leads.
Start selling affiliate products: Affiliate marketing is the best way to earn passive income online. 80% of what we earn from Bloggers Passion is generate from affiliate products. In fact, majority of the professional bloggers use affiliate marketing as their primary monetization funnel.
There are a wide range of best affiliate programs you can promote as a blogger to make money from affiliate marketing. Basically affiliate marketing is where you promote others products and earn commission whenever you make a successful sale using your affiliate referral links.
Sell your own products: There are expert bloggers like Ramit Sethi, Derek Halpern etc who are mostly making money by selling their own products such as online courses. They are literally making millions of dollars every year selling online courses.
You too can do the same if you're aiming for the long run. Just make sure to create your content marketing strategy in such a way where you can sell online courses in the long run.
Read: Top 25 Blogging Tips And Tricks That Work Like A Charm In 2023
---
7. Stop using images from Google
This is one of the most costliest mistakes a blogger can make. Using images from Google image search is so easy. But you should also know that by using copyrighted images within your blog can get you sued.
If you've been using images without approval from the internet on your blogs, know that you are probably violating copyright and could be sued for it (sooner or later). Even if you're using images unknowingly, you can get sued if the images have copyrights.
There are a lot of bloggers who assume that they can use images from others and give a link back to them as credit. But even that's a wrong approach. If you want to use others images, make sure to first take their permission and use.
The best thing you can do is to stop using Google image search to use images within your blog posts or infographics.
But here's the thing: you must use at least one image in each and every post you publish. The best way to use images is to use few image editing tools to create unique and appealing images for your blog.
Search for photos that are approved for use.
The best thing you can do while using images is to use those which provide you "copyright free" or "royalty-free" images. Here are few places where you can download them for free;
Unsplash
StockSnap.io
Burst
Pexels
You can download royalty-free images from the above platforms and use few image editing tools to create your own unique appealing images for your blog posts.
Quick note: You can also use Creative Commons licensed pics where you can search for photos that are free to use through Creative Commons. It simply means you have to attribute the photo to the owner and link back to their site.
Here are few great tools you can use to create images;
Canva
Photoshop
Pablo from Buffer
---
8. Creating a free blog
Are you using a blogspot domain or your domain ends with .WordPress.com? Using free blogs is fun but they don't help you make any money.
We know that majority of the people start blogging to make money in their spare time and there are also people who want to make a living from online. If you're someone who's looking to make money from blogs, you should definitely avoid free blogs.
There are a ton of limitations with free blogs which include;
Free blogs can be taken down at any time (without giving you any reason) whereas self-hosted blogs give you full control over your site
Free blogs have limited space, limited bandwidth and don't offer much features
Whatever you post on your free blogs, basically you don't own the content but the free blogging platforms own (and they can literally take your content down anytime they want)
Above all, most free blogs don't allow you to monetize your site
Even if you're using a self-hosted WordPress site but hosted on a free or cheap and unreliable hosting platform, you should get rid of it as soon as possible.
So how to fix it?
Let's now do a simple calculation of how much does a self-hosted WordPress site cost you in a year.
If you're using a reliable yet affordable hosting service like Bluehost, it hardly costs you $100 a year.
Bluehost also offers you a free domain so you don't have to pay for domain registration. Spending $100 a year on a blog is definitely a great investment.
If you're wondering about how to start a self-hosted blog on Bluehost, here's a simple tutorial for you.
Step 1: Click on this exclusive link to install a WordPress blog on Bluehost hosting
Once you click on the above link, you will be taken to Bluehost page where you need to click on the "Get Started Now" button to continue.
The hosting from Bluehost will be just $2.95 per month if you use our exclusive link (which usually costs you $3.95 per month) because we tied up with them.
Here's the offer looks like;
As you can see above, you'll be seeing a special price of $2.95 per month (so more discount for you)
Step 2: Select a domain name
You need to pick a domain which is easy to remember. Bluehost offers you a free domain name for 1 year (so you don't have to pay extra $10 or $20 fot that)
Step 3: Enter your account information and click "next"
Now, you need to enter your account information and also pick your hosting account plan depending on your website needs.
Here are the discounted prices if you buy from this exclusive link of Bluehost
36 Months $2.95
24 Months $3.95
12 Months $4.95
Once you're done with it, you can create a password and finish your payment process.
You can now log into your Bluehost account to install WordPress using their Quick Install optino. Congrats, you've successfully launched your own self-hosted site on WordPress.
---
9. Giving up too early
We all want faster results.
But it takes years to build a money making blog.
Whether you know it or not, Bloggers Passion was launched in 2010 (9 years ago) and only from last 2 to 3 years, we're constantly making thousands of dollars each month.
We earned $106,000 in the year 2018 and the income in growing constantly. We now know what to do and what NOT to do.
We now know how to create content that generates profits.
We now know how to create content that attracts more search traffic.
We now know how to build trust with content!
It all comes with experience. So blogging is a marathon, not sprint.
Here's what most beginner blogs do when they don't get results they want: they QUIT!
If you're not getting the traffic you deserve, wait but don't quit.
If you're not generating any sales from your blog, find ways but don't quit!
If you're not attracting links, start linking out to others instead of blaming yourself
If you are prepared for the long run, you'll eventually succeed in making money from your blog but if you're expecting quicker results (such as making $10K a month within 6 months of launching your blog), you'll fail!
Read: How Much Money Do YouTubers Make In 2023? The Definitive Guide
---
10. Not investing money on growing your blog
Most beginner bloggers don't invest money starting from getting a reliable web hosting service to email marketing to SEO.
They also often search for freebies including;
Free WordPress themes
Free email templates
Free email marketing providers
Free SEO tools and so on
While there's nothing wrong in searching and using free tools which are mentioned above but free tools are not great for several reasons.
Here are few major reasons to avoid free tools;
If you're using something for free, you rarely value it (meaning, you take your blog seriously to improve it using free tools). If you're paying for something, you'll value it mostly and find out ways to get most out of paid tools. It's as simple as that.
Free tools don't provide you support, constant updates, extensive information etc
So if you're really serious about building a profitable blog, you must invest money.
So where can you put your money to improve your blog. Here are few places where you can invest money.
Web hosting: Whether you know it or not, web hosting is the most important thing that can make or break your blogging success.
It is what decides your website speed and when it comes to hosting, we highly recommend WPX Hosting as it is the same hosting we've been using for Bloggers Passion for the last 3 years.
It recently introduced WPX cloud to make your site loading times super faster which makes it one of the fastest WordPress hosting CDN across the world. Here's the screenshot of our blog's loading times using Pingdom tools (after enabling WPX cloud).
You can see that, Bloggers Passion is now loading within 500 ms. That's really faster loading times for a heavy website like Bloggers Passion.
Email marketing: Email marketing allows you to make money from your email list. So there's nothing wrong in spending on the right software to manage your email list.
We recommend the following tools for email marketing.
Get Response
MailChimp (free up to 2000 subscribers)
Convert Kit (great for bloggers)
SEO tools: Investing money on buying the right SEO tools can give you huge returns in the long run. Whether you know it or not, we're using Semrush for more than 3 years now and it has helped us increase traffic and sales from Bloggers Passion.
In case if you're wondering about what Semrush can do, here are few of the benefits of using it.
Keyword research
Site audits to find and fix your site technical and SEO related issues
Keyword rank tracking
Backlink analysis
Tracking your keyword positions
Content creation ideas (using Keyword Magic tool)
Competitive analysis
You can use Semrush to keep track of your keyword rankings on Google, Bing & Yahoo. You can also find keyword positioning in specific countries and device including desktop or mobile.
Semrush gets regularly updates its databases to give you accurate and fresh data
PLA (Product Listing Ads) as you can find them easily even if your competitors are using them
Semrush trial allows you to try it for 7 days but Bloggers Passion is tied up with Semrush to provide you exclusive Semrush free trial of 14 days which you can avail using below mentioned link.
Get a 14 day free Semrush Pro account (worth $129.95)
Yes, you can use free SEO tools as well but they don't provide support, accurate data, extensive information as premium tools like Semrush, Ahrefs etc offer.
Browse more Blogging Resources:
---
FAQs
What are the common blogging mistakes to avoid for beginners?

Not doing any keyword research, Inconsistency in blog posting schedule, Not focusing on ONE niche, Focusing more on quantity rather than quality, Not building a blog community, Not having a monetization plan, using images from Google, Creating a free blog, Giving up too early, and Not investing money on growing your blog, are some of the common blogging mistakes to avoid for beginners.
Is it advisable to start blogging in 2023?
Yes, blogging will be one of the most profitable online businesses in 2023. 
How to overcome my fear and start blogging?

Trust me, there is nothing to fear about blogging. All you need to start a blog, learn from the fellow bloggers, and start implementing. 
What are some good blogging topics?
Marketing, Mommy (Mummy Bloggers), Travel, Personal Finance, Lifestyle,
Food, are just to name a few.
I am poor in English. How do I start blogging?

Practice makes a man perfect. All you need to do is make a habit of writing at least 500 words daily, and with the time you will become good in English. Moreover, you can take the help of grammar checking tools.
Which are the best free tools for blogging?
Google Docs for writing, Grammarly from grammar mistakes checking, UberSuggest for keyword research, Google Search Console, and Google Analytics are the best free tools for blogging.
How important is SEO for blogging?
SEO (Search Engine Optimization) is the backbone of blogging. It is the SEO that increases visibility of your blog and blog content in the search engines.  
What blogging platform should a novice blogger use?

WordPress.org (self-hosted) platform is the best platform every blogger should use.
How to start a blog and make money?

To start a blog, you will need to register a domain name along with a web hosting plan. Start sharing valuable content, drive traffic, and monetize the same using Google AdSense, affiliate marketing, sponsored posts, etc.
Browse More Blogging Resources:
---
Final Thoughts
You'll make a ton of mistakes especially when you are new to blogging. The key here is to make mistakes and learn fast from them.
As we said earlier, building a successful blog takes time and by avoiding the most common yet deadliest mistakes, you can grow your blog much faster.
So what blogging mistakes are you making? Share your thoughts in the comments below.