Are you looking for the best free image sharing sites for 2020?
Image sharing websites can be helpful for so many things including SEO, gaining more exposure, build your brand, get more traffic and the list goes on.
You may already know some of the widely used sites like Facebook, Instagram etc but there are a ton of other photo sharing sites available.
The key here is to find the RIGHT image sharing platform to upload your images so you can get more exposure, traffic and SEO benefits. Here's a list of top 10 photo sharing websites you can use for free in 2020 and beyond.
10 Best Free Image Sharing Sites to Use in 2020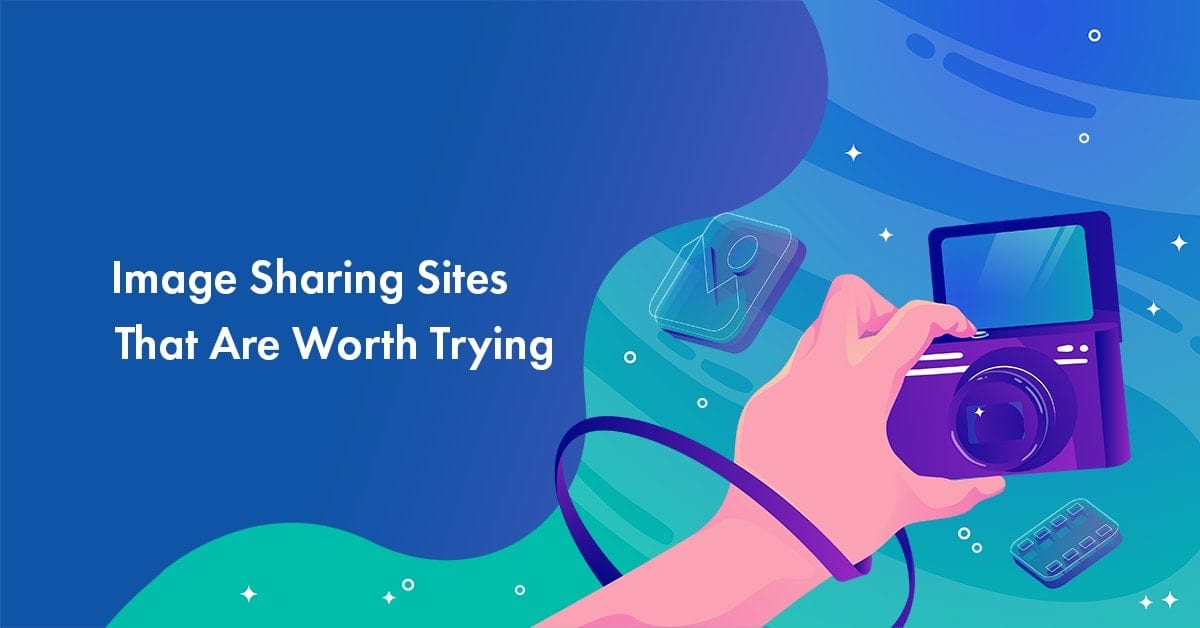 1. Pinterest
Unless you're hiding under the rocks for the last few years, you might have already heard about Pinterest. It's the best platform where you can post your images, gifs etc (these are often called as "pins").
Pinterest was founded by Ben Silbermann, Paul Sciarra and Evan Sharp in 2010 and it slowly but gradually gained momentum.
Why should you use Pinterest?
As of now, there are over 250 million people using Pinterest throughout the world. It's a great platform where you can upload and publish your pins (images) for free.
How to get started with Pinterest?
Here's the link to sign up for Pinterest. You can sign up in 3 methods including Gmail, any other email account, Facebook. Signing up is completely free. Once your account is activated, you can start pinning the images to your Pinterest boards, collaborate and connect with others on Pinterest.
2. Flickr
Flickr is the most popular image hosting platform (which also offers video hosting) which was created by Ludicorp in 2004. Since then the ownership has been changed several times and recently owned by SmugMug since April 2018.
Why should you use Flickr?
Two biggest reasons most people use Flickr. One is, you'll find billions of high-quality images (where you'll also have the ability to upload really high-quality images without compressing their quality).
Other is, it provides EXIF information. (Exchangeable Image File) the format is a standard that specifies the formats for images, sound etc used by digital cameras, scanners etc.
You'll also have an option to secure your photos on Flickr privately so no one can find your stuff. Flickr also provides you 1000 GB of free photo storage.
How to get started with Flickr?
Click here to visit Flickr and click on the Sign Up button to continue. It will ask you to create a free account using your Yahoo email details (if you don't have one, you should create one account with Yahoo). Once you're logged in, you can upload your photos securely.
3. Google Photos
If you're a fan of Google services, you will definitely love Google Photos as it is one of the best free image hosting sites where you can upload a ton of high-quality photos.
Why should you use 'Google Photos'?
One of the primary reasons to use Google Photos is faster access as you all of your photos are backed up safely, organized and labelled automatically, so you can find them really quickly.
Another reason is that you can upload images without losing their quality (as they are uploaded as it is without shrinking image sizes).
How to get started with Google Photos?
Click here to check out Google Photos where you can easily get started using your Gmail account. You can then upload a ton of images without sacrificing the quality. It's free to use and Google keeps your images in Google Drive (and it provides first 15 GB at free of cost).
4. Instagram
Instagram is one of the most popular sites which has over 1 billion active users. Yes, you heard it right. Instagram quickly became popular where you can publish posts, status updates, stories and what not? It's the best platform to get more visibility to your photos.
Why should you use Instagram?
Of the social networks, only Facebook and YouTube have more people logging in. With 500 million of them using Instagram every day, it is definitely a great place to hang out for sharing your photos and images online.
The great thing about using Instagram is that you can start using hashtags to get more likes, followers on Instagram. Essentially, hashtags are a better way to categorize your posts.
Krystal Gillespie, HubSpot's Social Media Community Manager, explains the importance of hashtags in the following way.
"Hashtags are like a funnel. For instance, #marketing is incredibly broad and attracts all types of posts. We've found #digitalmarketing or #marketingmotivation gives us a more specific, targeted reach. The audience searching for these hashtags are also trying to narrow their search to what we offer related to Marketing, so we're actually reaching more of the right people."
How to get started with Instagram?
Click here to get started with Instagram, you can also use your Facebook details to sign up with Instagram and it's completely free to use. Once you're logged into Instagram, you can upload your photos (you can also create a business profile on Instagram where you can see all the insights, see how many people are viewing your photos) easily.
You can also put stories on Instagram (and once you reach to 10K followers on Instagram, you'll have the ability to insert a link where people can swipe up to visit your store, website etc).
5. Imgur
Imgur is another incredible online image sharing community which was founded by Alan Schaaf in 2009.
Why should you use Imgur?
Imgur is one of the top destinations for people around the world to share and discover a ton of images and gif files. From cats to technology to business, you can discover a ton of images.
It also lets you upload images for free.
You can upload any of the files including JPEG, PNG, GIF, APNG, TIFF, MOV (desktop website only), MP4 (desktop website only).
The maximum file size for non-animated images such as JPG, PNG, etc is 20MB. The maximum file size for animated images (like GIFs) and video is 200MB.
Video uploads cannot be longer than 30 seconds. There is an upload limit of 50 images per IP address per hour.
How to get started with Imgur?
Use this sign up link to register for Imgur where you can also use your Facebook, Twitter, Yahoo or Gmail credentials to sign up for free.
6. 500px
500px is one of the biggest online photography communities in the world which was co-founded by Oleg Gutsol and Evgeny Tchebotarev in 2009. It quickly became popular as an image hosting community among photographers worldwide.
Why should you use Imgur?
Unlike most of the other sites you are going to discover on this page, 500px is popular for one reason: "global exposure for your photos and the ability to get paid for your work".
500px is a global photography network where over 15 million creatives discover and share stunning photos, get more exposure and get paid for their work. So if you're a creative photographer who's looking to get paid for your photos, 500px is a great platform for you.
Read: How Not To Build Backlinks in 2020: The Ultimate Guide
How to get started with 500px?
You can visit this sign up link to get started with this amazing platform 500px. You can either sign up using your email or using your Facebook credentials to create a free account on their platform.
Once you're logged in, you can discover amazing images by others who share their photos publicly and you can also start uploading your own photos.
7. Photobucket
Photobucket is an American photo hosting and video hosting website which hosts more than 10 billion images. It is also one of the biggest photo sharing sites which currently has access to over 100 million registered members who upload over 4 million images and videos every single day.
Why should you use Photobucket?
You'll get wider exposure for your images as Photobucket is one of the widely used platforms where you'll discover millions of people searching for various images.
Although Photobucket has premium pricing plans to host and upload your images it also offers you a free account.
Each free account provides 2 GB of storage or space available for your content including images, videos etc. That being said, the free account does not allow any image linking or 3rd party image hosting.
How to get started with Photobucket?
Here's the link to signup for Photobucket. Once you're logged in, you can upload images from your laptop, PC or social media networks like Facebook and even from your mobile.
8. Shutterfly
Shutterfly offers you unlimited photo storage for free and it's the major reason why most people are using it as an image hosting and sharing site.
Why should you use Shutterfly?
Do you want to save any number of images online? Shutterfly is the best place for you. They will NEVER delete your pictures which makes it amazing.
One cool thing about signing up for free with Shutterfly is that you can get 101 free 4×6 prints, 5 free magnets, one free set of address labels and one free 8×10 art print.
Read: Top 15 Free Blog Sites for Creating Free Personal Blogs Really Quickly
How to get started with Shutterfly?
If you want to get started with Shutterfly, visit this sign up link, enter your name, email address and other details to continue. Upon activating confirmation link from the email, you can start uploading your images.
9. TinyPic
We've already discussed Photobucket above, right? TinyPic is a photo and video sharing service which is owned and operated by Photobucket.
Why should you use TinyPic?
Not only just images but you can also upload videos on TinyPic if you want to.
Here's how it looks like;
As you can see, to upload a file (an image or video), you should upload it from your local drive, mention the tag that best describes your file and click on "Upload Now" button to continue.
Here's how it works. Once you upload an image or video, it creates a short URL that you can share anywhere on the web including your friends so they can (only they can) access your content.
How to get started with TinyPic?
Click here to join TinyPic now where you need to enter your details like name and email to create a free account.
10. Unsplash
Unsplash is a dedicated sharing stock photography which has access to over 100,000 contributing photographers. It generates over 9 billion photo impressions per month and they literally have a HUGE library of over 820,000 photos across their platform.
Why should you use Unsplash?
From travel to business to animals, you can literally find thousands of stock free images which you can download for free. That's the biggest reason most people use Unsplash.
Besides that, it also lets you submit photos for free where you can show your name, get likes and all the information on how many people have actually downloaded your photos.
Another best part is that you can also display your current camera equipment to tell people what camera you're using along with the lenses. Here's how it looks like;
As you can see above, you'll get all the stats such as;
Views on your photos
Downloads
Likes
And all other details
How to get started with Unsplash?
Visit this link to join Unsplash with your email address. You can also signup using your Facebook credentials.
Pros And Cons
Are you wondering about what kind of pros and cons do photo sharing sites have in common? Let's discuss the good and bad things about these sites.
Pros:
Increase traffic to your websites
One of the best reasons to use photo sharing sites is that you can drive traffic by using links to your websites or blogs within your images.
For example, Pinterest allows you to post the URL on every image that you pin. That way others can then click on your links (through pins) to visit your website. You can also link to your social media profiles such as a Facebook page or Twitter account.
There are few other image hosting websites like Flickr doesn't allow you to directly include links to your sites or other pages but you can promote your business by embedding logos of your website name or business address and so on.
SEO benefits
Whether you know it or not, search engines can read images (the image file names, alt tags etc) and that's how they can rank your images in Google search results. By using photo hosting sites, you can bring traffic from Google search which improves overall exposure to your images, business, websites.
Easy to use and cost-effective
Photo sharing sites are extremely easy to use as you need to sign up, log in and start uploading your images. Almost all of above sites are free to use and few of them ask you to pay more as you upload more images which makes it cost effective.
Potential income from images you share
There are a ton of sites like Shutterstock, Pixabay, Dreamstime etc which allow you to earn income by selling your photos, images and so on through their platforms.
Websites like Shutterstock, Pixabay are known globally and they help you display your images or photos in exchange for a commission. You can earn decent money just by selling your stock images online.
Cons:
There are so many instances of people stealing your images and not giving any credit to your images
If you're uploading images on sites like Unsplash, anyone can download and use them however they want (so be sure to know such things before using and uploading images on any of these site)
Few images hosting sites charge your bucks depending on how many images you're uploading and what your images size is (so make sure to check out those things before you proceed further)
FAQs
Here are a few important questions you might want to know about free image sharing sites that you can use in 2020 and beyond.
1. What is royalty-free?
Royalty-free means that the license fee is paid once and there is no need to pay additional royalties if the content is re-used by the same client or end-user. If you're uploading your photos on royalty-free sites, your images can be reused without paying anything to you. It's as simple as that.
2. Does the free image sharing sites allow unlimited uploads?
It depends. You can't get everything and features like "unlimited uploads" with most of the sites as it costs to host your images, files and so on. That's why few sites put a "limit" on the number of images you upload on to their platforms.
That being said, sites like 500px charge you few bucks (their basic plans start at $3.99 per month) where you can upload unlimited images. Similarly, other sites also charge a few bucks for unlimited image uploads.
3. What are the best places to sell photos and make money online in 2020?
Do you want to sell photos online and make money? You can sell your photos in the following platforms;
Shutterstock
Alamy
Fotomoto
Crestock
Pixabay
Dreamstime
500px
4. What is the best free image hosting sites?
If you're looking best image hosting sites to host your images mostly for free, check out the following sites.
Google Photos
Imgur
Dropbox
TinyPic
500px
SmugMug
ImgBB
And the list goes on
5. Does Imgur compress photos?
Yes, it does as all the PNG files over 5 MB will be converted to JPEGs. Not only that, there is an upload limit of 50 images per IP address per hour.
Read: SEO Tutorial For Beginners In 2020 [Step By Step Easy Guide]
Browse more Blogging Resources:
Final Thoughts
Sites like Instagram, Flickr, Pinterest etc give you HUGE exposure. Not only you can showcase your images but you can provide links to drive more traffic to your stores, apps, websites and so on.
So did you find this list of top image sharing sites useful? Are you going to use any of the above sites to start sharing your images online for more traffic and exposure? Did we miss any of your favourite photo sharing site on the list? Share your thoughts in the comments.