Looking for ChemiCloud Coupons? You have landed at the right place.
In this post, you'll find exclusive ChemiCloud discount coupons which are valid for a limited time.
ChemiCloud offers Web Hosting, WordPress Hosting, Reseller Hosting and Cloud VPS and provides multiple pricing plans in each category of hosting service to suit different pockets.
ChemiCloud Coupon Code Section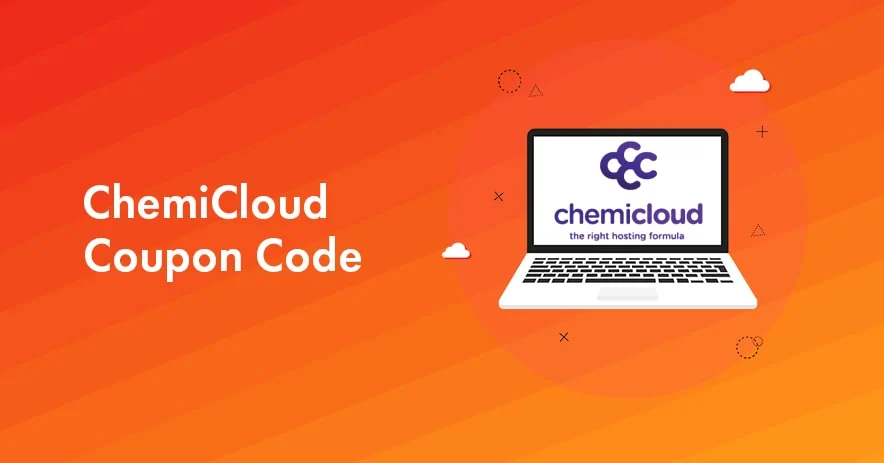 Active Coupon Codes Today
Here are the latest verified ChemiCloud offers and working promo codes that you can use in September 2023 and beyond. 
To activate ChemiCloud special offers, simply click on the "Show Code" or "Activate Deal" button below.
Total ChemiCloud Coupon Codes
10
Active ChemiCloud Coupon Codes
3
Verified Discount Codes
10
Expired Promo Codes
7
Last Coupon Added
2 Minutes Ago
New Customer Discounts
10
Shared Hosting Live Offer [70% OFF]
Max Discount: Upto 70%
Starter Plan: $2.99/mo
Pro Plan: $4.79/mo
Turbo Plan: $5.99/mo
Highlights:Free Domain, Free SSL, Free Daily Backups (10-30), 1-Unlimited Websites, Unlimited Bandwidth, 24/7 Support, 45 Days Refund Policy & More
Valid till September 30, 2023
WordPress Hosting Live Offer [70% OFF]
Max Discount: Upto 70%
Highlights: Free Domain, Free Website Transfer, Daily Backups, Free SSL, Unlimited Websites, Unlimited Bandwidth & More
Valid till September 30, 2023
Reseller Hosting Live Offer [70% OFF]
Max Discount: Upto 70%
Highlights: Free Domain, Unlimited Websites, Upto 12 TB Bandwidth, Free Website Transfer, Daily Backups, Free SSL, & More
Valid till September 30, 2023
Recently Expired ChemiCloud Offers, Deals & Promo Codes:
| ChemiCloud Expired Offers | Discount | Coupon Code |
| --- | --- | --- |
| Birthday Sale 2023 | 80% Off | HAPPY7 |
| Holi Offer | 89% Off | HOLI |
| Shared Hosting | Extra 30% Off | CC10 |
| WordPress Starter Plan | 20% Off | CC20 |
| Cloud VPS 1 Plan | 82% Off | CCCV1 |
| Domain Registration | Save 400 Rs ($5) | FIRSTTIME |
| Black Friday Offer | Flat 95% Off on all plans | BLACKFRIDAY |
First, head over to ChemiCloud's official website and choose the plan you want to go ahead with, I chose Shared Hosting for the purpose of this tutorial.
As soon as you click on your desired option you will be presented with a Domain Name registration page (UI will ask if you already have a Domain Name and want to transfer that) as shown below.
Note: You get a FREE Domain Name for one year as a ChemiCloud customer.
Once you are done with setting up your domain preferences the UI should give you an approximate cost of the domain name you chose. (Don't worry it is completely free as you will see later at checkout). Hit continue.
Now, you will be presented with a page that requires you to choose a billing cycle, server location, and addons (if you need any), it will also display your current total in accordance with your choices on the right side of the screen as shown in the image below. Hit continue.
Next up you will see an option for domain name add-ons, select the ones you want (if any), and hit continue at the bottom of the page.
You will now see a final Review and Checkout screen as shown below:
As you can see on the right side my total was coming out to be $107.46 only (with 70% OFF!)
Also, you can see that your domain name costs you nothing (as I promised before) in the billing summary.
If you are hunting for a reliable, secure, and fast hosting service at a sensible price point, ChemiCloud is your best bet. Why? Read our ChemiCloud Review for all the details.
We have also covered the glimpses of our review and product details in a nutshell below.
ChemiCloud Pricing Plans: Get 70% INSTANT Discount on Hosting!
As of September 2023, ChemiCloud is offering a 70% instant discount on their web hosting plans.
ChemiCloud backs you up with a 45-day money-back guarantee on all hosting solutions except for Cloud VPS which is 15 days and currently offers the following services to their customers.
The cheapest option and best for entry-level users. The Shared hosting option provides 3 variants to choose from, namely:
Starter ($2.99/mo)
Pro ($4.79/mo)
Turbo ($5.99/mo)
Note: The pricing mentioned above shows a 70% discount. Plus domain name for 1 year is absolutely free in all the above ChemiCloud plans.
| Shared Hosting Plan | Discounted (Original Pricing) | Discount |
| --- | --- | --- |
| Starter | $2.99/mo ($9.95/mo) | 70% |
| Pro | $4.79/mo ($15.95/mo) | 70% |
| Turbo | $5.99/mo ($19.95/mo) | 70% |
2. WordPress Hosting
The perfect option to migrate from another host once you have a grasp of online business and need more features. If you are a newbie and starting your first WordPress blog, go with WordPress hosting by ChemiCloud.
It offers 3 packs as well, keeping in mind budgets of all kinds.
WordPress Starter ($2.99/mo)
WordPress Pro ($4.79/mo)
WordPress Turbo ($5.99/mo)
Note: WordPress Hosting's price mentioned above shows an 70% discount.
| WordPress Hosting Plan | Discounted (Original Pricing) | Discount |
| --- | --- | --- |
| WordPress Starter | $2.99/mo ($9.95/mo) | 70% |
| WordPress Pro | $4.79/mo ($15.95/mo) | 70% |
| WordPress Turbo | $5.99/mo ($19.95/mo) | 70% |
Freebies With Every ChemiCloud Account
To sweeten your deal even further, ChemiCloud offers freebies (that you actually use) and that makes ChemiCloud stand out.
Many hosting services give you a lot of conditional freebies which are of no use and are just there to add something to the free list. But be rest assured, this is not the case with ChemiCloud and you get a lot of valuable products bundled absolutely free of charge.
I can say with full certainty that the freebies you are offered by ChemiCloud are actually useful. We have detailed them in the section below.
Note: As soon as your ChemiCloud account is activated the following freebies are awarded to you.
Domain name for FREE
Yes, that's right. The moment you register for any plan for an annual term, you are not charged for the registration of the domain name you choose with your ChemiCloud account.
You get access to a free domain with ALL plans.
Reliable email service, powered by MailChannels
A reliable and secure email service is expected from a company like ChemiCloud and it definitely delivers.
ChemiCloud partnered with MailChannels, a leading email delivery service.
MailChannels delivery ensures that your recipients get your email on time regardless of their location and that you never have to worry about email blacklisting.
Industry-leading CDN, powered by Cloudflare
Cloudflare is a leading cybersecurity and infrastructure company that offers globally renowned CDN services. ChemiCloud collaborated with CloudFlare for a secure and reliable content delivery network for its customers.
In fact, Cloudflare has its own servers scattered all around the globe to make sure that your content gets delivered to your visitor at blazing-fast speeds, wherever they are.
Free Let's Encrypt SSL certification
ChemiCloud realizes the importance of security for every website. Be it a big business or small, the credibility depends upon the level of security you provide to your visitors. With SSL, you ensure their data and all confidential information pass through an encrypted channel.
With ChemiCloud, SSL is now free. It means that once you register with ChemiCloud your website starts using "HTTPS" which shows a "Padlock" sign on the browser. This is a symbol of peace of mind and security.
Automated Backups
Data backups are like a lifeline for every blog or website. In case of any error or any unforeseen event, backup can save your year's hard work. I suggest you take data backup seriously. One mistake can wipe off all the efforts you have done till now.
With ChemiCloud you never have to worry about backing up your data on a regular basis as it is done automatically every day.
You can restore your data at any point in time within the next 30 days.
Softaculous Integration
ChemiCloud offers full support and complete integration with Softaculous which is a very popular tool for installing apps from your website.
Hundreds of popular apps at your fingertips are backed by a 1-click installation process so that you can focus on using applications and not installing them.
WordPress, Joomla, Drupal are a few of the most famous names which are available at the Softaculous app store, their store is jam-packed with tools and features that you can check out.
Free Website Migration
ChemiCloud gives you the ability to easily migrate from any hosting service to their servers, free of cost.
This depicts confidence in their services since they are bold enough to offer free transfer and are convinced that you will not go anywhere once you give ChemiCloud a chance.
Do share your opinion about this chat. I would request to use the comments section below and share your views about the interaction you see above.
Related Coupons and Deals from ChemiCloud's competitors:
Looking forward to exploring more hosting options? We have a few more extraordinary deals that can save your hard-earned money!
FAQs About ChemiCloud
Does ChemiCloud really offer a free domain name?
Yes. Activate any annual plan with ChemiCloud and they register and renew your domain for free as long as you are an active user.
Can I try ChemiCloud's services free of cost?
No, but you are backed by a 45-day money-back guarantee, which is as good as a free trial.
What are the payment modes that ChemiCloud accepts?
All modes such as credit cards, debit cards, prepaid cards, gift cards, charge cards, virtual cards issued only by Visa, MasterCard, Discover, or American Express are accepted by ChemiCloud.
What specifications are the computers ChemiCloud host the servers on?
All of ChemiCloud's servers use the latest generation of Intel CPU architecture and SSD storage hard disks for the fastest access.
Does ChemiCloud provide phone support by any chance?
Unfortunately no, ChemiCloud does not provide phone support but you can reach them 24X7X365 by live text chat or through their ticket support system.
What is Reseller Hosting?
Simply put, a hosting service that allows you to provide website hosting services to your clients.
Will my clients know if it's ChemiCloud or me providing the hosting services?
Your customers will believe it is you until told otherwise. There will be your branding and even the logo everywhere. ChemiCloud just looks after the maintenance of your Reseller hosting.
At ChemiCloud, can I upgrade my plan at any time or do I need to wait for my yearly billing cycle to end first?
Yes, upgrading to any plan is possible as per your requirement. On a pro-rata basis, the existing package's remaining balance will be adjusted in the new product's cost.
When will the ChemiCloud coupon expire?
There is no end date disclosed by ChemiCloud. Hence it is best to grab a special coupon today.
---