Pinterest is the go-to platform for millions of people.
You can find a TON of exciting ideas for;
DIY projects
Recipes
Business
Lifestyle and more
If you're looking for a beginner's guide on how to make money off Pinterest, you're in the right place. In this guide, you'll learn the following;
Proven ways to make money from Pinterest
Is it possible for beginners to make money on Pinterest
And other interesting stuff
Let's get started without much ado.
Can you make money on Pinterest?
Absolutely yes. Whether you're a blogger, marketer, or influencer, there are several ways to use Pinterest to make money online.
Did you know that 85% of weekly Pinners have purchased based on a pin they saw? Also, 31% of millennials in the UK with a household income of over 100K Euros are on Pinterest. (Source: Pinterest Business)
The key here is to know your audience, find their needs, and craft a perfect monetization strategy.
In this free guide, you'll discover the following;
Legitimate ways to make money off Pinterest
Real-life examples of businesses making money from Pinterest
A checklist to monetize your Pinterest account and much more
Are you ready? Let's jump into the details.
---
How to make money on Pinterest 2023? The beginner's guide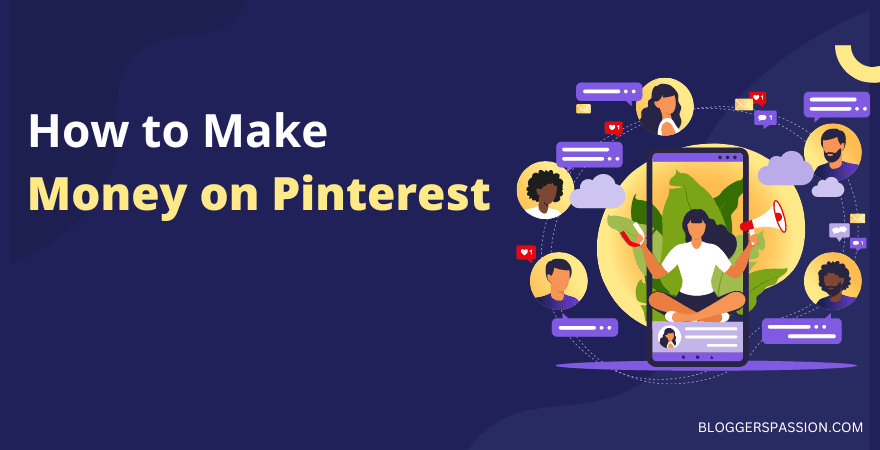 1. Drive traffic and sales with Pinterest ads
It takes money to make money online. Yes, there are other ways (we'll cover them as well) to monetize your Pinterest account, but trying Pinterest ads is the FASTEST way.
Why?
Running ads on Pinterest can help you with the following;
Increase your followers quickly
Build and grow your personal brand
Generate more traffic to your website and
Increase the overall conversions and sales to your site
We have a real-life example of a business that's using Pinterest ads to generate sales.
"Jonas Paul Eyewear" is an eyewear company that makes eyeglasses for teens and kids.
Did you know 90% of their website traffic came from Pinterest ads?
Here are some fascinating stats from Jonas Paul Eyewear;
32% lower cost per click (using Pinterest ads)
65% HIGHER average order value than other platforms
So you know the traffic generated from Pinterest is HIGHER quality.
Also, Pinterest reveals the following stats officially.
2.3x more efficient cost per conversion than ads on social media
2x higher return on ad spend for retail brands compared to social media
The above stats show that Pinterest is an extremely valuable platform for businesses that want to reach a large audience and drive sales.
Pinterest users are already interested in making purchases (from the Pins they see on the platform), so YOU can use Pinterest to promote products smartly.
Running ads on Pinterest is a no-brainer, especially if you're a business owner or have some products to sell.
Here are a few practical tips for running Pinterest ads to generate more followers, leads, and sales.
Set a budget: Start with a realistic budget. You can start as small as a $100 budget on Pinterest ads. The key here is to set a budget, stick to that budget and run regular ads to see better results.
Choose the right ad format: Different ad formats are available on Pinterest, so choose the one that best suits your goals. For example, if you want to increase website traffic, you might want to use a standard ad format. If you want to generate leads, you might want to use a video ad format.
Create targeted ads: The best thing about Pinterest ads is that you can target your ads based on demographics, interests, and past purchase behavior. This feature ultimately helps you show your ads to only those people who are most likely to be interested in what you have to offer.
Above all, make sure to try A/B testing ads by testing different variations of your ads, including visuals, call to action, text, etc. A/B testing helps you easily identify the most effective elements of your ads so you can improve your conversions.
2. Become an affiliate marketer
If you want to earn passive income from Pinterest, try affiliate marketing.
Affiliate marketing is all about earning a commission by promoting others' products. You will earn a commission when someone clicks on your affiliate link and purchases something.
To get started, you must join an affiliate program. But first, you must pick a niche for successful Pinterest affiliate marketing.
In case you're wondering, here are some of the most popular Pinterest categories (Source: Statista);
Here are some of the PROVEN ways to generate more affiliate sales from Pinterest.
Be strategic: If you want to use platforms like Pinterest for affiliate marketing, you need to be intentional with what products you promote. Only promote products those products that add HUGE value to your audience. Be picky about the products you promote.
Make sure to create awareness about the products you promote on Pinterest. Create multiple pins for each piece of content. That way, you can reach a wider audience and increase your chances of getting more clicks from Pinterest.
It's better to link to product reviews or videos than directly pasting affiliate links. Also, make sure to respond to questions and comments about the product. This will help you build relationships with your Pinterest followers and encourage them to click on your affiliate links.
Disclose links: Whenever you're promoting an affiliate product on Pinterest, make sure to add a disclosure. It will help you build trust with your audience. There are several ways to disclose affiliate links on Pinterest, as you can add a hashtag such as "#affiliatelink" or "#sponsored" to disclose your affiliate referral links.
Use proper tools: Here are some of the best tools you can use for Pinterest affiliate marketing.
Canva: This is an excellent graphic design tool for creating appealing pins for your account.
Buffer: This tool can schedule your Pinterest posts in advance and give you insights on popular pins.
Pingroupie: It is a free search engine for Pinterest which lets you discover collaborative Boards, influencers, Pins, and new keywords.
Above all, create boards that are related to your niche and categorize them in a smart way. Make your affiliate products fit within the appropriate boards.
3. Partner with other brands
Partnering up with other brands is another way to monetize your Pinterest account.
But.. you need to have a decent following on your profile (10K followers or more) to attract brands that pay you.
Here's how the brand partnership works;
Find a brand that's relevant to your business
Finalize your terms and conditions (such as what to post, how much they'll pay you, the frequency of sponsored posts, etc)
Create your pins mentioning the brand you're going to promote. Add the paid partnership label and tag the brand.
Here's an example of a brand partnership on Pinterest;
The best way to make money off Pinterest's brand partnerships is to become an expert in your niche.
Is it possible for you to become an influencer on Pinterest?
Yes, you can certainly become an influencer on Pinterest and work with other startup brands to promote their products or services. So many influencers started from scratch, built a following, and made a passive income from Pinterest.
The key here is to identify your niche. Don't pin stuff on everything under the sun. Be picky!
Once you know your niche, you can start creating pins that appeal to people who are interested in the same things.
Here are some of the things you can do as an influencer;
Build and grow an engaged audience in a specific niche
Find relevant brand partnerships and collaborations (you can do a competitor analysis to search for brands)
Talk about their products and kink their products on pins so other users can shop
4. Help people shop the look
Pinterest is an excellent platform if you want to sell products.
Pinterest is where people find their favorite products. 40% of people will shop for something when they find something they love.
In simple words: most Pinterest users are super shoppers.
Pinterest offers a feature that allows shoppers to purchase products directly from Pins. This is a great way to make money if you have an online store.
The best part? You can use the "Shop the Look" pins option to tag up to 25 items in an image.
Here's what it looks like;
As you can see above, you'll post an image promoting products they are literally wearing or using.
This is an excellent way to show people how to recreate a specific look.
To create a Shop the Look Pin, simply Pin an image or video of the look, then tag the products you used. You can also use affiliate links to the products so you make a commission whenever your followers make a purchase.
It's also similar to affiliate marketing but with individual products on individual pins. If you're selling your own merchandise, you can use the same feature to sell your products.
But how to come up with ideas for "shop the look" pins?
The simplest way is to follow creators or brands who create shoppable content. Follow their boards if you're looking for inspiration for your next look.
Make sure to promote such pins so you'll be able to reach a wider audience.
5. Teach your knowledge
Do you have skills in growing others' Pinterest accounts and followers? Do you've expertise in specific topics? Then, you can make a lot of money by teaching your knowledge.
Although we never sold our courses or eBooks around Pinterest, we made decent income from selling eBooks.
You can check out the BloggersPassion eBooks on our blog to get an idea about the pricing and details.
Here are some of the best ways to make money by teaching knowledge on Pinterest.
Create and sell online courses: You can create and sell online courses on various topics, such as cooking, photography, or business. You can sell your courses directly on Pinterest by linking to your website product pages or through a platform like Udemy or Teachable.
Offer coaching: If you've expertise in growing following and brand visibility on Pinterest, you can offer online coaching sessions. You can find clients through Pinterest, your blog, or other social media networks like LinkedIn.
Write and sell ebooks: This is probably the best way to make money through knowledge. If you have skills in writing, you can write and sell ebooks on various topics. You can sell your ebooks directly on Pinterest or through other platforms like Gumroad. Content creation has become so much easier these days because of AI tools like ChatGPT, Jasper AI, etc.
Create and sell Pinnable infographics: Pinterest is ALL about appealing visuals, pins, and graphics. Infographics are a great way to share information in a visually appealing way. You can create and sell Pinnable infographics on various topics, such as fitness, lifestyle, business, and more.
6. Offer services on Pinterest
Are you looking for the fastest way to monetize your Pinterest account? Do you want to make money on Pinterest without a blog? Try offering services on Pinterest.
Many website and business owners who're in need of Pinterest services.
You can offer various Pinterest services, such as;
Image (pin) creation
Managing Pinterest profiles by engaging with other users, uploading images and hashtags
SEO services such as keyword research and hashtag research for pins
Growing Pinterest followers and the list goes on
Here are some practical tips for making money by offering services on Pinterest.
Offer free consultations: If you want to help others reach more followers, you can try one-on-one consulting services. If you're getting started, offer free consultations so people get a taste of your services. Offer a free trial of your service or a free consultation ONLY to potential clients, not everyone.
Build relationships with others: You need relationships with other Pinterest creators to monetize your services. You can also follow other businesses that offer similar services and engage with their content. This is a great way to grow your brand on Pinterest and build relationships with potential clients.
Make your profile ready: Make sure to properly optimize your Pinterest profile by linking to your website (or services page). Include a compelling bio, high-quality images, and links to your website or contact information.
Use relevant keywords and hashtags. This will help people find your Pins when they're searching for services like yours. Also, use proper hashtags while promoting your pins or services to find more relevant people.
Remember to be patient if you offer services. Building a successful service-based business on Pinterest takes time. So, don't expect to see QUICK results overnight.
Discover more Pinterest earning strategies! Join our Pinterest community for daily pins on making money online and beyond. Follow us now and boost your earning potential!
---
FAQs | How to Make Money on Pinterest in 2023 For Beginners
Here are some FAQs on Pinterest monetization.
Can you get paid on Pinterest?
There are many ways to get paid on Pinterest, such as selling your merchandise, promoting others' products, paid posts, sponsorships, etc. 
How many followers do you need on Pinterest to earn money?
Your number of followers on Pinterest does NOT help you earn money from the platform. Unlike YouTube, Pinterest does not pay its content creators.
Does Pinterest pay you in India?
Pinterest does NOT pay Indians or anyone. To monetize your Pinterest account, you can sell your own products or promote affiliate products through pins.
What are the best ways to make money from  Pinterest?
Some of the proven ways to monetize your Pinterest account are;
– Promoting affiliate products
– Offering services
– Selling your own merchandise 
– Brand partnerships 
Can you make money on Pinterest without a blog?
Yes, you can offer services such as image creation, managing a Pinterest account, profile optimization, etc. You can also try selling affiliate products to make money on Pinterest without a blog.
Related Posts:
---
Final thoughts on how to monetize Pinterest
So can you make money on Pinterest? Yes, you can if you have a solid strategy. Many people use Pinterest effectively to make money online.
Some people sell their own products, while others promote affiliate products to monetize their Pinterest accounts. Pick a monetization strategy, build your audience, and be consistent with your Pinning schedule.
What are your thoughts on using Pinterest to make money? Did you find this guide helpful? Have any questions on Pinterest monetization? Let us know your thoughts in the comments.