Did you know that Pinterest has over 460 million users worldwide?
Nearly 45% of US users on Pinterest have an income of over $100,000. 85% of weekly users have made a purchase from Pinterest pins.
What do all these exciting statistics indicate? They ALL indicate only one thing: Pinterest is an excellent platform for affiliate marketers.
If you're new to Pinterest affiliate marketing and unsure where to start, this guide is just for you. You'll discover;
Best tips on how to do affiliate marketing on Pinterest
Few mistakes to avoid on Pinterest
A quick checklist to generate more affiliate commissions from Pinterest and more
Are you ready? Let's get started.
How to Use Pinterest for Affiliate Marketing? Turn Your Pins into Profits
1. Creating compelling Pinterest Pins
What's the FIRST thing people see when they visit your Pinterest profile?
Pins.
If they're compelling, people will spend more time browsing your profile. If not, they'll immediately leave your profile. It's as simple as that.
Have a look at our Pinterest profile's Pins.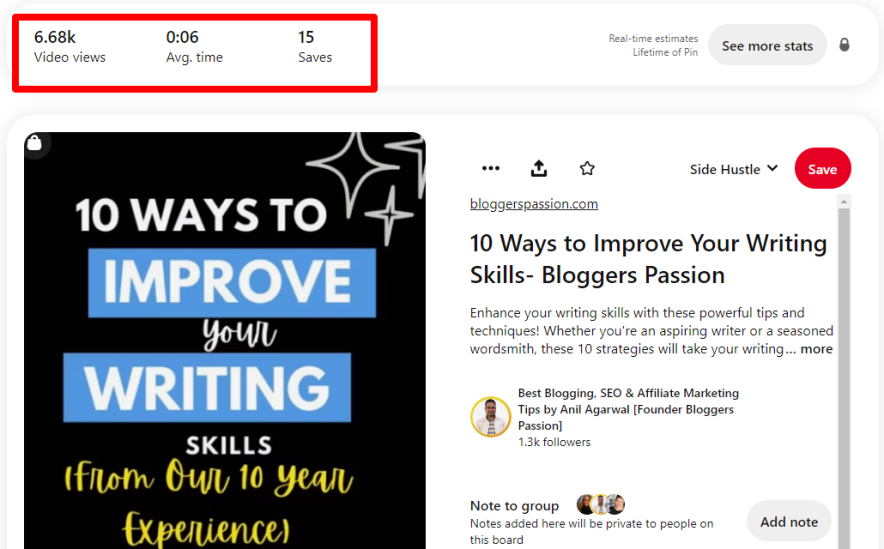 As you can see, the above video Pin generated over 6.5K views and 15 saves.
No matter what niche you're in, make sure to create visually appealing Pins with high-quality images. You can either hire someone or use tools like Canva to create appealing pins for your profile.
So what do you need to generate more affiliate sales from Pinterest? You need clicks from your pins. If people are NOT clicking on your pins, you'll not generate any traffic or sales.
Here are some quick tips on creating pins that attract more clicks.
The key here is to use Pins to educate about the products you want to promote. Try to communicate the VALUE of the product clearly. List all the pros, cons, and alternatives if necessary.
Also, use Rich Pins, as they automatically pull data from your website. Product pins can be particularly useful for affiliate marketing as they include important product details such as;
Pricing
Availability of the product
Customer ratings
Where to buy your product, etc
You can also use Pinterest Analytics to quickly identify what type of Pins are performing well on your account. That way, you can create more of what's already working.
2. Create boards that feature your products
As already mentioned, Pinterest is a powerful platform for affiliate marketers and brands to reach potential customers.
In fact, 85% of weekly Pinners have purchased something based on a pin they saw from a brand on Pinterest.
The best way to use Pinterest for affiliate marketing is to create boards that feature your affiliate products. Make sure to use SEO-friendly titles and descriptions for those boards.
When you create boards, you show your products to even more users already interested in your offer. This ultimately increases the chances that someone will make a purchase.
Here are a few tips for creating compelling product boards on Pinterest.
Use high-quality images: The first thing people will see when they land on your Pinterest board is the images. If they're boring, no one will click. Make sure every pin you create is visually appealing with proper text and font styles.
When you create high-quality pins that people find helpful, they're more likely to click on your affiliate links and make a purchase.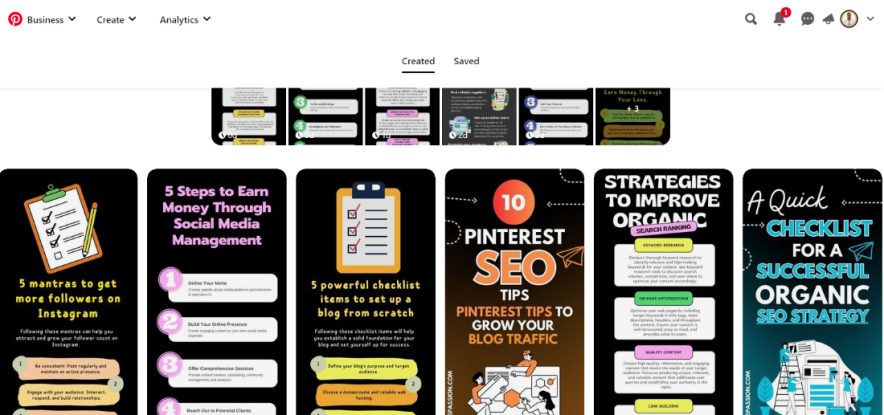 Educate through your boards: Creating awareness about your affiliate products is how you generate more sales. You can create awareness by creating informative pins or videos about your products. Make sure to talk about the product's pros, cons, alternatives, and pricing so people can decide whether or not to buy those products.
Use relevant keywords: Did you know that over 5 billion monthly searches occur on Pinterest? That's a lot of searches, right?
When people search for various products on Pinterest, your boards will appear if you use the right keywords in your titles and descriptions. Make sure to create a list of all the relevant keywords to the affiliate products you're promoting through your profile.
Promote your boards: Depending ONLY on Pinterest's visibility is not a smart idea. You need to promote your profile, so make sure to promote your boards on other social media platforms like Facebook, YouTube, Instagram, etc.
Pin various products: Don't stick to ONE product. Create a board with a specific category (example: "SEO Tools") and include multiple products with different pins. This will give multiple options to people, which can ultimately help you with more sales.
The key here is to give your audience the option. You don't want to sound like a sales guy. Be helpful. Let them choose what they want. That's how you grow your sales.
3. Optimize for SEO
Pinterest is essentially a VISUAL search engine.
What's the ONE thing that people use while using a search engine? If you said "keywords", you're absolutely right.
Did you know that 97% of searches on Pinterest are unbranded?
What does it mean to you as an affiliate marketer? This means that most Pinterest users are NOT searching for a specific brand but rather for general terms related to the products they're interested in.
For example, someone might search for "desktop table" or "floral bed sheet" instead of "IKEA table" or "Wayfair floral bed sheet."
Are you getting it? So how can you benefit from unbranded searches as an affiliate marketer? Here are some practical tips for you.
Use long-tail keywords: Long-tail keywords are more specific than short-tail keywords, and they are more likely to be searched for by many people. They usually contain 3 or more keywords.
For example, "best SEO tools for marketing agencies" is a 6-word long-tail keyword, which is easier to rank when compared to a short-tail keyword like "SEO tools".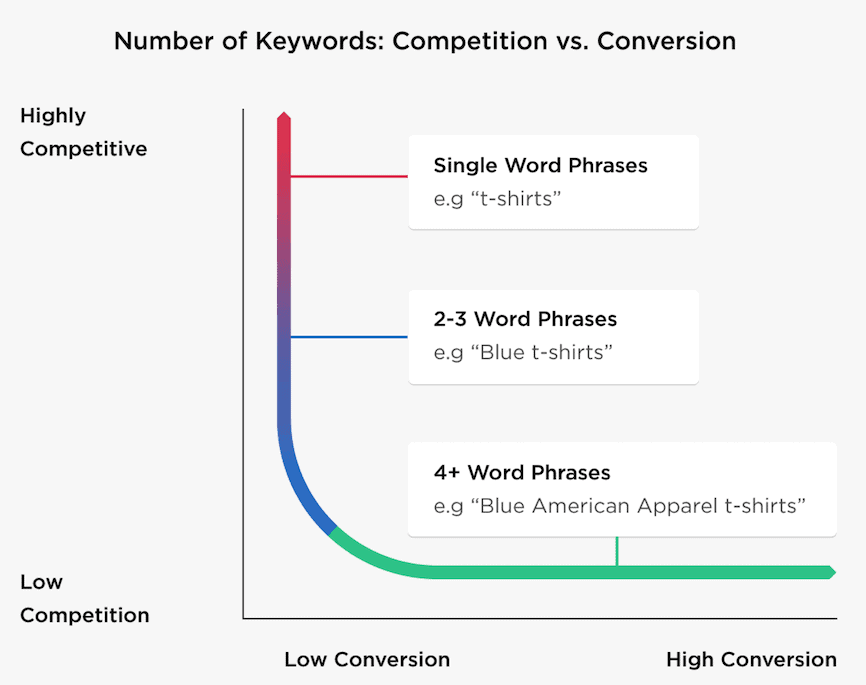 Also, you need to find high-traffic keywords. When you're creating your pins, use keywords that people are actually searching for on Pinterest. You can use a tool like Semrush's keyword magic tool to help you find the right keywords.
Use simple language: When creating pins, write your pin descriptions using simple language that people use. Write as you talk; it will help people quickly understand your pin. Avoid using jargon or complex terms.
Use call-to-action: Add call-to-action buttons to your pins, such as "Learn more," "Read more," or "Shop now." These calls to action will make it easier for people to take action after seeing your pin.
Above all, make it a habit of including relevant keywords in your pin titles and descriptions to help them appear in Pinterest search results.
4. Engage with Your Audience
Growing your following on Pinterest is one thing, and nurturing them is another.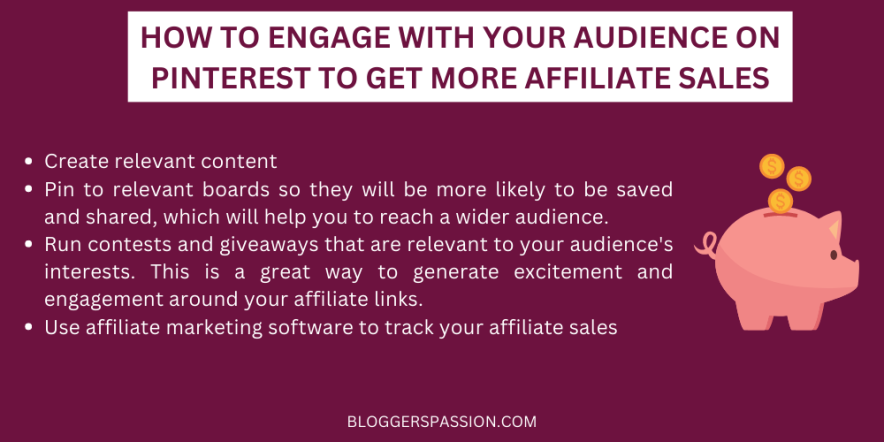 Yes, you can build a 10K or 100K following on Pinterest. But what's the point if no one clicks on your pins or visits your website?
That's why you need to engage with your followers.
Your job is NOT just to post pins but to engage with your audience. Respond to comments on your pins and engage with other users' content. That's how you can build a loyal following and increase the clicks on your Pins.
Also, TRUST is essential to increase your affiliate sales from Pinterest.
If you're sharing direct affiliate links to products from your Pins, make sure to disclose affiliate links. Not only does affiliate disclosure help you with transparency, but you'll comply with FTC guidelines.
You can disclose an affiliate link by adding hashtags like #affiliate or #sponsored in the description of your pins.
5. Try Pinterest ads
Here's an interesting fact about Pinterest: Pinterest ads generate 2.3 times more cost per conversion than other social media platforms.
If nothing works and you don't see improvement in your sales or followers, you can try Pinterest ads to earn more commissions.
Why? Pinterest ads offer many benefits, including;
More visibility to reach a wider audience
You can target a specific set of audiences to see your pins
You can quickly grow your following
Above all, when you run a Pinterest ad, you can target your ads to specific demographics, interests, age groups, etc. It means you can literally show your ads ONLY to those people who're interested in the products you're promoting.
The best part? Running ads on Pinterest costs less than the cost of running ads on other social networks like Facebook, Instagram, etc.
Also, you can set a daily budget for your ads (for example, $10 a day) until you get a better understanding of the ads.
Here are THREE important tips for running successful Pinterest ads to boost your affiliate profits.
Tip #1: Choose a Budget
Make sure to set your budget for Pinterest ads.
Before jumping into ads, decide how much you want to spend each day on Pinterest. It's better to start with a small budget. You can try investing $10 to $50 a day while getting started. The good thing is, you only pay when someone clicks on your pin and visits the website.
Tip #2: Choose the Right Pins
You need to have Pins on your profile to run ads. The key here is to identify the pins that already perform well organically. It's a good idea to run ads on your top 10 performing pins (with more repins, saves, clicks, etc).
You can use Pinterest Analytics to find out your top-performing pins.
These are the pins that people naturally find engaging and are more likely to attract clicks when promoted using ads.
Tip #3: Set Up a Campaign
Once you've identified the pins you want to promote, go to the Pinterest Ads Manager and start a new campaign.
Choose a goal for your campaign. If you're aiming for more affiliate sales, you might choose "Traffic" as your goal to get more people to click on your pins.
Here's what the campaign on Pinterest looks like;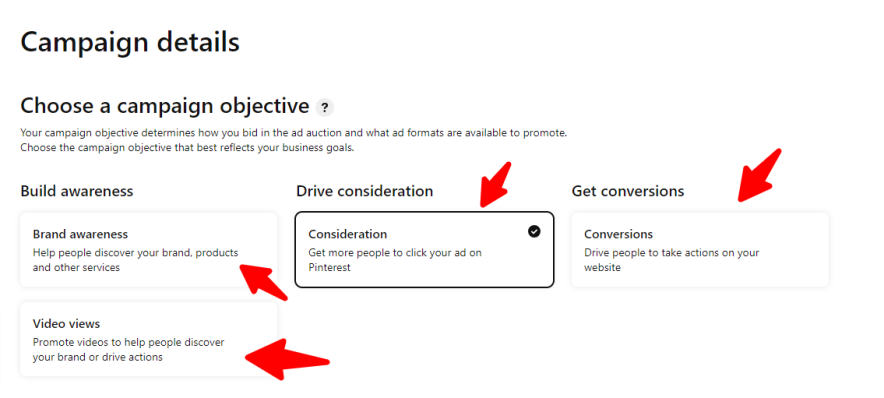 As you can see, you'll see several options while setting up a campaign (brand awareness, clicks, video views, etc).
Make sure to pick a desired goal by keeping your target audience in mind.
You can select their location, age, gender, etc. You can also target people based on their interests and keywords related to your pin.
From Analytics, you'll get all those details.
Have a look;

See that? Based on your target audience, you can set up your campaigns.
That's it. You're done. Run those ads for a couple of days (or a month), see how they're performing and if you're happy, keep investing more on Pinterest ads.
Make sure to tweak your Pins along with the titles and descriptions if you want better conversions.
Common Mistakes to Avoid on Pinterest
If you plan to use Pinterest for affiliate marketing to grow your commissions, here are some mistakes to avoid in 2023.
Forgetting to add the Call to Action. Encourage your followers to take action when they're going through your pins. It can be anything from visiting your website, purchasing, or signing up for a newsletter.
Stop using mediocre images, font styles, or colors. Your Pinterest image is your first impression, so make it count! Use tools like Canva or Photoshop. If not, hire a designer on platforms like Upwork.
Not disclosing links. Affiliate disclosure is compulsory while using affiliate links in your pins. It builds trust and complies with Pinterest policies.
Pinning only affiliate content. Don't do that. If you only try to sell, people may stop following you. Don't make your Pinterest profile an ad company. Make sure to create informative pins without promoting anything.
Ignoring SEO. Using the relevant keywords in your pins (descriptions and tiles) is important. It helps MORE people find your pins when they're searching for something.
Expecting overnight results. Pinterest affiliate marketing takes time. It takes time to build a following and generate traffic.
A QUICK Checklist to Making Money on Pinterest
Here's a 10-point checklist to increase affiliate sales from Pinterest:
Create a Pinterest Business account
Use high-quality pins
Write engaging titles and descriptions
Choose the right affiliate programs to promote
Find the RIGHT keywords that are relevant to your affiliate products.
Pin daily. Try to post at least 5 to 10 pins every single day.
Always disclose that your pin includes an affiliate link. You can use hashtags like #affiliate #affiliatedisclose
Promote your pins on other social media platforms.
Try to interact with your followers. Reply to comments on your pins and engage with your followers to build rapport.
Use Pinterest analytics to track the performance of your pins. Find out what's working and what's not.
---
FAQs on affiliate marketing with Pinterest
Here are some FAQs on how to do affiliate marketing on Pinterest.
Can I do affiliate marketing on Pinterest?
Yes, you can! You can post images, called "pins," of products from companies that you want to promote. You earn a commission when someone clicks on your pins and buys the product.
What should I post on Pinterest for affiliate marketing?
You should post visually appealing pins using relevant titles and descriptions about the products you promote. You can also try Rich and video pins to see what works best for your followers.
How do I create an affiliate post on Pinterest?
You first need to join an affiliate program and get the tracking link. Then, you can create appealing pins on Pinterest by using that tracking link. If your followers click your pin and buy the product, you will make some money.
Does Pinterest pay you?
No, Pinterest used to offer special programs to pay its creators but now it has stopped paying its users. 
Do I need a website to promote affiliate links through Pinterest?
No, you don't need a website or blog to promote affiliate links. You need access to affiliate links of products you want to promote. But having a website is an excellent way to educate your followers about the products instead of sending them directly to the product sites.
What are some of the best strategies for increasing your followers on Pinterest?
Here are some of the best ways to increase your Pinterest following.
– Create effective pins
– Follow other users in your industry
– Try Pinterest ads and giveaways
Related Posts:
---
Final thoughts on affiliate marketing on Pinterest for beginners
Remember, Pinterest is a visual search engine, so using eye-catching images is the BEST way to get more clicks.
It's like turning your Pinterest boards into a virtual store. But you have to do it RIGHT. Your pins should not just be ads but something your followers find helpful or interesting. That's how you can generate sales from Pinterest.
Did you find our guide helpful? Have any questions? Let us know your thoughts in the comments.