Are you an online coach or instructor?
Are you searching for a Passion.io Free Trial? You've landed on the right page.
What is Passion.io?
Passion.io is an online platform [Rated 4.7 on Trustpilot] that allows you to easily create your own online courses and sell them directly from your mobile app. [Instructors are earning over FIVE FIGURES income through this platform].
Today we are revealing the process which helps you claim Passion.io Free Trial for 14 days.
Not just that, we will share other valuable information including features, reasons to go with Passion.io, etc.
Are you in Hurry?
Click Here
to activate the Passion.io 14 days free trial (No Initial Payment, Cancel Anytime, Free Bonuses.)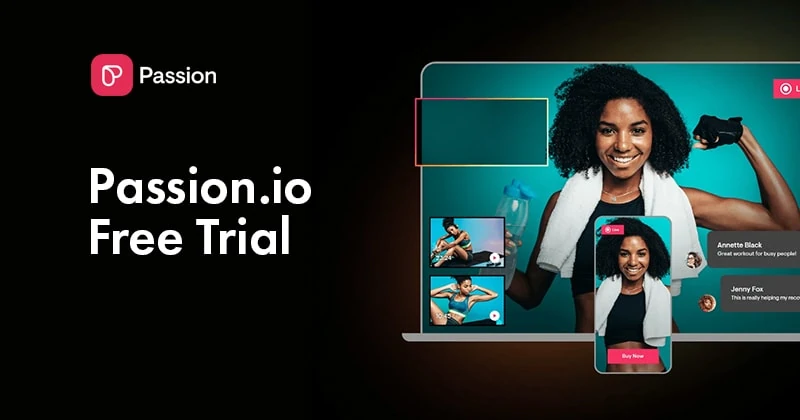 ---
Passion.io Free Trial [14 Days] – The Complete Details
Passion.io Free Trial
Overview
Free Trial Period
14 Days
Full Access

✓

Plan
Valid only on Passion.io Pro plan. (Monthly/Annually)
Availability
Worldwide
Initial Payment
Not required
Credit Card Details
Required
Cancellation
To avoid charges, The trial can be cancelled any time.
Money Back Guarantee
30 Days. (No Risks at all)
Upgrade Options
The free trial plan can be upgrade once it ends.
Support Options
Email: [email protected]
Live Chat:

✓



Free Bonus 1
Free Access to Expert Unleashed Challenge (Worth $997)
Free Bonus 2
Personalized Onboarding Calls (Worth $50)
Free Bonus 3
Production Kit (Worth $99)
Demo
Get Access to Passion.io Demo
Start Now
---
How to Activate Passion.io Free Trial [Step By Step]
You are just a few steps away from enrolling in the World's best app maker.
Activating the Passion.io trial is extremely easy and won't take more than 5 minutes.
Step 1: Tap on this special Passion.io free trial link and navigate to the official free trial page.
Then click on the "Start free trial" button.
Step 2: Choose a Free Trial Plan.
The Passion.io free trial is only available on the "Pro Plan" which is available in monthly or annual billing cycles. After 14 days, the billing will be based on your chosen plan.
The "Pro Plan" gives you the following amazing features:
Option to build iOS & Android mobile app
Payment processing + invoicing
Accepts in-app & web purchases
Live streaming functionality
Offline mode, Gamification
Push Notifications
Progress tracking
Email & Chat support
More…
Step 3: Activate the Passion.io Free Trial. To get access to the free trial, you have to fill up the simple form which requires email, name, and credit card details.
Don't worry there is no risk involved. Your credit card will only be charged when the free trial ends. Plus to avoid any charges you can cancel the free trial anytime during its duration.
Quick Note: The 30 days money back guarantee is still available to claim 100% money.
That's it. This is how you can grab the Passion.io Free trial. What are you waiting for?
What Next? How to Start Building an App with Passion.io?
Just like a free trial benefit, Passion.io also offers a free demo which could be very helpful in the onboarding process. Don't worry you don't have to code for building an app.
The Passion.io demo can be accessed from here. Or simply watch the video tutorial below to understand the onboarding process.
---
Top 11 Reasons Why Creators Should Use Passion.io to Build Apps for Their Business
Thousand of Creators (7500+) have already generated five figures in income by building their own app via Passion.io app builder.
So what they had seen in Passion.io? (Answer is Passion.io Features & more…)
What are the main reasons one should choose Passion.io over other tools? Let's see…
#1 Reason: Money Saving
As per the Upwork survey on mobile app development cost, Mobile app developers usually charge $30-$120 per hour for mobile app development.
And app development is not a few hours job. So just imagine the rates you have to pay to the developers for building an app. Plus, on top of it, app maintenance costs are always there.
Gladly, you can save thousands of dollars by opting for Passion.io.
#2 Reason: Drip Content System
A feature that allows you to release content bit by bit not at once completely. Creates excitement, and curiosity in a customer's mind which leads to growth in a customer retention rate – Meaning more engagement & higher shares.
Other Reasons:
Drag & Drop Approach – No coding is required for building a mobile app.
Live Streaming: Not every online app maker offers this feature in their all plans.
Recurring Income: You can set up recurring charges that the user has to pay monthly or yearly.
Easy Payment Flow: Accepts payments via Google Pay, Apple Pay, PassionPayments & External payouts services.
Offline Mode For Users: No internet – No problem!
Interactive Lessons: Not just create a course, interact with users through quizzes, worksheets, etc. Feel them proud of their achievements.
Communities & Group Challenges: Powerful tools within the app – Enhances user interaction & engagement.
Push Notifications: To notify app users about new offers, content & more.
Templates: For beginners, app templates would be beneficial for a quick start.
Priority Support: Get support via live chat, phone & email.
---
Passion io Pricing & Plans: Choose After 14 Days Free Trial Ends
So what are you gonna do once your free trial ends? Well, after 14 days you will be charged automatically as per the "Pro Plan" you opt for.
Now either you can continue with the Pro plan or you can simply explore other Passion.io pricing plans.
| Passion.io Plans | Annual Charges | Monthly Charges |
| --- | --- | --- |
| Pro Plan | $79/mo (Savings: $216/year) | $1 for 14 days then $97/mo |
| Ultimate Plan | $239/mo (Savings: $696/year) | $1 for 14 days then $297/mo |
| UltimatePLUS | Custom Pricing (As per requirement) | Custom Pricing (As per requirement) |
| Start Now | | |
1. Passion.io Pro Plan ($79/mo Yearly OR $1 for 14 days then $97/monthly)
The Pro plan is the most popular plan and you would also interact with it in your 14 days free trial. The main highlighted perks of this plan are 100 subscribers (customers), 100 videos, 1000 push notifications, Email & chat support, and access to the PassionFighter community.
Pro Plan Downside: 3.9% Payment Processing Fees
2. Ultimate Plan ($239/mo Yearly OR $1 for 14 days then $297/monthly)
The Ultimate plan offers the most value to the user. The Pro plan lacks the following features which can be seen here:
Community Builder
Content Dripping
No restrictions on the number of Subscribers, Videos & Push Notifications
Phone support for setup
0% processing fee.
Quick note: Go with Passion.io "Annual Plans" – You save upto $696/year
Quick note: The 30 days money back guarantee will be applicable on both "Pro" & "Ultimate" plans
3. UltimatePlus (Custom Pricing)
"Can you build an app for me in 30 days"? – Yes, this is what the UltimatePlus plan is all about.
This is a special plan and is usually for those who don't want to mess their head with building apps. In other words, by opting for this plan you are basically asking Passion.io creators to create an amazing app for you.
You only have to provide the content, the rest they will take care of.
Quick note:
Do you wanna grab "Ultimate Plan" at the pricing of Passion.io Pro plan? Yes, Passion.io is currently offering a
Special Black Friday Deal
where you can get the Ultimate Plan in just $79/mo (Normally $297/mo) –
Huge Saving!
---
Is Anyone using Passion.io? (Testimonials)
Yes, the risk-free trial is available. But still, customer opinions matter before investing money and time in any tool, right?
Well, Passion.io has been rated extremely well and loved by thousands of users worldwide.
Passion.io (Rated 4.7 on Trustpilot)
Still hesitated?
Go through the case studies of successful creators and learn how they are earning a 5 figures income monthly with their own app created through Passion.io.
Also Read:
---

FAQs

How to activate the Passion.io free trial?

Click here to activate the 14-day passion.io trial. Choose from a monthly or yearly plan and finally fill out the trial form to complete the process.

Is a credit card required to claim Passion io free trial?

Can I cancel the Passion.io trial without getting charged?

Yes. The Passion.io trial can be canceled anytime during the 14 days period.

If I forget to cancel the Passion.io trial how can I ask for a refund?

Once your trial ends, you will be charged and your monthly/yearly subscription will be started. In case of dissatisfaction, you have 30 days to ask for a refund.

How to cancel the Passion.io Free trial?

To cancel Passion.io Free Trial, simply log in to the Passion.io platform. Then navigate to Profile>Manage your plans>Free Trial>Edit Payment Details. Here you will find the cancellation button. Click on it and the Passion.io trial will be terminated.

If this doesn't work, then simply contact the Passion.io support team either through the live chat widget or by mail: [email protected]

How can I talk to the Passion.io support team?

If you have further queries you can explore the Passion.io FAQs page or simply connect with their agents through the live chat widget (accessible from the Passion.io homepage)

How much would Passion.io cost once the free trial ends?

After the free trial, you can grab Passion.io for just $97/month.

Does Passion.io offer one time plans?

Who is the owner of the course app created through Passion.io?

The instructor will own complete ownership of the course app he made on Passion.io

---

Final Words on Passion io Free Trial

So that's it. Have you grabbed the Passsion.io trial already?

Well, if not then you are missing a really big opportunity. As per Statista, the eLearning (LMS) business model would be expected to surpass 400 Billion in 2026. The eLearning industry is getting bigger & bigger and this is the perfect time to jump into the pool of full opportunities.

Platforms like Passion.io could play a major role in getting quick success. Because of such platforms, instructors neither have to worry about building apps nor hiring a developer for their courses or service. Rather, it allows creators to be more focused on their content.

We hope you have taken a step and claimed a Passion.io Free Trial. If you have any feedback or query, please share them in the comments below.